We use affiliate links. If you buy something through the links on this page, we may earn a commission at no cost to you. Learn more.
There are times when not having a flashlight handy can lead to
disappointment. For instance, there was the time when Steve, Sarah and I were
visiting

Volcano National Park. As we were riding down the road toward where the lava
flows are located, we made an impromptu stop at what turned out to be the
walkway to the

Thurston Lava Tube. Well of course we had to stop! We were able to hike down
and explore the main, heavily traveled tube. But because we did not have a
flashlight we were unable to enter the undeveloped, lesser traveled and thus
more natural section. Deep sigh…
Another time when we regretted not having a flashlight was on our last trip
to the Sonora Caverns.
Our guide kept trying to draw the group's attention to various formations yards
away with his flashlight, but because his batteries were in the process of
dying, he could do little more than point in the formations' general direction.
Steve and I repeatedly grumbled to each other that never again would we
enter a cave without our own flashlight. Grrrr…
Of course, one of the main reasons why flashlights are so necessary, is
because they help keep their owner safe. But a flashlight is only as good as it
is dependable, and its use is only as strong as its beam. That's why I am so
interested in flashlights which use alternative power sources; lights that don't
depend on batteries, that can be counted upon to work in almost any situation
the owner may encounter.
Today I am going to take a look at the
RotoPower Products
RotoGlo LED Flashlight, a
three-LED torch that never needs batteries because it relies on power generated
by the cranking of its hand-winder.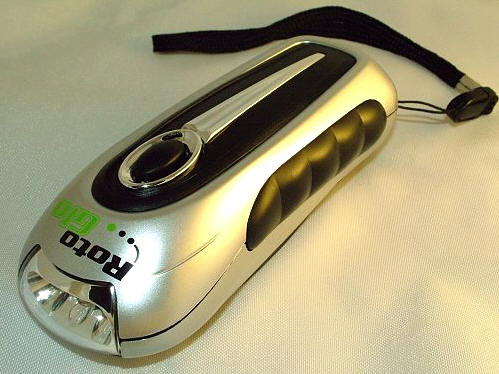 The RotoGlo flashlight measures 5.25" long x 2′ wide x 1.75" thick. Its body
is composed of matte silver plastic with black accents. The light's overall
appearance appealing, and it is designed to comfortably fit in either the user's
right or left hand. There are hard black rubbery scallops, for lack of a better
description, on either side of the light which aid in keeping a secure grip.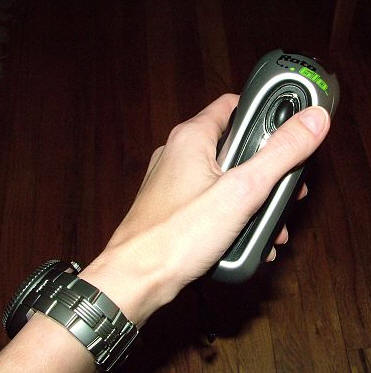 Three white LEDs are encased in clear plastic at the top end of the light. A
mirrored surface surrounds the LEDs to help further project their beam. On the
top of the light, is a rubber encased clickable button. One click and the light
is on, another and it is off.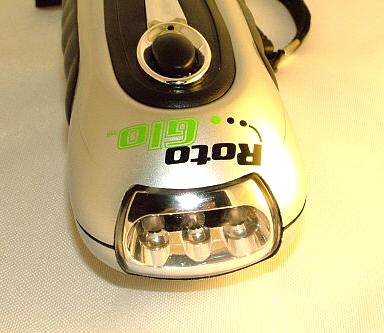 The bottom of the torch has a full size handle which untucks from its slot to
lock into an extended position, ready for manual winding.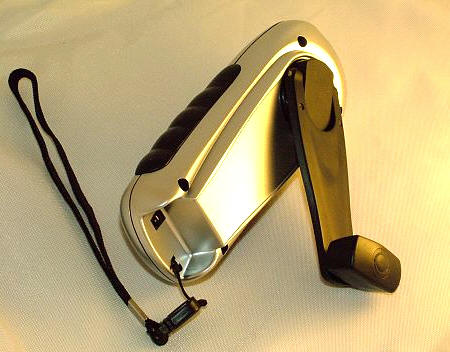 There is also a detachable wrist lanyard for extra security.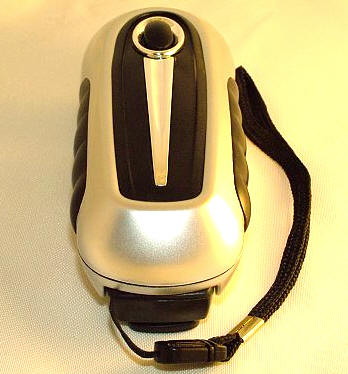 According to the RotoPower website, rotating the RotoGlo's handle for one
minute can provide up to an hour of light. To give the RotoGlo a fair chance at
a full charge, I decided to wind it 100 times. While winding, i noticed that the
gear mechanism sounded quite robust. I have not dismantled the light, but the
gears did not sound or feel like they were cheaply made or would easily wear
out. The action was smooth and the tip of the handle conveniently rotated to
facilitate easier winding.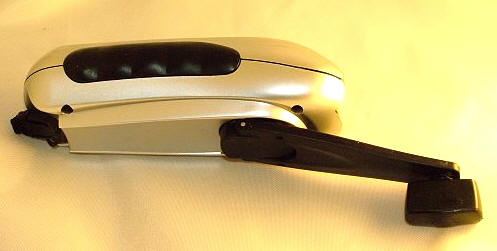 Once the 100 turns had been made, the three LEDs provided a fair light
stream.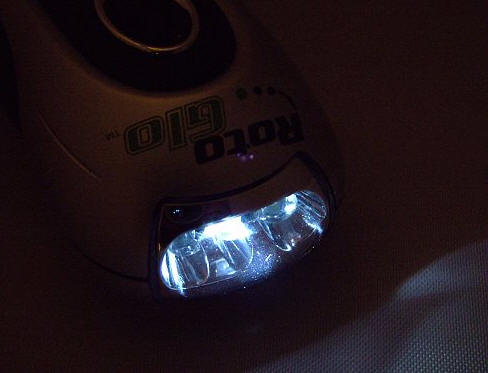 I would not say that it was anywhere as strong as many of the battery-powered
LED flashlights I have reviewed in the past. Unlike circular patterned LEDs, the
torch's beam was not gathered in a tight circle. Probably because of the linear
lay of the LEDs, from just a couple of feet away the beam widely dispersed. But
the generated light was enough to illuminate the door at the end of my 37
foot long hallway, as well as much of the hallway on teh way down to the door.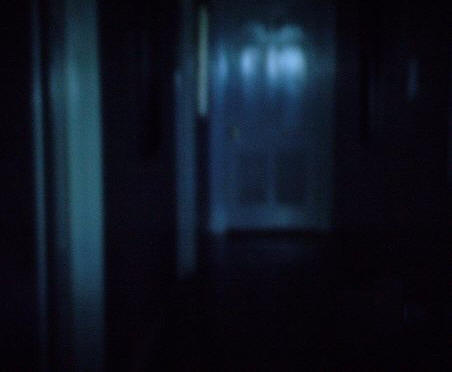 One thing that I found particularly amazing about this torch is that the
charge really does last for an incredible amount of time. When I first received
this light, I gave it twenty cranks, looked it over, and then put it away until
I could devote more time to it. When I pulled it out weeks later, it was still
holding its charge. Yesterday afternoon, in anticipation of today's review, I
turned it on hoping to completely drain its power reserve. The LEDs were still
glowing up until 7pm tonight, when I wound it the full 100 turns. Granted, the
beam was not all that strong, but I thought that it was amazing that it was
still shining at all!
The RotoPower Products RotoGlo LED Flashlight is a great item to keep in a
kitchen drawer, automobile glove-box, beside the bed or inside a gear bag. It
does not have the strongest beam available, but it does cast plenty of useable
light in an eco-friendly manner.
RotoGlo lights start at $19.99 for two, and they come with a Lifetime
Replacement Guarantee against failure.
RotoGlo LED
Flashlights

may be purchased here.
Product Information
Price:
Manufacturer:
RotoPower Products
Pros:

Easy to operate
Non slippery side surface
Crank mechanism feels solid
Light is long-lasting

Cons:

Light beam is not particularly strong