We use affiliate links. If you buy something through the links on this page, we may earn a commission at no cost to you. Learn more.
Last summer I had the opportunity to review a very small Windows XP computer from Sony. The Vaio VGN-U71P made a good travel companion, but wasn't perfect due to the fact that you had to also pack a folding keyboard, AC adapter brick and docking station with you if you wanted access to all its features. When it was all said and done, all of these components ended up taking as much space in my gear back as a regular smallish laptop. As a result, I sold the Vaio and continued the search for my next travel buddy.
Why not go ahead and just buy a regular small notebook? Well, I want something even smaller than a notebook. I like to pack as light as possible when I'm on the road. Even my 12″ Apple Powerbook is too bulky for my liking when I have to carry it on my shoulder while running through an airport to get to my next gate.
When Judie and I first saw the OQO advertised in late 2004, we were both pretty interested in it. The size looked perfect, and the built in keyboard was way convenient. But when we finally got to see one in person at CES 2005, we weren't impressed at all with the display. It was just too dim. We decided to wait till the next generation, hoping for massive improvements. The improved model 01+ has been available for awhile now and late last year I decided to pick one up from one of the coolest gadget shops on the net: Dynamism.
Hardware Specs
Processor: 1GHz Transmeta Crusoe TM5800
Memory: 512MB DDR RAM
Hard disk: 30GB hard drive (shock-mounted)
Display: 800 x 480 W-VGA 5″ transflective display (indoor/outdoor readable),
3D accelerated graphics with 8MB of video RAM
Communication: 802.11b wireless, Bluetooth wireless
Expansion: 4-pin FireWire (1394), USB 2.0
Audio: 3.5mm stereo headphone jack, Microphone, Speaker
Dimensions: 4.9″ x 3.4″ x 0.9″
Weight: 14 ounces
Power: Removable lithium polymer battery (Battery life up to three hours, depending on usage)
Package Contents
OQO Model 01+ Ultra Personal Computer
Universal power supply (air/auto adapters included)
Docking cable
Desktop stand
Digital pen
Carrying sleeve
Windows XP Pro (with Service Pack 2) reinstallation CD
Start guide
I have to admit that when the OQO first arrived, that I was pretty excited. The package opening experience ranked right up there with opening a new Apple computer.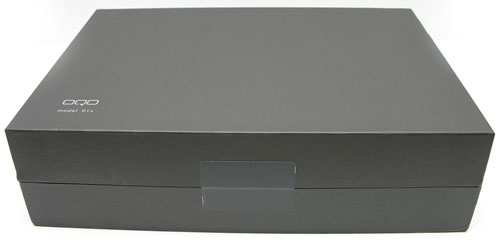 Presentation is everything. All of the items were enclosed in a sealed black box with the stylized OQO logo on top.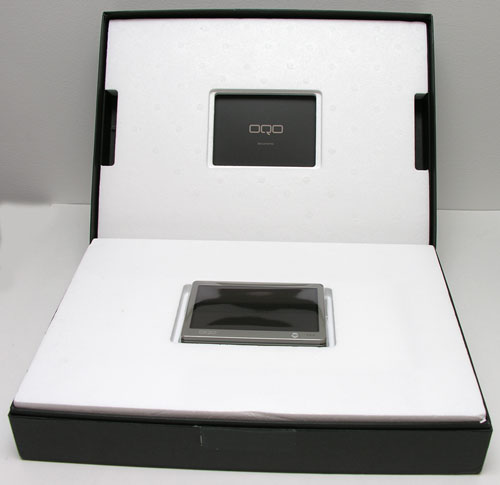 Upon opening the box I was greeted with the OQO in a very Apple-like pose.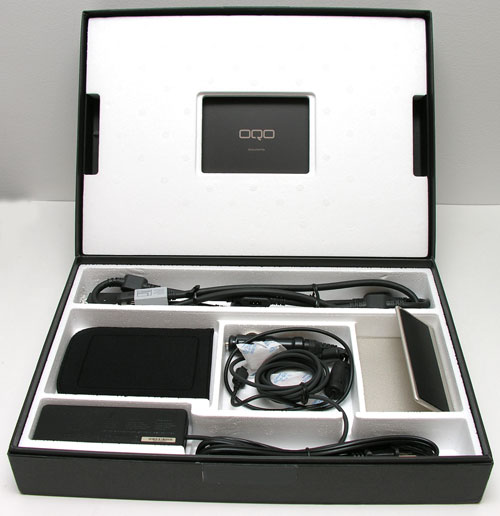 Removing the tray that holds the OQO, I found all the included accessories. It actually ships with pretty much everything you need for desktop and travel use. More about all the bits later.
The OQO is small. Smaller than I had remembered (it's been a year since I had one in my hand). However, weighing in close to one pound, this little guy has some definite heft to it. Not that this is a bad thing, as weight can sometimes be equated to quality. The device does feel solid and well made. The OQO had no problems with the Gadgeteer creak test.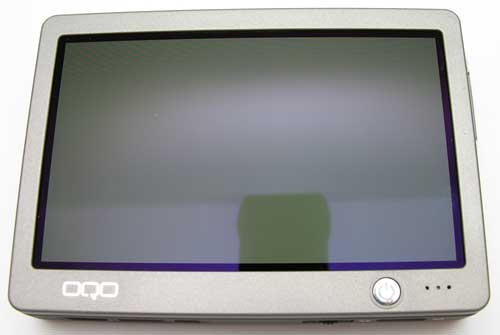 I'm not quite sure what type of metal the OQO is constructed of, but it has a Titanium hue. Sort of gold or bronze, with a slightly rubberized feeling on the back and sides.
In hand, the OQO is definitely bigger than a PDA, but not uncomfortably so.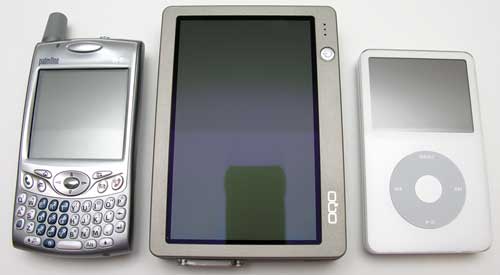 The picture above gives you an idea of the size of the OQO in relation to other devices. Here you see the Treo 650 on the left and a Video iPod on the right.
Except for the small round power button and the microphone next to it, the front of this device is almost entirely taken up by the 5in diagonal 800 x 480 VGA display. When Judie and I saw the OQO at CES, we were really disappointed with how dim the screen was. Unfortunately, this new model has not been improved in that particular area. It's not dark enough to render it too dark to see, but it's just not comfortable for my eyes. I like bright displays and this one makes me feel like squinting. Even set to the highest brightness setting, it is still dim.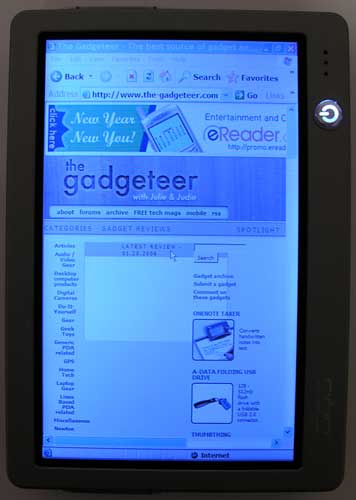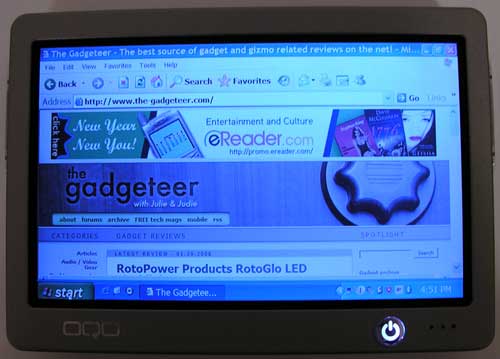 The pictures above were taken without flash. The display is set to the maximum brightness level.
Despite the brightness issue, the display is crisp and clear. If it were just a bit brighter, it would make a nice ebook reader!
The OQO's display is pen based. It's not exactly a touch screen like a PDA, as it requires a special magnetic stylus (included). This is where another disappointment with the display makes itself known. The calibration of the digitizer is not 100% accurate even after re-calibrating multiple times. The start guide does say to use the stylus at a right angle to the screen (quite difficult to do in practice), but even so, the calibration drifts at the edges of the display. This makes scrolling up and down in full screen windows frustrating because it's hard to tap the scroll arrows.
I should also mention that the display is very spongy. And if that weren't bad enough, touching the display with the stylus results in a dark mark under the stylus. If you've ever had someone touch your laptop display with their finger, it's the same type of result. The OQO makes PDAs seem advanced in this respect. Kinda sad…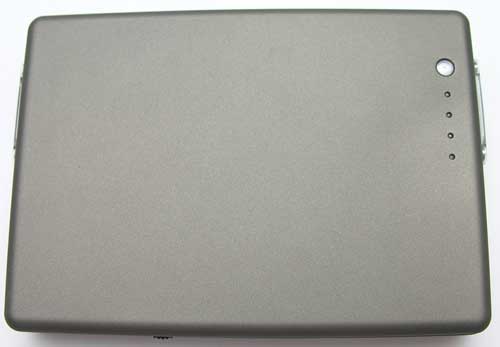 The back of the OQO is also the rechargeable / removable 4000mAh lithium polymer battery with LED fuel gauge. Pressing the small round button will cause the LEDs to light up. Four lit LEDs mean a fully charged battery. A full charge will power the OQO for approximately 2-3hrs. If you opt for a 2nd battery, it will set you back $149. Ouchy.

The top edge of the OQO has the stylus slot and an air vent. There's also a lanyard attachment point right above the stylus slot. The stylus seems like your standard run of the mill plastic stick. It is actually a special magnetic stylus. You can't use a regular stylus on the display, so don't lose the included one.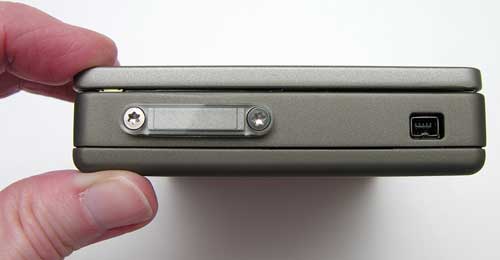 On the left side of the device is a FireWire port and a strange clear plastic bar attached via special screws. This bar is actually the WiFi / Bluetooth antenna. There is a matching one on the opposite side of the OQO.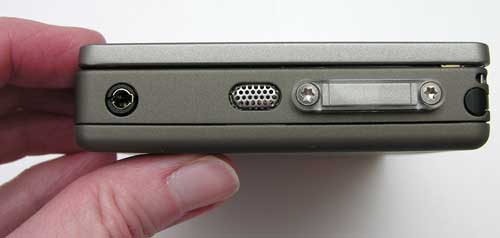 The right side has a standard sized stereo earphone jack, battery release latch (looks like an air vent) and the other WiFi / Bluetooth antenna. Sound through the earphone is very good. There is also a built in speaker (a feature that was lacking with the 01 model), so that you can listen without earphones. Maximum volume is decent too.

On the bottom edge of the OQO is the power connector, docking cable connectors, multi-function thumb-wheel and USB 2.0 port. The docking cable that is included with the OQO is pretty cool. It's one long cable with connections for power, audio, Ethernet, VGA out, FireWire and USB.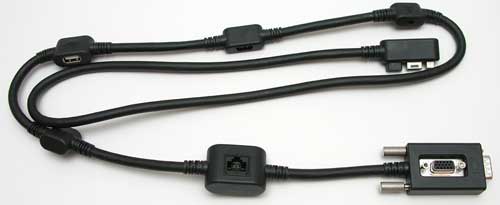 If you want to use the OQO as a desktop computer, you can attach an external monitor or projector to the docking cable. With the cable you can drive a monitor with a max resolution of 1280 x 1024.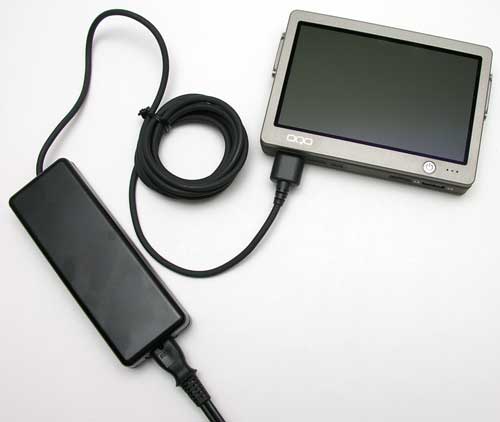 The OQO comes with a car power adapter (cigarette lighter adapter). To use it, you have to plug it into the power brick and then plug the brick into the OQO. Not exactly all that convenient if you ask me. The same goes for the included airplane power adapter. I really wish the OQO used a smaller power adapter. Something that would more easily fit in a gear bag. Something with folding prongs. Something better… Oh, the power brick makes an annoying buzzing noise. It's not very loud, but if it is a quiet room, you will probably hear it.

As a "touch screen" ultra small computer, the OQO is already pretty impressive, but then there's the sliding display, which reveals a thumb keyboard. Ok, now things just got really interesting…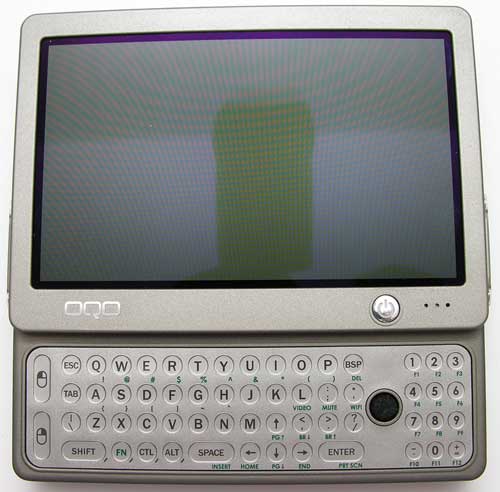 The display slides up quite smoothly to reveal a membrane style QWERTY keyboard with a number pad, mouse buttons and an eraser head TrackStik pointing device. The keys are small, but not difficult to press with my thumbs when holding the OQO in between my hands. Each key is slightly raised and provides good tactile feedback when pressed. The TrackStik has a rough texture so that your thumb does not slip off while you are moving the cursor around on the screen.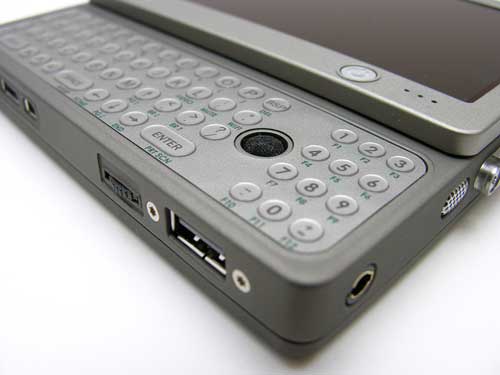 Using the TrackStik in combination with the left and right mouse buttons on the left side of the keyboard is actually pretty easy to get used to. It's much easier than using the stylus due to the calibration problem.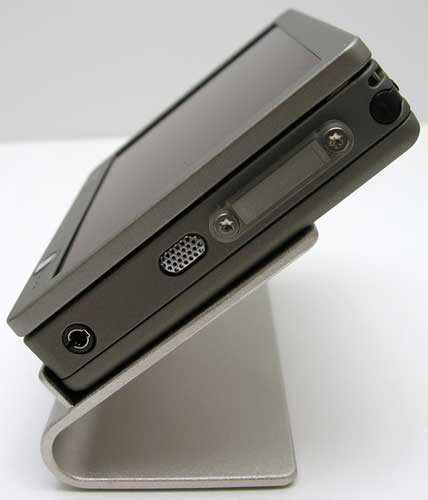 Also included with the OQO is a nice metal stand. The only thing that could make the stand even nicer would be if it could fold up flat for easy packing. Even so, it puts the OQO in the correct viewing angle to be used on a desk. You can even plug in a full sized keyboard and mouse into the USB slot, docking cable or via Bluetooth.
The OQO is available with a choice of Windows XP Home, Windows XP Pro and now Windows XP Tablet Edition too. My OQO has XP Pro. The only additions to the installation are 2 special settings / properties control panels. Below are some screen shots…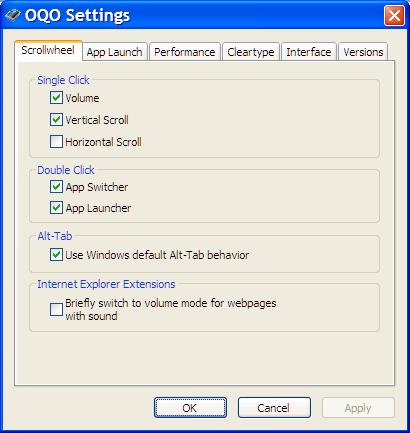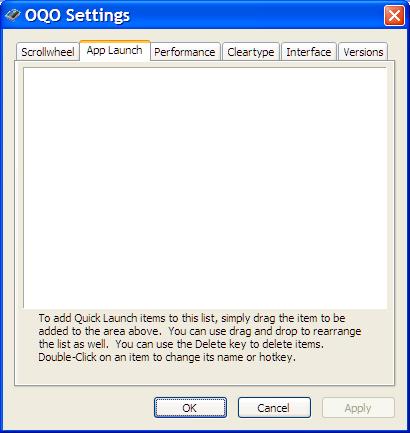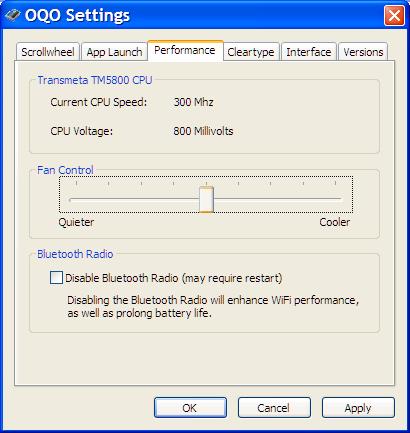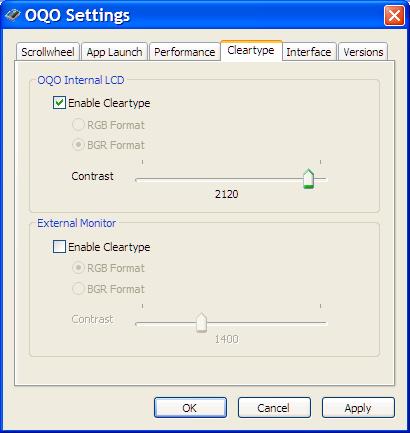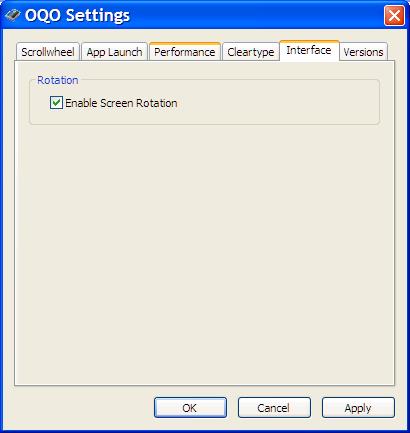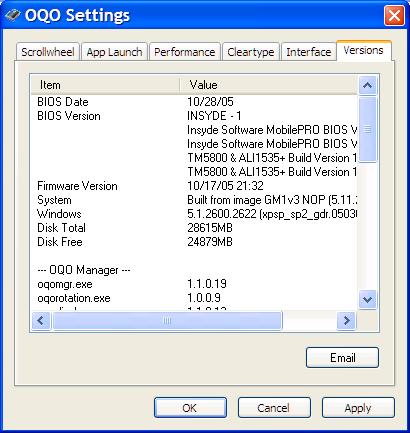 The Tablet Properties application allows you to adjust the sensitivity of stylus. This is also where you calibrate the stylus (not that it will help that much…).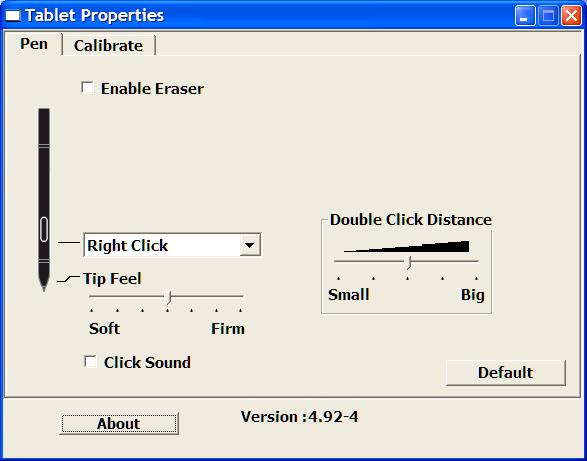 As far as performance, the OQO isn't a speed demon, but it's fine for surfing, emailing, and most tasks. I wouldn't use it for hardcore gaming or heavy duty photo editing though.
After using the OQO for a couple of weeks now, I've become both very impressed and very disappointed by it. You can't help but be impressed by such a small device that can run Windows XP Pro, has WiFi, Bluetooth, and a keyboard built in. I remember back before the days of The Gadgeteer, when my friend Dave Simpson and I would dream of the ultimate computer (when we were supposed to be working during our 2nd shift job). The computer would be about the size of a deck of cards, it would have tons of storage space and would plug into a docking station at home and work. You would just take it out of your pocket and whichever dock you plugged it into, that would become your computer with all your info, files, etc. It's funny because the OQO is pretty much the computer we lusted after. Actually an even better one as the OQO has a display and a keyboard too. That's what makes the OQO a great device, the ability to go from mobile to desktop usage by way of the docking cable or built in keyboard. BUT, as a mobile device, the OQO has some real deficiencies. The screen is much too dim. Much too spongy and not the best for stylus input. Then there is the fact that this little powerhouse gulps battery juice like I gulp Diet Coke. It runs pretty warm too. So it is hard to imagine cramming an even speedier processor in that package. You'd probably have to wear asbestos gloves and carry a couple spare batteries in your pocket. All that said, the OQO is a real marvel. I'm really looking forward to their next model!
See it in action…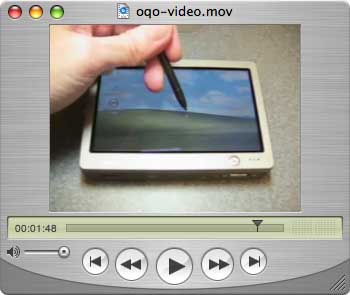 Click on image to play the QuickTime video (2min 03sec, 4.6mb).
Product Information
Price:
1999.0
Manufacturer:
OQO
Pros:

Windows XP in your hand
WiFi and Bluetooth
Built in keyboard and trackstik

Cons:

Dim display
Digitizer calibration is not accurate
Spongy display
Battery life short
Runs warm