We use affiliate links. If you buy something through the links on this page, we may earn a commission at no cost to you. Learn more.
I have reviewed four different Bluetooth mice in the last couple of years. First there was Bluetake's BT500. Next it was the Mouse BT from MacMice, then ThinkOutside's Stowaway Travel Mouse and finally Bluetake's BT510. At the end of each of my reviews I always had the same complaint regarding the fact that there wasn't an easy way to keep their internal batteries charged. There's nothing more frustrating than having your mouse go belly up right when you're settling in for a marathon surf session. The BT510 at least offered the ability to plug a USB cable into the mouse for those times when the batteries were drained. None of the Bluetooth mice I've reviewed have had as nice of a charging solution as my Logitech MX1000 Laser mouse. This mouse doesn't use Bluetooth, but it is wireless, and it does have a nice cradle that you can set the mouse in to charge. I kept hoping someone would come out with a Bluetooth mouse with a similar feature. Well, someone has. Sorta. While it isn't exactly a mouse, it is close. It's the first Bluetooth trackball.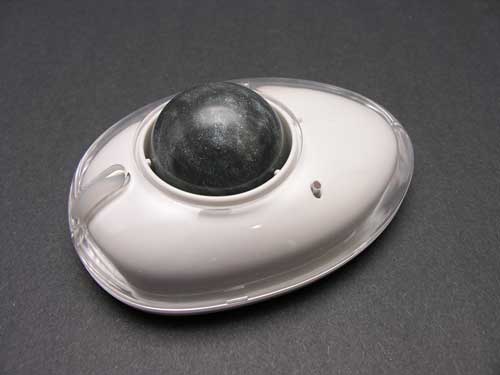 The Ball designed by Chwang Yi, should look familiar to you, if you've seen the MacMice Mouse BT. This trackball has the same clear plastic cover design that fits in great with my G5 iMac setup.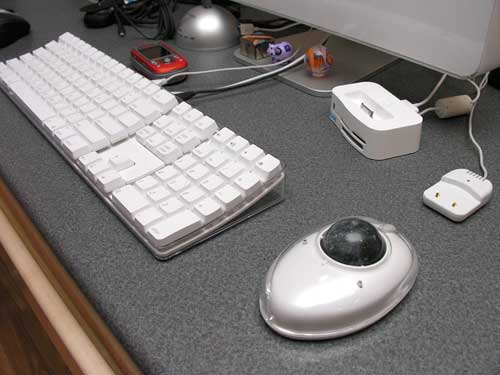 The Ball is a stationary input device. It's designed to sit on the desktop and not be moved around like a mouse. To move the cursor, you roll the ball around. To select items, you press the left and right buttons at the front of the device. These buttons function just like typical mouse buttons. There's even a a soft rubber scroll wheel between them.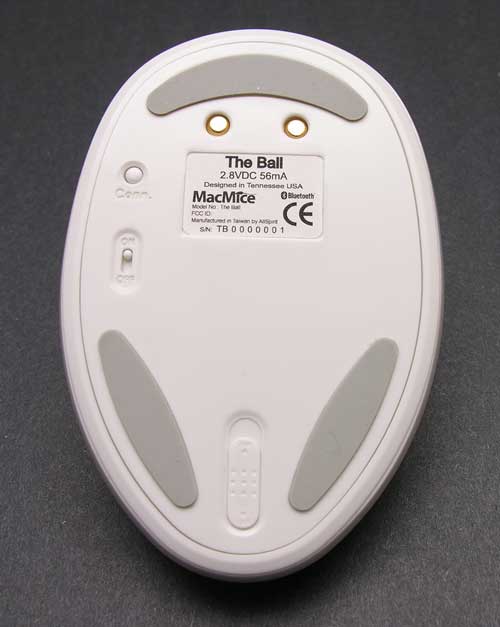 On the bottom of The Ball, there are 3 non-skid rubber pads, a connection button, on/off switch, battery charger contacts, and the battery compartment lock. Included with The Ball are 2 AAA rechargeable NiMH batteries.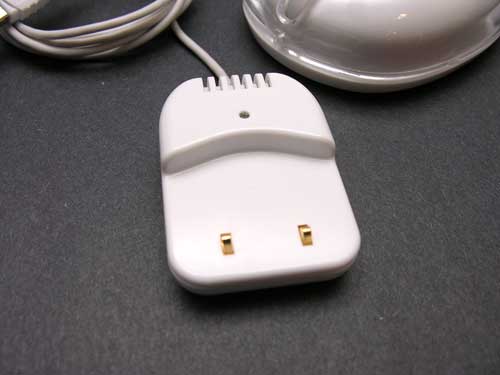 Charging is accomplished by way of the USB charging dock. This is a small module that plugs into a free USB port. It has an LED on top that blinks Blue while the trackball's batteries are charging, and then glows steady when fully charged.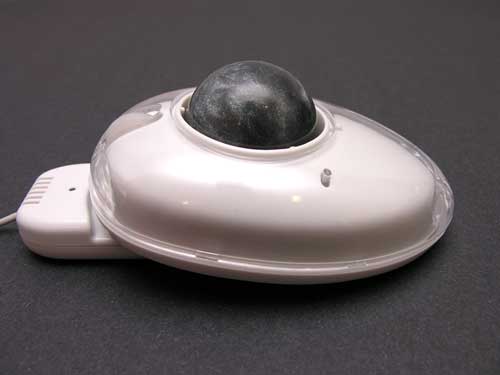 The two gold spring loaded pins protruding out of the base of the USB dock, mate with the contacts on the bottom of the trackball. To charge, you just set the trackball on the dock to make electrical contact. Easy!
Pairing the trackball with my iMac was a no brainer. I charged the batteries, flipped the power switch on the bottom to On, pressed the connect button on the bottom and told my Mac to discover the device. Simple.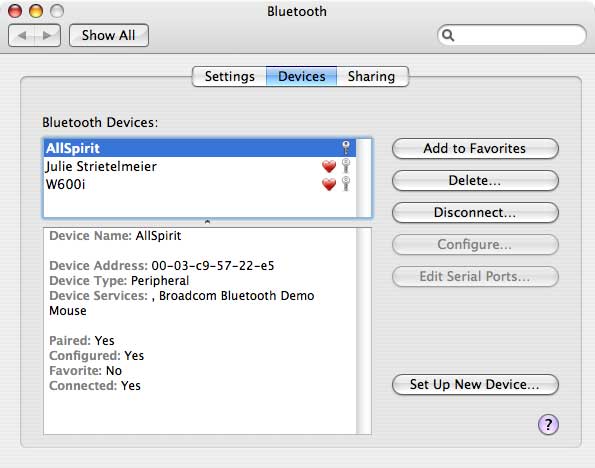 As soon as the trackball is listed as a Bluetooth device on your computer, you can start using it.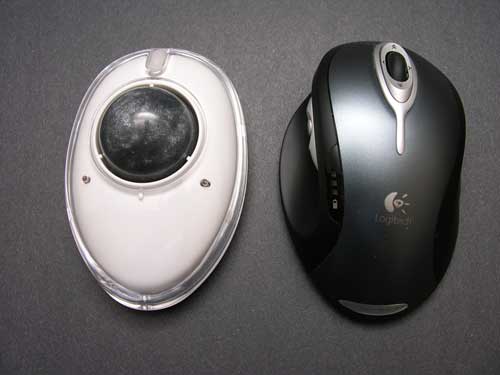 As you can see The Ball is very close in size to the MX1000 Laser mouse. The MX1000 is a large mouse though…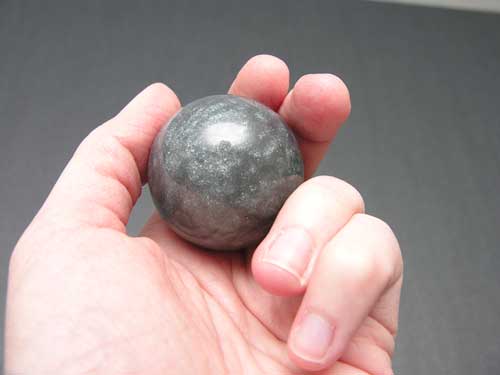 The trackball itself is about the size of a ping pong ball. It's made of plastic and weighs approximately 1 ounce.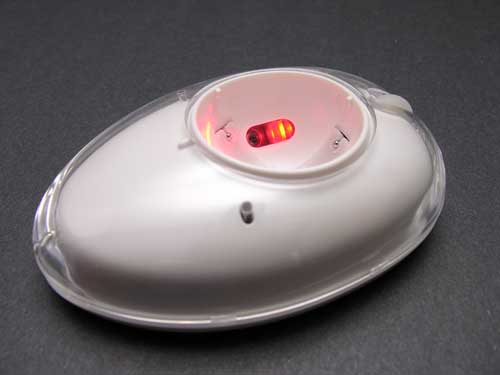 The ball snaps into the top of the device, and rotates freely in the socket.
I guess I should have mentioned at the beginning of this review that I've never used a trackball before. I wasn't sure how well it would work out for me, but since I'm usually game for anything, I knew I'd give it a good try. So I unplugged my trusty MX1000 Laser mouse and put it in a drawer for a week while I tried to acclimate myself to the wonders of trackball usage.
Right from the start I had problems doing some of the everyday tasks that I have always done with my mouse. Tasks such as clicking and dragging over a line of text to select it, moving an icon around on the desktop and cropping a photo in Photoshop. I'm not saying that I couldn't do these tasks with The Ball, but it didn't feel as easy to do them as it does with a mouse. All of those tasks require that you hold down the left button (I won't say that it's a mouse button…) and then move the cursor. That's pretty difficult to do with the trackball because it requires that you use two fingers instead of just one. You have to hold down the button with one finger and then use another finger to move the ball (cursor). When trying to do these types of tasks, I felt like my brain was trying to re-wire itself or something. ;o)
Using The Ball to scroll through pages of text, or selecting objects by navigating the cursor and clicking a button, were not difficult. It was just the tasks that required finger gymnastics that gave me trouble. I didn't have any problems with the cursor movements when using the trackball. Although movements were just a bit faster than I'm used to, changing the tracking speed in the preferences panel fixed that issue.
After a week, I came to the opinion that most people are either a trackball person, or a mouse person. I have come to the conclusion that I'm definitely a mouse person. I gave using The Ball a good try, but I never did get over the awkward feeling that I had from using it. I'd love to hear from other people that have successfully converted from mice to trackballs.
The Ball is a quality constructed input device that has both smooth scroll wheel (not ratcheted) and smooth trackball features. It's easy to setup and has a convenient battery charging dock. If you're a trackball person, I can't imagine what you could find to not like about this product.
Addendum:
I just discovered a big problem with The Ball and my iMac. If I shutdown the computer, The Ball will not be recognized after the reboot. I had to turn it off and on and hold down the connect button before I was able to use it again. I rarely shut off my computer, so this isn't a HUGE issue to me, but it is really annoying. I didn't find the same problem with sleep mode on the Mac.
Product Information
Price:
69.0
Manufacturer:
Chwang Yi
Requirements:

Windows XP system with Bluetooth capability
Mac OS X system with Bluetooth capability

Pros:

Wireless
Battery charging dock
Easy to setup
Scroll wheel

Cons:

Learning curve for mouse converts
The Ball has to be reset and rediscovered after computer reboot.