We use affiliate links. If you buy something through the links on this page, we may earn a commission at no cost to you. Learn more.
There are times when it pays to be a master of subtlety about how one's
gadgets are transported; times when a briefcase is too much, cargo pants are too
casual and obvious logos would be out of place. For those times when an
understated way to transport or conceal devices is needed, there is the brand
new SCOTTeVEST
Tactical 4.0.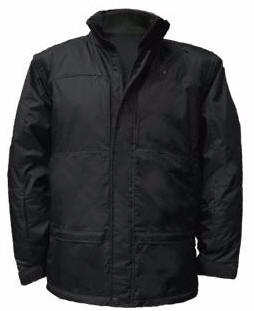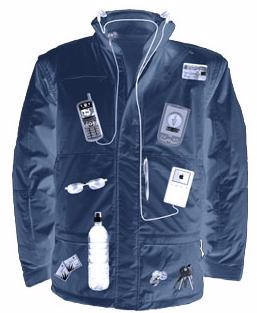 Of all the SeV jackets that I have reviewed in the past, this one seems to be the
most stealthy. With no obvious logos on the jacket's exterior, and with so many
hidden pockets and special features built in, it is no wonder that it has been
dubbed SeV's "most technical jacket yet." We'll get into "why" in just a little
bit…
With an exterior made of waterproof, windproof, breathable – and dare I add
near impossible to photograph in detail – black Finetex®, The Tactical 4.0
is ready for just about any weather conditions that may arise. The interior is completely lined in Coolmax® mesh,
which keeps the jacket from being too heavy and makes it
the perfect shell to wear on cooler days. It's even appropriate for
warmer days because the sleeves can be unzipped at the shoulder, turning the
jacket into a comfortable vest.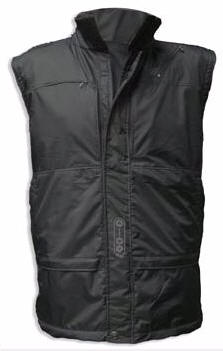 Photo courtesy of the SeV site
There are several different configurations in which this jacket is available,
but let's start with the basic Tactical 4.0 and its features:
• There are 40 hidden pockets
• Built in Personal Area Network (PAN)
• Detachable Cargo Cache+ (DCC+)
• ZIP-Pocket-in-Pockets (PIP)
• Baseball Hat Holder
• Hidden Epaulets
• BadgeGrabber™
• Can Hold Camelbak® system
• HangingPockets™
• Eyeglass Chamois
• Change Pockets
• DeepPockets™
• Bottle Holders
• CollarConnect™
• Removable Hood
• Magnetic Wind Flap on the front of the jacket
• Magnetic Pocket Closures
• Hidden Sleeve Pockets
• Removable Sleeves
• Collar Loops
• 2-Way Front Zipper
• Side Seam Zippers
• 4 Pen/Stylus Pockets
• Utilizes the SeV Weight Management System
• 2 Key Holders
• Secret Pocket
• Back Pocket
• Back Pocket Access
• Battery Holders
• Earbud Pockets
 
Depending on which configuration
the jacket is ordered, it may also include the following:
• Zip in Fleece Liner
• Volume Control
• SeV Solar Panel
The jacket is quite masculine, so I asked Steve if he would mind being the
model. He wears an XL, and all of the measurements in this review will reflect
that particular size.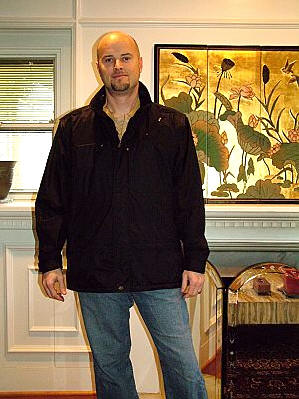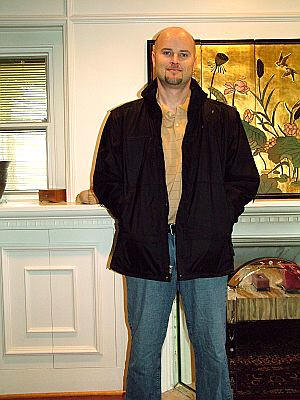 This jacket is hiding 40 pockets as well as several other special
features, so there will be a lot for me to cover in this review. As always,
we'll start at the top…
Because of the Tactical's black exterior – which made photographing
details a bit tricky, I am going to do something different in this
review. I am going to rely on internal SeV diagrams that Scott, the company's
CEO and founder, provided. Of
course there will still be tons of photos, but hopefully the details will be
clearer this way.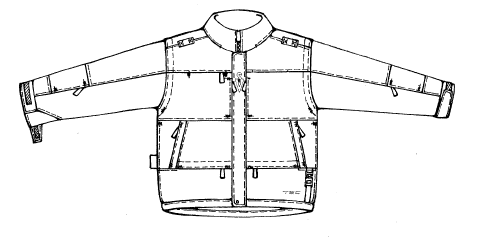 Diagram courtesy of SeV
The Tactical's stand-up collar is approximately 3.5" tall and is lined in soft
black Microfleece. When it is zipped all the way to the top, it will keep the
wearer's neck and chin toasty. Hidden under the rear of the collar is a mesh lined hood
which can be completely separated from the jacket by undoing its anchoring
zipper.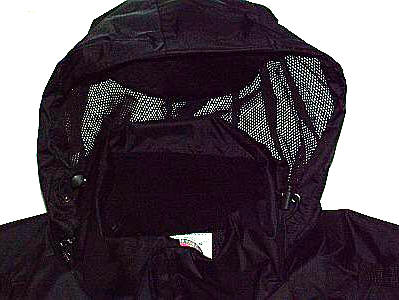 On either side of the hood are press-toggle adjusters which allow the hood to be
tightened around the wearer's face in heavy wind or rain. Inside the collar, on
each side, are two rubber earbud hooks…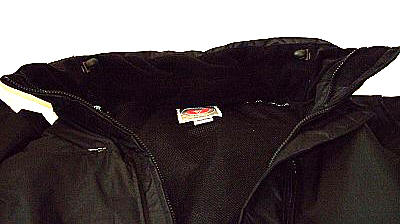 …the earbuds' wires can be run under the Microfleece interior of the collar,
there is a flip-up compartment made especially for this. At each end of the Velcro
secured flap are elastic loops which can hold an additional
set of earbuds or be tucked underneath when not needed.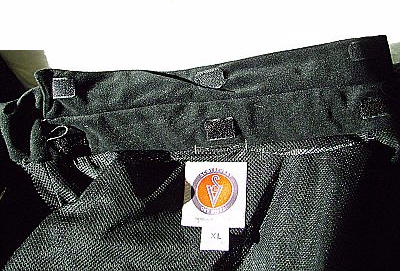 Both shoulders have black epaulets which are composed of a webbed nylon
material. These epaulets are strong enough to hold a clip on radio or speaker. The left
chest has an approximately 3" tall x 4" wide zippered pocket which can be left
unzipped for quick access, because it also has magnets to keep it shut. This
pocket is connected to the jacket's PAN.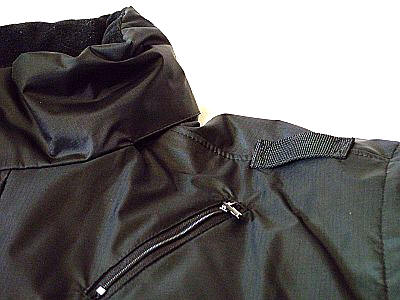 On the right breast is a 5" x 5" zippered pocket. The pocket
on the right has a nylon (with clear plastic overlay) ID
holder which can be worn on the outside of the jacket or hidden in the
pocket until such time as it should be displayed. I have always found this
feature to come in handy at trade shows, but I can also see that it would
also be very convenient for those in law enforcement. There is no magnet in
this pocket, so it is safe for ID with magnetic strips on the rear.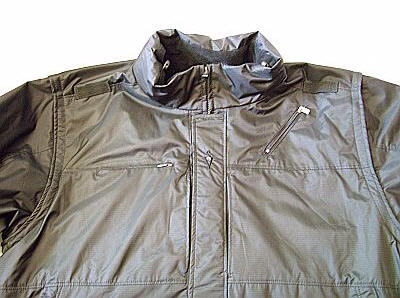 Directly under the seam running across the upper chest on each side of the
zipper are vertical zippered pockets measuring approximately 8" tall x 7"
wide. These PAN enabled pockets use the SeV HangingPockets system which
allows them to be weighed down with items such as binoculars, PDAs, GPS
units and other similarly heavy items without the pocket sagging from the
side. Everything is supported from the top of the pocket – and ultimately by
the wearer's shoulders. These vertical pockets may be left unzipped, as they
also use SeV's magnet system to keep the pocket open, yet secure.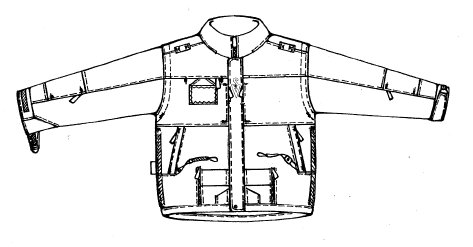 One each side are two deep hand-warming pockets which each
have multiple built-in features. These zippered and magnet enabled slash
pockets are essentially mirror images of each other with the exception of
each having a different style detachable keyring lanyard. Directly inside
each pocket is a 6" x 4" patch of Velcro, which is part of the SeV
Detachable Cargo Cache+ (DCC+) system. Inside each pocket are multiple
sections including a pocket that is sectioned in two by a zipper. Furthest
inside the deep pockets are elastic loops which can be used to secure a
bottle of water or soda.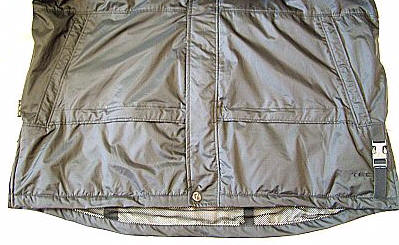 Directly under the slash pockets are 6" tall x 12" wide PAN enabled pockets
which use no magnets. These pockets are safe for any items which have a magnetic
strip or would otherwise be adversely affected by magnets.
The jacket uses a two-way front zipper which is covered by a magnet laden flap.
For security, the bottom features a customized SeV snap.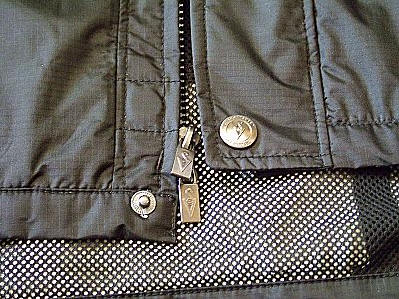 On the left side of the jacket is a baseball hat holder, which is essentially a
plastic snap system on a nylon strap which allows the wearer to attach his cap.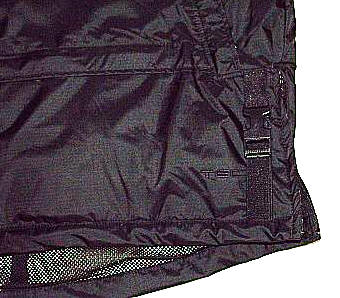 Each generously sized detachable sleeve has a plastic loop attached near the
elbow. I have to admit that these remind me of the loops my mom would attach my
gloves to when I was little. ;0)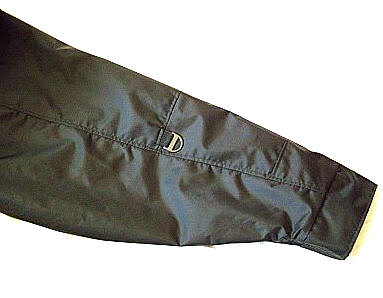 The cuffs of each sleeve are adjustable and secured with a hidden Velcro strip.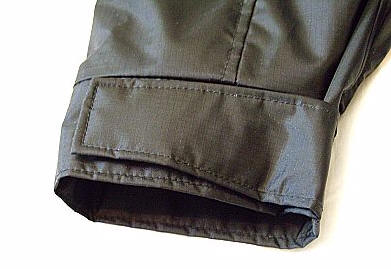 The cuffs can be made as tight as necessary to keep wind and rain out – or
loosened to go over bulky gloves or watches.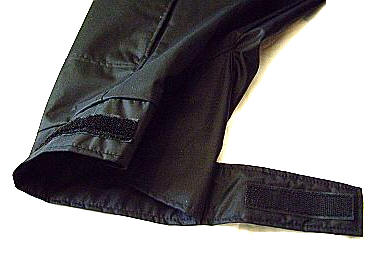 Inside the cuff is a nylon loop which I suspect is part of the
Tactical 4.0 System, which I will describe a bit more in just a little
bit…
The back of the jacket is cut to hang a bit lower than the front, which is a
feature I really like. This means when the wearer bends over their lower back
will still be covered. Another feature I really like are the 6" zippered side
vents which can be left open or closed, as the wearer prefers.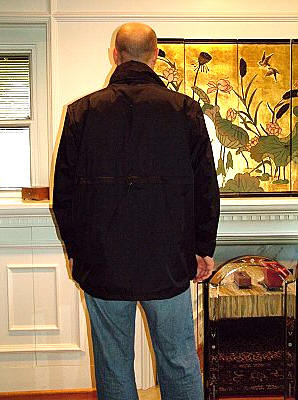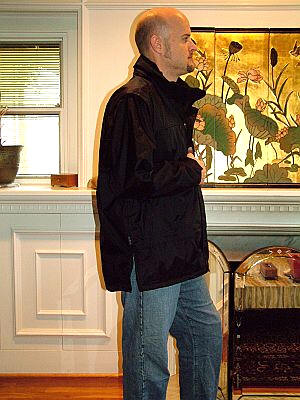 In the middle of the back is a huge pocket measuring
approximately 16" wide and 14′ deep, which is appropriate for carrying files
and magazines.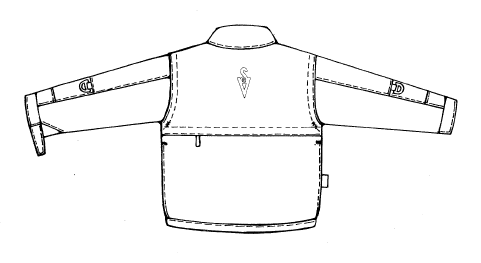 This pocket has a couple of features which I should point
out. Notice how a flap covers the zipper? Well on the underside of the flap
are a couple of strips of Velcro, which I believe work in tandem with the
loop at the exterior base of the neck to secure
the optional solar panel.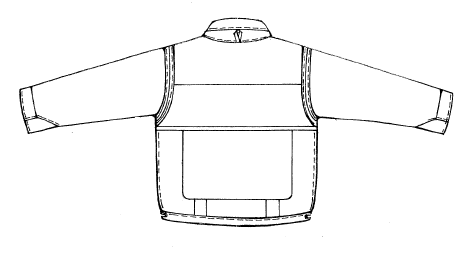 On hotter days, the back pocket's zipper can be left open.
It won't gap much because there is a strip of material secured by a silver
SeV snap which keeps everything together.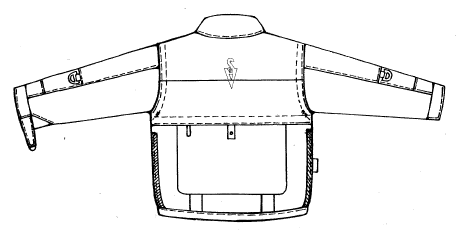 The interior of the Tactical 4.0 is a virtual wonderland of pocketry, as
evidenced in this diagram…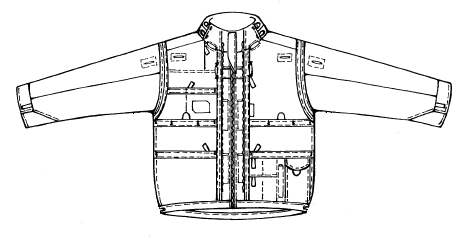 Now let's move inside and take a closer look…
There is an extra zipper inside the placket for attaching the optional
4.0 Fleece.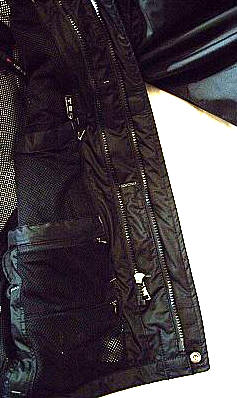 These two jackets, when combined, make up the
Tactical 4.0 System  – which is basically a very warm TEC enabled
winter coat that has 52 pockets. I bet it would be easy to lose a pack of
gum with that many pockets!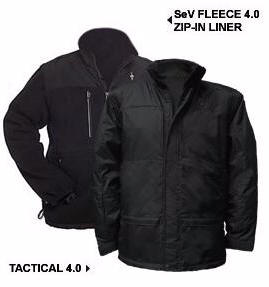 Photo courtesy of the SeV site
Starting on the left side of the Tactical 4.0…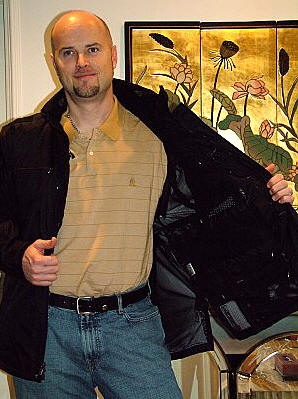 …we find a complex lower half pocket system composed almost entirely of
Coolmax mesh. Up near the top of the inside placket on each side are small mesh
pockets in which lose earbuds can be tucked when not in use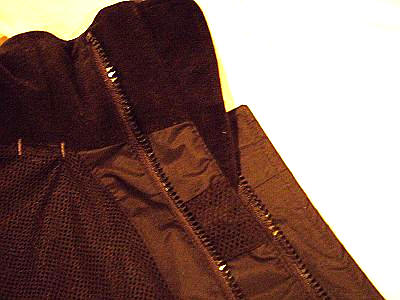 Right above the left breast is a vertical 7" tall x 6.5" wide zippered pocket.
Inside this pocket is a SeV eyeglass cloth, tethered to an alligator clip at the
end of an elastic cable.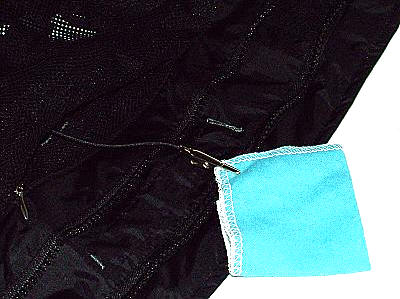 About mid-chest, there is a very large and deep pocket, measuring approximately
13" tall x 11′ wide. This SWAT pocket, as I call them, is kept closed with a
zipper. But just as the

Milan jacket I recently reviewed, the Tactical 4.0 uses magnets to secure
what can essentially be made into a quick draw pocket for a concealed weapon.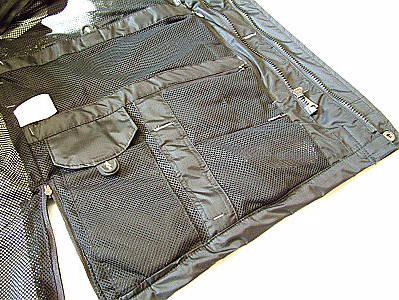 The mesh pockets located in front of the deep pocket include
a 8" tall x 4" wide Velcro flapped pocket with a rubber tab for easy
lifting, a pen or stylus pocket, and two zippered mesh pockets which are
divided into two pockets each – suitable for holding CF sized memory cards
or other small items securely.
Sandwiched between these specialized pockets and the deep pocket behind
is an 8" deep x 11" wide pocket which is divided in two by a strip of
Velcro. The Velcro can be separated to create a single large pocket.
Inside the magnet fastened flap is a 6" wide x 4" tall DCC+ patch, one of
four total in the jacket. This patch is suitable for attaching a Velcro gun
holster, or for using Velcro to secure other items that need quick and easy
access. This large patch pocket has a rubberized tab at its center top which
makes "ripping" the magnets open quick and easy.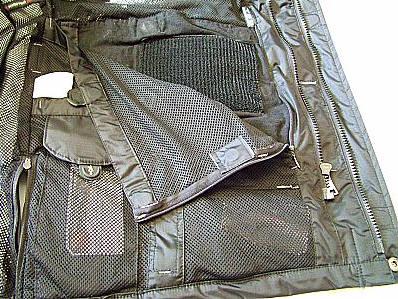 Down at the bottom of this deep pocket are four AA and four
AAA battery slots created out of wide elastic. This will be quite handy for
those that need to carry extra batteries.
Notice the pen or stylus pocket in the placket? There are two built in on
each side. Adding that to the one previously mentioned makes a total of five
pen or stylus slots.
Now for the right side of the jacket…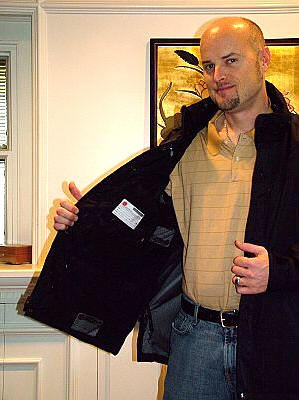 There is a PAN enabled 7" tall x 5" wide zippered pocket near the right
shoulder. This pocket would be a great place to tuck away ID cards, a pager, or
even a mobile phone.
Directly under the shoulder pocket is an open and easily accessible 6" wide x 5"
deep pocket which features a hidden zipper leading into a secret 5" wide x 4"
tall pocket. Well, If the pocket weren't mesh it would be more of a secret – but
it is at least quite secure and tucked away!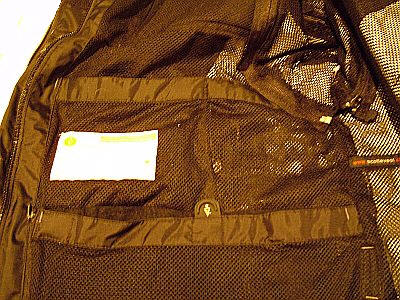 Next is another SWAT pocket, which is a mirror image of the previously mentioned
one. It also includes a quick access magnet system with a 6" wide x 4" tall DCC+
patch. In its bottom are another four AA and four AAA battery slots created out
of wide elastic.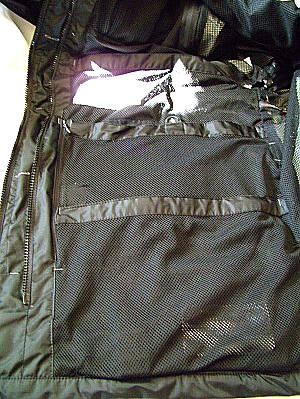 One last feature with which the Tactical 4.0 may be ordered is Volume Control.
When this option is added, a volume control panel is added to the front flap as
shown in the following picture.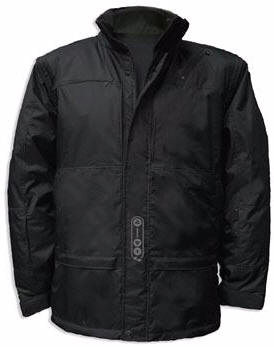 Photo courtesy of the SeV site
A small control box…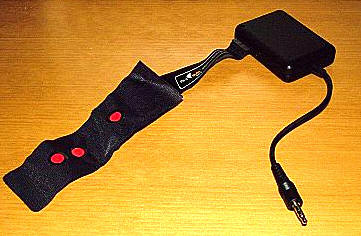 … is added to an interior pocket in the jacket which accepts the audio
device's headset jack. In turn, the box's 6" cable ends with a 3.5mm plug which
connects directly to the audio device, enabling the volume to be adjusted from
the exterior of the jacket – while the device rests securely in an
interior PAN enabled pocket.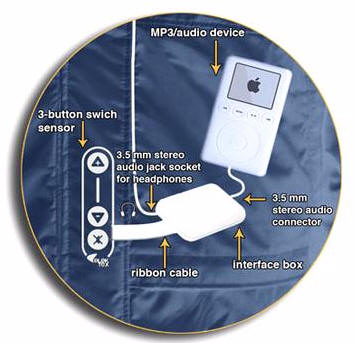 Photo courtesy of the SeV site
Perhaps more so than any other SCOTTeVEST
product that I have reviewed in the past, the
Tactical 4.0
is the one that makes me think "Law Enforcement Professional". To the
untrained eye, it could pass as a good looking windbreaker. Only those that own
one – or that have read this review – will know all of the jacket's secrets! But just because I think this would be a great law enforcement jacket doesn't mean
that a serious gadget guy won't want one. There are plenty of attractive features for everyone to enjoy, including the plethora of pockets, stealthy logos and the year
round comfort.
Product Information
Price:
229.99
Manufacturer:
SCOTTeVEST
Pros:

Waterproof and windproof
Weight is good for all year round
Fit is comfortable and roomy
A plethora of pockets in thoughtful locations
Stealthy logos are perfect for law enforcement
Zippered sides allow comfort when seated
Two-way zipper pull on front

Cons:

So many pockets you may forget where you put your stuff!