We use affiliate links. If you buy something through the links on this page, we may earn a commission at no cost to you. Learn more.
Product Requirements:
Device:
Any device that can accommodate a Type II CF card
I live by the Boy Scout motto: Be Prepared. I have a zippered pouch in
my gear bag that has all kinds of little adapters and tools. Things like the

Victorinox CyberTool and
FlexUSB adapter.
I just found another adapter that will be taking up permanent residence in that
pouch: The EagleTec SD to CF card adapter,
which I received from Brando.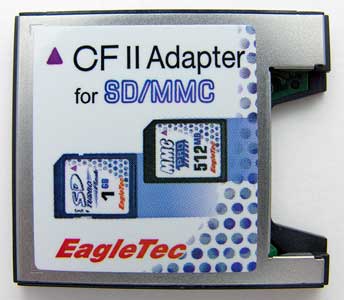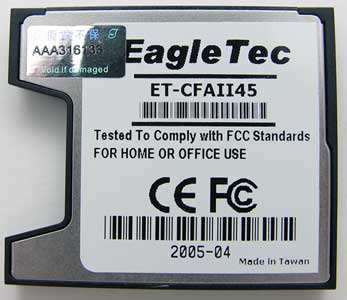 There isn't anything really mysterious about this adapter. It is basically a
CF Type II shell, with a slot that an SD card can plug into.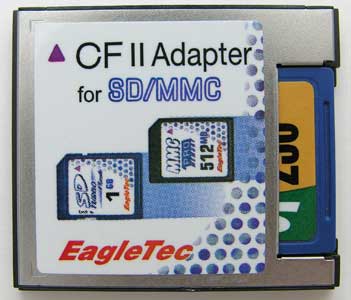 Above you can see a regular run of the mill Lexar SD card plugged into the
side of the adapter. When fully inserted, the card's outside edge is flush with
the end of the adapter.
You might wonder if this adapter has any effect on file transfer speeds. I did a quick test where I copied a folder of 111mb from my PC to an SD card and then back again. Times for that test were 40 seconds and 6 seconds. Then I did the same test with the SD card inserted into the adapter. The results were 49 seconds and 6 seconds.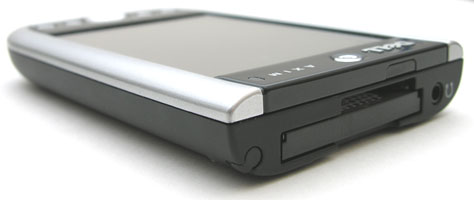 Above you can see the adapter plugged into the
Dell x50v Pocket PC. It fits perfect and
works perfect. Unfortunately, we all know that nothing really is
perfect. That is true of this product too. The only problem with the EagleTec SD
to CF adapter is the fact that the edge of the adapter does not have a lip. As
such, you will play havoc trying to remove it from any device that does not have
an eject button. After inserting it into the x50v, I had to use some needlenose
pliers to pull it out of the slot. Grrrrrr….  That said, I'm still
keeping it in my gear bag. I'll just remember to keep a small pair of pliers in
there too!
Price: $25.00
Pros:
Compact way to use SD cards in CF slots
Cons:
Does not have a ridge along the top edge to help with extraction
Product Information
| | |
| --- | --- |
| Price: | 25.0 |
| Manufacturer: | EagleTec |
| Pros: | Compact way to use SD cards in CF slots |
| Cons: | Does not have a ridge along the top edge to help with extraction |