We use affiliate links. If you buy something through the links on this page, we may earn a commission at no cost to you. Learn more.
Product Requirements:
Two 3V lithium CR-2016 Batteries
(first set included)
Not long ago, I reviewed a

Mobile Torch Bank Note Detector, which was essentially a device with two
purple LED lights which could be used to detect the fluorescence in authentic
bank notes and other documents that had been imbedded with fluorescing security
features. After writing that review, I was introduced to the
Photon Light Micro Light line,
specifically their
Purple
Photon Micro Light II.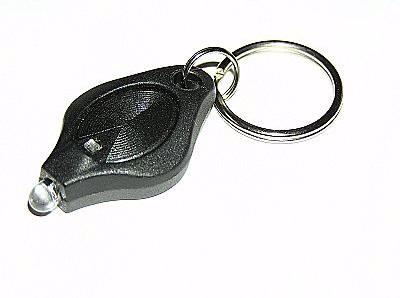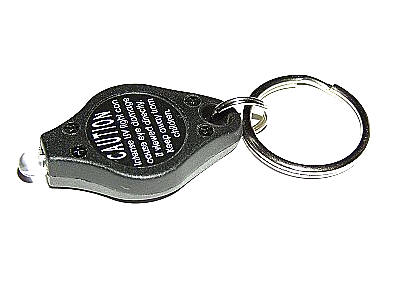 The Photon II is composed of "glass filled" polyurethane, which was a term I
had never heard before. According to Photon Light's site, it means that the "case
of the Photon II is practically indestructible and is very abrasion resistant."
This flashlight is very small, measuring approximately 1.5" long x 1" wide x
0.25" thick, and it weighs just 0.3 grams. This means that it can be slipped
onto any ring of keys without adding much weight or bulk. The light takes two 3V
lithium CR-2016 Batteries, and they can be replaced through the light's
removable bottom.
Perhaps the single most perfect feature of this light's design is the way
that it can be locked in the "on" position – just like a full size flashlight.
Note the clear plastic slider on the top of the otherwise press and hold power
button? When pressed forward it is in the "off" position…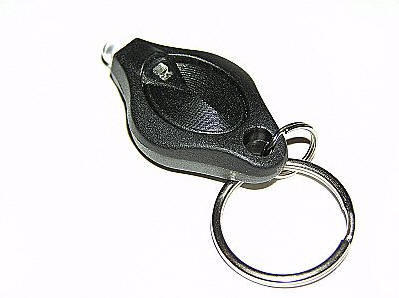 …and when it is slid back, the light is "on" without the need for
constantly applied pressure to the power button. This is a very nifty
feature that is available on any of the nine colors offered in the Photon Micro
Lights II line.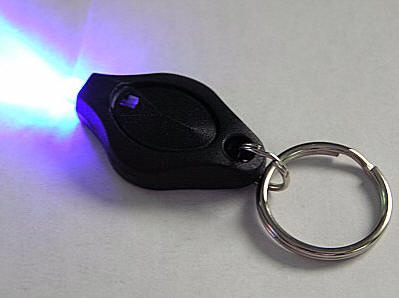 For those that are interested, red, orange,
yellow, green, turquoise, blue, white and Infrared are available, in
addition to the purple which I will be covering today. They even have an
informative
page dedicated to discussing the merits of all of the offered colors, in
order to help the buyer choose exactly which will work best for them.
Wow – I must say that I
was very impressed right out of the box by how bright the single purple
LED was! Take a look at this comparison picture between the single beam of the
Photon and the dual beam of the Brando. The lights were each held at an equal
distance of five inches above my desk. The blindingly bright light on the left
is the Photon.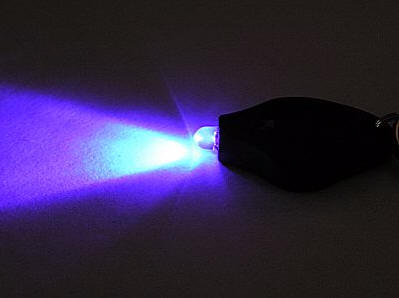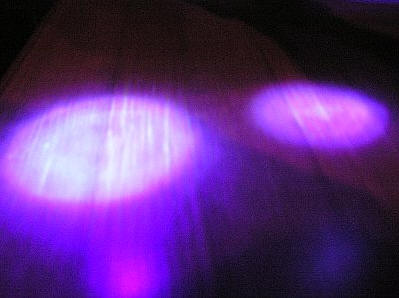 Left picture: the Photon beam, Right picture: Photon beam (on
left) vs. Brando beam (on right) comparison
According to the Photon Light website, "Purple bulbs create a black-light
effect, making lighter colors appear bright. Purple bulbs do produce some UV
light, which can be harmful if viewed directly."
Well, here is why everyone should own a portable purple or UV LED light – it
makes checking bank checks, bank notes and and other fluorescent embedded items for authenticity easy
and fun. Take a look at these shots, in each you will see some form of
fluorescence…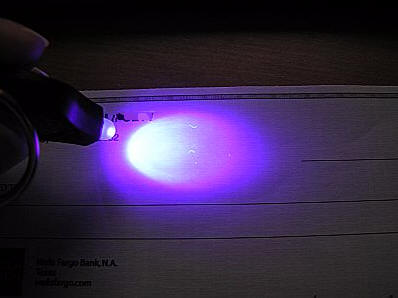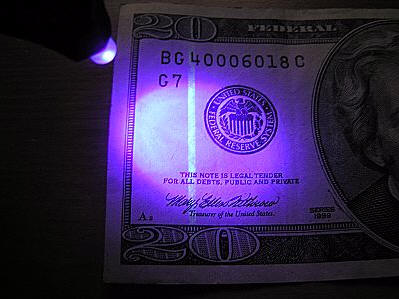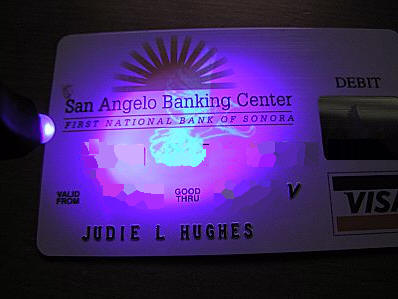 Even though I took these photos in relative darkness, the Purple Photon Micro
Light II is also usable under indoor fluorescent, halogen or incandescent
lighting. Obviously the darker it is, the more brilliant the fluorescent
features will glow, but they are still quite visible in a brighter environment.
Are there any watch collectors in our readership? If so, then they will
especially appreciate the on/off slider of the Photon II as it makes dramatic
pictures of watch luminosity easy work.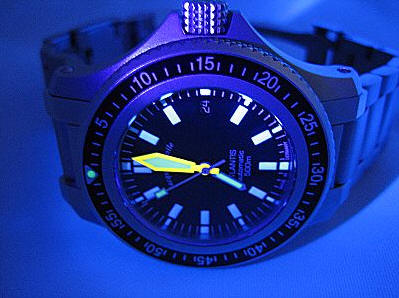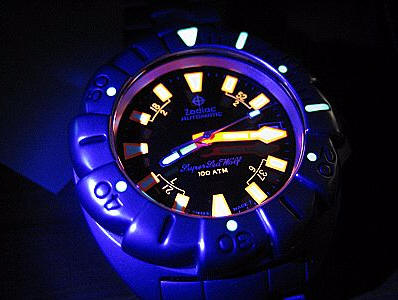 While the 405 nm purple LED lights are very similar to ultraviolet,
Photon Light also offers
UV lights
which offer true 375 nm ultraviolet and can be used for professional forensics
work. According to their website, "UV light has a variety of specialty
applications. It can be used to: authenticate money, expose imitation art,
identify minerals, follow blood, bacteria and protein trails, authenticate
collector glass and stamps, and accelerate curing glue. Medical staff, law
enforcement personnel, collectors, cashiers and model builders are the main
users of UV lights. 370 nm." Hmmm, I've even seen it used to dry fresh
manicures in nail salons.
The main difference between the purple and UV Photon Lights (other than their
prices, different key chains, and the lack of the locking "ON" slider
mechanism), is that the UV lights can be ordered with a covert shroud in place
which helps aim the beam exactly where it is needed and keeps the UV beam
from diffusing.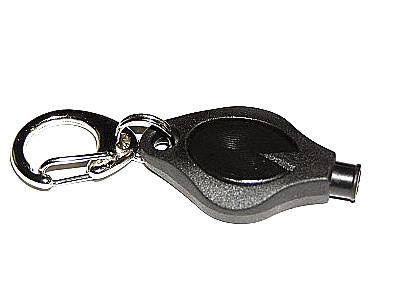 When comparing beams, to the naked eye the UV model does not seem as bright as the purple.
However it does cause fluorescent markers, such as the green strip in this
twenty dollar bill, to fluoresce even more brightly than they already do
with the purple – which is saying a lot.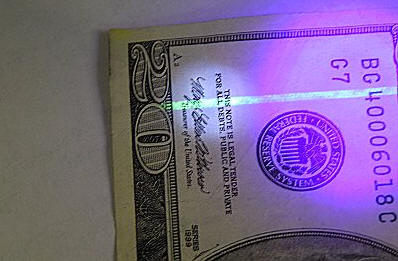 The tighter  beam on the left is from the
UV Photon,
the wider beam on the right is from the
Purple
Photon Micro Light II
I would like to close this review by reiterating the points that
I made in the previous
Brando review,
namely that counterfeited bank notes are everywhere and they are more
prevalent than most honest people would suspect. It is up to us to protect
ourselves and be informed about what marks of authenticity we should be
looking for. To that end, the
Purple
Photon Micro Light II is a valuable tool to keep on hand – or in this case –
on the keyring.
Price: $15.95 for the Purple Photon Micro Light II,
UV Photon lights start at $19.95
Pros:
Small form factor
Extremely bright light which works well even in normal daylight
Excellent way to check authenticity in various documents and items
Cons:
None

Product Information
Price:
15.95
Manufacturer:
Photon Light
Pros:

Small form factor
Extremely bright light which works well even in normal daylight
Excellent way to check authenticity in various documents and items

Cons: