We use affiliate links. If you buy something through the links on this page, we may earn a commission at no cost to you. Learn more.
Product Requirements:
Device:
Any device that can accommodate an SD card, or any
USB port
Ideative Inc., the company that
brought us the FlexUSB doo-hickey, are now
offering 128mb SD cards. These aren't ordinary SD cards though… These cards
have a built in USB connector, alleviating the need for a separate flash card
reader.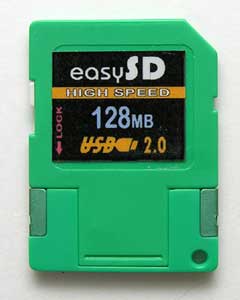 While it looks like any ordinary SD card at first glance, a quick inspection
reveals a pull off cap that exposes the USB connector. The cap itself has a thin
metal plate wrapped around the outside, to strengthen it. There is also a tiny
hole in one corner. I guess this is to allow you to attach some sort of lanyard
or something. Not sure what you are supposed to attach it to though.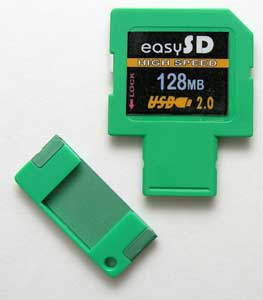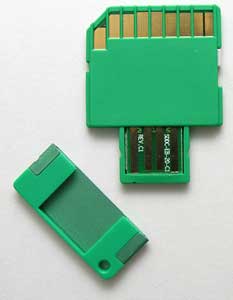 With the cap off, you can just plug the SD card into a USB port or cable to
access the data on it. The card uses USB 2.0, so transfers are as high as 10MB
per second. A quick test resulted in 25 seconds to copy 115mb of files to the
easySD from the PC. Going the opposite direction only required 17 seconds. Not
too shabby. Drivers are not required. It is all plug and play.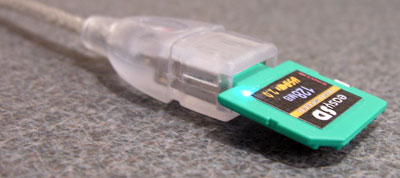 A blue LED on the front of the card glows when it is connected. I thought it
might flash during transfers, but it doesn't.
The easySD card is only available in 128mb capacities right now, which is a
bit disappointing. I would love a 1 or 2gb easySD card! The price for this card
is about twice as much as an SD card without the USB connector. If you want
convenience, you have to pay for it ;o) Regardless, it is great to have a flash
card that doesn't require any additional hardware to interface with your PC. If
you are the type of person that constantly copies files to and from your SD
card, this one will save you a lot of time and effort. That is worth a lot in my
opinion.
 
Price: $39.99
Pros:
No flash card reader needed
Plug and play
USB 2.0
Cons:
Only available in 128mb capacities
Easy to lose cap
Product Information
Price:
39.99
Manufacturer:
Ideative
Pros:

No flash card reader needed
Plug and play
USB 2.0

Cons:

Only available in 128mb capacities
Easy to lose cap