We use affiliate links. If you buy something through the links on this page, we may earn a commission at no cost to you. Learn more.
Product Requirements:

USB 2.0 computer port, Plug and Play with Macintosh
OS X, Windows XP, Windows 2000, or Windows Me
There are so many reasons why having a portable hard drive makes sense, but
finding the one that fits your needs – or your wallet – is not always a simple
thing to do. The short list of what I need from a portable drive
includes:
Self contained – no long cables that need toting and attaching to the
unit
Readily available and accessible interface – needs to utilize a common
method to connect, to whatever computer I need it coupled with
Large amount of available memory – enough to carry my files, a program I
might need to run from the hard drive, some music and maybe even a movie
Password protected – so I know that if I were to lose it, my information
would be safe
Compact design – can easily fit in a pocket or small corner of my bag
Reasonably quick read / write – I want to be able to back items up, play
music or watch a movie from the drive without any noticeable lags
Reasonable Cost – something that doesn't break the bank in the initial
purchase, and won't financially ruin me should I lose it and need a quick
replacement
In the past I have used a Kingston 5GB PCMCIA card, which really met only a
few of  my "wish list" features. While I have found it to be a convenient
way to move files to and from my laptop, it was quite expensive when I bought it
– over $400! – and there was no easy way to utilize password protection.
Then there was the fact that a PCMCIA drive is not exactly a standard feature on
every desktop computer. I had to pay extra for the option when I was outfitting
my Dell Dimension

4600C last year, but at least the option was available. A quick look at the
Dell site today showed that not only has the 4600C since been replaced with the

4700C, but a PCMCIA slot is no longer even offered on this series…or at
least not that I could find while simulating an order.
When I first stumbled across a blog-blurb mentioning the
Seagate
Pocket Hard Drive
back in December, I was intrigued with the idea of a small USB-based hard drive
with such a large capacity. Would it meet my particular needs?
Specifications:
Interface – High-speed USB 2.0, Bus
Powered
USB Compatibility – Mass
Storage Class, Bulk Only Transport
Sequential read/write performance – 4 MB/sec
to 7 MB/sec (typical)
Temperature, operating – 0 to 40
C
Temperature, non-operating – 0 to 70
C
Acoustics – 2.2 bels
(typical)
Power: drawn from USB port
Drive RPM – 3600 with 2-Mbyte cache
Transfer speed – USB 2.0 data transfer up to 480 Mbps, USB 1.1 only
supports transfer rates of 12 Mbits/sec
Warranty – one-year, plus free technical advice even after warranty ends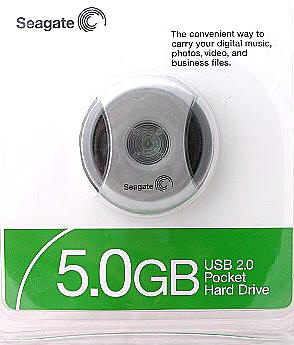 Inside the clear plastic display pack are the following: the Seagate Pocket Hard
Drive with built-in retractable 2.0 cable, quick connect guide and utilities CD
The Pocket Hard Drive, which I will call the PHD from now on, measures 2.9"
in diameter, is 0.73" thick and weighs 2.2 ounces. It is compact, and
just to fall victim to a couple of clichés – it is palm sized, pocketable and
extremely portable.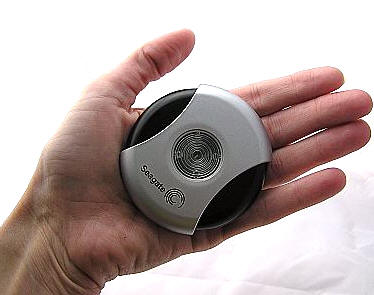 The Seagate is composed of two major plastic components: the black inner
discus and the silver outer shell. There is a slightly frosted translucent
window in the center of the discus, through which a bit of green circuit board
can be seen.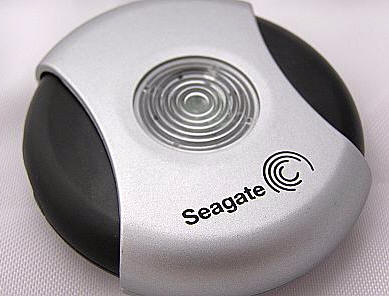 The back side of the PHD has two rubber strips to help keep it from slipping.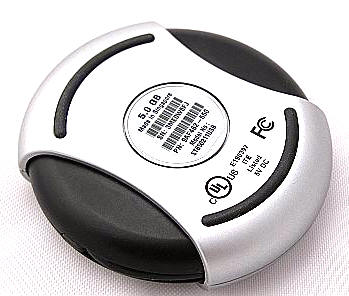 Since the black discus is slightly less thick than the outer shell, a little
bit of wobble appears to be present when the the unit is flexed. However, there
is no cheesy feel and the case feels solid enough. The purpose for the two
components is revealed when the silver shell is rotated to reveal a USB tip
holster which has been built into the discus.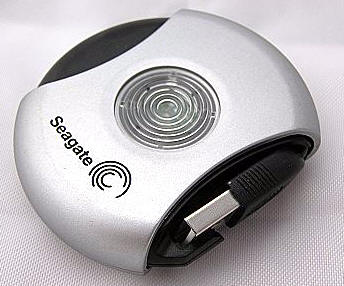 Releasing the USB tip and rotating the black discus reveals a 6.5" long
cable, measuring from end to tip.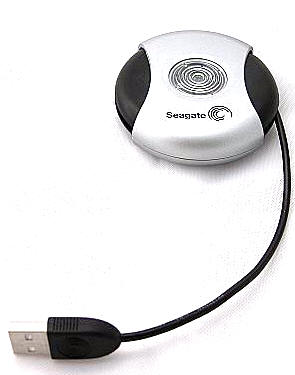 In the first few moments of examining the PHD, I saw that it could meet many
of my size and interface requirements. On to its use and performance…
Since my computer has front accessible USB ports, plugging the Seagate in and
getting started was a breeze. Computers with all of their USB ports on the rear
of the tower might need a USB extension cable.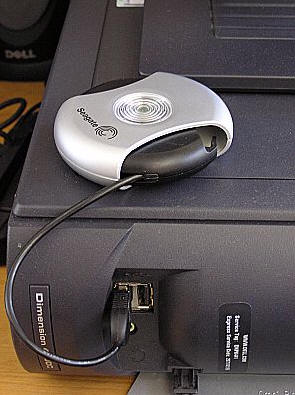 If using an operating system such as Macintosh OS X, or anything newer than
Windows Me, the PHD will plug right in and go to work. It will be recognized by
the computer as an additional hard drive and can be accessed for file storage.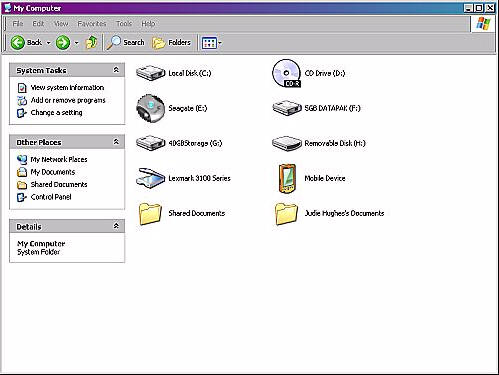 If you are using Windows 98, the necessary drivers are on the included CD.
Once inside the Seagate folder, there are a few pre-installed utilities
including the Users Guide and a program called Toolkit.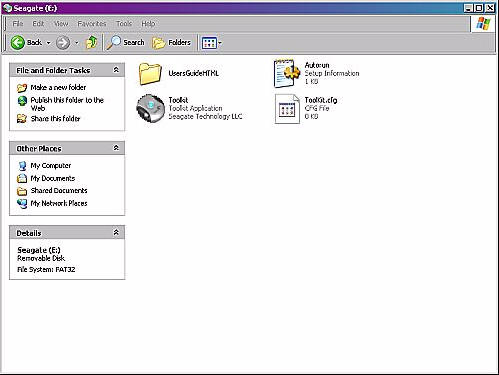 It is not necessary to run or use Toolkit in order to use the PHD, but there
are some nifty enhancements included in the program that the user might enjoy.
When Toolkit is started, a screen pops up showing the menu in the center left.
Along the bottom are several icons which show that the USB is connected and
active, the amount of memory used, the amount free and which drive the PHD is
utilizing.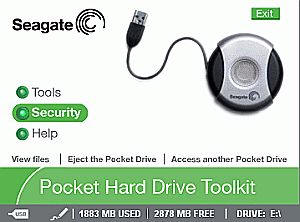 Pressing the Tools button reveals the following: Create Boot Disk, Manage
Partition, Format This Pocket Drive and Restore Factory Default.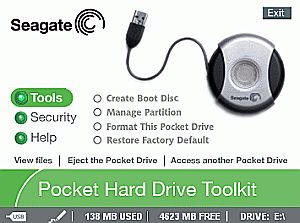 The Boot Disc function allows the Seagate to act as a "bootable pocket hard
drive using a FreeDOS operating system. Set-up is done by clicking the button
and then agreeing to the terms.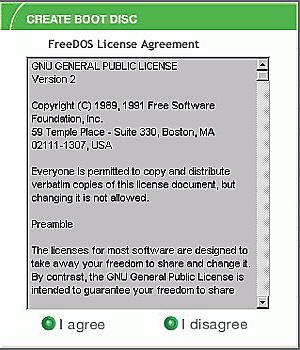 The CD is then inserted in the drive so that needed files can be accessed…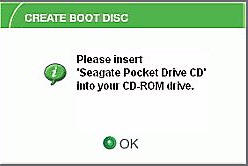 …and then a window will appear confirming boot ability.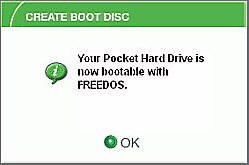 An additional folder will appear on the drive containing the added files.
The "Manage Partition" command simply means that you can partition two zones
on the PHD, private and public. Choosing this option will result in the
following screen, reminding the user that changing the partition sizes will
result in erasing any data on the disk…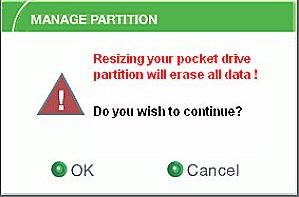 The next step will be to decide how much of the PHD should be private, and
how much public. I set my private area to 1000MB, and then chose a five digit
password.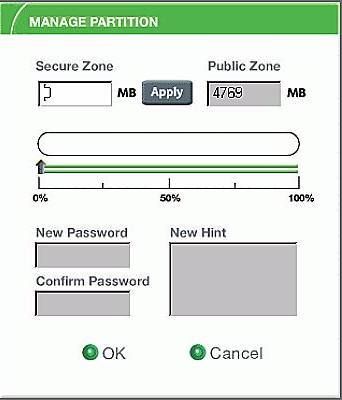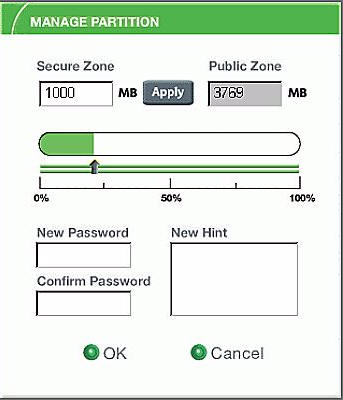 Once "OK" is tapped, a window will appear announcing the partitions are
completed.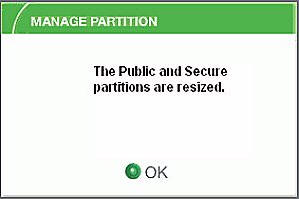 Note that there is a new icon in the bottom of the window now, a closed lock
when the password has not been entered and the user is in public view, and an
open lock when the the user has entered the password and is in the private zone.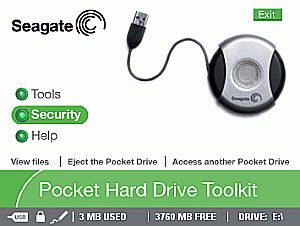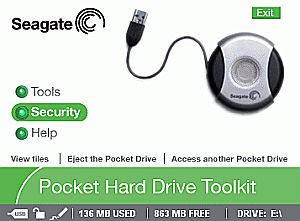 Choosing the Format option will allow a particular zone to be formatted
(completely erased) – leaving the other intact. Choosing the "Restore Factory
Default" option will scrub all contents, erase the partitions and restore all
contents and memory to the default public view.
Because the Toolkit application is run from the PHD, it can be installed to
any other computer, allowing access to both public and private files. Once it is
installed on the host computer, an icon is added to the system tray that looks
like the round object to the left of the temperature.

That's the way the icon will look when the drive is idle. When the PHD is
reading or writing data its icon will glow bright blue, as will the light in the
center of the Seagate. Yes, the clear area is actually a window that allows a
bright blue LED to shine, reminding the user that the drive is being used and
that it is not safe to disconnect.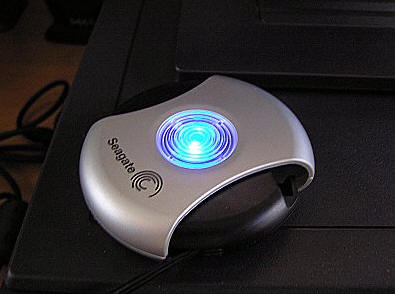 One last security feature is the ability to enable write protection. Let's
say that you have a lot of music on your PHD and you don't want to take a chance
that they might be erased, but you also don't want to keep them in a password
protected area. In this scenario the user would simply set the "Enable Write
Protect" option and the PHD will become "read only". Pretty nifty!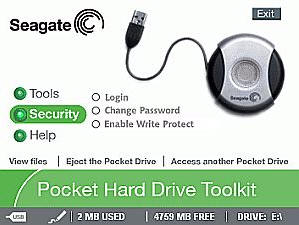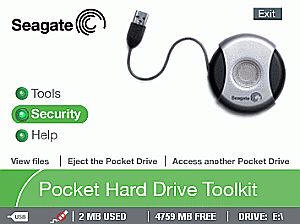 There are system tray icons that will be displayed for just about every
scenario, the following is the key from the Seagate website:
Icons
Public/Secure
Write-protected
Public
No
Public
Yes
Secure
No
Secure
Yes

The Pocket Hard
Drive's system tray icon and the light in the center of the drive
illustration on the Seagate Toolkit software's main menu screen will
turn blue to when it is busy reading or writing data. Do not disconnect
the drive when these indicators are flashing on and off.
When the user is done with the Seagate Pocket Hard Drive and ready to
disconnect, there is an option to "Eject the Pocket Drive" on the bottom of the
Toolkit menu. Once this is selected, the PHD will close itself down and it can
then be safely disconnected with no fear of data loss. Note the changed USB icon
at the bottom of this window: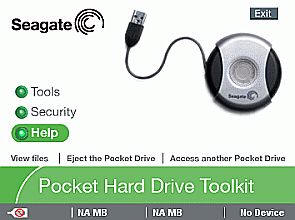 The Seagate has easily met my first five needs, now on to the next –
its read / write speed. I did a couple of timed tests, and got the following
results:
1. It took five minutes and 28 seconds to move Napoleon Dynamite, a 1.83GB movie
from my C Drive to the Seagate.
2. It took 1 minute and 26 seconds to move three CDs worth of music, or 347MB from my C Drive to the
Seagate
3. It took 28 seconds to transfer a 13.7MB file and 1 minute 36 seconds to
move a 121MB file from my computer desktop to the Seagate
While it did seem to take forever as I waited for the movie to
transfer, I believe that the result was completely reasonable. Now, if I had
attempted the same move on a 1.1 USB, I am sure that I would have been softly
snoring by the time it had completed. Well, that would be if I snored, which I
don't! <grin>
I listened to Muse's album Absolution as I
wrote portions of this review, playing from the Seagate over Media Player on my
computer – and it sounded great! Next I watched Napoleon Dynamite from the PHD,
once again through Media Player, and I noticed no degradation to sound, picture
or playback when compared to running the same movie file from my C Drive.
So there is yet another requirement that Seagate met.
Now at this point I should probably mention that while the PHD is a tough
little unit, it is not indestructible. Just because it resembles a hockey puck
does not mean that it can be treated as such. That means it shouldn't be left
outside in either a freezing cold or melting hot glove box. It should not be
dropped in a tub of water and you probably won't want to lay it right next to
your latest GEOMAG
creation. But otherwise, it should be okay…really!
When we went to the ranch for spring break, I was able to bring the Seagate
along. It was loaded with Legacy,
the genealogy program I have been working with, as well as all of the multimedia
and data files I needed to work with and eventually save. The PHD worked like a
champ and I was very glad to have it. Here at home, it is just as useful because
I continue to use it as a portable external backup drive for all of my genealogy
files.
My last requirement was a reasonable cost, and I believe that the Seagate
Pocket Hard Drive meets that one as well. All in all, this is an excellent
device that met or exceeded every expectation I had. I can highly
recommend the Seagate to anyone that is looking for an affordable, portable and
secure way to carry their important files.
Available in 2.5GB and 5GB, find the best price for the Seagate Pocket Hard
Drive

here.
Price: $159.99 for the 5GB
Pros:
Self contained
Readily available and accessible interface
Large amount of available memory
Password protected
Compact design
Reasonably quick read / write
Reasonable Cost
Cons:
Those without access to a front mounted USB port will need to buy an extension
cable
Product Information
Price:
159.99
Manufacturer:
Seagate Technology
Pros:

Self contained
Readily available and accessible interface
Large amount of available memory
Password protected
Compact design
Reasonably quick read / write
Reasonable Cost

Cons:

Those without access to a front mounted USB port will need to buy an extension
cable