We use affiliate links. If you buy something through the links on this page, we may earn a commission at no cost to you. Learn more.
Product Requirements:
Device:
Windows ME/2000/XP (98SE with driver), Mac OS 9.0 or
higher, Linux 2.4 or higher
Everyone and their uncle seems to have a USB drive these days. You see them
dangling from key chains, lanyards or popped from pockets when the opportunity
presents itself. Most USB drives on the market tend to be boring looking widgets
typically 2-3 inches long by 1 inch wide. That said, once in awhile you'll see
these devices available in whimsical designs such as

pocket knives, rubber duckies,
or even sushi shaped
drives!
GeekStuff4U recently sent me a cat
shaped drive. The Cat Bar from
Panram is a 256mb USB 2.0 flash drive that is available in Black, Gold, and
White cat colors. I was sent the Gold cat.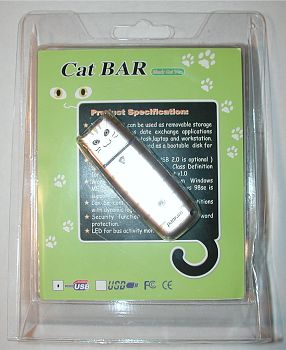 Just in case you've been living under a rock and don't know what a USB drive
is, these handy little gizmos allow you to copy files to and from PCs and Macs
that have USB ports. Just insert them in the port and they magically appear as a
removable drive on your system, ready for drag and drop files operations. Wheee!
Package Contents
256mb Cat BAR
Mini CD with Win 98 SE driver and application software
Lanyard
USB extension cable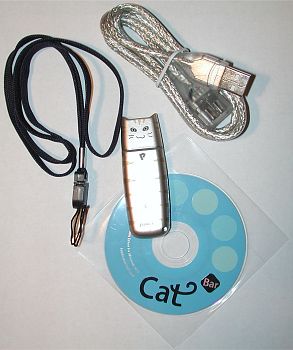 The Cat BAR is pretty darned cute. Guys probably won't like it, but women and
kids will get a kick out of it. The drive is made out of pretty rugged plastic.
The Gadgeteer squeeze test resulted in no noticeable flexing or bending.
A small LED in the 'body' blinks amber when read/write activity occurs.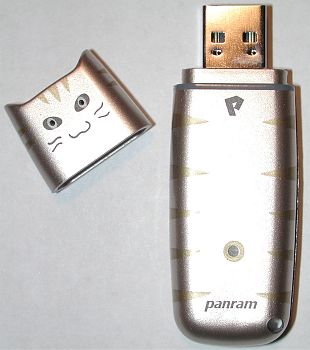 The cat's head which doubles as the cap can be pulled off (ouch!) to reveal
the USB connector. The only flaw in the design of this drive is the fact that it
is super easy to misplace the cap. Who wants a headless cat? Not I! It would be
nice if the designers had included some method to attach the head/cap to the
body of the drive while the drive is in use.
The Cat BAR is simple to use. It's Plug and Play for most current PCs that
you come in contact with. That said, the drive does come with a mini CD that
includes a driver for Win 98SE as well as a few extra utilities that get
installed all at once.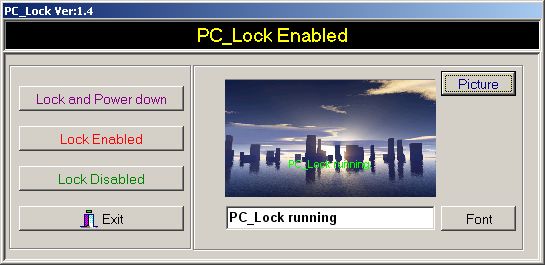 The included utilities allow you to use the Cat BAR as a PC Lock so that in
order to use the computer, you need the drive plugged in. It's not all that
secure as you can log into Safe Mode to get around it. You might fool your kids
with it though… maybe.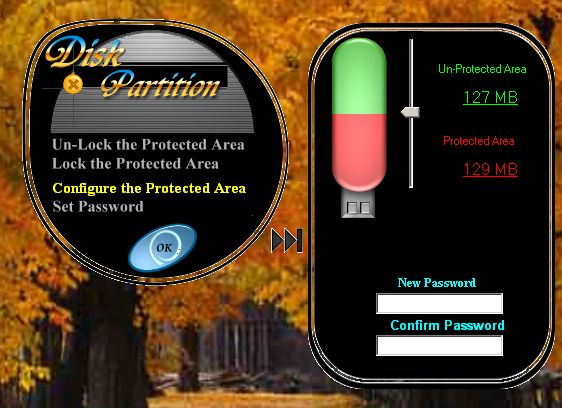 There is also a disk partition utility that allows you to setup a protected
partition with a password and resize it as desired.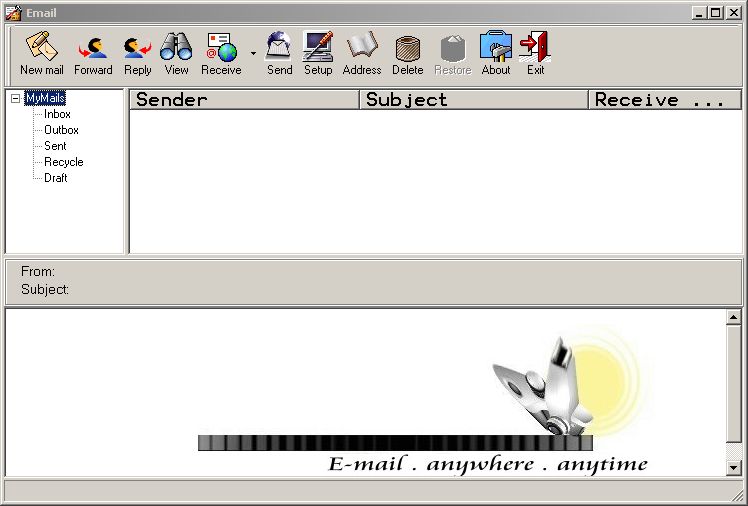 Last but not least, the CD contains a simple POP email application for
stealth emailing. The thing is, this program gets installed on your computer,
and not the Cat BAR… So I'm a little confused as to the usefulness of it.
The only other bit that gets installed to your PC is a little sound bite
file. Once installed, every time you insert the Cat BAR into that computer, it
meows. Useful? No. Cute? Oh yeah

The Cat BAR is a USB drive that will perform like most other USB drives on
the market, while injecting a little charm into the task at hand. However, it is
pricey when compared to other generic styled 256mb USB drives. I did a little
googling and found a like sized drives for $30 and under. That said, most
novelty drives that I found were around the same price as the Cat BAR. So, the
bottom line is that if you're a cat lover with a USB drive fetish, here ya go!
Price: $65.17 from
GeekStuff4U
Pros:
Cute shape
Cons:
Pricey
It's easy to misplace the cat head cap
Included applications on CD are a little lame
Product Information
Price:
65.17
Manufacturer:
GeekStuff4U
Pros:
Cons:

Pricey
It's easy to misplace the cat head cap
Included applications on CD are a little lame