We use affiliate links. If you buy something through the links on this page, we may earn a commission at no cost to you. Learn more.
Product Requirements:
Device:
Windows XP/2000/ME/98SE, Mac OS X v.10.2.6 or later
Remember when Bluetooth was just for mobile phones? This wireless technology seems to be finally gaining some momentum now that it is showing up in other devices, such as keyboards, stereo headphones and mice. Bluetake's BT500 Bluetooth Mouse is just such a device that we'll be taking a closer look at in this review.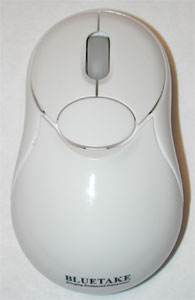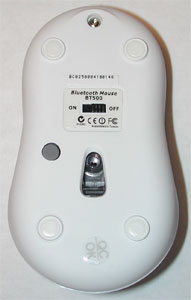 Available in Blue or White, the BT500 is quite a bit smaller than your garden variety mouse. This makes it both great for travelers or someone with small hands. Personally, I don't travel THAT much, and I have relatively large hands for a girl. That said, after a short time of adjustment, I found this lilliputian pointing device to be comfortable to use as my main mouse.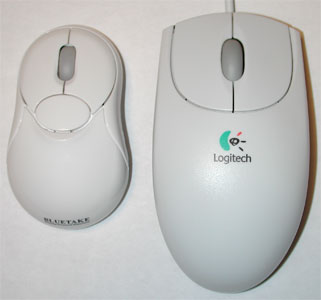 Made of good old plastic, the mouse weighs in at 2 ounces with 2 AAA batteries installed. The top of the mouse and buttons are slick plastic, while the sides have a more rubberized feel that allows you to keep a precision grip during use. The scroll wheel between the left and right buttons is also rubberized. Another feature of the wheel is that it doubles as a status LED for the Bluetooth connection with your computer. It glows blue during the initial device pairing process. After that, it will blink blue when your batteries are low.
On the bottom of the mouse is the on/off power switch, optical 'eye', and pairing/reset button.
Since the BT500 ships with a set of AAA batteries, you're all set to begin using this pointing device as soon as you open the package. The top shell of the mouse snaps off to reveal the battery compartment. Popping it off, sliding in the batteries and snapping the shell back in place is a simple operation. This is a good thing considering the fact you'll be performing the task often… More about this in a minute.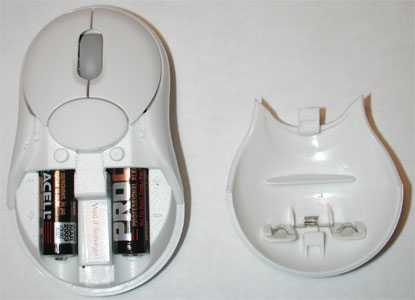 Of course, your computer needs to be Bluetooth enabled in order to use the mouse. If your desktop or laptop is not Bluetooth enabled, you can purchase the BT500 with a USB Bluetooth access point. I tested the BT500 with my PowerBook and was amazed at how easy it was to get up and running. It literally took me less than 1 minute to install the batteries, turn the Bluetooth radio on in my PowerBook, discover/pair with the mouse and begin using it. Nice!
During regular use, I found this mouse to be as easy to use as any other mouse, but much nicer due to the lack of wires! The 800dpi BT500 glides smoothly over a regular knit material covered mouse pad, or hard plastic mat type pad. Pressing the left and right buttons produces a loud click and great tactile feedback. I was less than impressed with the scroll wheel though. Using it to scroll through web pages just felt sluggish no matter how I manipulated the speed settings in the mouse preferences.
As far as start up time when your computer has been idle, I found that the mouse had a lag of a couple seconds before movement would be detected. This didn't bother me at all as I got into a habit of zigzag wake up motion with the mouse whenever I'd been away from my computer for any length of time.
My biggest gripe about the BT500 is the fact that doesn't come with a small cradle or docking port that charges the batteries. This mouse may be small, but it has a big appetite when it comes to power. Using 2 regular alkaline AAA batteries with the power turned to ON all the time, will only get you about 1 week of usage. If you can remember to turn the mouse off when you're not using it, you can supposedly get 4-6 weeks of usage per set of batteries. No matter how hard I tried to remember to turn off the mouse at night or while I was at my day job, I rarely did. Having a way to easily charge the batteries would be a perfect upgrade to this product.
Even with the battery issue, I love the BT500. It's great not to have to continually fight with wires and use up a valuable USB port. I will continue to use this mouse everyday, as well as when I travel with my PowerBook.
Price: $59
Pros:
Simple to setup
No wires!

Small size
 
Cons:

Not rechargeable, short battery life
Scroll wheel seems slow
 
Product Information
Price:
59.0
Manufacturer:
Bluetake
Pros:

Simple to setup
No wires!
Small size

Cons:

Not rechargeable, short battery life
Scroll wheel seems slow