We use affiliate links. If you buy something through the links on this page, we may earn a commission at no cost to you. Learn more.
Product Requirements:
Device:
Mac OS X v.10.2.6 or later and a either internal
Bluetooth technology or an external Bluetooth adapter
Finally, a mouse that even Pinocchio can love.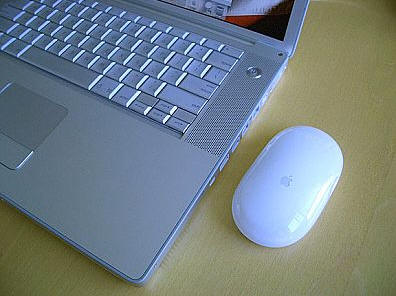 The Apple wireless mouse uses 2 Lithium Energizer batteries (included).
Absolutely NO cables or devices of any kind, provided that your Macintosh either
has internal Bluetooth technology or an external D-Link USB Bluetooth Adapter
(part # DBT-120, Rev. B2 or later) and Mac OS X v. 10.2.6 or later.
After using this mouse I found that the two biggest complaints from others are
correct.
1. The mouse doesn't immediately get recognized by Bluetooth but can be remedied
by holding the button down in a continuous "click". This is somewhat annoying
but not detrimental to usage.
2. The battery life can pose a problem if the mouse is not turned off after
usage. It comes with an on/off switch. You'll know the mouse is on when the red
optical light is visible. When it's off, the optical portion is completely
covered.
The other item to keep in mind is that the mouse has only one button so for any
kind of "right-click" capabilities you have to "control-click" to use the
function.
The best features are:
It is lightweight enough to travel without inconvenience.
Pairing the device is a snap. I had it out of the box and running smoothly under
Mac OS X 10.3.3 in less than 30 seconds. (Dale Earnhart, eat your heart out!)
Can be used up to 30 feet away from your computer (I tested this out and I was
able to control my desktop from several feet away.) This is a nice feature if
you need to hook your computer up to a projector or TV and need to control the
mouse from far away.
Can be used with either the left or the right hand.
Able to be used on a variety of surfaces – including your pants' leg! The manual
does say to avoid "clear, glossy or intricately patterned surfaces or half tone
images. Non-reflective, opaque surfaces without repetitive patterns work best."
This is true of any optical mouse because of how they function.
It comes with a tension adjustment built inside for people who are heavy
"tappers" on the button and people who are light.
As I haven't had my mouse very long, I'd say the battery life is quite admirable
– up to 3 months – and a pack of the AA Lithium L91 Energizer batteries can be
had for around 5 dollars. If you want to go cheap, the mouse also accepts
regular ol' AA's.
Overall, Apple has made a mouse that does what it promises – it optimizes your
Bluetooth technology to the fullest extent. (Provided that, unlike me, you
remember to turn Bluetooth on or make sure it's a properly paired device with
the instructions and manual included.)
You'll have to weigh the pro's and con's of the mouse yourself, but for me,
Apple's $69 was money well spent.
Price: $69
Pros:
Lightweight enough to travel without inconvenience
Pairing the device is a snap
Can be used up to 30 feet away from your computer
Able to be used on a variety of surfaces
Cons:
The mouse doesn't immediately get recognized by Bluetooth
Battery life can pose a problem if the mouse is not turned off after usage
Mouse has only one button
Product Information
Price:
69.0
Manufacturer:
Apple
Pros:

Lightweight enough to travel without inconvenience
Pairing the device is a snap
Can be used up to 30 feet away from your computer
Able to be used on a variety of surfaces

Cons:

The mouse doesn't immediately get recognized by Bluetooth
Battery life can pose a problem if the mouse is not turned off after usage
Mouse has only one button