We use affiliate links. If you buy something through the links on this page, we may earn a commission at no cost to you. Learn more.
Anytime Julie or I get a new PDA, we immediately begin the search for
accessories that will enhance its use. Not long after I ordered the Sony TH55,
we received an email from
JavoEdge
about their range of products. Thinking of my upcoming

4Corners trip, I knew it would be much more convenient to have a travel
charger for the TH than to bring along the huge contraption that Sony passes off
as a charging cord.
Well, as most of you know, the TH55 was sent back to Sony two days before I
left on vacation because of a serious digitizer issue. Luckily, the products
that I was sent also worked with my Sony NZ90, so I was still able to try them
out while on the road.
Once I returned, I thought that my TH55 would be back from Sony any day. I
went ahead and listed the NZ90 on eBay, and started using my Tapwave Zodiac2
again. This was a bad move on my part, at least as far as this review is
concerned. My NZ90 sold, and when Sony sent me a refurbished TH55 to replace my
brand new "paid full retail" unit, I sent it back for a refund. What this means,
in terms of this review, is that I don't have a picture of the JAVOEdge products
actually attached to a Sony PDA, and for that I apologize.
However, I do feel confident talking about their performance and so – without
any further ado…
Product Requirements:
Available for devices listed

here
Retractable sync and charge cables have been available for different models
of PDAs for some time. They offer the convenience of a portable cable that will
both sync and charge a PDA through the USB port on a computer. JAVOEdge offers a
version that comes in either black or silver. The device measures 5.5" long x
1.25" wide x 0.5" thick and it weighs 0.9 ounces. It is definitely designed to
take up very little room in even the stingiest of gearbags.
I was sent the

Sony T Series version in Silver. For those of you that haven't been keeping
track, this same model will also fit the following CLIÉ device series: NR, NX,
NZ, SJ, SL, T, TG, TH and TJ. Needless to say, Sony has been kind in keeping
their sync / charge ports the same over all of these model lines. The chances
are fair that if you get this model and upgrade to a different CLIÉ in the
future, that this same cable will be able to make the transition.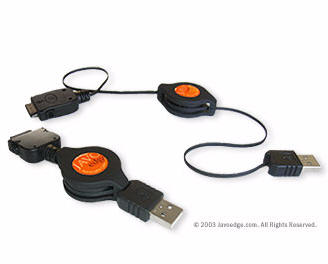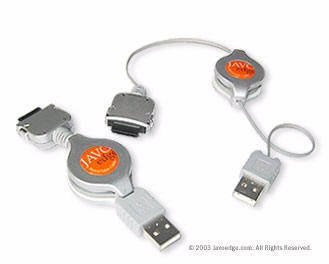 Pictures courtesy of JAVOEdge
The device feels solid, and the retractable action is smooth – so long as you
always remember to pull the cable from both ends at the same time. Pulling one
end without the other can result in a snarl or a unit that will not want to
fully retract in the future. Once pulled to its limit, the cable is a full 35"
long. This is plenty of length for charging a PDA from any port on a laptop
computer while keeping the PDA in an easily viewable position.
Absent from the cable is a dedicated hot-sync button. Now, I can't honestly
say that any other retractable available offers this, but it would be a welcome
addition if one would. As it is, you will have to initiate hot-syncs from the
screen of the PDA. That is the only con I can see to this cable,
whatsoever.
This cable will charge your PDA anytime it is hooked up to a computer's USB
port – or when used in conjunction with the JAVOChargers. This makes the cable
doubly valuable, since it can be used without a computer.
The JAVOSync cable is available in black or silver. You can purchase it

here.
Price: $14.95
Pros:
Compact and portable
Syncs and charges
Cons:
No built-in hot-sync initiation button
Product Requirements:
A USB sync / Charge cable
When you are traveling by car, especially if you are lucky enough to be the
passenger, a great way to pass the time is by playing games or reading eBooks on
your PDA. The problem is that if the trip is over a couple of hours long, you
will eventually deplete the PDA's battery. Enter the JAVOEdge

USB Car Charger.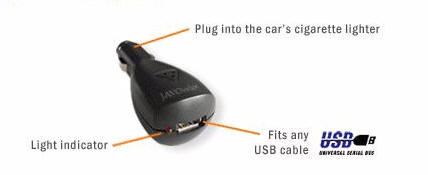 The charger measures 4" long x 1.5" wide x 1" thick, and it weighs 1.2
ounces. There is a handy red LED that indicates when the charger is receiving
juice form the vehicle.
When used in conjunction with the JAVOSync cable, you have a portable charger
that works from the power port in a car, airplane or boat. The entire package
can be conveniently stored in an auto's glovebox or in your gearbag.
If you already own a USB driven power cable, then you have the option of
using it in conjunction with the JAVOCharger. If you buy this charger and change
PDAs in the future, then you will still be able to use it with whatever cable
you purchase at that time.
The JAVOSync cable is available in black. You can purchase it

here.
Price: $9.95
Pros:
Compact and portable
Allows any USB sync/charge cable to be used as a car charger
Cons:
None
Product Information
Price:
9.95
Manufacturer:
JAVOEdge
Pros:

Compact and portable
Allows any USB sync/charge cable to be used as a car charger

Cons: