We use affiliate links. If you buy something through the links on this page, we may earn a commission at no cost to you. Learn more.
Product Requirements:
Device:
HP 2200 series iPAQ
It's been about a year an a half since I reviewed a
product
from Active Armor. This company, known
for its rubberized play through Handspring PDA case, is back with a brand new
case for the HP2200 series iPAQ. Available in orange, blue and grey, this case
is made of Santoprene rubber, with a polycarbonate clear flip lid.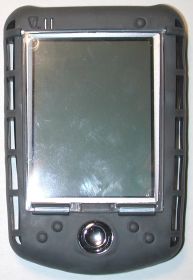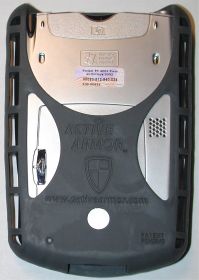 Inserting the PDA into the case is a simple operation, as the case can flex
and stretch as needed. Once inserted, all but one of the iPAQ's features are
fully available for use. The top is open to provide access to the headphone
jack, memory card slots and stylus silo. Small slit cutouts allow you to see the
status LEDs blink while in the case. The back of the case has a large cutout for
the speaker, as well as a small access hole for the reset switch. Really, the
only thing you can't do while your PDA is in the Active Armor case, is sync and
charge with a cradle. Cables work fine though.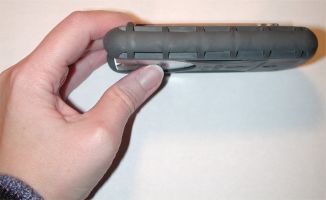 While in the case, the buttons on the PDA are covered with the rubber
material. However, they are fully operational. Small bumps are molded into the
rubber to facilitate button pressing. In my opinion, pressing the buttons while
in the Active Armor case, is actually easier than without the case. Game players
will be happy to learn that this case will not hinder them in any way.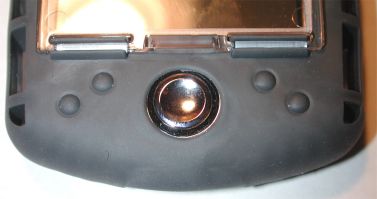 A nice clear plastic flip lid that can open 180 degrees, is integrated into
this case too. It closes securely, and can be removed easily if desired.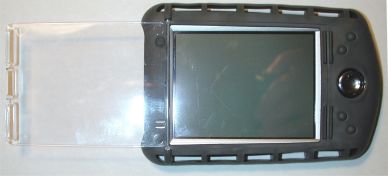 Never miss one of our posts again. Sent MON, WED, and FRI with the latest gadget reviews and news!
The most interesting thing about this product, is the ribbed sides. While this
design really helps to give you a better grip on the PDA, it also aids in drop
protection. These ribs help to absorb any impact shock if you happen to drop
your PDA on a hard surface.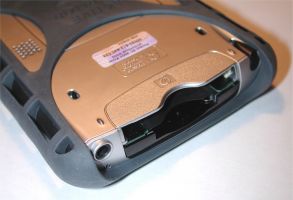 I really like the Active Armor case because it isn't the same old run of the
mill PDA case. It's play through, protects my PDA from drops and looks cool too.
About the only thing that I would change about this case, would be to cover more
of the back side of the PDA. Otherwise, I think most HP 2200 series owners will
find this to be a nice addition to their PDA.
Price: $29.95
Pros:
Play through
Removable clear flip lid
Side drop protection
Cons:
Can't sync / charge with cradle while in the case
Top, back area of case is minimally protected
Product Information
Price:
29.95
Manufacturer:
Active Armor
Pros:

Play through
Removable clear flip lid
Side drop protection

Cons:

Can't sync / charge with cradle while in the case
Top, back area of case is minimally protected