We use affiliate links. If you buy something through the links on this page, we may earn a commission at no cost to you. Learn more.
Product Requirements:
Device:
Windows PC 98, 2000, ME, XP
or later
Surfing on the road is a kind of mixed experience.  On one
hand it's amazing to be able to do a Google search while going 65 mph down the
highway.  But on the other hand, the mobile internet experience is severely
lacking compared to the desktop.  I recently started using a Nokia 3650 phone
with T-Mobile's unlimited data plan, and have been enjoying using email and even
doing some simple web surfing with the phone.  While this works, the phones
screen is rather small for anything but the most basic tasks.  I decided I
needed a new PDA to use as a browsing/email device while I was on the road. 
My requirements were pretty simple:  Bluetooth and a
built-in keyboard.  Sounds easy, right?  Wrong!  That particular combination of
features is pretty rare on PDAs at the moment.  First off, there are very few
devices with a keyboard built in.  Pocket PCs don't have keyboards built in, so
that made the decision easier.  On the Palm OS side, the Palm Tungsten C and
Sony CLIÉs come to mind.  But what about
Bluetooth?  Scratch the Tungsten…for some reason they decided to build WiFi
into the Tungsten C.  The CLIÉs offered more possibilities; they sell a lot of
models with built in keyboards. 
I looked first at the Sony Bluetooth enabled CLIÉ NZ-90,
UX-40, and UX-50.  CLIÉs are special, because they offer a huge variety of
features in each product.  Some you need, some you don't.  The NZ series is
LARGE, and the beautiful 480×320 screen doesn't work well in landscape mode if
you're using the keyboard (try it!).  The UX series is very cool, but the tiny
screen coupled with the fact that to charge it on the road you have to carry the
entire cradle with you turned me off. 
This left me with the Sony CLIÉ TG-50.  This was perfect! 
Built in Bluetooth, a backlit built in keyboard, and all in a small package with
a great looking price tag. 
Oh, but what's this? 
Sitting right on the shelf next to the TG-50 at CompUSA was
HP's brand new iPAQ 4355.  For some reason, I had completely missed any mention
of this PDA on the web.  Upon closer inspection, I saw that the 4355 had both
Bluetooth and WiFi built in.  It also appeared to be very compact, even
more so than the TG-50 sitting next to it.  And low-and-behold, the bottom 1/3rd
of the 4355 had a built in thumb keyboard.  A Pocket PC with a keyboard!  In a
frenzy of gear lust, I bought it right there on the spot. 
With such a small form factor and a full compliment of
features on board, could this be the perfect traveling companion for me?  The
heck with that…this might be the ultimate PPC!  Read on to find out! 
(Let me add here, I'm a dual platform user.  Actually, I've
got a Zaurus also, so lets make that multi platform user.  I say this only to
explain the senseless lack of concern over my choice of platform above.) 
Never miss one of our posts again. Sent MON, WED, and FRI with the latest gadget reviews and news!
Hardware Specifications
Operating System: Microsoft® Windows® Mobile 2003 Premium for Pocket PC
Processor: 400 MHz Intel® XScale technology-based processor
Memory: 64 MB SDRAM, (55 MB main memory)
Display: 16-bit Transflective TFT color (65,536 colors) 240 x 320 pixel 3.5 in
(96 mm) diagonal
Expansion: SD slot: SD, SDIO, and MMC support
Infrared port: IrDA SIR
Integrated Bluetooth™ (v1.1)
Battery: Rechargeable 1560 mAh Lithium-Ion user swappable battery
AC Power: AC Input: 100~240 Vac, 50/60 Hz; AC Input current: 0.2 AC max Output
Voltage: 5Vdc (typical); Output Current: 2A (typical)
Dimensions: (L x W x H) 5.4 x 2.9 x 0.6 in (138.7 x 74.6 x 14.5 mm)
Weight: 5.8 oz (165 g)
What's In The Box
HP iPAQ Pocket PC 4355
USB Desktop cradle/charger
AC Adapter, battery, and charger adapter
Slip case
Getting started poster
HP iPAQ Pocket PC Companion CD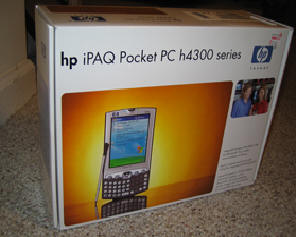 Cant wait to rip into this box!
The 4355 is impressive in that HP managed to add a
keyboard to a Pocket PC, but not add much to the width or thickness of the
device.  It still comes off feeling rather small.  To put the length in
better perspective; it's the same length as an iPAQ 5555.  It's a bit smaller
all around than a Sharp Zaurus 5500.  It's less than a half inch longer than the
CLIÉ TG-50.  The 4355 weighs in at a very respectable 5.8 oz.  It definitely is
not a bulky feeling device.
Touring the 4355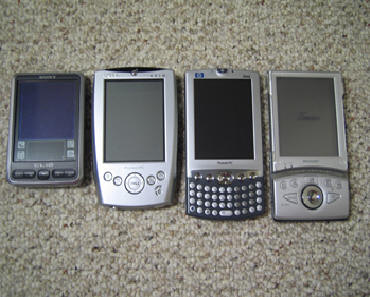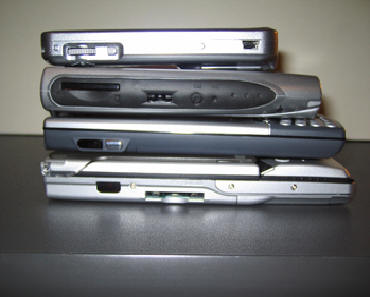 Sony CLIÉ SL10, Dell Axim X5, HP iPAQ 4355, an Sharp Zaurus SL5500 
The 4355 shares many design elements with the keyboard-less
4155.  The front of the unit is predominantly a flat silver color, while the
keyboard area is a dark powdery grey, which matches the back.  The chromed d-pad
and applications buttons are surrounded by a nice looking chrome accent.  Also
given the chrome touch is the voice record button on the left hand side.  The
keyboard keys match the grey color of the upper case.  The back has a sort of
texturized feel to it, so it's slip resistant. 
I find it interesting that some people on some of the more
popular message boards and forums feel that the 4355 is unattractive.  I suppose
it might be more suited for a business or professional user in terms of
appearance, since it doesn't offer any sort of customization options like
designer flip covers or user replaceable side panels.  I personally think it's a
rather elegant looking PDA.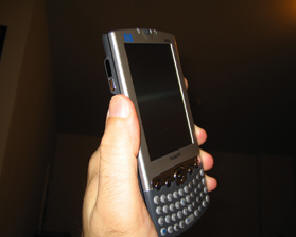 Mine!! 
In honor of Julie's creak test, I gave it my best.  The
unit doesn't flex at all, but I did notice that the grey plastic on either side
of the screen will bend slightly inward if you squeeze the 4355 from the sides
(check my thumb and index finger above).  It creaks a little, but I only noticed
this when removing it from the bundled HP case, since it takes a bit of force to
get it out. 
On the top of the unit is the SDIO card slot, microphone,
stylus silo, and headphone jack.  The stylus belongs in the "metal toothpick"
category, but still it's not bad as it sounds.  It's slightly longer and fatter
than your garden variety toothpick, and clicks firmly into the silo.  HP scores
an extra brownie point for including a second stylus in the box.  Also worthy of
mention is the standard 3.5mm stereo headphone jack.  Yay! 
Speaking of stereo, I plugged in some Koss Sporta Pros and
had a listen.  Sound quality is excellent using Media Player 9.  I noticed no
noise or hiss at the highest volume level.  It isn't the loudest PPC I've ever
heard, but it's strong enough to drive most headphones at pleasingly loud
levels.  Also worthy of mention is the built-in speaker, located under the
keyboard.  It lives up to the iPAQ legacy of loud, clear sounding speakers.  It
is more than adequate for alarms, listening to voice notes, etc.  Concerning
those voice notes, the 4355 records at a very high quality.  I was able to use
Microsoft's Voice Command (not included) with no problems whatsoever. 
The SDIO card slot will most often find use as a memory
expansion.  With built in Bluetooth and WiFi, your networking bases are covered
nicely with the 4355.  Users no longer have to swap out memory for
networking…you can finally have it all!  One feature I would have liked in this
model would be the double memory slots found in the 2215.  I think this is
stretching it a bit considering the networking options are already built in, but
it's nice to have a permanent memory card installed for apps while the other can
be used for transferring files from your digital camera or pc.  Oh well!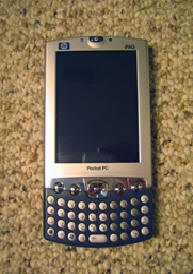 Around front, the 4355 has two LEDs flanking the power
button.  The one on the left will blink blue if Bluetooth is active and green if
WiFi is active.  It will alternate between blue and green if both are active at
the same time.  It will not, however, blink to show actual activity.  The LED on
the right blinks amber to indicate it's charging, and also blinks green for
alarms, messages, and anything else the iPAQ wants you to know about.  The
infrared port and record button are on the left side of the unit, towards the
top.  On the bottom of the iPAQ lurks the docking port, and the reset button. 
The reset button is reachable with the tip of the stylus.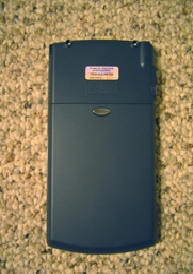 Battery & Screen 
Around back, the included 1560mAh battery slips snugly into
its compartment.  1560mAh – This iPAQ has some serious battery life!  If that's
not enough for you, pick up the 3600mAh extended battery.  You'll add a
noticeable bulge to the back of your iPAQ, but you'll also be adding a lot of
extra hours of battery time as well.  The backup battery is built into the 4355
and is rechargeable, so you wont be making all those trips to Radio Shack for a
replacement. 
There have been a few reports of poorly fitting battery
covers.  I noticed that you have to pay attention when sliding on the battery
cover making sure the tabs on the sides of the cover go where they're supposed
to. 
In my unscientific tests, I am able to average around 4-5
hours of moderate WiFi use with Bluetooth always on.  I suspect I could get much
longer run times by disabling Bluetooth and not using WiFi, but with battery
life this good it's not worth the couple of stylus clicks to turn them off.  I do
shut off the WiFi when it's not needed, like when I'm away from home or in the
car.  When the unit is off, the battery retains power very well.  I've thrown
the 4355 in my briefcase only to come back to it a week later, fire it up, and
notice the battery still close to 100%.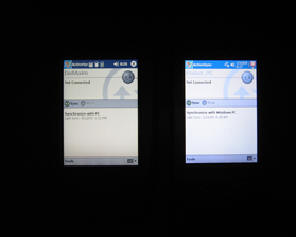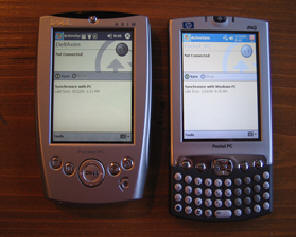 Screens were set to full brightness, un-retouched photos 
Back to the stuff on the front; the screen is a Sony made
3.5 inch TFT display.  The display is bright and clear, and nicely visible in
sunlight.  One thing worth mentioning is the Sony displays in the 4355 do not
have the slightly yellow tint some 4155 owners are reporting seeing on their
devices.  I found the backlight settings to be slightly limited:  No ambient
light sensor, only 5 brightness levels (including off), and no separate
brightness settings for battery or AC power.  Those minor complaints aside, the
display is as good as you'll find on most any other Pocket PC.  For a comparison
I've taken a shot of the 4355 next to a Dell Axim X5, both devices on full blast
brightness. 
Keyboard
For people who like a lot of buttons, this is the PPC for
you.  The 4355's built in keyboard has 39 domed, backlit keys.  The shape of the
keys makes typing fairly easy for those comfortable with thumb keyboards.  I
have large hands and did not find typing on them to be a problem. 
The backlight is a deep blue color.  I'm not sure
about the rest of the world, but I have a problem seeing backlit blue things in
the dark.  Granted, it's much better to have the backlight than not, but I
would have preferred a different color such as red or orange (as on the CLIÉ
TG-50).  You can toggle the backlight off if you so desire and also control the
amount of time it stays on after the last key press.  One nice touch is the
software keyboard will go away (if it's popped up by an app) once you start
typing. 
HP did a fairly good job getting most of the special
characters you need on the keyboard, with others requiring a shifted key of some
sort.  The shift, menu, and function keys are all semi-sticky, meaning you don't
have to hold them down to use them.  This only applies to the next character
typed, though.  You cannot for instance lock function on for rapid keypad entry;
you must hold it down or hit it once before each number. 
The spacebar key used while holding function will select
alternate versions of certain letters.  Holding function and using the d-pad
will let you highlight text, which you can then copy or paste using the menu
button on the keyboard.  The start key will drop down the start menu at any
time, saving you having to dig out the stylus.  The number keys are a darker
color than the others to make picking them out easier, and they are arranged
telephone-style, meaning 1 2 3 is at the top.  I found this a bit awkward,
expecting a computer keyboard style keypad (7 8 9 up top).   
Overall I like this keyboard quite a bit, and it does help
keep the stylus in the silo.  Invariably there will be certain keys missing that
people will want, but HP had some tough decisions to make here and I think the
most important ones are represented.  I suspect there may be ways to remap the
key assignments, but the capability to do so is not built in.  The best feature,
in my opinion, is that the keyboard is always connected to the bottom of the
iPAQ; you'll never forget it and leave it behind.  Once you mash out your first
email on this unit, you'll be sold, and all regrets about that $499 price tag
will vanish…I hope! 
Rounding out the front panel are the standard Pocket PC
application buttons and the d-pad.  The application buttons are configured for
calendar, contacts, mail and iTask (see below).  They can also be used while
holding the function key, giving quick access to 4 more apps.  You can
reconfigure all 8 possible positions using the Button applet in the Settings
menu. 
Worth special mention is the d-pad.  HP elected to make the
pad smaller than usual, most likely in an effort keep the length of the device
down.  The pad is noticeably smaller than the one on the 4155, and folks with
larger hands might find it a bit difficult to get used to.  The tic-tac sized
button in the center of the pad is fairly hard to press; I sometimes end up
pressing the button along with a direction.  One bit of good news is the pad
seems to work as an 8-way pad in games.  The bad news is I wasn't able to hold
down more than one button while gaming. 
Under the hood
Turning now to the internals:  The 4355 comes
with the recently renamed Windows Mobile 2003 Premium for Pocket PC. 
With a 400Mhz XScale processor on board, things move pretty quickly.  I didn't
run any comparative tests, but I must say the 4355 with Mobile 2003 seems faster
all around than my Dell Axim X5 with the same processor.  I'm sure this is
because some facets of the OS have been tweaked and optimized for the newer
CPU.  Video doesn't drop frames and MP3s keep right on playing as I surf the web
or launch programs.  Overall, this is the snappiest Pocket PC I've ever used.
64 Megs of memory is provided, with 57 of those available to the user.  HP
provides a file store of approximately 3 megs to store important documents and
keep them safe even if the batteries completely die.  64 Megs is currently and
has been the high end standard for Pocket PC's for the last few years, but it
sure would've been nice if they had shipped the 4355 with 128 Megs of memory
like its older cousin the iPAQ 5500.
Networking and Software
The built in networking is very simple to set up thanks to Mobile 2003 and is
extremely intuitive in use.  HP bundles in an excellent little utility called
iPAQ Wireless.  This program lets you very easily toggle Bluetooth, WiFi, or
both.  I find this to work seamlessly every time I use it. 
For example:  You're surfing the web using WiFi at home, and decide to go out to
eat.  You turn off WiFi and enable Bluetooth using the wireless utility, and
shut off the iPAQ.  Later on at the restaurant you want to surf for movie
times.  You fire up the iPAQ and click your bookmark to your favorite movie
listings site in IE.  Your iPAQ automatically connects to the web using your
Bluetooth cell phone.  Later on back at home, you quickly enable WiFi and
disable Bluetooth, and instantly you're back to full speed surfing.
Needless to say this works very well.  The combination of Mobile 2003 and HP's
iPAQ Wireless app is a winner.  WiFi and Bluetooth can be left on together
without any issues.  I was able to sync via Bluetooth to my Mac while remaining
online via WiFi.   I also noticed that the 4355 has very good WiFi range.  I get
almost exactly the same signal at any distance as my Axim with Socket Compact
Flash WiFi card installed.  The Bluetooth range is even surprising; I was able
to sync my iPAQ on the 2nd floor of my house (my Airport base station
is in the basement).
HP includes a couple of other utilities for Mobile 2003.  iTask, which is mapped
by default to the 4th button on the front of the device, is used to
close down running programs in an effort to make up for this glaring omission on
Microsoft's part.  Microsoft would rather we leave programs running at all
times, but most would prefer to have the option to choose for themselves.  You
can also use iTask as an app switcher, and it also has a shortcut to the
backlight control applet.
Also included is iPAQ Backup, a scaled down version of Sprite's Pocket Backup
Plus.  What you won't be able to do with it is backup your stuff to your PC or a
network, and for users who keep a lot of programs installed on a memory card,
this is a fairly serious limitation.  Otherwise it does allow you to do some
neat stuff like automatically backup when the battery drops below a threshold,
and automate the backup of your PIM files (contacts, calendar events, notes).
Last but not least is iPAQ Image Zone, which is a basic image viewer with a few
nifty extras.  You can play slideshows with cool transitions and background
music to impress your friends at the office.  You can rotate pictures, and add
text comments to them.  With the built in keyboard, this is actually a handy
feature if you like to do these sorts of things.  Image Zone even supports
external display adapters.  All in all it's not the greatest image viewer, but
it's nice for free and useful nonetheless.
On the disc are also a bunch of free utilities, such as Resco File Explorer
2003, ClearView Office, MARGI's Presenter-to-Go, WorldMate, and F-Secure File
Encryption.  Resco File Explorer and WorldMate alone make it worth inserting the
CD.  Also on the disc is a PDF of the owners manual, in case you were looking
for it.  Shame on HP for not including a printed version of the ever so
important manual.
Accessories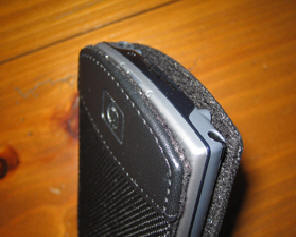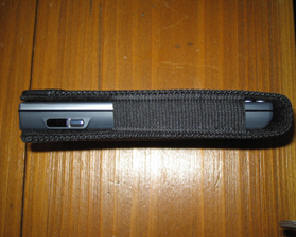 Last but not least are the included accessories.  HP generously provides a
backup stylus, which is a welcome addition to those of us who have a knack for
dropping them behind the desk.  The HP slip cover is not exactly a Vaja, but it's
not meant to be.  Think of it as something to hold your iPAQ until your case
arrives.  If you really must use it, it's a tough little sleeve case, with a
fairly nice HP logo across the top.  The sides are open and exposed save for two
pieces of elastic material holding everything together.  The top is also fully
exposed, but the case overhangs the edges of the 4355 a bit, so small drop and
mishaps shouldn't cause you too much grief.  At the moment there are not many
cases in production for the 4355, which is to be expected as it's such a new
model.  I have a case from HandHeldPlanet on order, and will follow up with a
review down the road.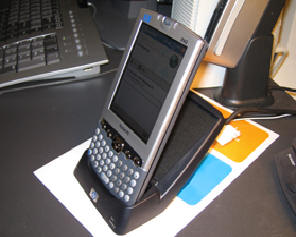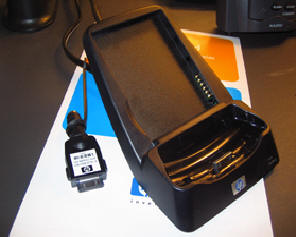 Photo Comments
The supplied power adapter plugs into the cradle for desktop power, but also
comes with a tethered converter plug, which allows you to use it on the road. 
The 4355 has no power jack per-se, you have to use the sync/charging converter,
which plugs right into the end of your power cord, to get any power into it. 
For the record, the adapter will charge the standard battery in about 90 minutes
for a full charge.
The cradle is a mixed bag.  It's built not only to
hold the 4355, but also to charge an additional battery, which is a very nice
feature.  HP also designed the cradle to hold the iPAQ with either the
standard or the larger extended battery installed on it.  As a result of all
this, the 4355 is difficult to insert into the dock, and it ends up being
supported only by the sync connector at the bottom of the cradle.  It seems like
a rather flimsy configuration once it's seated, and requires both hands to
remove.   I would have liked the 4355 to have more support while docked, and I'm
not quite sure how this cradle will hold up over time.
Conclusions
I must admit, spending $499 on something the size of a wallet is a little
daunting.  PDA's are the sort of thing for me that I'm always trying to find a
use for.  In this case, I determined beforehand what I wanted to do with a new
device, and set out trying to find the one that was closest to what I had in
mind.  Fortunately for me, HP decided to release the 4355 just before I went
shopping.  In the end, I honestly think I
couldn't have made a better decision.  I can use the 4355 anywhere I go, and it
provides me with a very desktop-like experience.
For those of you who need a PDA with everything built in, this is the device for
you.  It's not the top of the HP food chain; although arguably if size and
keyboards (and price) matter a lot to you, it might be.  The HP 5xxx series are
still technically higher end than the 4xxx series, but it seems that there may
be a new sheriff in town.  The 4355 represents a new direction in design for HP,
who seem to be making strides in the advancement of the iPAQ series.  Throw a
640×480 pixel screen into the mix and you would truly have a world-beater.
The 4355 is a trendsetter in the Pocket PC world, and at the moment offers the
perfect combination of features for the mobile road warrior. 
Price: $499 Check for lowest prices
here.
Pros:
Built in keyboard
Both WiFi and Bluetooth built in
No stubby antennas
Small, compact design
Excellent battery performance
Cons:
Bad cradle design
Tiny d-pad
Function key not "sticky"
Product Information
Price:
499.0
Manufacturer:
Hewlett Packard
Pros:

Built in keyboard
Both WiFi and Bluetooth built in
No stubby antennas
Small, compact design
Excellent battery performance

Cons:

Bad cradle design
Tiny d-pad
Function key not "sticky"