We use affiliate links. If you buy something through the links on this page, we may earn a commission at no cost to you. Learn more.
Portable cassette players used to come in two main flavors: the basic
walkman, with ear buds or headphones, and models with built-in speakers for more
"social" uses. The speakers weren't ever very good, but then the quality of the
cassette recordings wasn't great either. Portable CD players provide a much
better music quality through headphones, but I have not seen the option for an
internal speaker on any of the small portables. Cheap speakers, both battery
powered and unpowered, are available, but the ones I've seen are clunky and not
terribly easy to carry compactly. So when TDK
announced its I'maspeaker (get it?) built into a case for CDs and CD players, I
was interested. I bought the smaller model, a mono speaker in a case somewhat
larger and a good deal thicker than a CD jewel case, rather than the stereo
two-jewel-case sized one. It is labeled as the "TDK Out-Loud" (perhaps a
rethinking of the clunky name).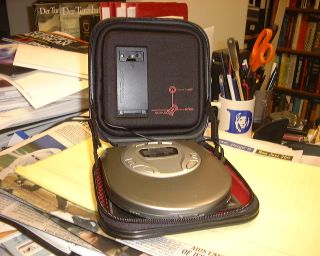 The unit resembles a small Case Logic CD carrier. It has sleeves for a dozen CDs
and a mesh pocket, which can hold a slim CD player (but not my Radio Shack 42
6014, which is too thick to fit in the case along with CDs though it just makes
it if the CD sleeves are left empty). The flat speaker, powered by two AA
batteries, has an on/off switch, volume levels being controlled by the audio
player which you attach it to with its stereo 1/8" plug. You can obviously also
connect an mp3 player, cassette player, or other device with a 1/8" jack, to the
Iamaspeaker.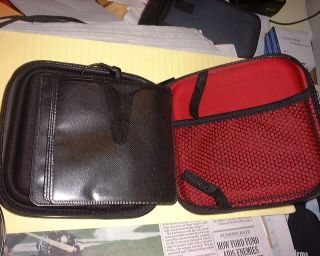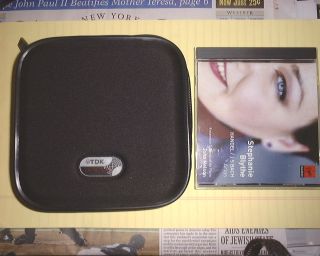 This is not a hifi speaker, but it does give a pretty respectable sound. I
listen mostly to classical music and opera, the speaker is better on voices than
instruments, but quite listenable on both, certainly much better than any of the
unpowered speakers from Coby and other such Chinese brands. It is not quite as
good as the much larger Sony SRS-57 set I use on my computer, and certainly not
to be confused with high-end audio! But it is the easiest such device to carry
around that I have tried. I recently traveled with it to Europe, and it was no
extra burden to have along.
 
Price: $24.99
Pros: 

Small, flat speaker provides portable sound
Good price
Cons: 

Okay but not hifi sound
Tight fit for all but the slimmest CD players, if you use it to carry a player
as well as CDs
Product Information
Price:
24.99
Manufacturer:
TDK Systems
Pros:

Small, flat speaker provides portable sound
Good price

Cons:

Okay but not hifi sound
Tight fit for all but the slimmest CD players, if you use it to carry a player
as well as CDs