We use affiliate links. If you buy something through the links on this page, we may earn a commission at no cost to you. Learn more.
As a solution to address the battery life issues that some T3 reviews are reporting, Palm has sent us a product called Power To Go. It's a clip-on sled that is compatible with the Tungsten T, Tungsten T2, Tungsten W, Zire 71, m500 Series, i705, and m130 devices. According to the specs, one full charge to the sled will allow for one or even two full charges to the PDA.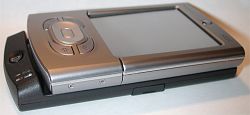 It has a pass through connector that enables you to charge both the sled and the PDA at the same time. You can also sync while the PDA is attached to the sled. Two LEDs on the front of the device give you status and battery level indicators for the sled itself. Sounds good huh? The only bad part is the price… $99.95! EEP!