We use affiliate links. If you buy something through the links on this page, we may earn a commission at no cost to you. Learn more.
"Music hath charms to soothe the savage beast"  Right? Well, that really
all depends on just how good your speakers sound! This review is going to take a
look at the Audio Notepad Speaker System from
Zmart Shoppers, which is actually a
repackaging of the 56MS system from
AcousticSpecialties. More
about the repackaging details in a bit.
Hardware Specs
| | |
| --- | --- |
| Left / Right Speaker | Subwoofer |
| External Dimensions | External Dimensions |
| 5.25" x 8.5" x 0.65" | 5" x 8" x 8" |
| Weight | Weight |
| 0.6lb. | 6.5lbs. |
| RMS Power | RMS Power |
| 3 Watts | 10 Watts |
| Peak Power | Peak Power |
| 6 Watts | 20 Watts |
| Impedance | Impedance |
| 4 Ohm | 4 Ohm |
| Sensitivity | Sensitivity |
| 90dB | 89dB |
| Frequency Response | Frequency Response |
| 200Hz-20KHz | 45Hz-250Hz |
This is a 3 piece speaker system comprised of a left and right speaker, and a
subwoofer. The left and right speakers are flat panel speakers. Flat panel
speakers have been on the market for a few years now, and are desirable due to
the fact that they tend to be lighter in weight and have a smaller footprint
then conventional style speakers.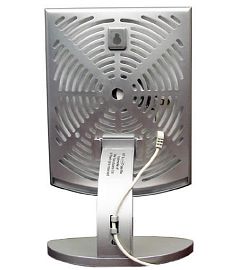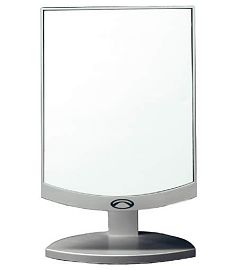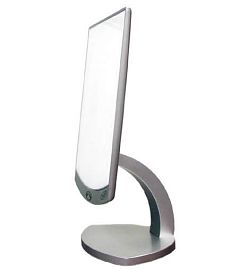 The left / right speakers in this set are indeed light weight, but they
really don't take up less room than the left / right speakers in my 5.1
Cambridge set which I use with my desktop PC. However, the plastic base on each
speaker is removable, so that you do have the ability to attach the them to a
wall instead of sitting them on a desk. Speaking of plastic, these speakers are
constructed very cheaply. I don't think it would take a lot of effort to break
them.
The subwoofer on the other hand, has a more substantial feel to it, even
though it is very compact. On the back of the unit there is a variety of input
and output connections, that give you the ability to connect the speaker system
to different devices such as computers, MP3 players, DVD players, etc. Two sets
of RCA cables, and a 4.5ft 3.5mm stereo patch cord are included.
Never miss one of our posts again. Sent MON, WED, and FRI with the latest gadget reviews and news!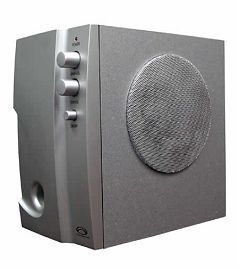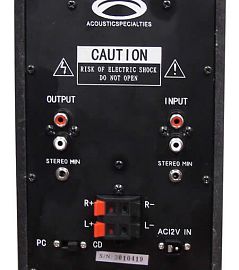 During my review, I tried this speaker set with my PC, iPod, and HP2215 Pocket PC. To
put it nicely, I wasn't impressed with the sound quality that this speaker
system produced. Although the subwoofer provided adequate bass, the flat panel
speakers sounded… well…. flat. And to make matters worse, I could
hear a low buzzing whine coming out of them at all times. At first I thought
this might be my computer causing the noise / interference, so I unplugged the
speaker set, hauled it upstairs to my bedroom and hooked it up to my iPod there.
Unfortunately, it still had same annoying buzz. A friend of mine who is
knowledgeable in electronics, guessed that the buzz might be due to a shoddy
power supply design.
As I mentioned at the beginning of the review, this speaker system has been
repackaged and called the Audio Notepad from Zmart. They are marketing it as a
speaker solution that has the added benefit of keeping your desk clutter free.
How would a speaker system do that? Well, they include a dry erase marker and a
glue stick. You can use the dry erase marker to write notes on the flat panel
speakers instead of post it notes or other scraps of paper that tend to clutter
a desktop. You can use the glue stick to temporarily glue pictures to the
speakers. Affixing pictures to the speakers does not have any effect on the
sound quality, or lack there of.
In my opinion, I think a person would be way better off buying a speaker system
other than this one. I personally prefer a 5.1 surround sound system. Those can
be found for about the same price as the Audio Notepad. For those on a budget,
basic traditional style 2 speaker / subwoofer sets can also be found much cheaper.
Price: $54.95
Pros:
Subwoofer has a variety of inputs
You can write and/or glue pictures to the front of the speakers
Cons:
Cheaply constructed
Buzz / whine from speakers
Product Information
Price:
54.95
Manufacturer:
Acoustic Specialties
Pros:

Subwoofer has a variety of inputs
You can write and/or glue pictures to the front of the speakers

Cons:

Cheaply constructed
Buzz / whine from speakers