We use affiliate links. If you buy something through the links on this page, we may earn a commission at no cost to you. Learn more.
Product Requirements:
Windows 95 and above, IBM Compatible
486 or higher computer, 8MB of RAM minimum – 16MB recommended, 20MB of disk space, VGA or better monitor, CD-ROM drive, Mouse, One available USB port
Is it just me, or does it seem like some of the PDAs that are coming out look very similar to some of the winning entries of The Gadgeteer's June 2001
Only in Your Dreams PDA Contest? This combination flip-phone/Palm OS PDA was the design that won Brian Mathis an honorable mention: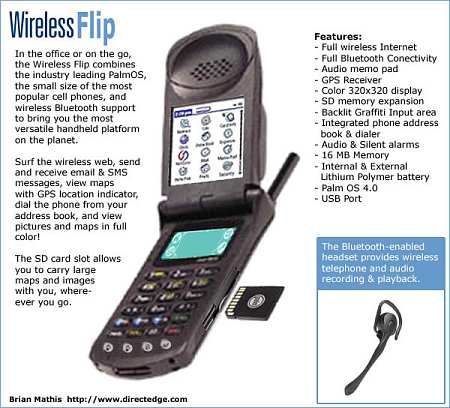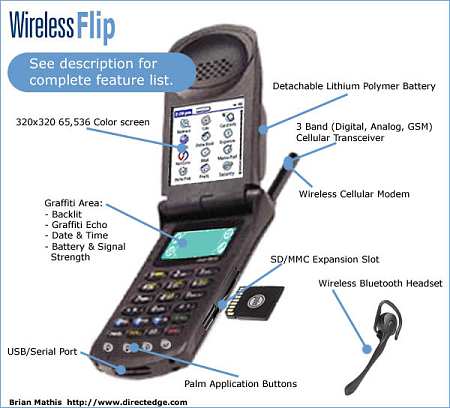 My final words to him were, "I would trade my Kyocera in for this baby, today!!!! Brian, get on the phone with either them or Motorola, please!" I was using a Kyocera QCP-6035, which was a brick-like monochrome device. At the time, the 6035 was considered a state of the art smartphone. To me, the "Wireless-Flip" looked like a futuristic wonder.
Well, the future is now. Evidently Samsung was paying attention, and they have released a similar product. Granted, there are some design variances, and not all of the features Brian packed into his entry made it into the SPH-i500. But there are enough similar features that make this new generation smartphone quite exciting.
I was sent a demo unit from Sprint PCS, which at this time is the only company carrying this mobile phone.
Initial impressions:
Included in the Samsung SPH-i500 package are: Slim Lithium Ion (LiIon) battery, Standard Lithium Ion (LiIon)
battery, desktop charger/sync cradle, travel charger, hand-strap, leather case, extra stylus, Palm Desktop CD-ROM (with Palm Desktop Software, PocketMirror, and Game Pack), Graffiti card, "Start Here" Guide (with activation instructions, the Sprint Terms an Conditions of Service, and warranty information), and "Welcome to Sprint" CD-ROM.
When I first unpacked the i500, my initial thoughts were of how amazingly small it was (compared to my long since replaced Kyocera) and how appealing it looked. Comprised of a metallic pewter colored shell with an elegant satin finish, this phone manages to look professional without being staid, distinctive without being flashy, and small without coming across as a toy. The metallic shell gives the i500 a substantial feel without making it heavy; the finish is smooth and feels pleasing when held.
While the surface of the case is smooth, there are enough raised letters and exterior landmark deviations that the phone is easy to grip and won't feel like it is about to slide out of your hand at any time.
This phone is roughly the size of a deck of cards. It is shorter in height, thinner in width and only slightly thicker in depth than a Tungsten T. Here are some comparison shots…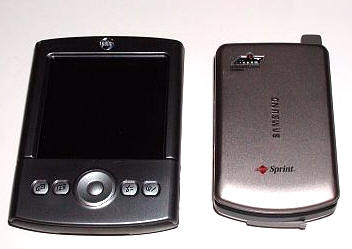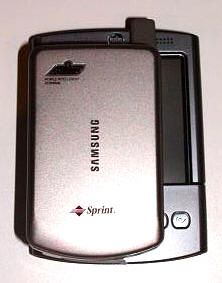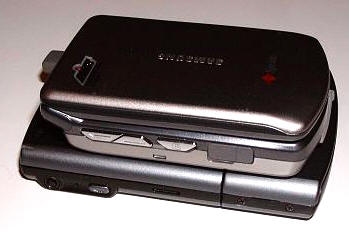 The flip portion of the i500 almost snaps into place when opened or shut, and there is no worry that it will open or close except when you want it to. Its movement is a smooth glide that is hard to describe, but it just feels superior to that of any other flip-phone I have ever used.
The i500 passes Julie's creak test with flying colors. This little phone is a tank – everything about it screams "first class quality."
Within just a few moments, I was very impressed with the overall look and feel of this phone. When my husband Steve picked it up, he was so enamored with it that I almost had to pry it out of his fingers to get this review done!
But I did…
Hardware Specs:
Processor: 66 MHz Dragonball processor
Operating System:
Palm OS 4.1
Memory: 16 MB of memory (RAM)
Display: 162×176 pixels, 16bit 65,000 colors
Interface: USB (for HotSync® operation), Infrared
Input: Graffiti or eZi Text
Dimensions and Weight:
3.42″ x 2.13″ x 0.85″, weighing 4.7 oz
Battery: Lithium Ion, getting approximately 4.2 hours talk time or up to 10 days of stand-by time in digital
Expansion: None
Band Type:
Dual Band, Tri-Mode, Sprint PCS CDMA 2000 (3G) Network. More info can be found here.
Voice Recorder: Capable of holding up to 30 memos or reminders
One of the things that I was never happy about in regards to previous convergent devices that had a PDA form factor was the way they seemed to function as a PDA with wireless data capabilities first, with the phone capabilities thrown in as an afterthought. Using these devices for voice calls meant holding the PDA's screen up to my face – which was rather icky in practice. The only other choice was to wear a wired headset.
Call me a traditionalist, but I like being able to comfortably hold a phone to my head without thinking about whether my cheek is rubbing on a PDA's screen. I will use a headset on occasion, but it is rare occurrence. I guess what I am trying to say is that I like for a phone to be a phone first. The PDA capabilities in my ideal convergent device would enhance the functionality of the phone, not diminish my experience as a user.
The Samsung i500 completely escapes that complaint because it feels and looks like a phone first. A phone that just so happens to use the Palm OS instead of some proprietary (restrictive) address and date book program that has been added as a convenient afterthought. In fact, just about any software that you could load onto a Palm device can be installed on the i500. This is an incredible way to carry all of your info with you all of the time. My biggest complaint is that since there is no expansion slot for an SD card, you have to be somewhat selective if you are like me and usually have a ton of programs installed on your PDA.
Because the i500 is styled like a classic flip phone, your face never really rests on the screen. The speaker is at the top of the phone where your ear naturally rests, and the microphone is at the bottom.
Let's take a look at the phone, one side at a time…
The front of the phone has the Samsung name in raised letters which as I stated earlier, helps provide a bit of traction when holding the phone. Sprint has added their logo, and at the top is a MITS (Mobile Intelligent Terminal) logo that lights up when calls come in. Some might think that this area looks busy, but it actually appeals to me on some level. I guess it reminds me of a race car sporting its sponsors in a way. ☺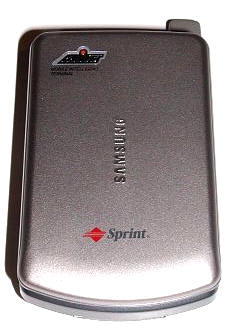 One improvement I would like to see in a future model would be an LCD on the outside, so that the number calling is displayed without having to open the phone.
The left side of the phone has the up/down volume button, the menu button, and a rubber covered receiver port for a headset jack. The two volume buttons are placed perfectly to act as a type of "jog dial," but unfortunately they don't always work the way I would have hoped. You can use them to move from day-to-day while in Date Book, and to scroll from the top of the "A" list to the top of the "B" list and each subsequent letter in Contacts, but you can't use them to move from one program to the next for one handed selection while in the launcher view.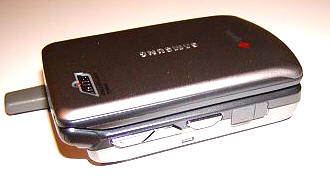 The right side holds the phone button, which will return you to the splash screen from any program, and the voice recorder button.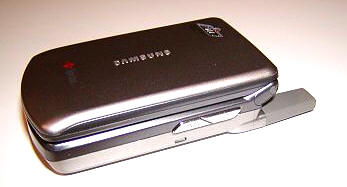 The top of the i500 holds a loop for attaching a lanyard, the Infrared port, and the stylus silo.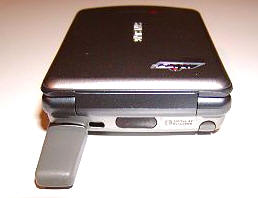 The stylus is a stubby little guy, and it reminds me in many ways of the Sony CLIÉ UX50's. This isn't a stylus that you will want to use for much more than jotting down quick notes and tapping on the screen.


The bottom houses the sync/charge port, which comes with a removable fitted rubber plug. The first thing I did when I started using the phone was lay the plug in a place where I would not lose it during the course of the review. If I actually owned this phone, I would have probably left it in the box. I suppose that there are some people who are fastidious enough to use this thing, but for me, it was a nuisance. I am constantly popping this PDA in and out of the cradle, and if I owned it I would also be using car charger cords. The rubber plug just gets in the way…trust me.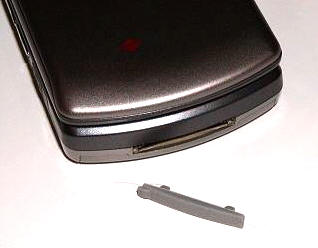 The back holds the Stubby antenna that is branded with the Palm logo, the ringer speaker and the removable battery. I am not sure if you caught it when I was going over the box's contents, but this phone comes with both the regular and a slim battery. I think this was a very classy touch. The ringer speaker is quite loud, and plays polyphonic ring tones – always a favorite. You can choose from "over 30 different 16-chord ringers and melodies, plus vibrate alert. Three traditional ringers are included."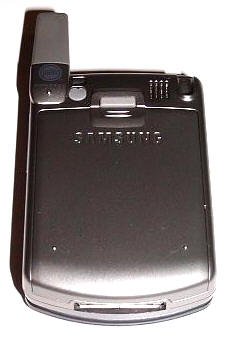 The first time you open the i500, you can't help but go "ahhhh."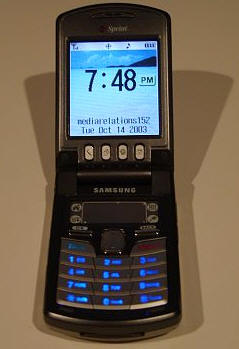 The top half holds the speaker, the screen and the four hardware launcher buttons. Sound through the speaker is exceptionally clear. In fact, as a long time Sprint user I was surprised by the clarity; it surpassed what I had already considered "fine" on my personal phone. The screen is small by PDA standards, measuring only 1.6″ wide x 1.8″ tall; but by phone standards it is quite large and viewable.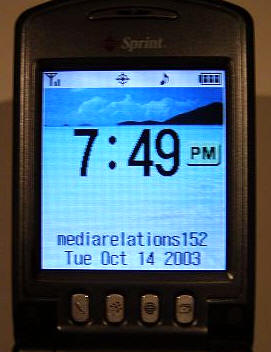 The screen has 162×172 pixels, which means it actually boasts a higher resolution screen (though not by much) than the new Palm Zire 21. With that said, you can still see individual pixels. I can only imagine how gorgeous the screen would have been had Samsung sprung for a 320×320 version. I really don't want to sound like I am complaining too much about the screen, though. As I said, for a phone it is quite nice. The back-lighted color display is vivid and considering its size and placement, I am really quite satisfied.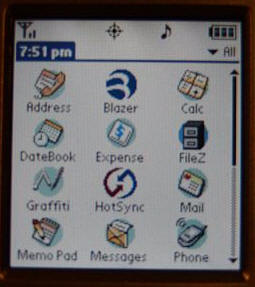 Unlike traditional Palm styling, the four re-mappable hard buttons that generally stand on either side of a rocker button have been placed by themselves under the screen, while the rocker button has been moved to the bottom half of the phone amidst the other more traditional mobile phone buttons. This placement makes sense, and unless you are trying to play certain games that rely on the traditional button placement, you should be used to it in no time. Since this is a web-enabled phone, the buttons are marked and come mapped as Address, Date Book, Browser and E-mail.

In order to offer a larger screen area, the dedicated graffiti area has been moved to the lower half of the phone, just as Brian's contest entry envisioned. Even though this area is not exactly backlit, in a dark room it does have a slight glow to it – where you can easily make out the four soft buttons and the writing area. I am not sure that this was intentional, but hey – it's better than nothing. This bottom half of the flip phone also contains the other traditional mobile phone buttons, as well as the microphone and reset button – which is hard to see, but it is hiding next to the right rubber "bumper."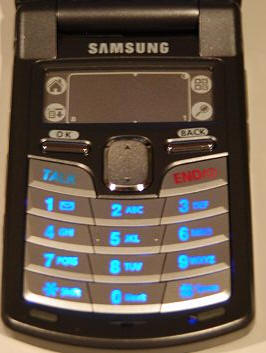 Entering text into applications such as Memo or To Do is possible by either using graffiti or by pushing the numeric buttons on the phone. If you are used to banging out SMS messages on your cell phone, then this will be an easy text-entry method for you to adopt. Graffiti is obviously still my favored input method. Using a program like Jot might help
someone that can't get used to this device's petite graffiti area..
The numeric keyboard's buttons have slight ridges at the bottoms which make it easy to feel where they begin and end. They are lighted a brilliant blue, and they make a satisfying click when pressed.
The cradle is very similar to the classic Palm version that comes with the m500 series. As long as you remember to tilt the phone up and out, instead of pulling it straight out, you will have no problem with one handed insertions and removal. A round hot-sync button sits in the middle, with two charging lights to the right. Why two? So that you can charge both batteries that came with the phone at the same time. Nifty! The lights will glow red while charging, and green upon completion.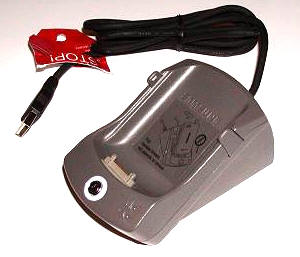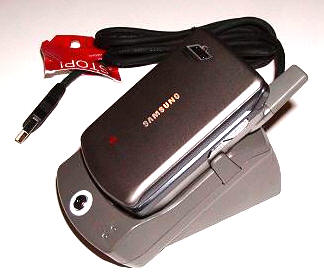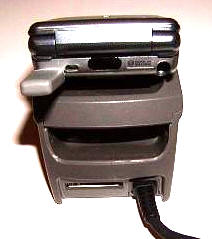 For those of you that don't toss your phone in your pocket or the bottom of your bag, there is a leather belt case included. The interior is lined in a nappy nylon fabric, and there are cutouts on the bottom that correspond with the headphone jack and volume buttons. Since I am not a bat-belt type of girl, it isn't something I would ever use, but it is nicely made and reflects the overall quality of this phone.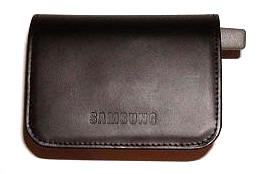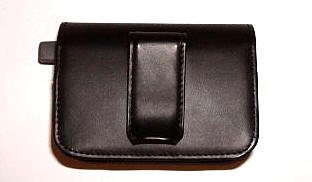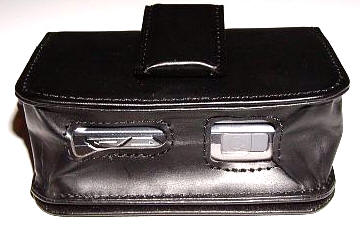 Other than the lack of an SD slot and lack of exterior LCD for incoming caller ID, I am extremely impressed with this phone's hardware.
Software Specs:
Hardware is only as good as the software driving it, so let's see what this phone/PDA combo has to offer.
Sprint Software – The i500 offers…
Phone – Brings up the splash screen. I have it set to display the time, date and the beach that I wish I was on…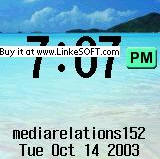 Blazer Browser –
Access to most Web sites. Check news, stock quotes, corporate and Internet email – all in full color at PCS Vision speeds. Obviously this is not the worlds best screen for browsing, but in a pinch it is "mejor que nada."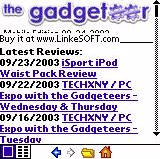 Speed Dial – Allows you to program in up to 99 numbers for quicker dialing
Messages – Displays voice mail as well as pages and text messages.
Voice Dial – Simply say the name of the person or business you want to dial.
Voice Memo – Holds up to 30 memos or reminders
Voice Mail – Keeps a log of incoming messages
eZi Text – Software that allows you to enter common words more quickly. Here is an example of how to make it work when typing the word "tomorrow":
1. Open the desired text entry application.
2. Press and hold the # button to display the eZiText screen.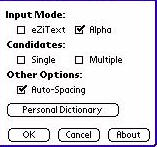 3. Select the eZiText box and then tap OK.
4. Press the 8, 6, 6, 6 buttons
5. The word "tomorrow" is displayed. Press the OK button to place the completed word.
Palm™ Organizer Application – All of the standard applications are here, including…
Address
Date Book
Calculator
Expense
Memo Pad
To Do
Value Added Software – The i500 also comes with several software trial versions. For what this phone costs, I think they should have thrown in a couple of full versions.
QuickOffice Premier – Spread sheets and documents viewable and editable on your Palm. Expires in 15 days.
Life Balance – Dynamically ordered To Do list driven by goals, time/effort and achievements. Better mark your To Do list that it expires in 30 days.
Splash Photo – Palm OS image viewer that will work for 30 days.
Billiards – Play Pool and Billiards against artificial intelligence for 21 days.
Chess Tiger – which comes with limited features – but no expiration date. Bah humbug!
Conclusion:
From the moment I opened the box and began exploring its features, I knew that the Samsung i500 was almost my perfect convergence device. As strange as it might sound to some, I could easily see myself carrying this phone in addition to a "full time" Pocket PC or Palm OS PDA. For those times when I am traveling "light," this phone by itself would be the perfect companion. As the phone is right now, it would be perfect for someone that mainly needs a phone, but would also like a Palm organizer for their addresses, date book, email, some web browsing, and various other specialized programs.
In future versions, I would like to see an SD expansion slot and an outside LCD screen. I would hazard to guess that in another two years, the features Brian envisioned might just be included. I hope he gets a royalty check.☺
The manual for the Samsung i500 is located here. (Requires Acrobat)
You can view an interactive demo here. (Requires Flash)
You can view Sprint PCS coverage and plan information here.
Price: $599 Search for the best price here.
Pros:
Nifty compact flip-phone design
The internal battery will maintain data for 15 hours after the main battery has died (or been removed)
Excellent screen for a phone, decent screen for a PDA
Polyphonic ring-tones
Quality feel and heft
Very tight, top-notch construction
Cons:
Expensive
No expansion slots
No way to tell who's calling without opening phone
No speakerphone

Product Information
Price:
$599.00
Manufacturer:
Samsung
Pros:

Nifty compact flip-phone design
The internal battery will maintain data for 15 hours after the main battery has
died (or been removed)
Excellent screen for a phone, decent screen for a PDA
Polyphonic ring-tones
Quality feel and heft
Very tight, top-notch construction

Cons:

Expensive
No expansion slots
No way to tell who's calling without opening phone
No speakerphone