The Gadgeteer is supported by readers like you! If you buy something through links on our site, we may earn an affiliate commission. Thank you! Learn more.
Product Requirements:
Device:
Pocket PCs, Palm PDAs, etc.
When you are a gadget maven like myself, you tend to have a rats nest of
cables all over your desk. A cradle for PDA #1 and #2, sync cables for PDA #3 and
#4, etc. etc.. While I know that most of you only have 1 PDA, this next product
can still make your life a little simpler… and at the very least, it will add
a point to your gadgeteer cool index.
The USB to IrDA mini Adapter from
Brando's Workshop, is a small USB 1.1 module (2in long) that will allow you
to wirelessly sync and / or trade files with your Pocket PC and / or Palm PDA.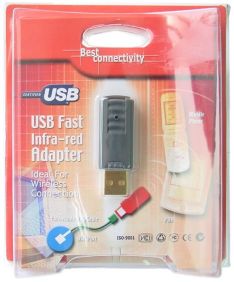 In the package you will find the adapter, instruction sheet, mini CD with
drivers for Windows 98 users, and a 23in USB extension cable.
To use the adapter, you first have to plug it into a free USB port. Windows XP users will be
happy to know that the adapter is Plug and Play. No drivers will need to be installed
from a CD. However, Windows 98 users will need to install drivers. They are in luck though, as the included CD has the files
they need.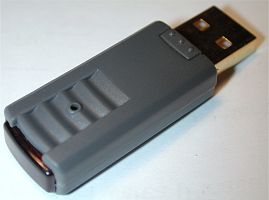 Once the IR adapter is plugged in, you can then Hotsync or
ActiveSync a Palm or Pocket PC respectively. To Hotsync, you'll need to go into
the Hotsync settings on your PC (right click on the Hotsync icon in the task
tray) and click on the Infrared option. Then on your PDA, you will need to go
into the Hotsync settings and chose IR to a PC/Handheld. Tap the Hotsync button
the screen, and away you go!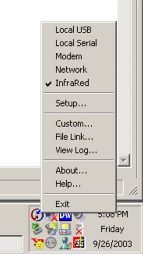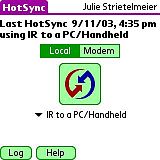 For Pocket PCs, you have to do a little extra work… First you must
select the Allow Serial or Infrared Connection option in the ActiveSync
settings. You do this by ight clicking on the
ActiveSync icon in the task tray. Next you need to setup a new network connection
on your PC. To do this, you click START->CONTROL PANEL->NETWORK CONNECTIONS.
From there you click on Create New Connection. A wizard will lead you through
the rest of the process. Once this is done, it's just a matter of tapping on the
ActiveSync icon on your Pocket PC and selecting the Connect via IR option.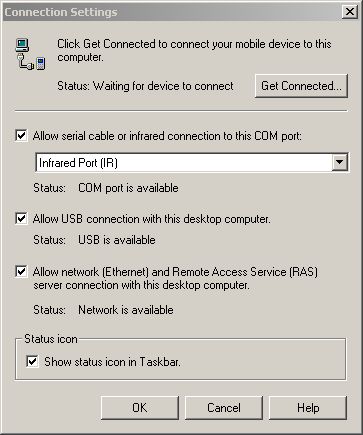 ActiveSync settings
New Connection Wizard screenhotss: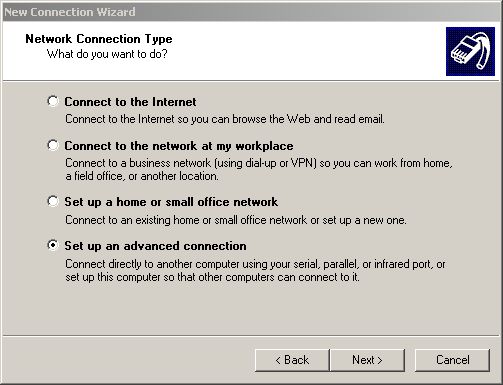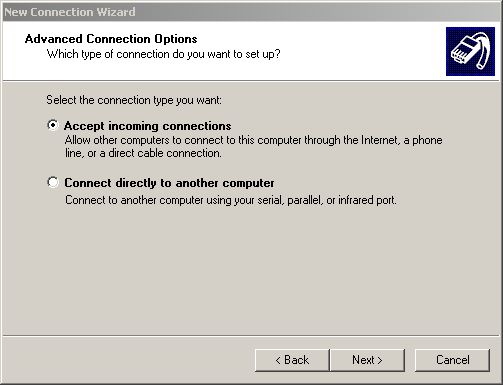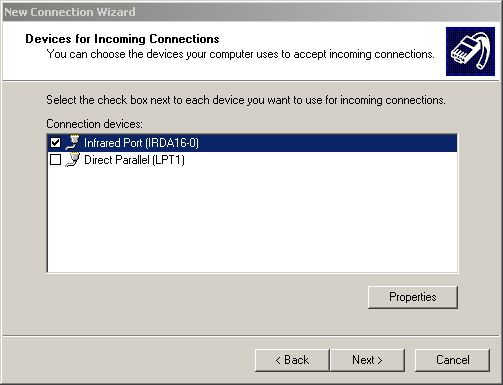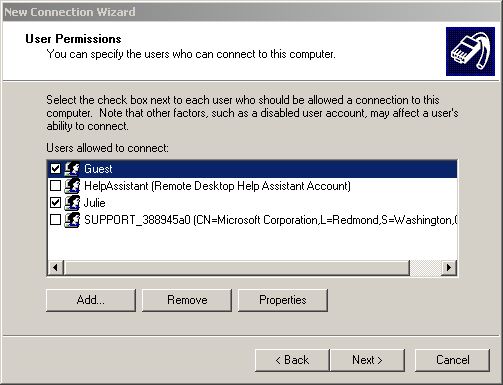 One thing that is kind of cool is that the IR module knows when another IR
device is in range. It is constantly polling for other IR devices. You can see
this by watching the very small green LED on the top of the adapter. It will
blink as it is polling. When it does find a device, an icon will appear in the
task tray. You can double click on the icon and it will pull up a file browser
which will let you transfer files directly to the device. This works great for
the Pocket PC as you do not have to go through the whole ActiveSync process if
you just want to copy a file to the device.

Setup for both types of PDAs is pretty easy. It did take me a little while to
figure out that I had to create a new Network Connection when I wanted to test
the module with my Pocket PC, but once I did, it was
smooth sailing from there. Syncing is pretty quick. Not as quick as USB, but not bad
at all. For example, using the USB cradle, it takes approximately 1 minute and
10 seconds to sync my HP 2215. Using the IR adapter, it takes 1minute and 35
seconds.
According to Brando's site, the IR range for the module is 1 meter. In my
testing, I found that my PDA needed to be within 5-8 inches to make a good
connection.
Some people might think that syncing using IR is needless when you already
have a cradle that syncs and charges. For me, I use the IR adapter on my machine
at work. I think it is an easy way to add syncing ability without cluttering up
my area
with more cables.
Price: $28.00
Pros:
Small
Easy to use
Wireless syncing and file transferring
Cons:
None
Product Information
Price:
28.0
Manufacturer:
Brando
Pros:

Small
Easy to use
Wireless syncing and file transferring

Cons: