We use affiliate links. If you buy something through the links on this page, we may earn a commission at no cost to you. Learn more.
Product Requirements:
Device:
IBM compatible PC with Pentium 133MHz or higher
processor, Windows 98/98SE/ME/ NT 4.0 (w/SP 6 or later)/2000/XP Pro or Home,
262MB of available HD space, CD-ROM Drive, USB port
It wasn't so long ago that I was extremely excited about being able to
slide a Dual PCMCIA sleeve
complete with a Type II analog cellular modem PC Card onto my iPAQ in order to enjoy
wireless e-mail, limited web surfing and the occasional voice call.  Never mind that the
formerly svelte iPAQ
would weigh over a pound in this configuration, never mind that the
resulting brick would definitely take
the Pocket out of Pocket PC – I would be wireless!
My, my…how times have changed…
While the same basic wireless concept is still very attractive to me,
these days there is no way that I would be willing to lug around over a
pound of PDA – no matter what nifty tricks it could perform.
Of course, these days we all have a few more options available to us when we
want to go wireless. We can buy PDA's with built in WiFi or Bluetooth – or we
can add the necessary compact components to make them so. Each of these wireless
solutions has its own merits, but each still relies on some external source
providing the ability to access the internet. If you remove the source – whether
it be a 802.11b access point or a BT enabled phone,  you will also lose
your wireless capability.
That's why I was so intrigued when devices that combined the popular Pocket
PC OS with built-in wireless phone capabilities began to come onto the market.
Granted, this is still not a perfect solution. There will still be times when
you are away from the access point, in this case your provider's designated
service area. But for the most part, as long as you are in an area included in
your phone provider's coverage, you will be able to use the wireless
capabilities of these new convergent devices. The area you live in dictates what
service providers you have to choose from – and it appears that each company has
a particular wireless PDA that they offer.
Sprint PCS is the predominant
digital provider in my West Texas town, and their wireless PDA is the

Toshiba 2032.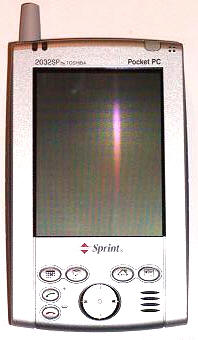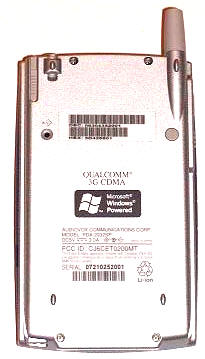 When I first opened my review unit's box, I enjoyed a pleasant sense of
recognition. You see, it wasn't too long ago that the
Toshiba e570 was my favorite PDA and
the 2032 looks to be a direct descendent of that line. Even though the 2032 is a
walk down memory lane, there are definitely some differences between the two
units. Before we go much further into this review, let me begin with a quick
overview of the Hardware and what you will receive in the box…
Hardware Specifications:
Processor: Intel StrongArm, 206MHz
Main Memory: 32MB RAM
Program Memory: 32MB ROM
Display: 3.5" TFT Reflective Color, 240 x 320 resolution, Internal display
supports up to 64K colors
Buttons: 5-way navigation button, 4 re-mappable
application buttons, and a voice record button (also re-mappable).
Expandability: 1 SD card slot
Dimensions:
5.02" x 3.05" x 0.77"
Weight: 7.0 ounces (without stylus or expansion card)
Battery Pack: Rechargeable Li-Ion battery, XXX3.7V x 1000mAh capacity
Battery Life:
About 1.5 hours talk time or up to 100 hours of stand-by time.
Operating System: Microsoft Pocket PC 2002
Warranty: 1 year parts and labor, 1 year battery
In the box: 2 Styli, AC Adapter, USB Cradle, Earbud, Remote Control Unit, Soft Case with
Belt Clip, Start Here Guide, Companion CD-ROM including: Link to PCS Business
Connections, Microsoft® Outlook® 2000, Microsoft®
ActiveSync® 3.5, Microsoft® Money for Pocket PC, Microsoft® Pocket
Streets, Microsoft® Reader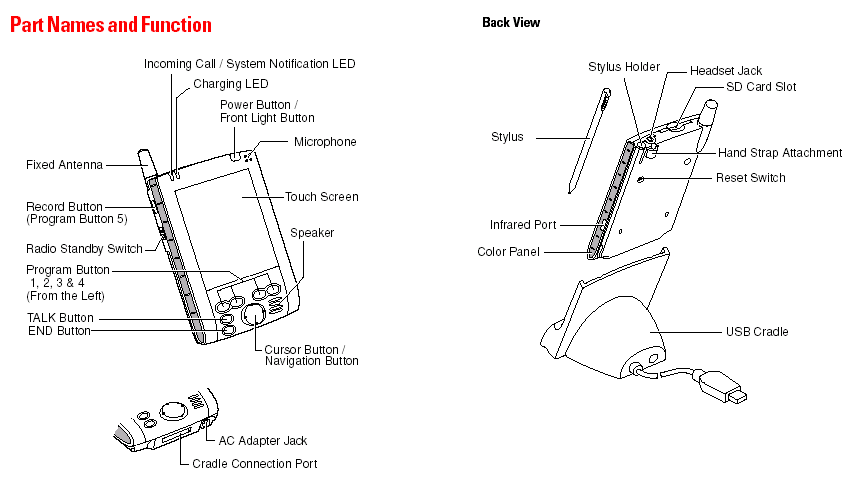 Picture courtesy of the Sprint PCS 2032SP Online Users Guide
Phone Features:
Band Type:
Single Band
Integrated Modem:
Use Internet Explorer to access nearly any site on the web and, with
PCS Business Connection, read and respond
to email, and view all Microsoft® Outlook® information in real time.
Caller ID Support: See numbers of incoming calls in areas supported by Caller
ID. If stored in your Phone Book, you'll see the name, too.
Power Save Mode: The phone goes into this mode automatically to preserve battery
life when not in a service area.
Speakerphone: For simultaneous use of phone and Pocket PC, offering easy
hands-free operation on the go.
Security Lock: You can enter a private code to "lock" your phone so others can't
make unauthorized calls or gain access to your personal information.
PCS Vision Capabilities:
Messaging, PCS Business Connections and Web.
Messages: Receive numeric and text messages in areas that offer messaging
services.
Area of Use:
You can use this Sprint PCS Phone anywhere in the Sprint PCS Network
and on other selected PCS, CDMA networks.
Voicemail: One-touch access to voicemail messages.
Enhanced Call Log:
Recalls most recent outgoing and incoming numbers, including missed
calls.
TTY Compatible: TTY service requires network support.
Because the 2032 is so similar in most regards to the e570, I
am including a size and weight comparison. I think you will be pleasantly
surprised (as I was), when you see how this wireless version stacks up to a
similarly made non-wireless PDA.
| | | | | |
| --- | --- | --- | --- | --- |
| Measured at Widest Point | Height | Width | Thickness | Weight  |
| Toshiba 2032SP | 5" (12.8cm) | 3" (7.8cm) | 0.8" (2.0cm) | 7 ounces (198g) |
| Toshiba e570 | 4.9" (12.5cm) | 3" (7.8cm) | 0.7" (1.8cm) | 6.5 ounces (184g) |
In truth, the 2032 is almost exactly the same hardware as the e570 – all the
way down to the included cheesy stylus that seems to have no better purpose than
scratching the screen. In fact, if you haven't already, you might want to read
Julie's and my e570 review.
The main differences between the two PDAs are in the 2032's addition of an
inch long antenna, two large LED lights on the top and the additional two phone
function buttons on the bottom of the device. One difference that disappoints me
is that unlike the e570, the 2032 does not have that the dual SD and CF memory
card slots. Instead, the 2032 only has the SD. Even the pleather slipcase makes
a reappearance, only this time there are cutouts that correspond to the 2032's
speaker and a removable belt-clip.
Here you can see a comparison of the two PDAs.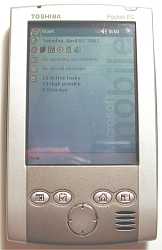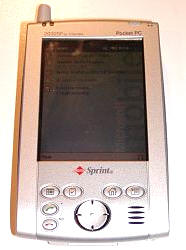 Toshiba e570 (left) and the Toshiba 2032SP
Obviously, the 2032 is sized like a PDA and not like a conventional
wireless phone. I believe that this is because the Toshiba is meant to be used
as a PDA first, with the wireless benefits being built-in and accessible
at almost any time. In that vein, were this to be my day to day PDA, I would
most likely still carry a separate PCS phone. There are a couple reasons that I
feel this way. First of all, unless you use a headset – every voice call
that you make will basically be in speakerphone mode. Even though you can turn
the speaker's volume down to where everyone in the room can't quite
overhear your conversation, it is still not your usual phone experience. Then
there is the fact that this PDA is a bit too bulky for those times when you just
want to grab your phone and run an errand. The 2032's battery life is typical of
most Pocket PCs, but since you are adding the drain of a wireless connection you
should figure that if you are constantly using the wireless features, then the
best battery life you can expect is about 1.5 hours. You will definitely want to
charge the 2032 when you can – just like you probably already do with your
current PDA…maybe even a little bit more. This is a PDA that you will want a
car or additional desk charger for.
But as a PDA with built in wireless capabilities, the 2032 shines. There is
nothing better than being able to collect your e-mail when you are riding across
town (as a passenger, please), getting instant messages at a coffee shop
without having to pay additional WiFi access charges, or instant messaging a
friend while you are sitting in a never-ending business meeting.
With that in mind, let me highlight a few of the things you can do with a
2032…but first things first.
In order to use any of this PDAs wireless capabilities, you have to first get
connected by sliding the Radio Standby Switch on the left side of the PDA to the
ON position. When you have done that, you can then send and receive data as well
as make and receive voice calls. If you are ever not sure that you are
connected, you can simply tap the signal icon at the top of the screen.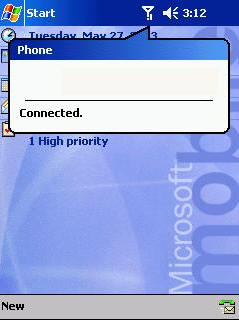 Once you are connected…
You can surf your favorite websites:
This feature is obviously best with sites that are optimized for surfing
from a mobile device. You can even speed up the process by electing to not
download pictures (by tapping the far right bottom icon on the lower toolbar).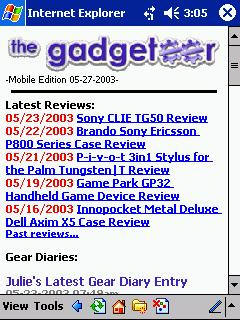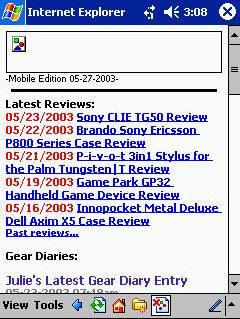 A page optimized for mobiles device with or without downloaded
pictures
When you surf sites that aren't optimized for mobile viewing, get ready to do
a lot of scrolling…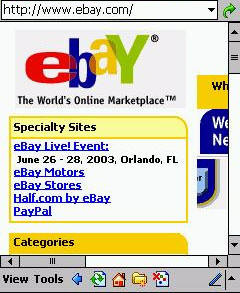 When surfing, pages will download at a bearable speed – but if you are used
to a broadband connection then you won't like the wait. While I doubt that
anyone is planning to do any heavy-duty surfing from the confines of this PDA's
240 x 320 screen, it is great to be able to do it when the need
arises.
You can check your e-mail:
All Pocket PCs will sync with your Outlook mailbox when they are in the cradle,
but it is really cool to be able to check your POP3 e-mail accounts and send
replies when you are far away from the desk.
Setting up accounts is simple: just follow the wizard and enter the basic
information as it is on your desktop. Once you have your accounts in order, you
can start receiving and replying to your messages.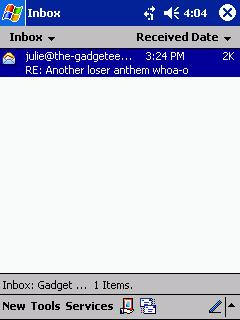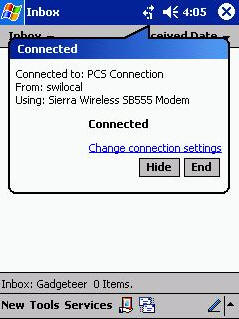 You can conduct instant messaging from almost anywhere:
If you already have a .net passport then you probably also have an MSN Messenger
account. Instant messages have never been so convenient as they are during times
when you can't talk on the phone but you want more immediate interaction than
e-mail provides.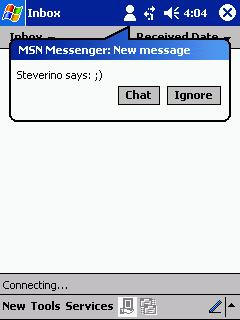 You can receive Instant Messages:
When I am away from my desk, Julie likes to send instant messages to my
PCS Phone. The 2032 allows you to receive these same messages, which can be sent
directly from the Sprint PCS
Messaging site.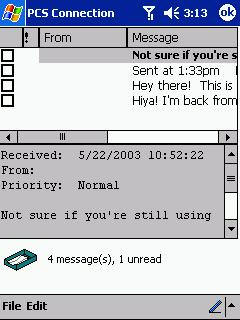 You can make and receive voice calls:
Of course, there are times when nothing but a voice call will do…and unlike
any other WiFi or BT enabled PDA, the 2032 will actually allow you to make and
receive them. The phone integrates with Pocket Outlook Contacts, so if you
receive a call from someone in your Contacts list, their name will show as the
phone rings. You can also look up a number, then tap and hold to place a call.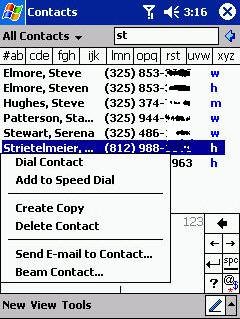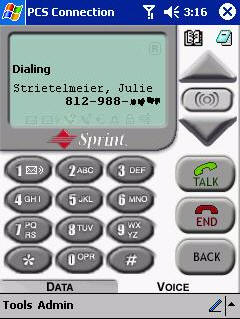 If this is a number you call frequently, you can even add it to your Speed
Dial list…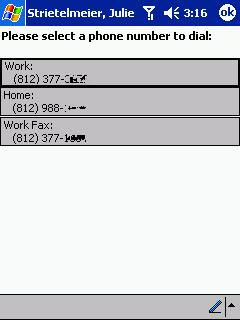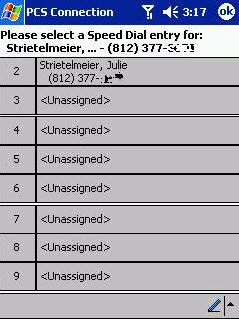 As with most wireless phones, there is a list of calls received and placed
from which you can immediately recall a number and place a call…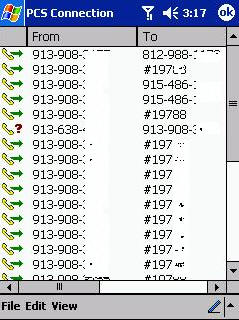 When you are in the middle of doing something, say…listening to Mp3s and
you receive a call, there is a flash as the screen acknowledges that a call is
coming in. The Mp3 will continue playing, but the screen will change to the PCS
Connection dial pad (shown above) and the incoming phone number will be
displayed. If you are playing a game and you receive a call, the game screen
will disappear – which could be frustrating if you are in the middle of serious
action. Games like Solitaire will be waiting for you when you return from the
dial pad.
All in all, having the integrated wireless coupled with phone capabilities in
a Pocket PC can be summed up as convenient.
As with all Pocket PCs, there is a suite of  Pocket PC
2002 Software Included in ROM:
Pocket Outlook – This is your PIM (Personal Information Manager) Suite of
applications. You get Contacts, Calendar, Tasks, Notes, and Inbox. All of these
applications will sync directly to Outlook 2002 on your desktop PC. Inbox can
now sync multiple folders!
Pocket Internet Explorer – Web browser.
Pocket Word – View and edit Word documents.
Pocket Excel – View and edit Excel documents.
Microsoft Reader 2.0 for Pocket PC – Read electronic books.
Windows Media Player 8 for Pocket PC – Listen to digital music and watch
movies.
MSN Messenger – Instant Messaging client just like the one on your
desktop.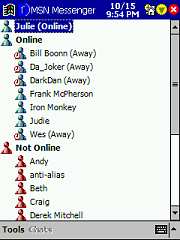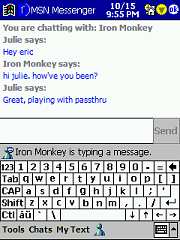 Microsoft Transcriber – Handwriting recognition input method.
Block Recognizer – Graffiti clone input method. If you have a Palm OS
PDA and know Graffiti, then you'll be right at home with this input method.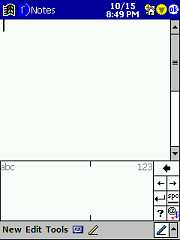 Terminal Services Client – With the terminal services client a Pocket PC
user can access Windows Terminal Servers and run Windows applications. It only
works with Windows Terminal Servers, which run on NT 4 servers and Windows 2000.
It does not work with 95, 98, or ME.
Spellchecker – A great spellchecker available for use in Word, and
Inbox. Unfortunately, it's not available in the Notes application.
Voice Recorder, Calculator, Solitaire – We can't forget your typical
voice recorder interface, a simple calculator and the solitaire game!
Optional Software to Install:
The included setup CD the typical one that contains Outlook 2002, and Active
Sync 3.5. It also contains the following:
Microsoft Money for Pocket PC –  Works with Microsoft Money 2002 on
your desktop computer. Putting Money on your Pocket PC provides a convenient way
to keep up with expenses  while you are out and about – then you can sync
everything when you get back home. I've been using this updated version for a
while now, and I am happy to report that it works way better than the 2000
version ever did – it also has a plug in for the today screen that simply
rocks! :0)
Microsoft Reader – This is the version everyone was waiting for –
solves the DRM problem, and allows you to download protected books from sites
such as Barnes
and Noble,
eFollet (excellent selection) and

Amazon (affiliate link). You can even listen to
Audible books from within Reader! You will
have to activate your Pocket PC to read the more current titles, but at least
you can use up to four devices with the same activation passport. Once you have
activated, there are several free titles you can download courtesy of Microsoft.
Hey – you can even load Reader to your computer, and it will read un-encrypted
books out loud to you!
Microsoft Pocket Streets Weblink – Portable maps for your Pocket PC.
Microsoft Reader Weblink – Portable eBooks for your Pocket PC
Personally, I would like to have seen more optional software titles included
in the CD, but as with the e570 Toshiba did not see fit to provide them.
Conclusion:
The Toshiba 2032SP is a viable solution for those needing a Pocket PC that can
connect to the internet without relying on WiFi access points or a Bluetooth
enabled phone. While I would have liked to have seen the same dual slots that
won me over to the e570, I suppose the tradeoff is that Toshiba managed to keep
the size of this wireless version in check.
This PDA is certainly a major step forward from the "dual sleeve on my
iPAQ" days, and I am won over by it's tidy size. Yet, I wish that it offered
more than 32MB RAM. Unfortunately, that seems to be standard with
Pocket PC Phone Editions. Hopefully Mack and
Leonard at Pocket PC Techs will be
able to work their memory magic
on this PDA, too.
Price: $699 plus a monthly PCS service charge
Pros:
If you want a wirelessly connected PDA, then this may be the perfect solution
for you
Ability to connect to internet or email anywhere that has digital PCS service
Unit is not much bigger than a non-wireless PDA
Cons:
If you want a phone with PDA features, this will not be the perfect solution for
you
Web surfing can be slow – most sites are not optimized for a PDAs screen
No built-in file share as with other PPC 2002 devices
Anemic collection of software included on CD
Included slipcase is cheesy
Only 32MB RAM
Unlike the similarly designed Toshiba e570, there is no CF slot
Product Information
Price:
699.0
Manufacturer:
Sprint
Pros:

If you want a wirelessly connected PDA, then this may be the perfect solution
for you
Ability to connect to internet or email anywhere that has digital PCS service
Unit is not much bigger than a non-wireless PDA

Cons:

If you want a phone with PDA features, this will not be the perfect solution for
you
Web surfing can be slow - most sites are not optimized for a PDAs screen
No built-in file share as with other PPC 2002 devices
Anemic collection of software included on CD
Included slipcase is cheesy
Only 32MB RAM
Unlike the similarly designed Toshiba e570, there is no CF slot