We use affiliate links. If you buy something through the links on this page, we may earn a commission at no cost to you. Learn more.
Product Requirements:
PC running Windows 98/NT 4.0/2000/Me/XP (Windows NT, 2000 and XP require admin rights to install. Windows NT and systems without USB ports, require the Palm HotSync® Cradle-Serial, SKU P10828U, sold separately) Or Mac OS X, version 10.1.2 or higher.
It wasn't that long ago that Julie and I were sitting huddled around a conference table in a side-room at COMDEX. On the table before us were laid out the new Palm PDAs and their various accessories. At the time, Palm was heavily promoting their Tungsten|T and Tungsten|W models. Julie and I both already owned Ts, but had never had the opportunity to check out the Ws "live." As we perused the W, we were both impressed with its form factor and features, but there were a couple of issues that kept us from being completely gung-ho about the device: mainly that it used the previous operating system (Palm OS 4.1.1, when 5.0 was already out)  and then there was the fact that it used a wireless service that neither of us could get reliable 24/7 access to.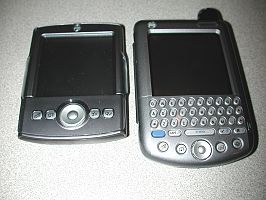 Palm Tungsten|T and Tungsten|W
Fast forward half a year, and once again Palm has just announced their new devices: the Zire 71 and the Tungsten|C. It doesn't take much of an imagination to see the physical similarities between the Tungsten|W and the Tungsten|C; but once you get under the hood of the new C, you almost immediately realize that this is a whole new breed of Palm. The bar has been raised, and the game just got more interesting. Gone are the issues that made the W a doubtful choice (for me, anyway). and in their place are a set of features that sure look good on paper…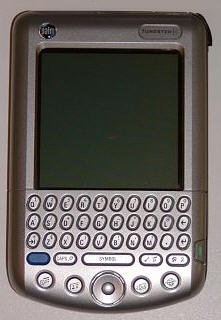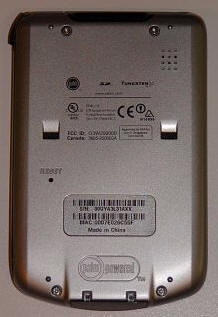 Hardware Specifications:
Size and Weight : 4.8″ x 3.07″ x .65″; 6.3 oz.
Memory: 64MB (51MB actual storage capacity)
Operating System : Palm OS® 5.2.1
Processor: 400MHz Intel® PXA255 Processor with Intel® XScale Technology
Screen: 16-bit, 320×320 transflective TFT color display supports more than 65,000 colors
Battery: 1500mAh Rechargeable Lithium Ion/Polymer
Expansion Slot: SD/MMC, SDIO Accessories, Palm Universal Connector
Built-in Keyboard: Quickly type and respond to emails, easily enter information
5-way Navigator Button: Access information with just one hand
Mobile Radio: WiFi Certified 802.11b Radio
Hands-free Headset Jack: Accepts Palm Tungsten W and C Hands-free Headset for audio playback, 2.5mm connector, mono
Notification: Vibration, Audio, LED Notification
Opening the Tungsten|C box was a sense of déjà vu. The C appears to be the exact same form factor as the W, but without the nubby antenna. Here is an overview of the C's physical specifications, taken from the Palm
site.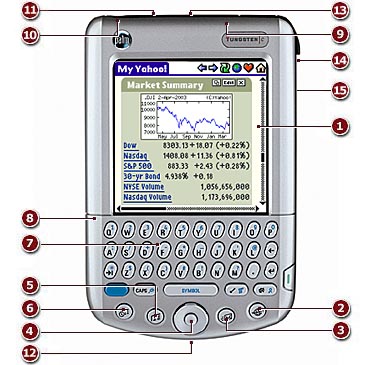 | | |
| --- | --- |
| 1 | 65,000 Transflective Color Display |
| 2 | Web |
| 3 | Email |
| 4 | 5-Way Navigator |
| 5 | Address Book |
| 6 | Date Book |
| 7 | Integrated Thumb-Size Keyboard |
| 8 | Rechargeable Battery |
| 9 | Embedded Antenna for Integrated WiFi (802.11b) |
| 10 | Headset Jack (2.5mm) |
| 11 | Palm™ Expansion Slot |
| 12 | Palm™ Universal Connector |
| 13 | Infrared Port |
| 14 | Stylus |
| 15 | Speaker (in back) |
Inside the box: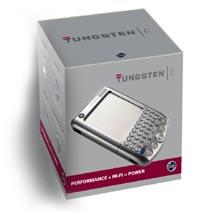 I was actually quite surprised when I saw the Tungsten|C's box. It is relatively tiny compared to the boxes most PDAs appear in these days. Inside were the following: Tungsten|C handheld, Stylus, Flip Cover, USB HotSync Cradle, Desktop Installation CD with PDF-file Users Manuals, Palm installation & Software Essentials CD, and various "Read this first" type pamphlets.
The Tungsten|C:
I have been using the metal bodied Tungsten|T for months now, so I have become accustomed to using a PDA with a bit of heft to it. With that in mind, I was almost slightly disappointed when I removed the C from it's box and felt its plastic body for the first time. Even though the C feels very solid and substantial, and even though it actually weighs a couple tenths of an ounce more than the T, it just seems lighter to me. Of course, for many that will be a good thing (I know that I can be weird sometimes about things like that).
Just for a size comparison, here is the Tungsten|C shown with a Tungsten|T, Sony CLIÉ NR70V, and because it also has built in 802.11b – I am including the HP iPAQ 5455 in the lineup.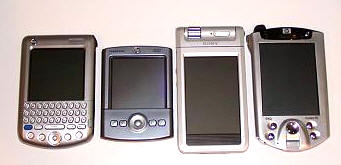 Tungsten|C, Tungsten|T, NR70V, iPAQ 5455 Stacked up, the C is the second smallest of this group…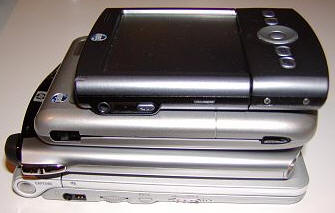 NR70V, iPAQ 5455, Tungsten|C, Tungsten|T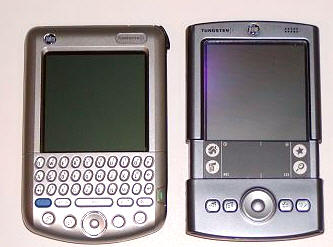 Perhaps the most telling example of the C's size, is the fact that it is roughly the same length as the incredibly compact Tungsten|T, when the T's graffiti slider is open…With that in mind, I believe that the Tungsten|C should easily escape being labeled a brick. While it isn't the smallest PDA out there, it is certainly one of the more compact. When in my hand, it feels comfortable, easily graspable, and perhaps as an added bonus – the power button is where my left pinky finger naturally falls – making it easy to hold the C and flick it on or off. My right hand is then free to push buttons, work the nav-pad, or tap on the screen.
When I squeeze the case, applying Julie's famous test, there is a slight creaking sound, although there is not much if any actual "give.".
Here are some views of the Tungsten|C…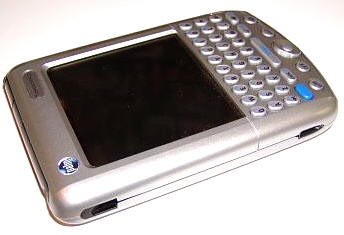 This is the Tungsten|C's left side, showing the slots that attach the flip-cover.This cover is a reinforced vinyl that mainly serves as a screen and button protector. It will be perfect for people that want something with the absolute thinnest form factor – but for those that need more than the merest screen protection, a better case will need to be on your shopping list.
One thing worth mentioning about my experience with the flip cover is that I have found that during the course of the day it will pop out of the silo's top. Since I am a little bit obsessive, I find that I am constantly checking to make sure that it is where it is supposed to be.
Even with what can be viewed as faults and limitations, it is still nice to have a cover, though, and I like the way it lies flat against the back of PDA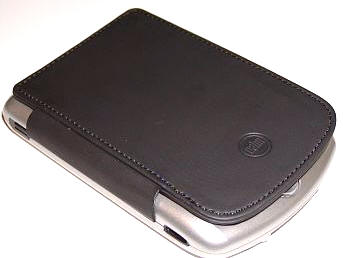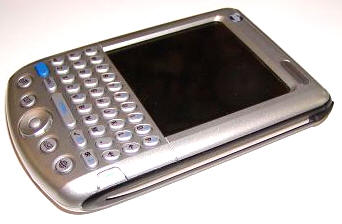 This is the right side of the C, showing the silo which holds the new metal stylus.
Unfortunately, you'll notice that the top of the stylus unscrews – revealing the dreaded reset pin. This is, in my opinion, a step backwards for Palm. I was so impressed with the way that this unnecessary step was removed in the Tungsten|T, by including a large enough reset hole that could accept the tip of the stylus. I realize that this is a little thing for most – but when you do as many resets as I do, it can be incredibly annoying.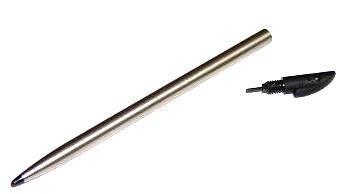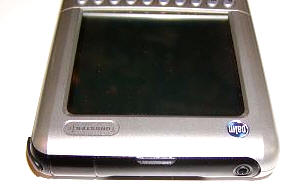 The top of the Tungsten|C reveals the SD/MMC/SDIO slot in the middle. The translucent area above it is the LED status light that glows a bright green when charging or as an alarm goes off. On the right is the 2.5mm mono headset jack and on the left is the Infrared port. Obviously, if you were holding the PDA up facing you (instead of it lying on its back, as in this picture), these sides would be reversed.
The bottom area of the C is quite feature packed, including a thumb keyboard, the reconfigurable Date Book, Address Book, email and Web buttons, as well as the five-way center nav-pad.This nav-pad is virtually identical to the Tungsten|T, but it is about 75% of the size.  This doesn't make a big difference for navigating, but it did make a huge difference when I would try to tap the center to return to the home (launcher) page. I quickly found myself using the home button, instead.
Because there is no graffiti area on the screen, there are instead dedicated buttons to activate control, menu, home, and shortcuts.
The blue button that you can see to the left, is a type of "shift" button that allows you to type the smaller characters (in blue) that appear on each button.
Pushing the large middle button labeled "Symbol" will either put a space in between what you are typing, or when pushed in conjunction with the previously mentioned blue shift button, a soft keyboard will appear on the screen with a variety of common (and not so common) symbols from which to chose.
The buttons on the keyboard are made of hard plastic, and while they have a good tactile feedback, I can't help but wish they had been composed of hard rubber instead. They feel a tad slippery when you are "typing," and I think that rubber might have provided a better grip.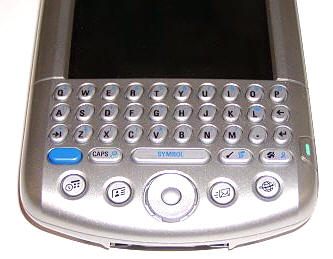 Using the thumb keyboard is quite easy, as it is laid out in a QWERTY pattern that everyone is familiar with. Even though there is a shift key, making capital letters is as simple as holding down the button after you type a letter. All numbers and common pronunciations are accessible by hitting the blue shift key. It takes a little while to get used to the system, but once you get it down, you will most likely amaze yourself with your typing speed.For the record, I much prefer this keyboard over the one on my Sony CLIÉ NR70V.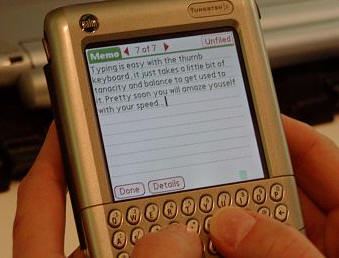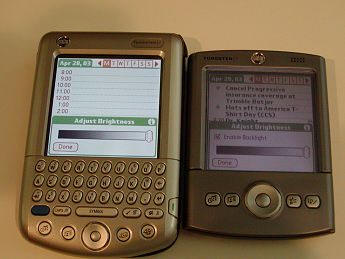 The screen on the Tungsten|C is easily the most beautiful that I have seen on any PDA to date. I thought my Tungsten|T was bright, crisp, and colorful…but this one just blows it away. In fact, it makes my T look washed out and ugly. :0(Even on its lowest setting, the C is still brighter than my T…
The only gotcha is that the bottom of the Tungsten|C's screen has the same four little dark spots like the Sony CLIÉ NR70V shows. It is a small tradeoff for the brilliant screen though, believe me.
The Tungsten|C has a 1500mAh battery, which is exactly the same as the one in the T. I am not sure if the C's processor is just that much more efficient, or what the deal is exactly, but the battery on the C seems to last much longer than the battery on my T. Even with the WiFi running, and the backlight on medium bright, I got over an hour's usage before the battery showed any movement. Amazing!
Before I forget to mention it, the 400MHz  Processor is blazing fast…I am talking virtually no waiting whatsoever, for any reason. If someone tells you they can't think of any good reason for a Palm to have such a fast processor, then just tell them this: it does because it can. What this means for you is that you will never see an hourglass or little clock thing mocking you as you wait for it to open an application, do a sum, or whatever. The only program I have had to wait on is Bookworm, one of my favorite Astraware games. This is a graphics heavy game with a huge dictionary that it has to sort through. Needless to say, it has cut the load time to at least half of what I am used to waiting with my Tungsten|T.
Back to WiFi for just a moment, this is as good a time as any to talk about how impressively easy this feature was to set up and use. There is a wizard that you follow, and before you know it any and all possible WiFi connections will be located and accessible.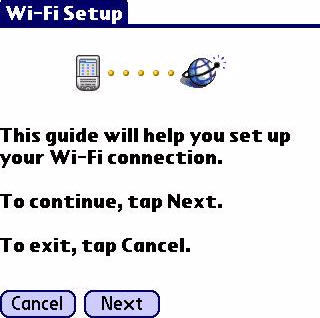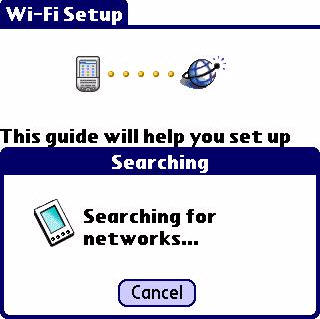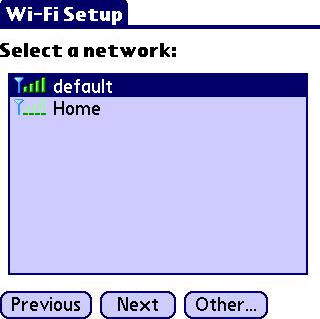 I am honestly not sure exactly how this button manages to make the WiFi conserve power, but I kept it on all the time and my battery life never seemed to suffer, so it must be a good thing. ;0)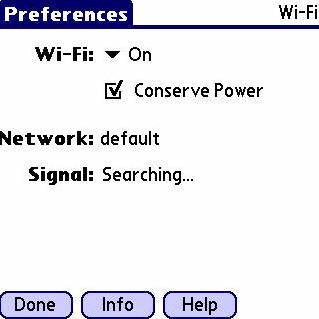 While we are on the subject, I have to admit that I was a little bit surprised that there was no flashing light to announce when the WiFi was on. I even went so far as to wonder if perhaps when I exited from a screen the WiFi might be shutting itself off. With a little help from Michael A. Waldron, one of Julie's extremely knowledgeable contacts, I learned of a simple way to tell immediately if I was connected or not. Check it out – all you have to do is hit the Command button, and you'll see that there are some new additions to the tool-bar. The first snapshot shows my WiFi is not on, and the second shows it on with a strong signal.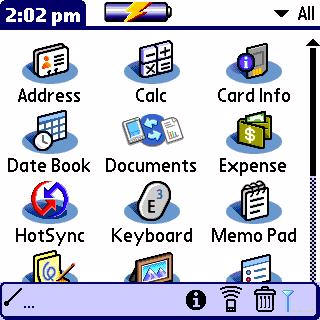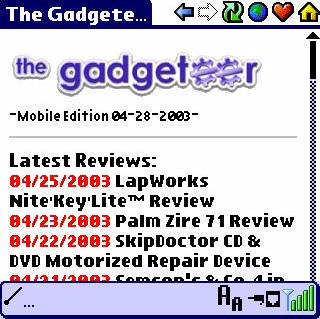 The WiFi range seems to be about as good as the range on my Fujitsu Lifebook 2110 laptop – I can be two rooms away (15 – 20 feet) from my wireless point, and still get a good signal. I can sit outside my back door (20 ft) and also receive a signal, but I can't sit in my living room (35ft) and surf with either device. Neither device has an external antenna, and my old house (1920s) has extremely well insulated walls, so perhaps that is why I don't get a better range. I have to tell you, the WiFi feature is one of the coolest things I have ever had on a Palm. Sure, surfing on my Palm will never be at the top of my "Best things in life…" list, but there is something awesome about being able to get your e-mail when you are away from your desk – or in an airport or coffee shop. It is too cool to be able to check the weather, watch an eBay auction, get a stock quote, or any number of other things you can do wirelessly. Next to the screen, this is a feature I am going to sorely miss when I have to return this unit to Palm.
Here is a sight I had never thought I would see…sure, I had hoped for it, but I still never really thought I would get it: 51MB of available storage space on my Palm – without having to send it off to a third party memory specialist.
There are going to be those that get upset that the box says 64MB and you only really get 51, but here is my take on the issue: If this were a Pocket PC device and it said 64MB, you would only really have 32MB for storage, since the device would need 32MB to run the programs. With the Palm, you actually get all 51MB to store and run your programs, so you really are coming out ahead. If that doesn't make sense to you, post a
comment at the end of this review and I will explain it further.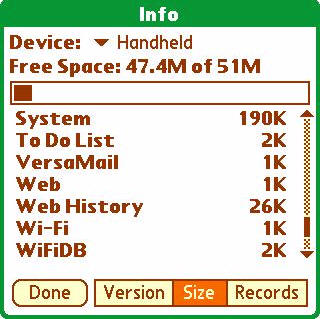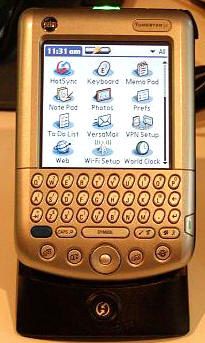 The Tungsten|C's cradle is very similar in form to the universal cradle that was included with the Tungsten|T, with one difference: The power cord now has it's own slot on the rear (instead of tying in with the USB line). I would have gotten halfway excited about this change had there been a way other than through the universal connector on the bottom of the C to keep it charged. A separate AC port built into the C would have been a great way to take the power cord along on trips for charging without syncing…
SOFTWARE:
The Palm Desktop Software 4.1 for Windows installation CD includes the following:
– Palm™ Quick Install for easy transfer of Palm OS® applications, photos, and more from your computer to your handheld.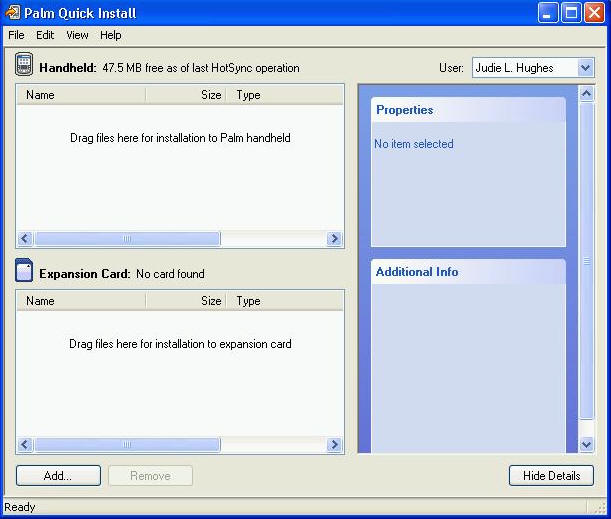 – Palm Photos – a simple program for viewing downloaded pictures on your handheld.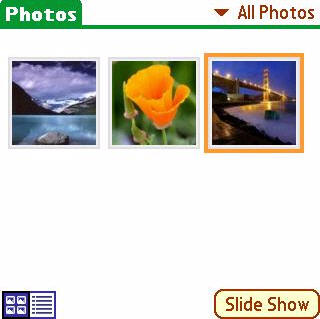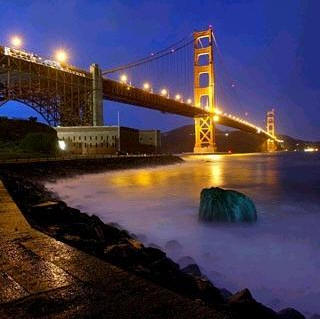 – Voice Memo – this is an application where you get hosed unless you buy the optional headset. There is no external voice memo button on the outside of the Tungsten|C (like there is on the Tungsten|T), instead, you have to use the button on the mono headset. This appears to be the same headset that the Tungsten|W uses, but I have not had any luck in finding a link to purchase one.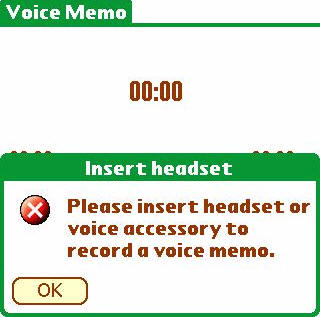 – Expense Palm Desktop plug-ins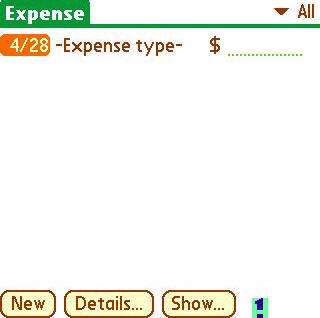 – Palm Desktop Software 4.0 for Mac
-Infinity Softworks powerOne Personal Calculator – a multi featured calculator that makes the regularly included one seem quite anemic.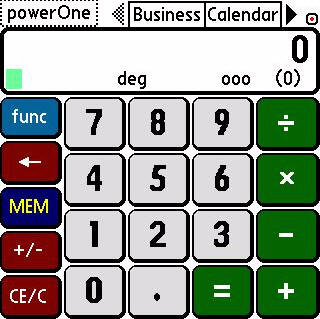 – Chapura PocketMirror 3.1, for synchronization with Microsoft Outlook (Windows Only)
–Printboy Printing Software by Bachmann – printing program that allows you to connect to various printers via WiFi, Bluetooth, and Infrared
-Adobe® Acrobat® Reader® for Palm OS
-Copytalk – Allows you to get and send email by talking on your mobile phone. Allows you to hear email, then compose a reply. Also allows you to dictate notes on Palm handheld.
-WorldMate – this is a must-have application – especially if you have a wireless enabled PDA. You can set your PDA's clock to an atomic clock, get up to the minute weather forecasts for all around the world, and it even includes a money converter, unit converter, area codes, and world-wide size conversions. If your PDA isn't wireless, you can get the same info when you sync…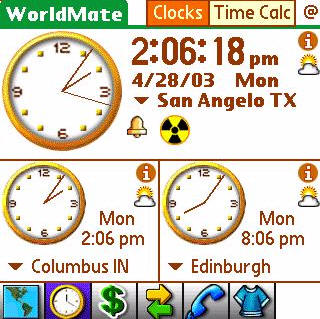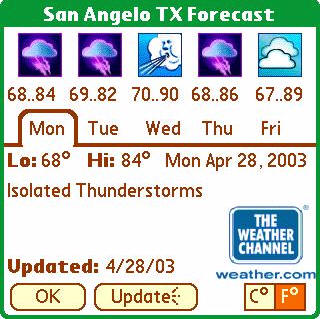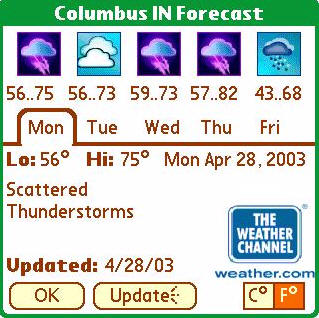 Installed when user performs first HotSync® operation:
–DataViz
Documents To Go 5
-Palm Photos Conduits
-VersaMail 2.5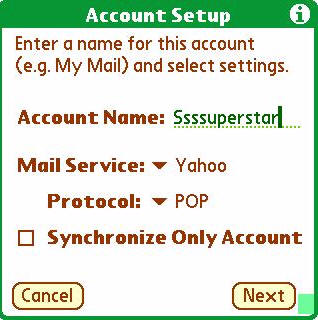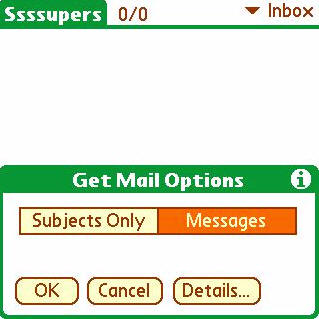 -PalmSource Web Browser 2.0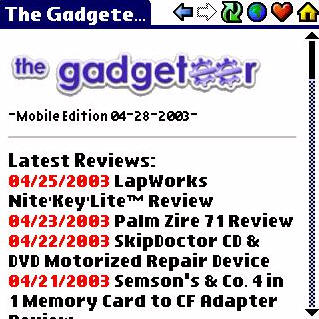 -Palm Photos 1.0
-DataViz Documents to Go Pro Edition 5.003
-PPTP VPN client by Mergic – Includes a wizard to get you up and running in no time…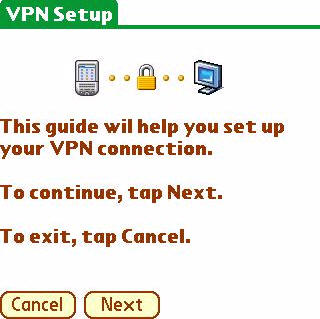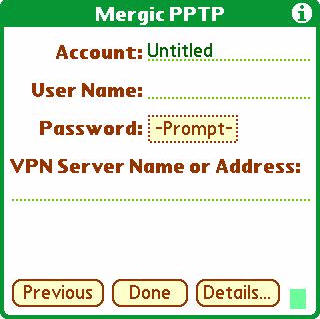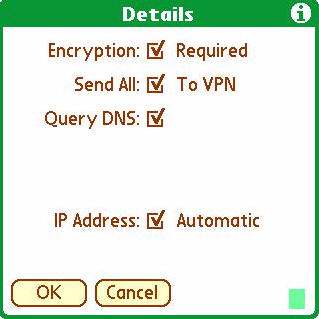 –Colligo Meeting for WLAN (Internet download link) –
–AOL for Palm OS (Internet download link)
–AvantGo for Palm OS (Internet download link)
–Solitaire by Handmark -Solitaire coming from the factory on a Palm PDA…oh the irony!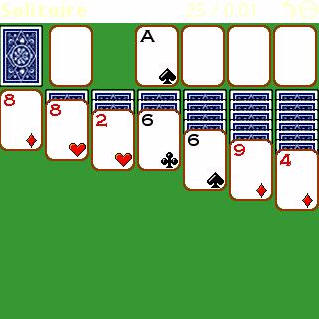 –Kinoma Player and Kinoma Producer – watch and produce movies for your Palm
–Palm Reader – my personal favorite for reading eBooks
Included on the Handheld are the usual standard Palm built-ins, including:
-Address book
-Calculator
-Card Info – gives information about the card inserted in the expansion slot.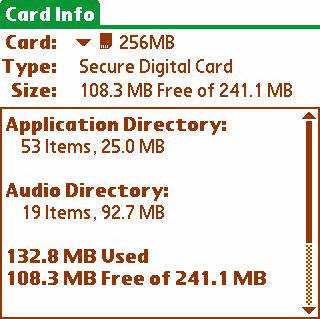 -Date Book
-HotSync
-Memo Pad
– Note Pad – for creating handwritten notes on the fly. You can attach an alarm to these notes, so they are very handy for upcoming To-Dos.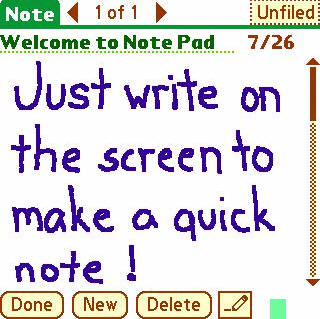 -Preferences – This is a newer, more user friendly version from the last. Easy to figure out, navigate, and specially set up for the new WiFi/Communication capabilities of the Tungsten|C. Cool new color themes are included in this newest OS, as well as the ability to write directly on the screen (completely necessary with the Tungsten|C).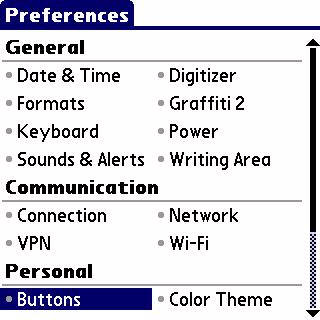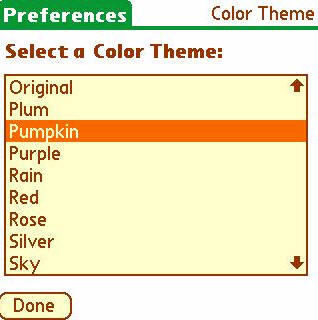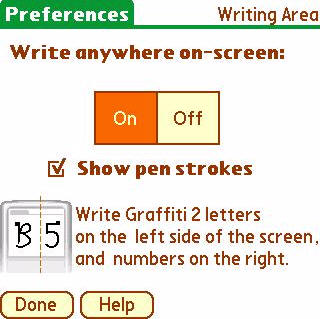 -To Do List
-World Clock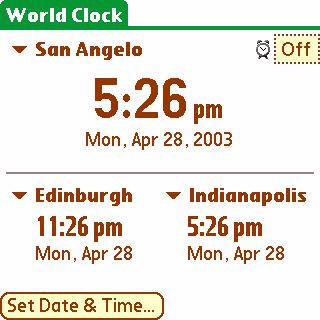 -Enhanced Security with Built-in Encryption and Password Masking Options
-Installed on first HotSync® operation to RAM:
-Quick Tour for device overview, keyboard, and 5-way navigator.
Conclusion:
There are plenty of things about the new Tungsten|C that I like: the fantastic processor speed, the expanded memory, the built-in WiFi,  the gorgeous screen, and yes – even the built in keyboard. If I didn't already have the Tungsten|T, you had better believe I would be ordering one for myself. It does have some "gotchas," but as long as you are informed when you make your purchase, you won't be in for any surprises…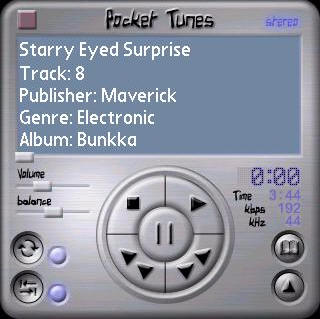 I like to listen to MP3's on my PDA. I don't want to carry a separate device for that purpose. If you are the same type of person, then while the Tungsten|C won't totally disappoint you, it may let you down a bit. There is no software included in the box to enable it to play music. With the built in mono speaker and the mono headset jack being just a 2.5mm size, you might think that music on this PDA is an impossibility. Well, it's not. You can either download the Real Player for free, or get my favorite, Pocket Tunes. Even though the sound isn't great – it is better than nothing (or as we say here in West Texas, mejor que nada).
As I mentioned before, you can't use the voice recorder without the additional headset. I honestly think that this is something that should have been included in the box, and I will never understand why it wasn't. If you are someone that doesn't really need voice memo capability, then this will be a non-issue to you.
I have been reading our bulletin boards here at The Gadgeteer for years, and I have found it interesting how passionate people can be when they are talking about what they want or don't want in a PDA. Sometimes, I think that most people must feel that the big companies either don't listen or don't care about what we desire in our "perfect PDA." But the fact of the matter is that there is no company out there that will build a consumer PDA to order. PDAs have to be built according to surveys, demographics, and price points that people in certain groups are willing to pay. Users have to be wooed by the options offered by a particular brand or operating system, and there is absolutely no way that any one PDA will ever please everybody. That's why there are so many different models, offered by so many different companies, and why there are several different operating systems available to chose from: It is all about meeting different people's needs.
With that said, I can honestly say that if you want the fastest processor ever available on a Palm, if you want WiFi, if you want a built in keyboard, if you want 51MB of built in RAM, and if you want the most brilliant screen that has ever been offered on a PDA, then you can't go wrong with the Tungsten|C.
Price: $499
Tungsten|C
Accessories are also available
Pros:
The most beautiful screen on any PDA, ever!
WiFi access without too much bulk or battery drain
51MB of built in, usable RAM
Fantastic processor speed – virtually no waiting!
Built in QWERTY thumb keyboard
Extensive third-party software included on disc
Cons:
Mono speaker and mono headset jack
Headset jack is 2.5mm – perfect for mono voice/phone – but not perfect for stereo earbuds
Can't use voice recorder without optional headset
All the new desktop software appears to only support Windows PCs and not Macs
Product Information
Price:
499.0
Manufacturer:
Palm
Pros:

The most beautiful screen on any PDA, ever!
WiFi access without too much bulk or battery drain
51MB of built in, usable RAM
Fantastic processor speed - virtually no waiting!
Built in QWERTY thumb keyboard
Extensive third-party software included on disc

Cons:

Mono speaker and mono headset jack
Headset jack is 2.5mm - perfect for mono voice/phone - but not perfect for
stereo earbuds
Can't use voice recorder without optional headset
All the new desktop software appears to only support Windows PCs and not Macs