We use affiliate links. If you buy something through the links on this page, we may earn a commission at no cost to you. Learn more.
Lexar Media was kind enough to send me a sample of their latest enhanced Memory Stick. This is a translucent purple stick that has a green LED safety light that lights when you write.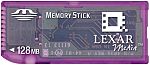 The LED gives you a visual indicator when it is in use so that you won't eject it during the process of writing data to your PDA, camera etc. It also has an erasure protection switch like a standard floppy disk. When the switch is in the Locked position, content is secure and cannot be transferred to or from the Memory Stick. I've been using the sample in my NR70V for a couple months now, and it has worked like a champ!