We use affiliate links. If you buy something through the links on this page, we may earn a commission at no cost to you. Learn more.
Product Requirements:
Device:
IBM-Compatible 486 PC or higher
Windows 95, 98, 2000, NT 4.0 or XP
CD-ROM Drive
Julie's comments are in Black,
Judie's are in Blue
Pocket PCs can fit in your pocket and Palm OS PDAs can fit in your palm. But, what do you do if you want a Palm or Pocket PC that can fit on your wrist? There's always the Peel it case… but ummmm, can you say Carpel Tunnel Syndrome?
Like many of you, Julie and I remember very well the wrist communicator that Dick Tracy used. As children, we both wanted one. Heck, I still want one! While it may be unrealistic to expect anything in the next five years to even begin to come close to imitating the functions Dick's watch had, it does look like companies are at least trying to get there.

If they can only get the size down!
The idea of being able to carry a PDA on my wrist – even with somewhat reduced functionality – is just totally cool. So of course my gadget lust acts up when I occasionally hear of different wrist computer-type products that companies will come out with, such as last year's REPUTER / On Hand. Unfortunately, in their present incarnations, these products weren't what I would consider for everyday use.
The On Hand was impressive with all its little features, but data input was
too tedious to be useful. And of course, it was way too large.
Julie's and my trip to CES this year provided our first glimpse at what Fossil is billing as "The Ultimate Companion For Your Palm OS (or Pocket PC OS) Handheld." Well, who wouldn't want that? Of course we were intrigued.
While we didn't get a chance to really play with the Fossil at the time, we were allowed to try it on. My initial thoughts were that my regular watch didn't have anything to worry about. This wrist PDA was so big that we couldn't imagine wearing it on our person full-time, or truth be told, even much of part-time. But since we weren't exactly sure of what the Fossil would be capable, we tried to reserve final judgment until we could actually put
one through its paces.
When Fossil contacted us with information about their Wrist PDAs, we were interested and welcomed the chance to do a review.
Hardware Specs:
Processor: 8-bit EPSON CPU
Memory: 190 Kbytes RAM, 48 Kbytes ROM
Display: 102×64 pixel LCD
Power: (2) CR2302 lithium coin cells
Battery Life: 1.5-3 months depending on typical usage
Size: 44 mm x 50 mm x 15 mm
Weight: 75g
Water resistant: 3 ATM (30 meters)
Communications via Infrared: 10 cm recommended communication distance, 57 Kbps
communication speed
Palm OS handhelds:
• Palm IIIe, IIIc, V, Vx, VII, M100, M105, M505
• Handspring Visor,and Edge
• Sony CLIÉ models
Pocket PC handhelds:
• Compaq iPAQ
• Cassiopeia
• HP Jornada
Available in both Pocket PC and Palm OS compatible models, Judie grabbed the Palm version and I took the Pocket PC version to review. My first thoughts upon seeing the watch was that it was huge, heavy and manly. I really can't envision a woman wanting to wear this watch.
Well, maybe a huge, heavy and manly woman. ;0)
And after putting the watch on my wrist, I knew I wouldn't be adding this gadget to my every day gear line up. It felt really uncomfortable to wear… probably because I have small wrists. Truth be told, it reminded me of some kind of house arrest cuff!
Right! You can almost hear the judge sentencing you to wear this thing!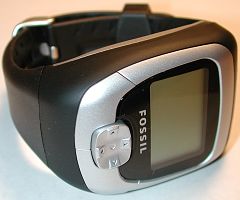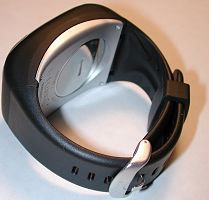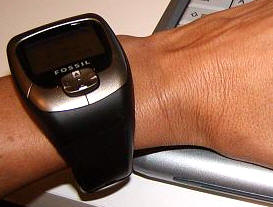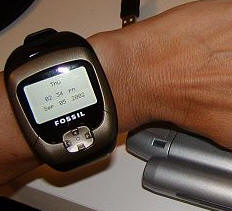 The watches have a nice large display, 2 buttons and a joypad.
The joypad also pushes in, which in effect makes it another button.
The display is easy to read and similar to mono Palm device screens. It even has a backlight that is activated by pressing and holding the left button. Speaking of the buttons, I found them to be horribly stiff and hard to press. My thumb was sore after playing with this watch for only 5 mins or so! I didn't find the joypad to be any easier to
manipulate.
I completely agree: just the process of setting the time and date on the Fossil was an exercise in patience – but I did finally get it done.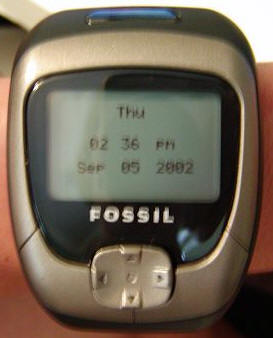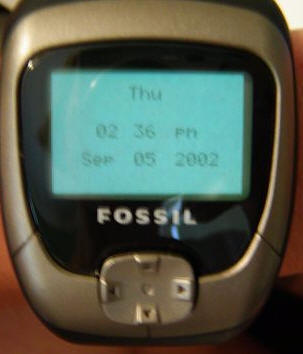 Before you can begin using the watch, you have to install 2 CR2032 lithium coin cell batteries. This is a simple operation that requires a standard screw driver to remove the back of the watch. The two coin cells slip easily into the battery compartment. Each watch comes with 6 extra batteries, so you'll not have to buy replacements for quite awhile.
Fossil's website says that you can expect 1.5 to 3 month's power from a pair of batteries, depending on your usage of the watch.
A low battery indicator on display lets you know when the batteries are low. The watch will keep running 2-3 days after the indicator first appears. Data is stored in Flash memory, so even if your batteries die before you can replace them, you will not lose your records.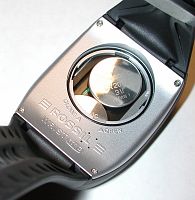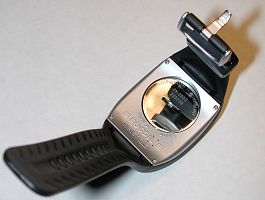 According to the Fossil website, this watch is water resistant to 3 ATM (30 meters). I may be overly pessimistic, but I wouldn't chance it! Although the Wrist PDA is well made (for what it is), it really doesn't install that kind of confidence in me. I suppose it might be water resistant enough for those times when you accidentally jump in the shower with your watch on, or when you are washing your hands. Otherwise, I would be safe and take it off.
Included with the Pocket PC version of the watch is a CD with the PDA software, a manual and a black plastic holder thingy that they call a cradle to use for beaming.
My Palm version didn't come with a CD, I had to go to the Fossil

website to find the .prc file to install on my CLIÉ. This was after mistakenly thinking that because it didn't come with a disc, that my watch didn't need additional software and thinking that just because the Wrist PDA said it was receiving beamed information from my PDA that it actually was.
I was surprised that there wasn't some sort of serial or USB cable to allow you to sync with your PC… But then it finally sunk in that these wrist PDAs ONLY sync with the PDA associated with them. And, all syncing is accomplished by IR beaming only. No cables are used.
Believe it or not, this lack of "stand-alone" power for the Wrist PDA was a major downer for me. I mean, let's just say that you can get past the fact that this thing is so massive on your arm. Maybe you are even going through a phase where bigger is better, and humongous is just fine…but to know that you can't just sync the watch to your desktop just really bothers me. Otherwise, this could have been a perfect solution for those who didn't want to own both a PDA and a Wrist PDA.
Right! As it is, you CAN'T use this watch without also owning either a Pocket PC or a Palm PDA. I think this is a major problem with this product.
The difference between the Palm and Pocket PC versions is really only in the software that comes with it to install on the PDA associated with it. The Pocket PC version comes with PeaceMaker Pro (396K) and the Palm OS version needs a .prc file (40K).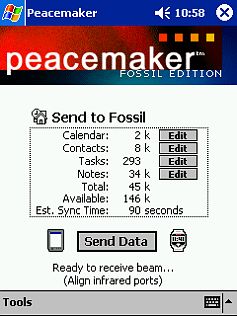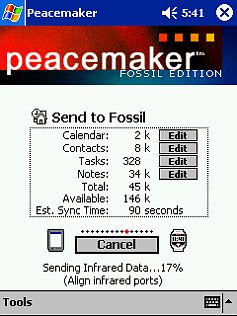 Once you install the software on the PDA, you must beam all your information to the Wrist PDA. Beaming is your only option for getting input into the watch.
The watch comes with this dorky looking plastic dock that is supposed to help you line up the IR ports on both the PDA and the watch for beaming. Personally, I found it to be more trouble than it was worth.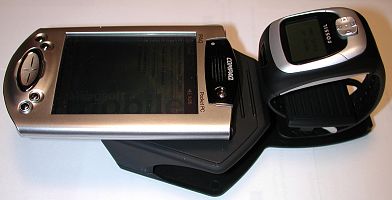 The applications on the watch match the main applications on your PDA:
• Address (stores up to 1100 contacts)
• Date Book (stores up to 800 calendar appointments)
• To Do List (stores up to 5000 tasks)
• Memo Pad (stores up to 350 notes (400 characters each)
• Today (Pocket PC watch version)
Since the watch is limited to 190K, all of the data on your PDA may not transfer over. The PDA software allows you to adjust what you send to the Wrist PDA. As you can see from the images below, Peacemaker gives you the ability to choose which categories to beam for your ToDos, Contacts, and Notes. You have a few extra choices for Calendar data.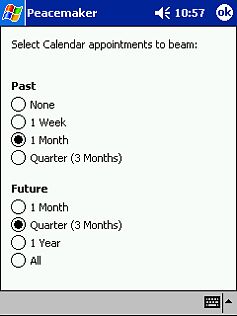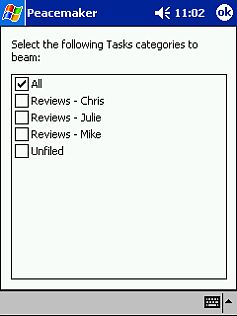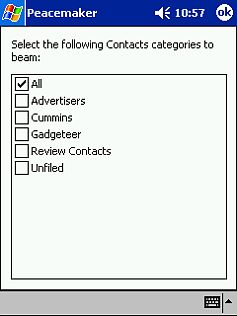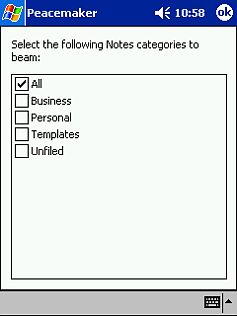 You can also change the watch face style using Peacemaker.
Using Peacemaker was very painful. Every time I started the program on my 3800 iPAQ, I would have to stare at the hourglass for 30 seconds while it initialized the data! Yes, I timed it! And every time you change an option, you
are subjected to another 10-15 wait. It's very frustrating. Once you're ready, you line up the IR ports on both devices, press the send data button on the Pocket PC and navigate to the receive data option on the Wrist PDA. It would be nice if the watch would automatically detect data being beamed to it like Palm devices do.
I agree!!! I was hoping that the watch might automatically detect beamed information from my CLIÉ, but boy was I wrong! Then, to make matters worse, after going through the painful process of getting it ready to accept beamed information, the address I sent didn't even show up properly. At this point, I was definitely beginning to think that while this started off as a good idea, somewhere along the way it just got out of control and stopped being "fun." It sounds like Julie at least had better luck sending info to her watch…
Maybe you were trying to beam a business card…You are supposed to be able to receive beamed "business cards" from other PDAs. So, if you have the Palm version, you can accept a business card beamed from a Pocket PC version and visa versa. The only problem is that after you receive a beamed card, you can't actually view it on your Wrist PDA until AFTER you beam it back to your PDA. How screwed up is that?
So, after sending all the info to our watches, we started playing around with the applications…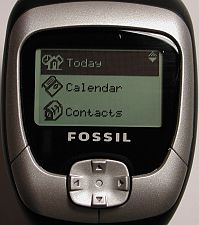 The Address book …This is pretty cool. Not only will the watch display several phone numbers, addresses and e-mail addresses for each contact, it will also show any information that you have in the "notes" field of your contact. One very cool feature is that if you have to look away from your contact because you are doing something and then when you look back the regular watch screen is showing (because it "defaulted" back), you won't have to go scrolling through all of your contacts again. All you have to do is push the button on the right, which will take you back to the last screen viewed. While I am on this subject…if you have a huge amount of contacts, scrolling through your contact list is horribly tedious. I only have 300 contacts, and it still seemed like a total chore. The good news is that if you keep your contacts in categories, you can hit the right button and scroll through a menu of
categories. This helps…somewhat.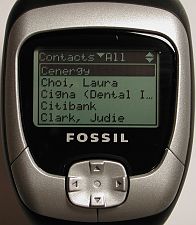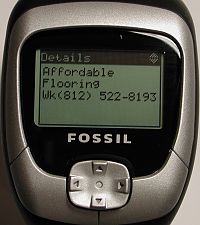 The Date book…Typical date book style application that allows you to display your appointments in one day, one week, or one month views. Switching views and days is quite slow, taking up to 10 seconds or more. And guess what? If you think the Fossil will get your attention when it's time for a meeting, think again. The alarm sound is horrible. It's barely audible. What is even worse is the fact that you can't set an alarm on the watch itself. All you can do is adjust the time and date for the watch.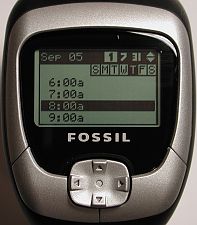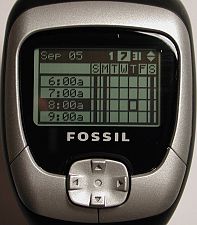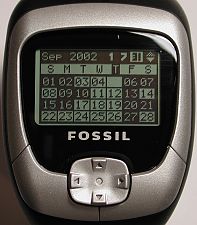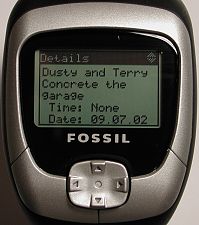 The To Do List…OK. So here is a definite area where I feel the ball was dropped. Yes, the Fossil will show you your To Dos, but if you have a note attached, you won't see that. I am a massive note attacher, so this is a more than a minor irritant for me. Otherwise, it is nice to be able to view your to do's this easily. Of course, you can't exactly check them off as you do them, though…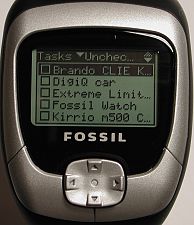 The Memo Pad…This is just a simple text viewing application, just like the Notes function on your Pocket PC. All the notes are stored alphabetical in a list that you can scroll thru. Pressing the joypad in on an entry allows you to
view that entry.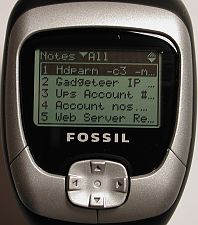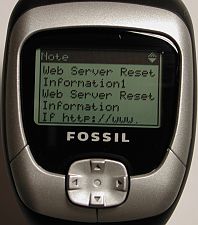 The Today screen (Pocket PC version only) Similar to the Today screen on a Pocket PC. It is just a scrolling list of
appointments and To Dos for the day.  You can select an entry in the list to see the info about it.
The Wrist PDA applications are all pretty easy to use. The problems that I have with them are that you have NO ability to create, edit, or delete data on the watch. Everything is view only. Since the screen small, it just feels
painful to navigate and read information using the Wrist PDA. Names, memo titles, and appointment info scrolls of the right side of the display.
In case you haven't figured it out by now, the Fossil Wrist PDA is not going to become a permanent fixture on my wrist. I have high hopes that in the future however, a smaller, more functional, and more fashionable version will appear.
I'm the same way. There's no way I'd use this watch as it is now. If they can make it smaller, faster, have a better alarm, and some way to enter data manually on the device itself, I'll be interested in taking a second look.
Price: $145.00 (with 1 year manufacturer's
warranty)
Pros:
Palm and Pocket PC versions available
8 batteries included
Cons:
Big and heavy
Buttons hard to press
Can not modify or add data on the watch. Data is read only
Slow
Have to have a Palm or Pocket PC… can't use as a standalone device

Product Information
Price:
145.0
Manufacturer:
Fossil
Pros:

Palm and Pocket PC versions available
8 batteries included

Cons:

Big and heavy
Buttons hard to press
Can not modify or add data on the watch. Data is read only
Slow
Have to have a Palm or Pocket PC... can't use as a standalone device