Have you ever wanted to strap your PalmPilot or Palm III to your wrist? …..Neither
have I.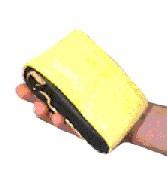 But I want to be fair. With the multitude of applications, consumer and commercial,
being written for the Palm devices, eventually there will be some applications that would
require a need for "hands free" Palm computing. And in fact, there probably
already are some. Well look no further, the Peel-It is here!
Developed and sold by Orang-Otang, (no, I'm
not kidding), the Peel-It is basically a canvas strap with a large
(2″ square) plate covered with Velcro that you can hook your PDA to. The strap can
wrap around your wrist and hold your Palm device there so you can use it as needed. The
plate swivels 360 degrees so you can adjust the position of your PDA.
After you are finished using your Palm device, Peel-It doubles as a
carrier/case that can be strapped to your belt.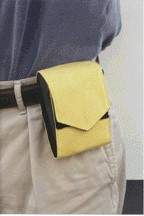 The quality of the strap and the plate are fine, but I would be afraid to place my
PalmPilot on my wrist for any amount of time.  I keep having flashbacks to the time
that I cracked the bezel of my watch as I brushed up against a wall in a crowded hallway.
While on your wrist, there is no protection to the PalmPilot.  So you need to be
careful not to ding the screen.
I didn't like the bulky feel to having the PalmPilot on my wrist. And I have very small
wrists, so it often slid around to the point where it was upside-down. The only way that I
could get it tight enough was to have someone help me put it on my wrist. Not very
efficient. And I was also afraid that the PalmPilot might fall off the mounting plate.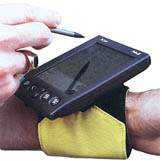 Anyway, this is the only product that I know of that allows you to truly
"wear" your PalmPilot. And it comes in a variety of colors; yellow, green, blue,
black, red, orange, and blue denim. But for the price, I can think of some pretty nice
cases that would offer much better protection.

Price: $49.95
Pros:
Can wear PDA on wrist for "hands free" operation
Doubles as a carrier/case.
Cons:
May be unsafe to use PDA on wrist.
Must put a BIG Velcro patch on the back of the PDA.
You'll love these stories too