We use affiliate links. If you buy something through the links on this page, we may earn a commission at no cost to you. Learn more.
They say a picture is worth a thousand words… I'd like to adjust that by saying that a color picture is worth a thousand words. Color. Can you imagine going through life without (for those of you that are color blind, I apologize) color? I can't, and now I can't imagine wanting to use a Palm-size PC that doesn't have a color display. Hewlett Packard has introduced their first Palm-size PC: the Jornada 420. Not only is this their first PSPC, but it is also the first color PSPC to be available anywhere.
Hardware Specs:
Operating system:
Windows CE ver 2.11
Processor:
Hitachi SH7709a 32-bit processor operating at 100 MHz
Memory:
8MB RAM, 8MB ROM
Display:
240 × 320 pixels LCD, CSTN, 256-color
One CompactFlash slot Type I and II slot
IrDA port
Power:
Lithium Ion battery
Size & Weight:
5.1 x 3.2 x 0.9 in
8.8 oz with standard battery
The first thing that you notice when you see the HP420 is the color of its case. It is
purple. At least Hewlett Packard is trying to be original… The body has the shape of a
thick rectangular brick. I showed the unit to two of my friends who have the Casio E10 and
PalmPilot Pro. Both thought the unit looked 'toyish'. One said that it reminded him of one
of his kids toys with the buttons and cut-outs on the left side. In my opinion, the unit
is sturdy and well made. When you squeeze it in your hand, it doesn't creak or flex.
Although the unit is quite a bit larger than my Palm V, I can still hold it comfortably in
one hand (I do have large hands though…for a girl). To give you an idea of how the HP420
compares to a Casio E11, Palm III and Palm V in size, check out the picture below. From
top to bottom: Palm V, Palm III, Casio E11 and HP420.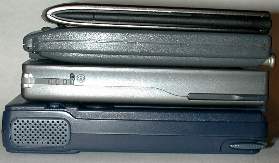 When you look at the unit from the front, you immediately notice the clear plastic flip
cover. This cover can open and fold all the way back behind the unit via its hinged top.
The idea is that you can see the screen through the protective cover. This is convenient
when an alarm sounds and you want to quickly see what it is about. You can also do quite a
few operations with the 420 without even needing to tap the screen (more about this a bit
later when I talk about the Start button on the side of the unit). The cover has small
silk screened icons on the left side that show the meaning of the buttons on that side of
the unit. Although I like this cover, there are three small things I dislike. One is that
it seems to be a fingerprint magnet. Another is that you can't remove it from the unit.
And lastly, when it is closed, it covers up the silk-screened application buttons on the
display. These buttons can be tapped to turn the unit on and start a particular app. I
think they should have made the cover a bit shorter in order to still have access to these
buttons.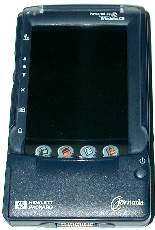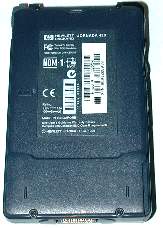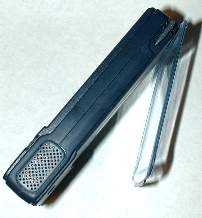 The front unit also has the power button. This is a small stiff recessed button that is
a bit hard to activate. Although you will still need to use this button to power the unit
off, there are several ways that you can power the unit on. You can tap the screen, you
can tap one of the screen application buttons, or you can press the Start button on the
left side of the unit.
At the top left corner of the unit is a small LED that will glow red when you are
taping a voice note. And another LED beside it that will glow red when charging or flash
when an alarm has gone off. This LED will turn green when the battery is completely
charged.
The back of the unit has a reset button which can be activated easily with
the tip of the stylus. A CompactFlash slot is also on the top of the unit. This slot has a
door that is held in place with a very short ribbon type leash. It is pretty easy to open,
but a pain in the butt to close. I really prefer that the unit have no door at all since I
frequently insert and remove CF cards.
I heard from some other users that there may be a problem with the 420 freezing when
resetting it while a CF card is in the slot. I had this problem once after resetting the
machine and had to turn the unit off, remove the CF card and then reset again. One thing
that I didn't like was that every time you insert or remove a CF card while the unit is
off, it will power itself on.
The left side of the HP420 4 buttons, a microphone, earphone jack, and
battery compartment. At the top of the left side is the microphone. Next is a red button
that initiates a voice recording. The rocker/action switch is below that. This switch
looks like a wheel that would continuously turn, but it doesn't. It just rocks back and
forth or presses in for the action. The switch is nicely serrated so that your thumb won't
slip when using it. Next in line is the exit button. The start button is next. This button
is a new addition to a PSPC and I really like it. When you press this button, it will turn
the unit on and pop up the start menu as if you tapped the start button at the bottom left
This gives you the best one handed operation of a PSPC that I have seen so
far. Below the start button is a regular sized earphone jack. Then below that is the
battery door. To open the door you have to first press a 'reset' type switch and then
slide off the cover.
The lithium ion rechargeable battery then can slide in or out of the unit.The
right side of the unit is bare except for the speaker grill and the stylus silo. The
stylus is your typical grey plastic toothpick.

The bottom of the Jornada 420 only has the serial port. Unfortunately,
there is no AC adapter connection so that you can charge the lithium ion battery with the
supplied AC adapter while the unit is outside the cradle. The top of the unit has the IR
port. You can buy a separate cable for this though.
I'm sure you're all anxious to hear about the color screen, so here we go. The color
screen on the HP Jornada 420 is excellent. It is bright, clear and crisp. It is very easy
to read. The HP settings program that is installed on the 420 allows you to adjust
contrast and brightness settings to make the screen just right. You can create
settings for indoor, outdoor, low power and special lighting conditions so that you just
tap on the desired selection and it makes the changes to the contrast and brightness.
Below you will see a picture of the screen. This picture doesn't represent the true beauty
of this color screen though. It just gives you an idea. It is really hard to take a good
picture of a screen using a digital camera with a flash.
The screen looks the best when viewing it directly in front of you. As you
tilt or turn the unit up/down or side to side, the display will fade. I didn't find this
to be a problem though. There was some screen streaking when the contrast and brightness
were turned to their lowest settings. I also didn't find this to be a problem because I
would never use these settings.Moving objects on the screen are sharp and do not blur.
So, these color machines are going to be great for the game players!What about outside viewing?  I found that the Jornada wasn't that usable outdoors
in bright sunlight. I could adjust the setting so that I could pretty much make out the
screen, but it wasn't very comfortable viewing. On an overcast day, it would be possible
to use the Jornada outdoors…
I've heard a lot of people say that they didn't see the point in having a color screen
on a PDA. I really think it makes a big difference in the actual readability. Having a
nice bright color screen means that you don't have to squint at the screen in dim light
anymore. Right now, there aren't many applications that really take advantage of color on
a PSPC but I think that is going to quickly change. Already there are a few color games
from jimmy.com and a photo album program by Sierra Imaging.
Also, Microsoft Pocket Streets uses color for its maps.
What about the touch screen?  The screen has a paper-like texture that I don't
really care for. I prefer a more smooth screen. As far as character recognition, the
Jornada is disappointing. I found that while using JOT, that sometimes the digitizer would
skip. After playing around with this for awhile, I found that the Jornada requires a
firmer touch than my Casio E11 or Palm V. When I tried to write heavier, it seemed to work
much better. But, this took conscience effort.
The audio capabilities of the HP420 are really lousy (at least my review unit was…).
First let me preface this to say that the HP420 has the loudest PSPC that I have ever
heard! At its loudest setting, I think it could wake the dead. I don't think you'd have to
worry about not hearing an alarm with this device. From there, it goes downhill though.
Using the Voice Recorder application, I recorded several voice recordings set at different
recording format settings (there are more settings that you can choose from than the ones
I picked). I then recorded the audio playback through my desktop microphone. You will hear
quite a bit of crackle and hissing in these files. It is like the audio is overdriving the
speaker. Playing these sounds through headphones attached to the HP420 sounded a bit
better, but not much.
Recording 1 – Mobile Voice
format @ 16,000 hz Mono
Recording 2 – PCM format @
16,000 hz 16bit Mono
Recording 3 – PCM format @
11,025 hz 16bit Mono
I also tried using the HP420 with ModPlayer from jimmy.com
and Xaudio .mp3 player. Using ModPlayer was ok as long as you used headphones. Xaudio was
pretty crummy either way. It actually sounded like you were listening to the music in a
helicopter while underwater.
The cradle that comes with the HP420 is pretty compact. The serial cord and AC adapter
both plug into it. The only thing I don't really like about it is that you have to press
in a button on either side of the cradle in order to dock the 420.  To remove it from
the cradle, you just lift up. While the HP420 is in the cradle and the AC adapter is
plugged in, it will charge the lithium ion battery. If you want to charge the 420 while it
is out of the cradle, you have to purchase a separate cable.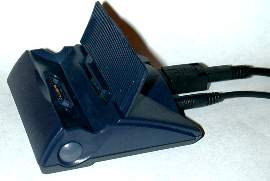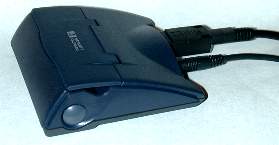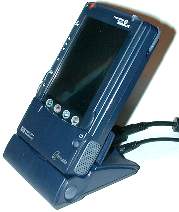 As far as battery life, the 420 is supposed to get about 6hrs per charge. During my
review, I never got a low battery warning. I had the brightness on the screen set to a
pretty high setting most of the time. I even left the 420 out of the cradle for a couple
days without recharging and still didn't have a problem with it shutting down due to low
batteries.
How does the HP420 perform in day to day tasks? I found it to be pretty sluggish.
Sometimes it would take quite a while to bring up an application that usually would open
pretty quickly. I also noticed that it was slow in painting the screen. For example, when
I would tap the Start button, it would first draw the border for the popup menu and then
print each choice one at a time. My Casio E-11 seemed quite a bit faster as comparison
although I know that the processor in the 420 is supposed to be more powerful/faster. The
420 would also seem to hang a random times for no reason. When this happened, I would wait
for a few seconds and it would finally come back to life. This would sometimes happen when
I would close a dialog boxes by tapping the X in the upper right corner. I personally
found this slowness to be very annoying.
Software Specs:
The HP Jornada 420 comes with WindowsCE 2.11 and a nice software bundle. The included
programs are:
BSquare's bTASK – This is installed in ROM and is a great little
utility that allows you to shut down currently running programs or all programs with a
simple tap.
LandWare's OmniSolve – Powerful business calculator designed
specifically for real estate, retail, and business professionals that is installed in ROM.
EZOS's EzExplorer – Great file manager program that is installed in
ROM.
HP Jornada Settings and Backup – Utility installed in ROM that allows
you to change your screen settings, volume and backup system to a compactflash card.
Inso's Outside In – View files and email attachments (JPEG, TIFF, WMF,
PNG, and BMP) created in Microsoft Word format.
Quicken ExpensAble – Quicken ExpensAble for Windows CE enables you to capture
expenses while you are traveling. It synchronizes with your desktop version of Quicken
ExpensAble 98 for processing reports.
HP PIM Translator – Through a Desktop or Notebook PC, you can
translate your Address Book, Contacts, Diary, and Calendar information from older
Hewlett-Packard electronic organizers for use on your HP Jornada.
Overall Summary:
So, what's the bottom line? Would I buy the HP Jornada 420? I'd take one if someone
gave it to me, but I wouldn't spend my cash on one. Why? It is just too slow and the audio
quality is horrible. I also don't like the chunky body but that is just a personal thing.
So, if audio and overall speed are important to you I would think twice about the 420 or
at least try one out before you buy it.
Price: $519 list price
 
(Check PDAMART for their latest
pricing. They were kind enough to send me this unit for review so please visit their
site.)
Pros:
Excellent color display.
Very loud audio.
Clear screen cover.
Cons:
Low quality audio.
Sluggish performance.
Have to purchase a separate cable if you want to charge the battery outside the cradle.
Product Information
Price:
$519.00
Manufacturer:
Hewlett Packard
Pros:

Excellent color display.
Very loud audio.
Clear screen cover.

Cons:

Low quality audio.
Sluggish performance.
Have to purchase a separate cable if you want to charge the battery outside the cradle.