We use affiliate links. If you buy something through the links on this page, we may earn a commission at no cost to you. Learn more.
Product Requirements:
Device:
HP 560 series Pocket PCs
Extreme Limit is a Japanese
company that has been creating leather PDA cases for several years now. The
latest case that have they sent me to review is the Body-Suit for Jornada
565/568 Pocket PC. Like their other leather cases, this one isn't a
Vaja rip off. Instead it is a case of
their own design which will appeal to a variety of people.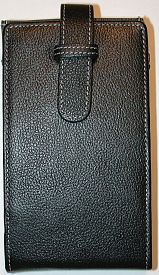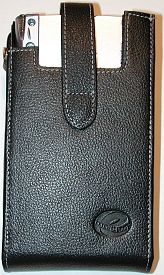 Made entirely of leather, this case is available with or without a belt clip and
in one color: black. The thick rigid leather has a pebbly texture which resists
scuffs and scratches. It does not have any padding in the holster or screen
cover portions. But, this really shouldn't concern you too much though as the leather
is thick enough to protect your PDA from everyday bumps and bruises. For
protection from drops, I might be more concerned about the outcome of the HP due
to the fact that the back corner where the stylus is located is exposed and not
protected with leather.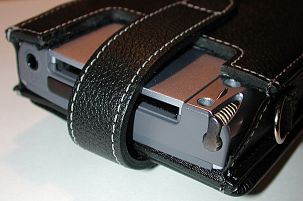 The HP slides into the holster portion of this case easily and once inserted
feels quite secure. There's no fear that it will fall out on its own.
There are separate cut outs for the display and application buttons. Although I
typically prefer only one large cut out, both of these line up just fine and do
not hinder access to any functions.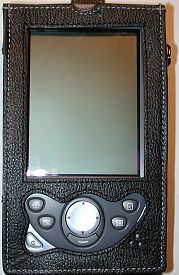 The left side of this case is open to the extent that the up/down/select
button and record buttons are easily accessible.
The top of the HP is exposed for easy access to the CF slot and a portion of
the back of the PDA is exposed so that you can remove the stylus and press the
reset switch when needed.
The screen cover portion of the case has 2 horizontal card slots instead of
vertical slots found in most cases. I like the horizontal orientation much
better as it allows for easier removal of the cards.
The cover is held closed with a long leather tab and loop. One interesting
feature of most Extreme Limit cases is the ability to turn the screen cover into
a desktop stand.
The only thing that you can't do while the HP is in this case is sync / charge
with the cradle. You'll need a cable for these tasks if you wish to leave the
PDA in the case.
Size-wise, this case does bulk up your PDA a bit, so for those of you that prefer a
thinner case, you probably won't want this one. However, for those of you that
want
nice case with a great look and price, this Body-Suit may be the case that you'll enjoy.
Price: ~$40.05 US no belt clip JYEN 5,150
           ~$42.38 US belt
clip JYEN 5,450
Pros:

Rigid screen protection
Custom design
Cons:

Somewhat bulky

Must remove PDA to sync / charge with cradle

Top back corner exposed