We use affiliate links. If you buy something through the links on this page, we may earn a commission at no cost to you. Learn more.
Product Requirements:
Device:
Palm m500 series
So you want a metal case for your Palm m500 series PDA huh? We've recently looked at

Rhinoskin's and

Kensington's offerings and now there's another to consider: the Metal Deluxe
m500 series case from InnoPocket.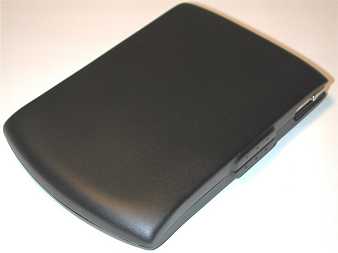 This case is made of 100% aircraft grade aluminum and is available
in either a matte black or titanium anodized finish. At only 4.67 x 3.33 x .69in (118.5 x 84.5 x 17.5mm)
large and weighing approximately 1.8oz. (45g), this case is small and light
weight.
I like the feel of the finish. Being matte (non-shiny), it doesn't show
fingerprints and smudges which drive me crazy. The case feels smooth and
comfortable to hold. I could find no sharp edges or metal burrs.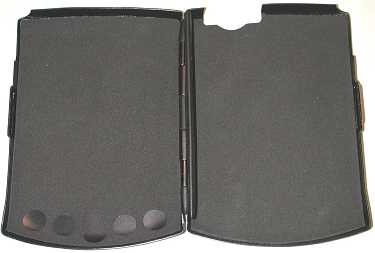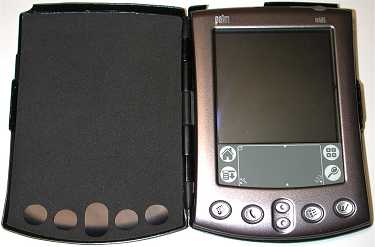 The interior of the case is lined with a thin layer of Neoprene. This offers
some protection in the event that you drop the PDA while it's in the case. But don't count
on it giving that much protection… The lining on the left side
of the case has cut outs for the application and scroll buttons to minimize the
potential for accidentally activating the buttons while the case is closed.
While reviewing this case, I never had any problems with the buttons.
The m500 is held in the case with a plastic rail that is integrated into the
hinge. This rail slides into the left stylus silo. This method of attachment
usually works well, but I found that the plastic rail needed to be just a tiny bit
larger in diameter. Although I never had the PDA slide off the rail while using
the case, I could make the PDA come off by shaking it. Normal every day
use shouldn't be a problem, but I'd feel much more secure if the rail was
thicker.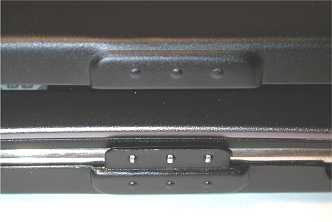 Never miss one of our posts again. Sent MON, WED, and FRI with the latest gadget reviews and news!
The case is held closed with a press fit latch that uses three dimples. This
method holds the cover closed moderately well, and I never had the case come
open on its own during this review.
Although not as sturdy or crush resistant as the Rhinoskin Titanium cases,
the InnoPocket does feel sturdy even when empty. I have been putting it in my
back jeans pocket and sitting with no problems. I'm not sure I would recommend
that to everyone, but if you're not a large person, I don't think you will
have a problem.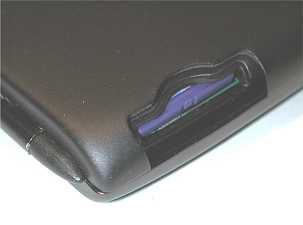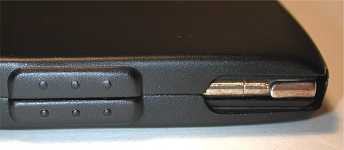 While the m500 is in this case, you have access to the stylus for easy
removal, the IR port for beaming, and even the SD card slot without needing to
remove the PDA. Syncing and charging can also be accomplished, although it is a
little awkward.
If you want the absolute smallest form factor metal case for your Palm m500
series PDA, this one is it.  It looks sleek, feels good in your hand, is available for a decent price and will protect
your PDA from the abuse of everyday use.
Price: $29.90
Pros:
Small size
Light weight
Good access to the stylus and SD slot
Cons:
Attachment rail could stand to be a bit larger
Product Information
Price:
29.9
Manufacturer:
Innopocket
Pros:

Small size
Light weight
Good access to the stylus and SD slot

Cons:

Attachment rail could stand to be a bit larger