We use affiliate links. If you buy something through the links on this page, we may earn a commission at no cost to you. Learn more.
Product Requirements:
Device:
Almost any Pocketable PDA
Scribble, longtime makers of hard cases and accessories for the Psion line of
PDAs, has created a slightly different than usual case that uses neoprene and
comes in bright cheerful colors. If you are still looking for an
inexpensive Christmas gift for a PDA lover, you might want to consider this soft
case.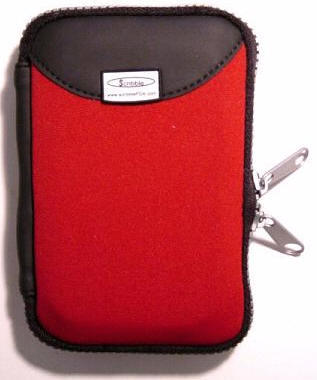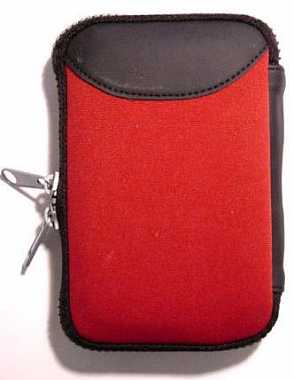 I was presented with the festive red (with black trim) version, which makes the Scribble perfect for
inclusion in this holiday recommendation. You can also purchase this same style case
in purple, blue
and charcoal gray, each trimmed in black.
The Scribble has a clean and simple design, uncluttered by anything other
than a metal logo plate on the front, and not one, but two rather large
matte silver zipper pulls. I thought the zipper's size as a whole was a little excessive, but otherwise I am
pleased with the form and function of this case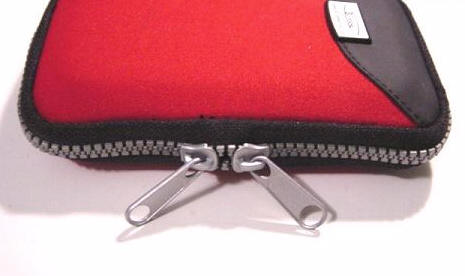 As you can see, this is a book-style case. Your PDA will attach with a
huge
strip of Velcro (my only major objection) to the inside right of the cover, while the
left side is available for keeping your ID and up to four business or credit cards
handy. A long slash pocket behind the ID area is perfect for stowing away
receipts or bills. There are also two elastic loops in the case's spine, perfect
for storing two batteries if your PDA requires them.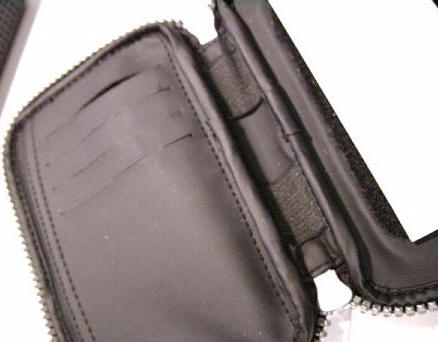 The left side, which also forms your PDA's screen protection when the case is
zipped shut, is reinforced with a plastic insert. While this does not make the
Scribble crush-proof by any stretch of the imagination, it does offer
suitable protection from ordinary knocks and dings that might occur. I would
have to advise against dropping your PDA while in the Scribble, although it
should be adequate for short drops (like from a foot or two) at the most.
Never miss one of our posts again. Sent MON, WED, and FRI with the latest gadget reviews and news!
The Scribble does not add much weight to your PDA at all – only 4 ounces (113g).
It will add a little bit of bulk if you are carrying a smaller PDA, such as the
Palm m500 series, but on the more standard sized PDAs, you shouldn't be too bothered
by the size.
I tried putting several PDAs in the Scribble, including the iPAQ 3600
and 3800 series, the Sharp Zaurus, the Hewlett-Packard Jornada 565, the Palm
IIIc, the Sony Clie 710c, and the Palm m505. I found that they all fit quite well, although it was
not possible to include a sleeve with the iPAQ while in this case.
Here are some pictures of the new Zaurus SL-5000 in the Scribble case. Of course, when
you have the keyboard extended, the case is no longer quite long enough! ;0)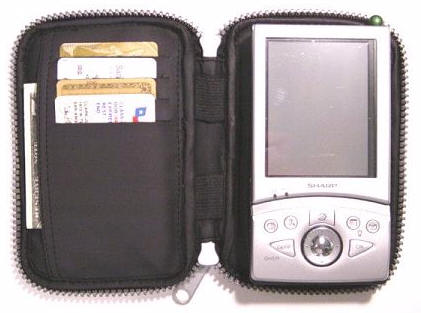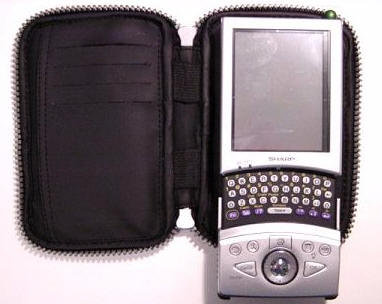 The Scribble Neoprene PDA Case is a good gift idea for someone that likes a splash of color
and doesn't mind adding a chunk of Velcro to the back of their PDA.
Price: $23.95 (depending on price fluctuations of
US Dollar to British Pound)
Available in red, purple, blue
and charcoal gray, each trimmed in black
Pros:

Fun, bright colors that help take the monotony out of carrying a protective
case
Adequate screen protection from dings and dents
Fair price
Cons:

Uses Velcro to attach case to PDA
Double
Zippers seem excessively large
Product Information
Price:
23.95
Manufacturer:
N/A
Pros:

Fun, bright colors that help take the monotony out of carrying a protective
case
Adequate screen protection from dings and dents
Fair price

Cons:

Uses Velcro to attach case to PDA
Double
Zippers seem excessively large