We use affiliate links. If you buy something through the links on this page, we may earn a commission at no cost to you. Learn more.
Product Requirements:
Device:
Any Pocket-size PDA

Christmas is coming – do you realize that it is barely two months away? If
you already have a handle on who's been naughty or nice, you are probably
looking for something perfect for that special someone.
If the object of your affection carries a PDA and likes to keep their wallet
and a pad of paper nearby, then you might want to look at the Swiss Army
Strategist PDA Case. If you are looking for a gift for yourself, then this
might be a worthy contender.
The Strategist is a black on black, book style,  tri-fold case. The
majority of this case's body is done in a very smooth, small-grained leather.
The spine is covered in black nubuck. The case is secured with an adjustable
snapping leather tab.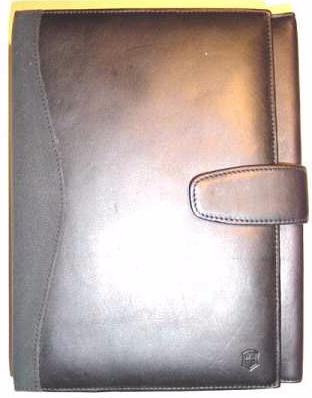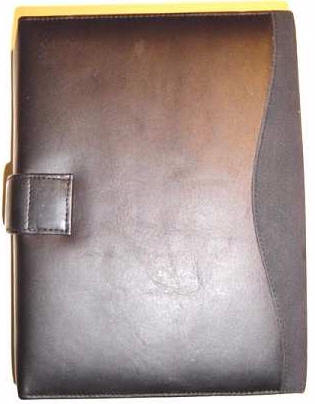 I will warn you that when you pull the Strategist out of its
presentation box, you will be overwhelmed by the smell of quality leather. This
is easily one of the yummiest cases I have ever smelled!
Opening this particular Swiss Army case, you will be impressed by all of the
built-in features…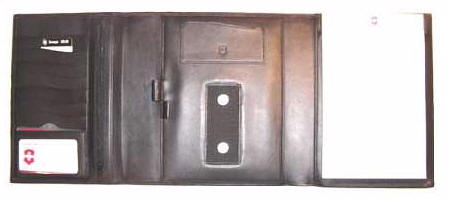 The far left side has slots to hold up to seven ID or credit
cards. The bottom slot has a built-in plastic window to show your picture
ID.
If you ever need to remove your ID, there is a handy plastic
card holder that you extract by its handle.
There is one long slot pocket directly behind the card slot area, perfect for
holding maps. Directly behind the "map pocket," there is a zippered pocket that runs the
height of the binder. This pocket is perfect for holding loose change, stamps,
receipts, or anything that needs to be kept secure. Finally, behind the zippered pocket are two long open slash pockets that run
the height of the case. These will be great for such items as loose scraps of
paper, programs, and other bits of info you can't bring yourself to discard.
All in all, the left side of the Strategist is a serious organizational tool;
but wait – there's more…
In the middle of the case, you will find four items. Two pen
loops, one for regular sized multi-pens, like the
Yafa Quadro I show here. The
smaller loop can hold a simple stylus, such as the
Stabo Stylus Q, also pictured.
There is a handy business card holder in the top of this section, ready for
when you meet an important contact. At the bottom, is one of the features that
sets the Swiss Army brand cases apart from all others, especially if you are a
Palm owner…the fitted quick-release clip system. As you can see – there are
two female snaps set into an area of Velcro.
If you are a Palm III, V, or VII owner, you can just disregard that Velcro –
you'll get to use a specially fitted clip.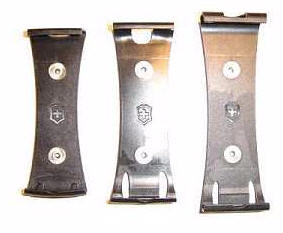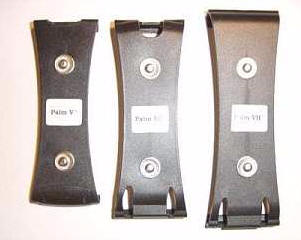 These Palm owners can simply attach the clip to the snaps, and then insert
their PDA. Efficient and effortless – just the way I like it!

One thing that I
would like to see would be more clip options for some of the other model
PDAs, including this year's Palms, available in the future. I would like it
if the clips were available separately, that way you could pick and choose
what clips you needed for your particular PDA.
Here I show the clip holding my m505, but due to the extra
height of this PDA, it is not quite as secure as I would like for it to be.
Other PDA owners that like the looks of this case can still adapt their PDAs
to fit. This will of course, involve the use of an included strip of the "fuzzy
stuff."
Compaq iPAQ and Handspring owners can take heart, though. You both have a
work-around that will keep you from having to attach anything directly to the
back of your PDA. Handspring owners can use the clip-on face-plate as a means
to secure their Visors. All they will have to do is clip the face-plate to
the backside of their PDAs and then attach the Velcro to the back side of
the face-plate. Compaq iPAQ owners can attach Velcro to the basis style
sleeve, and use it as a means of securing their PDA.
The right side of the Strategist holds a 5"x8" tablet of paper – perfect for
jotting down notes for those times when it's more convenient to have a hard-copy
of needed information.
Make no mistake about it, the Strategist is not a small case; rather, it is a
substantial binder style carry-all.
Here are some facts and figures to help you decide if this case might work
for your intentions…
| | | | |
| --- | --- | --- | --- |
|   | Height | Width | Thickness |
| The Swiss Army Strategist Case (Closed) | 8.5" (21.5cm) | 6.25" (15.7cm) | 2" (5cm) |
The Strategist would be an excellent gift for anyone that needs a
professional way to carry their PDA and other essentials.  Of all the
"office-style" binders I have reviewed, this one is my favorite.
The Swiss Army
Strategist PDA Case is available at Stylus
Central, and other fine retailers.
Price:  $125
Pros:
Looks professional
Excellent quality leather and craftsmanship
Holds PDA & other essentials
Cons:

Expensive  
Clips only available that fit older model Palm PDAs