We use affiliate links. If you buy something through the links on this page, we may earn a commission at no cost to you. Learn more.
Product Requirements:
Device:
Palm V/m500 series
As you might imagine, I see a lot of cases come and go across my desk. Every
now and then I'll get one that makes me think, "What a great idea!"
The Lodis PDA Mobile
Office is one such case.
Done in luxurious black Onyx  leather with only the slightest hint of a
grain, the Lodis is sure to please if you have the right tools to fill it. Black
stitching completes this case's professional looks.
Opening the box that the Lodis arrives packaged in, you will at once smell
the intoxicating aroma of fine leather.
When you first observe the outside of the Lodis, you might be fooled into
thinking that it is a simple zippered book-style binder; although the leather
looks more touchable than most. Measuring in at 7.75" (19.7cm) tall x
6.5" (16.5cm) wide x 2" (5cm) thick, this case is slightly smaller
than a "classic" sized binder. 
The front of the Mobile Office is plain, except for the discreet LODIS name
embossed on the right edge. The back side shows the embossed brand name on the
right edge again, but there is also a deep gusseted zipper pocket.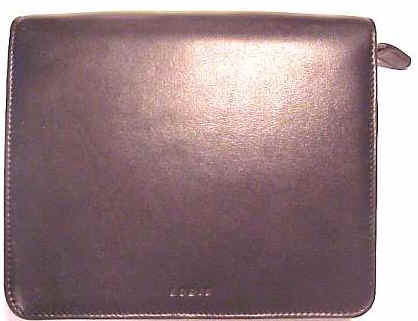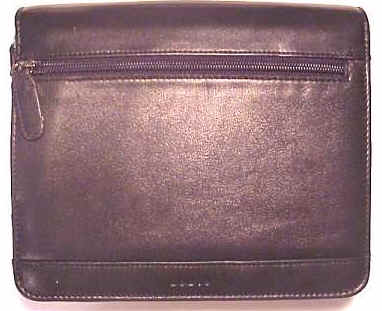 Both of the zippers on the mobile office have a leather pull tab, adding to
the case's finished look. 
Unzipping the main compartment of the Lodis reveals a very well thought out
work area.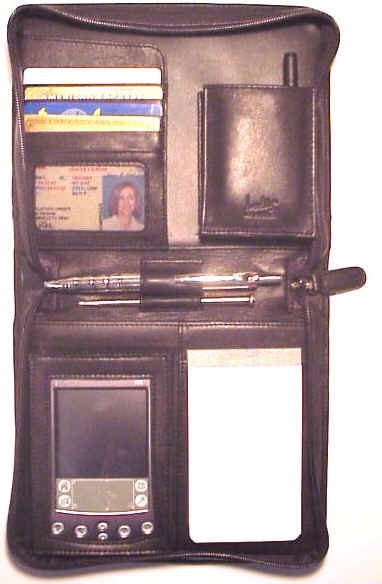 As you can see, this is not your typical paper binder. 
Where the metal binder apparatus would have been, there are two loops. One is
perfectly proportioned for a larger diameter ball-point pen. My Mont Blanc, Rotring
Executive, and even my Delta
Dolcevita all fit with room to spare. The smaller loop will hold an
aftermarket stylus quite well. Here you see it holding an E&B
iP3C stylus.
The top half of the Mobile Office features a leather wallet section that will
hold four ID or credit cards, and your Driver's License through a window that
uses a black screen material instead of clear plastic. There is a slash pocket
behind the credit card slots that is large enough to hold an American
Passport. 
On the right hand side of this top half there is a built- in phone holder
with a leather front, and elastic on three sides. The Lodis logo is embossed on
the front of this pocket. I had to laugh, because this pocket looks like it will
hold a pack of cigarettes perfectly. Just for fun, I took a pack of Marlboro
Lights from my husband's "secret stash", and sure enough, it fit. Hey,
this could be an important feature for some of you! :0)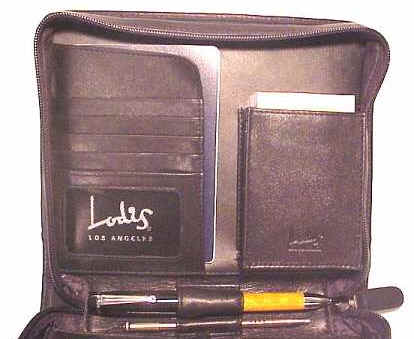 In all seriousness, measuring 3.5" (9cm) tall x 2.75" (7cm) this
pocket is sized perfectly for any flip-phone in the Motorola Startac size range.
I have a Samsung 8500 pictured in the large shot at the beginning of this
review, and it fits very well. There is not enough "head-room" for my Kyocera
smartphone (6" tall, including antenna), but the pocket was definitely
wide enough to accommodate it. That might help give you an idea of if your phone
will fit. I would imagine that most Nokias without the extended-life batteries
should also fit just fine.
Moving down to the bottom half of this case, there is a tablet of plain white
paper on the right hand side, perfect for when you need to jot a note to a
friend that doesn't have a PDA you can beam to. Behind the notepad, there is
also a deep vertical pocket that runs the length of the pad. Perfect for stowing
folded bills or receipts.
Then there is the PDA holster. Although the name of this case says PDA, make
no mistake about it: once you open the Lodis, the cutout where your PDA will fit
screams Palm V or Palm m500. It has the same curve at it's bottom as the Palm
V/m500 series, and it fits those PDAs flawlessly.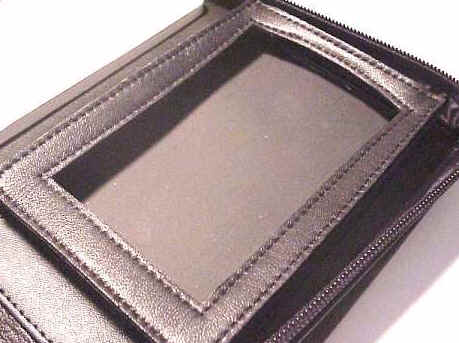 I tried every other PDA I have in the holster, just to see if any others
might work, and the second best fit I came up with was with my Visor Deluxe.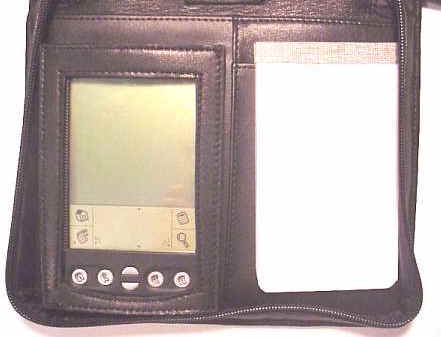 The other PDAs I tried either looked "wrong" by being too tall for
the top leather bar, or the leather sides curved into the screen area in a
distracting manner.
So, there you have it. This case offers a very beautiful, yet professional,
place for everything you might possibly need to carry on those days when you are
"out and about". The only thing that might make it better, is if the holster could
hold a wider variety of PDAs. 
The Lodis PDA Mobile Office is available at Stylus
Central, and other fine retailers.
Price: $110
Pros:
Convenient, efficient storage for your PalmV/m500 series PDA, cell
phone, and personal items
Sumptuous, smooth, aromatic leather
Very sharp, professional case
Does not use Velcro to secure PDA
Cons:
Custom fitted to hold the Palm V/m500
series only (but you can make it work for the Handspring Visor)
Product Information
Price:
110.0
Manufacturer:
Lodis
Pros:

Convenient, efficient storage for your PalmV/m500 series PDA, cell
phone, and personal items
Sumptuous, smooth, aromatic leather
Very sharp, professional case
Does not use Velcro to secure PDA

Cons:

Custom fitted to hold the Palm V/m500
series only (but you can make it work for the Handspring Visor)