We use affiliate links. If you buy something through the links on this page, we may earn a commission at no cost to you. Learn more.
Notebook computers, gadgets, gizmos, PDAs, digital cameras, cell phones and
other assorted stuff… what do you use to schlep it all around?  A
grocery sack? Duffel bag? Nope, not if you're a gadgeteer. You want something
that looks cool and is functional with lots and lots of pockets! One such
solution is a STM Sport Laptop BackPack. These are high quality ergonomic packs
made of 600d Ripstop fabric from Australia (available in the US at Laptop
Travel) that are available in four colors: sand, black/charcoal, light gray
and black/red.
Height:
4
in / 10 cm
Length:
18
in / 46 cm
Width:
13.73
in / 35 cm
Weight:
3
lbs / 1.35 kg
The STM is one nice backpack! It has storage like you wouldn't believe. On
the front flap of the pack, there are 3 zippered compartments of various
sizes.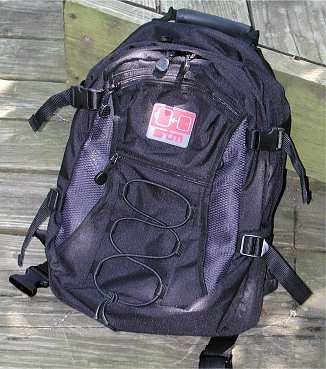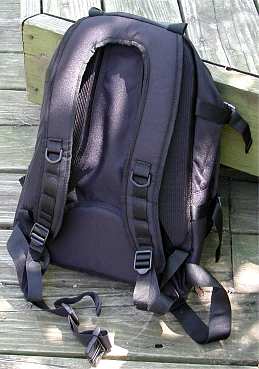 When you unzip the front flap, you find a clip, two pockets, two pen holders,
a mesh pocket and on the inside back of the front flap there is another large
zippered pocket.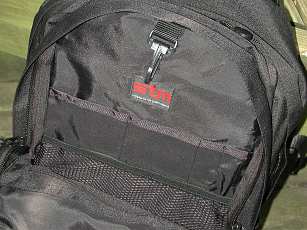 The main compartment unzips to reveal a large storage area and the padded
laptop pouch. This pouch is12 x 11 x 2in (30.5 x 28 x 5.5 cm) and can
accommodate most notebooks and Mac i-books. My huge Dell Inspiron 8000 fit just
fine.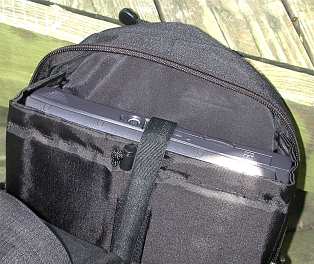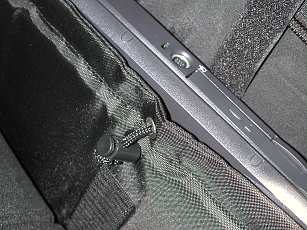 What is great about the pouch is that it is suspended above the bottom of the bag and away from the back to secure maximum protection
to the notebook when setting it down on a hard surface or when you're getting
bumped about. The padded pouch can be closed with a draw string (for smaller
laptops) and Velcro strap.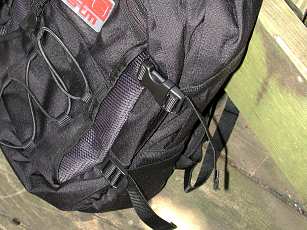 Never miss one of our posts again. Sent MON, WED, and FRI with the latest gadget reviews and news!
The sides of the pack can be cinched in to create the thinnest pack possible
and to keep the items inside the case from moving around. Un-cinching the sides
allows you to put more things in the main laptop section of the pack… such as
books and papers.
As you can imagine, cramming all your goodies into this pack is going to
equal a lot of weight. Just putting my laptop into the case yielded a pretty
heavy load. So, to actually carry it around, you have two options. Wear it like
a backpack using the ergonomically designed shoulder straps, or carry it by its sculpted rubber carrying handle. 
Even though I'm not the type to wear a backpack on my back (I usually just
drag them around by a handle or strap), I gave it a try one afternoon just to
get an idea of how comfortable it was. I loaded the pack down with my laptop and a few accessories.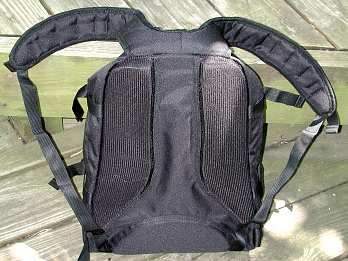 The shoulder straps are nicely padded and adjustable. There are 2 plastic D
rings and slots that you can use to attach things to the straps. The back part
of the pack itself also has three large cushy pads that make wearing the pack
downright comfortable. I think the secret is to get the straps adjusted just
right. Once I did that, I was walking around with the pack on my back and not
really minding the extra weight. 
There is also an adjustable waist strap that you can use to secure the
backpack even more to your body. I found that I didn't like the feel of the
waist strap, so I tended to just let it hang loose. I wish there was a way to
remove it besides cutting it off…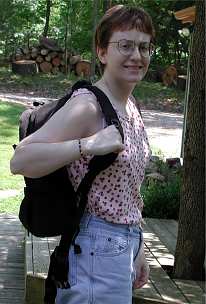 The only problem I had with the pack was getting it on and off with the
shoulder straps adjusted to the length that felt best for me. I think it might
be cool if there was some kind of quick release mechanism for getting out of the
pack. But maybe I just need some practice… 
Quality-wise, the STM Sport Laptop Backpack is excellent. The zippers used in
the STM are large heavy duty zippers with rugged plastic pulls. The zippers
worked smoothly with no jamming although the fabric flap covering the zippers
sometimes would get in the way. I couldn't find any flaws in the material or
stitching. Everything about the backpack is first rate and try as I might, I
couldn't find a thing to complain about.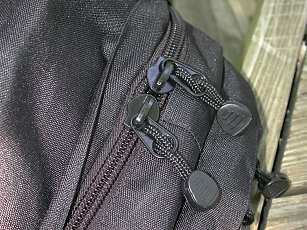 The STM is a great pack for someone that needs to carry around a notebook
computer and other items. Because it is really unrecognizable as a laptop carrying case,
carrying your laptop in this pack might be more safe from thefts than an
actual laptop case would be. This is the type of case that is made to last. And
if something does go wrong with it, it is backed my a limited lifetime guarantee
from the manufacturer.
Price: $89.95
Pros:
Multitude of pockets
Padded laptop pouch
Padded back and shoulder straps
Quality construction
Cons:

Expensive


Product Information
Price:
89.95
Manufacturer:
STM
Pros:

Multitude of pockets
Padded laptop pouch
Padded back and shoulder straps
Quality construction

Cons: