We use affiliate links. If you buy something through the links on this page, we may earn a commission at no cost to you. Learn more.
Product Requirements:
Device:

Fits most current PDA's with dimensions under
5.45″ (138.68mm) tall x 3″ (76.22mm) wide x .72″ (18.29mm) thick
The  PDA BodyGuard line of
products by Tech Media was shown not so long ago at CES. One of the accessories
that caught my eye while reading various reports from that show was a padded,
water resistant, book style EVA
Case.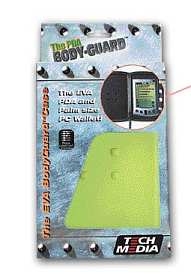 The seven colors this case is available in include: Ruby, Sapphire,
Tangerine, Lime, Lemon, Silver, and a more subdued Graphite. There is something
for everybody – the colors are mostly fun and bright – but if you need something
"quieter" you can go with the Graphite or even the Silver.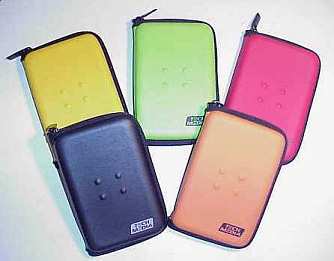 While I would love to give you a shot of the silver case, at this point I
might as well tell you that while I did have a sample of that color sent to me
for review, Julie decided that it needed to be in Indiana with her! :o)
The EVA case zips on three sides, and as stated before, opens in book-style
fashion. A black zipper goes around every case, regardless of color. The zipper
seems to be of good quality, and has a 1″ (25.40mm) metal fob attached to
its end.
On the front of this case, the "Tech Media" logo has been screen
printed in black, on every case but the Graphite. That case has the logo screen
printed in gray.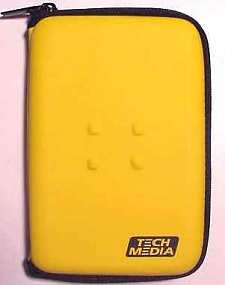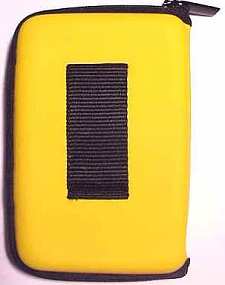 The rear of the case has a sewn-in belt loop, made of nylon webbing. This is
the type of loop that you must pass your belt through, not that will clip on
your belt. It appears that up to a 2″ (50.81mm) belt should be accommodated
easily, and the webbing will stretch a bit with use. If you never use this belt
loop, it will just lie flat against the back of the case, unstretched.
Unzipping the EVA, reveals a very simple interior. It is entirely padded and
lined in some sort of nylon fabric that appears to be non-abrasive, but not
quite soft. The thickness of this case's padding is .055″ (1.40mm)
When opened, the left side stands up in the air a bit. There is no slot for
an ID or business card on this left side, which may be inconvenient for some of
you. There is a "Made in China" tag, which can be cut out.
The right interior side of the EVA has a strip of Velcro sewn in. The is also
a  small piece included to affix to your PDA.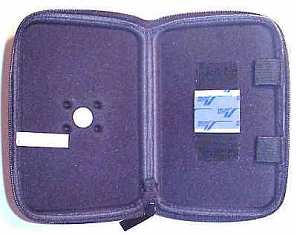 To the right of where your unit will rest are two elastic loops. While these
are provided for carrying replacement batteries, I also found that these loops
were perfectly suited for carrying a shorter full sized stylus. This is perfect
for those with the Jornada Pocket PCs, as they have no built in stylus slot.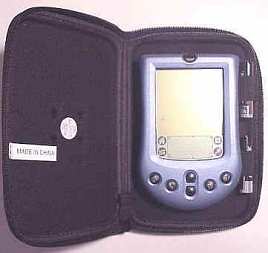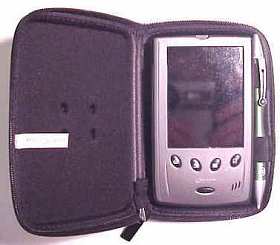 Depending on the size of the PDA you put in the case – the EVA can offer up
to 1/2″ ( 12.70mm) insulation on all sides of your PDA – which may help
protect your investment in the case of a drop. While this case is slightly
insulated, it is definitely not crush-proof.
The EVA is a slim alternative to bulkier book-style cases. It does not offer
a lot of extras, but at such a fair price, there is no reason to quibble.
Price: $14.95
Available in Ruby, Sapphire, Tangerine, Lime, Lemon, Silver, and Graphite
Pros:
Inexpensive
Simple slim case in bright colors
Can carry extra batteries or a full size stylus
Cons:
PDA Attaches with Velcro
No ID or business card pocket
Product Information
Price:
$14.95
Manufacturer:
PDA Bodyguard
Pros:

Inexpensive
Simple slim case in bright colors
Can carry extra batteries or a full size stylus

Cons:

PDA Attaches with Velcro
No ID or business card pocket