Product Requirements:
Compaq iPAQ with PC Card Sleeve
I am the first to acknowledge that adding the PC Card Sleeve to the normally
svelte iPAQ creates a PDA with brick-like properties.
But, I have a confession to make…
While it seems like the rest of the world is complaining about the weight and
thickness of that combo, I actually like the heft and feel of it in my hand.
Weird, I know – but I also have some valid reasons to use this combo: I like the
convenience of being able to access my 2 GB DataPak at any time, I like the
security of the backup battery located in the PC Sleeve, I also like the fact
that when I am in an area that allows it – I can use my Omnisky service by
inserting the Sierra AirCard.
Since the PC Sleeve is now my preferred method of adding expandability to my
iPAQ (at least until the even larger CYPAQ
comes out), I was anxious to find a case that would not only protect this combo,
but would also look "like a million bucks."
I believe that I may have found it.
The Vaja
iPAQ + PC Sleeve Case is custom fitted, made of Argentinean leather, and
fits the PC Sleeve combo like a glove. It adds very little bulk to an already portly
combo – and feels good in my hand when I am carrying it.
I was presented with the Black Embossed Alligator Case, without a belt clip –
which is my preferred type of case – as I carry my iPAQ in a gear bag. Right
away, I was impressed with the Vaja's slick feel of the smooth grained leather
on the back side, coupled with the textured leather making up the front of the
case.

Made along the same vein as the other Vaja
PDA flip-top cases available, the #807 – as this case is designated on the Vaja
site – is a study of efficient design and beauty.
The #807 is essentially made of a long piece of leather that becomes the back
and "flip-top front" to the case. A fitted form is attached to the
inside-back of that strip, which cradles the iPAQ perfectly.
The flip-top is slightly padded, and has an ABS plastic insert to add
stiffness and protection to the screen. This should protect the iPAQ from most
sudden dings and knocks. This case is certainly not crushproof, however.
The opening for the screen and button area is perfectly centered, and does
not hamper your ability to access any of the hot buttons.
There are two slit pockets for Credit Cards or ID, and there is a deeper
pocket behind them to hold another card or cash.
There is a perfectly centered hole over the headphone jack, and when the case
is closed it makes for convenient listening, to Mp3s or Audio-Books.
At the very end of the flip lid is a tab that snaps to the back of the case.
During the first few days that you use the #807, it's a tight fit to get the
snap connected and to keep it connected – but it will loosen up as you use it,
and allow the snap to stay secure.
The fitted form that holds your iPAQ combo is lined in some type of synthetic
nylon type material. The benefit to this method is that it will add strength to
this part of the case, and keep it from stretching or perhaps tearing over time.
To insert the iPAQ combo, you simply slide it in through the top of the
opened case. All of your buttons, stylus silo,  infrared port, PC sleeve
openings, etc. are left free and accessible.
The inside of the Vaja – touching the back of your PC Sleeve is a tan
nubuck-like material, that is soft and protective. The Vaja Credo is embossed in
this area.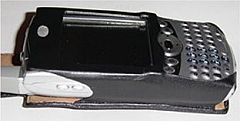 The bottom of the Vaja has aligned cutouts for charging, syncing, and
resetting.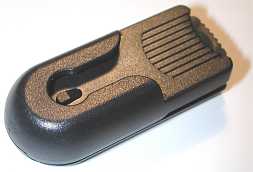 One important thing to note about this case, is that it is NOT made to
sync in the cradle. While I'm not saying that you won't be able to force
it to do this, I am just letting you know that it was not made with this
intention. Not only will you scuff the Vaja's leather as it d-r-a-g-s
into the sides of your desk-top cradle; it is also very difficult to get a good
connection. Obviously I tried it, and I certainly don't recommend it. I just
wanted to see if it was possible, so I could let you know.
As much as I like this case, there are things about it that will make it
undesirable for certain users. First of all, if you have a PC card that sticks
up from the sleeve more than just a few millimeters, the Vaja may not close for
you. As I said before, I have the Sierra AirCard, and the DataPak, both of these
cards fit just fine.
The other issue, is that if you like to leave the antennae inserted in your
Wireless Card (provided that your wireless card fits in the first place) – you
will either have to make a special cutout for it (which I don't recommend doing
yourself), or you will have to insert the antennae only when the case is
open.
Be advised that there really isn't a space to store your antennae inside this
case when it is not inserted. You can slide it down inside the deeper
pocket in the lid –  however, depending on the shape and bulk of your
antennae, I would have to worry that it might damage your screen if the lid were
pressed in the right areas.
For those of you that are wondering about how much extra bulk the Vaja will
or won't add to your iPAQ, here is a chart for comparison:
Height
Width
Thickness
Naked iPAQ w/PC Sleeve
5.17″ (131.30mm)
3.41″ (86.70mm)
1.33″ (33.82mm)
Vaja iPAQ + PC Sleeve Case
5.315″ (135mm)
3.46″ (88mm)
1.70″ (43.24mm)
Rhodiana iPAQ +
PC Sleeve Case
5.5″ (139.65mm)
3.69″ (93.63mm)
1.9″ (48.26mm)
Here are some pictures, to add reference to the size-in-hand.
While the embossed design on the leather of the case that I received
looks more like lizard, than alligator, to me – that was the only thing I found
about the Vaja that caused me to raise my eyebrows. Otherwise – it has become my
case of choice – my everyday driver, if you will..
Price: $62.90, $64.90 with belt clip
Color Combinations Available: Black Embossed Ostrich, Cognac
Embossed Ostrich, Black Embossed Alligator, Dark Tan Leather, Black Grain
Leather, and Green Grain Leather
Pros:

Expertly made, with a custom fit
Access to all ports and openings
Does not add much bulk to the iPAQ PC Sleeve combo
Cons:
Some PCMCIA Cards may not fit properly – if they stick up too far
from the PC Sleeve
Most Wireless PC Card's antennae can't stay on card when case is closed, and
there is no good place to store them in the case
Must remove to hot-sync
Support The Gadgeteer
:
We may earn a small affiliate commission from purchases made from buying through links on our site. As an Amazon Associate I earn from qualifying purchases. Learn more.
Product Information
Price:
$62.90
Manufacturer:
Vaja
Pros:

Expertly made, with a custom fit
Access to all ports and openings
Does not add much bulk to the iPAQ PC Sleeve combo

Cons:

Some PCMCIA Cards may not fit properly - if they stick up too far
from the PC Sleeve
Most Wireless PC Card's antennae can't stay on card when case is closed, and
there is no good place to store them in the case
Must remove to hot-sync