We use affiliate links. If you buy something through the links on this page, we may earn a commission at no cost to you. Learn more.
Product Requirements:
Device:
Any touch screen PDA
Retro 1951 Tornado Duo Pen Stylus from StylusCentral.com is my current favorite stylus/pen combo. This is a small
all metal pen (except for the stylus tip) that comes in a variety of colors: Stainless Steel, Red, Black, Green, or Blue.
The stylus also comes packaged in an aluminum cylinder that creates a cool suction noise when you open
it (not that that makes for a great stylus…).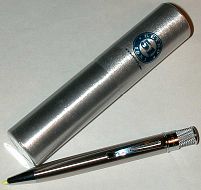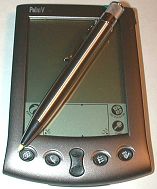 The pen is 4.15in (10.54cm) long which may be too small for some people but it feels comfortable to me. The pen has a nice balance to it and weighs in at
.96oz. (27.22 gm.). The pen has a very strong pocket clip which will keep a good grip on anything you clip it on.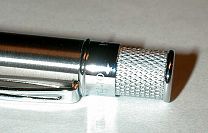 A serrated twist top switches tips from stylus to black ball point pen. You turn
the top one way for the stylus and the other way for the pen. Turning the top to the middle (half way between a left or right twist) will retract either tip. The only bad thing about the twist top is that you pretty much have to use two hands to select a tip. It is possible to turn the top with just one hand, but it takes
practice and dexterity 🙂 You can anchor the pen in your hand with your ring and pinky fingers while twisting the top with your thumb and index finger. See picture below.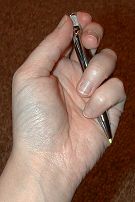 The stylus is bright yellow and has a nice pointy tip. I am beginning to prefer this type of stylus tip to the orange PDA Panache stylus tips. The ball point pen
tip writes as well or better than most pens.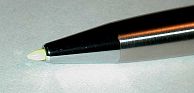 I guess what I like best about the Retro 1951 Tornado is that it is different than other styli. It's nice and small
but at the same time has a nice heft to it that suggests quality. It's made really well and for $19.95, I think you get a great combo stylus.
Never miss one of our posts again. Sent MON, WED, and FRI with the latest gadget reviews and news!
Price: $19.95
Pros:
Nice stylus tip
Balanced
Great price
Cons:
Takes two hands to select a tip
Product Information
Price:
$19.95
Manufacturer:
Stylus Central
Pros:

Nice stylus tip
Balanced
Great price

Cons:

Takes two hands to select a tip