We use affiliate links. If you buy something through the links on this page, we may earn a commission at no cost to you. Learn more.
Program Requirements:
Device:
Palm OS 3.1 or higher
16 K free RAM
Desktop:
Windows, Linux, BeOS, Solaris
I have high blood pressure. I've already had one stroke, and don't want
another. They are totally not fun. I also have a PalmPilot. I recently hit up
the idea of using a database to keep track of my blood pressure readings over a
period of time
I'm a part-time programmer, which essentially means I'm lazy. So rather
than sit down and create a new program from scratch, I decided to see if there
was anything already available that would suit my needs.
Enter Blood Pressure Manager by Rafael
Andres Marin de la Cruz. It's a very simple, very basic application to do
exactly what I want: it keeps track of blood pressure readings. But beyond that,
the program also shows the overall average statistics and the weekly
distribution of all readings. In addition, all the pressure values can be
plotted on a graph with the ideal, borderline and hypertension lines.
Need to print the data to show your doctor? BPMDesktop, from the same author,
will read the data file from your PalmPilot. This program will print, plot
additional graphs, and export the readings data as a comma delimited file the
records of your readings database using. The exported file can be imported to
most all spreadsheets (like StarOffice or Excel). This desktop software comes in
Windows, BeOS, Linux and Sun Sparc/Solaris versions.
The data entry screen looks like this: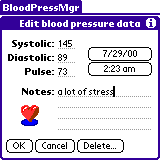 (Yes, it's in color if your PalmPilot has that capability.) As you can see,
you can enter your blood pressure and your pulse. The program automatically
registers the date and time. This is the date and time you enter the data; the
program operates on the assumption that you're entering the data as you read
it. You do, however, have the capability of editing the entry to change the date
and time. You can also track multiple readings for each day. There is also a
notes field for adding any comments, notes, etc.
After you've entered several sets of data, the main screen will begin to
look like this.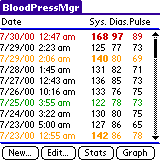 To add a new reading, simply click on the New… button. This screen is also
where you access the statistics and graphing functions.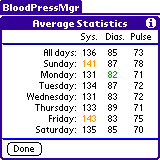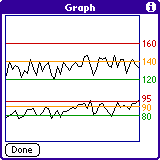 The statistics screen displays the average readings for each day
individually, as well as the average for the week. The graph function displays
each individual reading for pulse and diastolic pressure; I have been unable to
graph the systolic readings. But for me, that's no big deal, since Excel does
a better graphing job anyway.
I've been using Blood Pressure Manager since September 7 of this year, and
find it to be an indispensable aid in tracking my readings. And an even bigger
plus is that I didn't have to write my own program. But the biggest plus of
all is the price: it's free.
Price: $Free
Pros:
Free
Easy to use
Cons:

Only seems to graph diastolic readings and not systolic