The HandiPak from PDA Life is a leather
belt pouch for various PDAs. It will fit a PalmPilot, Palm III, Palm IIIx, Palm
V, Palm Vx, Palm VII, Symbol SPT1500, and Handspring Visor. It also works great
for a Palm V/Vx with the Omnisky modem or regular modem attached.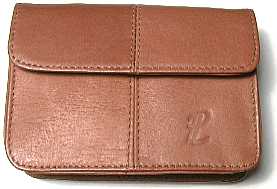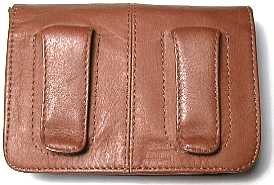 The case is unique in that it is worn horizontaly on your belt and is held
there via two leather covered beltclips. The clips are the slide-over-the-belt
variety which I don't feel super safe with as the case and PDA can potentially
come off your belt and fall to the ground if something pushes the case up from
the bottom. I've had this happen with other cases using these type of clips
while squatting down or catching it on a chair arm while sitting down. So far
I've not had this happen with this case. I think the leather covering on the
clips creates better friction and keeps it from sliding around.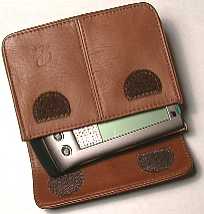 I found the case to be comfortable to wear on my belt. Even though it is worn
in the horizontal orientation, it didn't get in my way walking or sitting.
The inside of the case has a nice soft antistatic lining. The front and back
of the case is stiffened but not with a really hard insert. The sides are
baffeled to let the case accommodate thicker PDAs if needed. I actually tried to
put my Casio E-100 in this case but unfortunately it was just a little too long
to fit. I think it would be great if they would create a case that was about .5
inches longer.
The flap on the HandiPak is held closed with two large velcro tabs. Even
though this type of flap can be opened quickly, I cringe everytime I open the
case and hear that ripppppppppppppping noise that velcro makes. It would be
great if more people would use a magnetic closure like the Ondata case uses.
The HandiPak is made of very good quality leather and is available in several
colors (Natural, Mocha, and Black). The stitching on the case is first rate.
This case is made very well and looks great with jeans.
Price: $39.99
Pros:
Fits quite a few different PDAs.
Can be used with a Palm V/Vx with modem attached.
Can wear on your belt.
Made very well.
Cons:
Beltclips aren't the safest type.
You'll love these stories too