We use affiliate links. If you buy something through the links on this page, we may earn a commission at no cost to you. Learn more.
Program Requirements:
Device:
Palm device running Palm OS 3.0 or later (Palm III,
IIIx, V….)
230 K free RAM
When I was a kid, I had an ant farm which could hold my attention for hours
on end. I would watch in fascination as the ants built tunnels and rooms in the
sand. Then when I got older, I also enjoyed a game on the Commodore 64 called
Little Computer People. In this game, you would watch a character go about his
daily life. You could interact with the character somewhat, but you didn't
really have any way to customize the environment. Well, now I'm an adult and
still like to play simulation type games… and the latest game that has grabbed
my free time is SimCity Classic for the Palm Connected Organizer. SimCity
Classic from Atelier Software is a
clone of the famous SimCity game for the PC.
In this game, you become the Mayor of a city that you design and build. When
the game begins, you start out with terrain comprising of fields, forests, and
bodies of water. You use a bulldozer to clear forest and shorelines. You can
then make residential, commercial and industrial zones for your city. The
residential areas are where the 'Sim People' build their homes, schools,
churches etc. Commercial zones are for stores, office buildings, sky scrapers
etc. and the industrial areas are for warehouses and factories.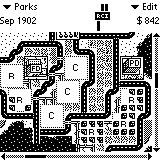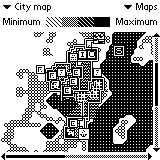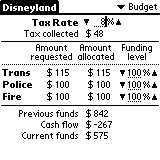 After you have zoned your land, you can add roads, power lines, stadiums,
fire stations, sea ports and other things. Just by tapping your stylus on the
screen. Pretty soon, 'Sim People' will start moving into the residential areas
and start building up your city. At this point it's fun just to watch things
happen. Little buildings will pop up in different areas and cars will start
using the roads that you have built.
Of course, things won't always be perfect in your city. You'll have to deal
with crime, taxes, budgets, natural disasters and even monster attacks! Trying
to balance everything to make your city and citizens happy is what makes the
game fun and addicting. And if your city collapses, you can always start
another!
The interface is simple and easy to use. A pull down menu in the upper left
portion of the screen lets you pick what type of things you want to add to your
city. A pull down menu in the upper right portion of the screen lets you either
edit the city, see various distribution maps, work on the budget or see what the
Sim People think of your job as Mayor. The maps view gives you quite a bit of
useful information including population density, crime statistics, pollution,
land value etc.
All in all, this is a fun game that isn't hard to learn. I think it
translates well to the small Palm screen. The only real trouble I had was that
sometimes when I would tap the screen to add a zone it would sometimes take
multiple taps to actually work. Error messages didn't pop up so I wasn't sure
what the problem was. I would like it better if a ghost view of the image would
travel around with your stylus so that you could better see where the item would
be placed. This way you wouldn't be forced to use a bulldozer to redo things.
I recommend this game to people that enjoy strategy type games instead of
fast paced arcade games.
Never miss one of our posts again. Sent MON, WED, and FRI with the latest gadget reviews and news!
Price: $29.95
Pros:
Addicting fun that is different every time you play.
Cons:
Uses 230k of memory.
No demo version.
Product Information
Price:
$29.95
Manufacturer:
Atelier Software
Pros:

Addicting fun that is different every time you play.

Cons:

Uses 230k of memory.
No demo version.