We use affiliate links. If you buy something through the links on this page, we may earn a commission at no cost to you. Learn more.
PC Commander from Concept
UK is an infrared module which enables you to control your Windows desktop PC with a
regular TV/VCR universal remote control.This small 1.5″ x 1″ module has an
LED to show when it is active and an IR Sensor to receive commands.  Attached to the
module is a long serial cable with a 25pin connector at one end. I wish they would have
used a 9pin connector instead as most PCs use the smaller connector. As a result I had to
dig around in my junk box for an adapter to use with it.

The module also has a strip of sticky tape so that you can mount the module in a
convenient spot.
The software that controls the module comes on a CD. Installation is easy.
Once it is installed, you can run it and set the appropriate com port that you have
plugged the module into. I had a little trouble getting the software to recognize a
non-standard type com port. I have a USB 2 serial / 1 parallel port unit that has com3 and
com4 assigned to it. The PC Commander software didn't care for this arrangement. Concept
UK is working on fixing this problem.  Using the module on com1 worked fine though.After
you get things hooked up and talking together correctly, you have to teach the module the
IR codes that you want to use with it. This is pretty easy and just requires you to press
the LEARN button, press the button you want to edit and then press a key on your remote
that you want to use for this command. That's about all there is to it. You can edit, add
or change any command you wish.

You can set up the software to launch applications, or send keystrokes.
I set up a key that would launch the notepad.exe app when I pressed the
appropriate key on my universal remote. This worked well except that if I held the button
down too long, I would have multiple copies the notepad app popup on the computer.You
can even setup a key to launch a web browser and surf to your favorite sites.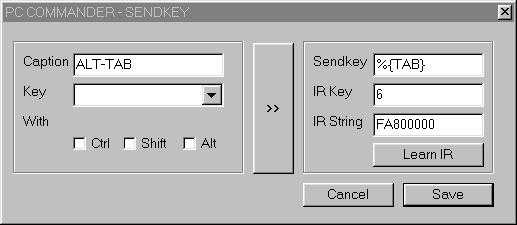 The IR Sensor in the module is pretty strong. I was able to get about 15ft away (I ran
out of room to back up at that point) and it still worked great.
On the down side, I found a few bugs in the PC Commander software that caused it to
crash during the learning process. This became a little annoying. Concept UK is aware of
the problems and are working on a quick fix.
This hardware / software combo is interesting. A person with a good imagination could
think of many uses for it. But, at the cost of almost $100 US dollars, I find it a bit
over priced. Cut the price in half and fix the bugs and I would be more likely to
recommend it.
Price: £59 UK (approx. $95 US)
Pros:
Ability to control your PC using a remote control.
Easy setup and interface.
Cons:
Expensive.
Software has some bugs.