We use affiliate links. If you buy something through the links on this page, we may earn a commission at no cost to you. Learn more.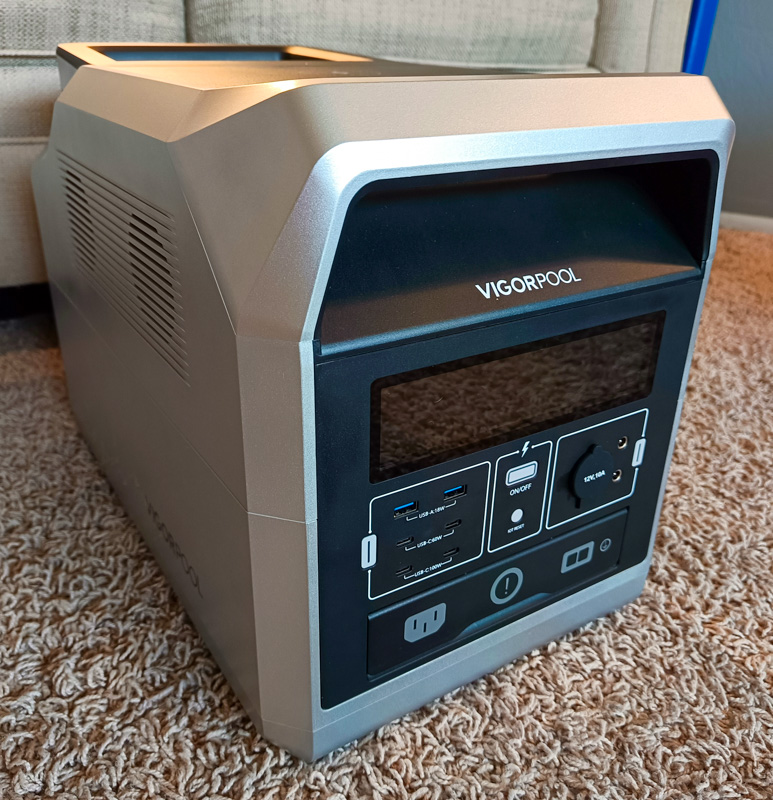 REVIEW – It feels like just yesterday that I was reviewing the VigorPool Captain 1200, one of my favorite power stations this year. Plentiful outputs, a nice design, and good carry ergonomics has made it a workhorse around the house. So, when VigorPool offered to send the new VigorPool Captain 2400 Portable Power Station I jumped at the chance! Double the storage and output capability should be a no-brainer, right? Unfortunately, size/weight and economics may play a factor as well, but if you're looking for something capable of a bit more than the previous Captain 1200, the 2400 might be just the thing for you!
What is it?
The VigorPool Captain 2400 Portable Power Station is a "portable" power station, capable of providing electricity through a wide range of output options, including AC, DC, USB, and wireless options. I put portable in quotes because it's pushing the edge of what many people can comfortably carry without the assistance of wheels. You can add up to 800 input watts of solar panels (either from VigorPool or from other brands as long as they fall within the supported voltage range of the VigorPool Captain 2400, which could easily power devices like freezers indefinitely (by filling the power station during the day then keeping things running overnight during the dark hours). A system like this (or even just the power station standalone) can be an amazing addition to a camping vehicle or RV. I use them around the house on a daily basis as a power outage device – I keep our key internet infrastructure connected to the previously reviewed Captain 1200, and will be evaluating the Captain 2400 as a candidate to replace our existing garage freezer/fridge backup power station.
What's in the box?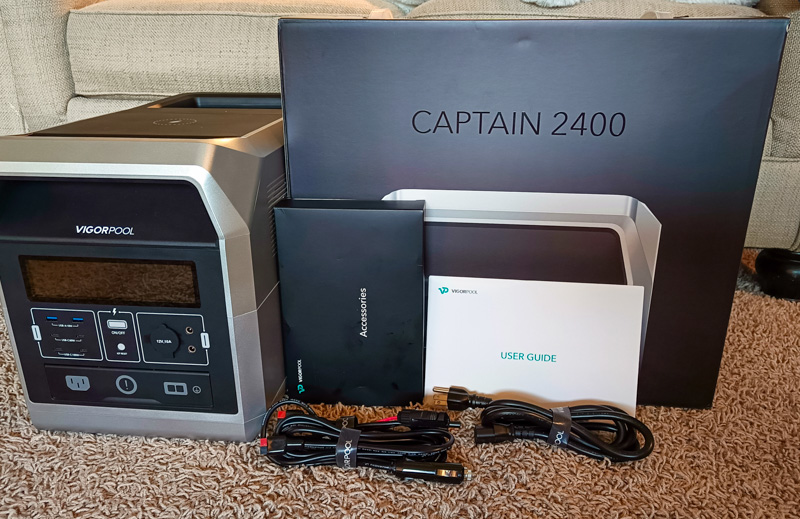 VigorPool Captain 2400 Portable Power Station
AC charging cord
DC charging cord (Car 12V outlet)
DC charging cord (MC4 solar plug)
Manual
Hardware specs
Click to view

Capacity: 50Ah @ 44.8V, 2240Wh
Cell chemistry: LiFePO4
Lifecycle: 3500 cycles to 80% capacity
Battery Management Systems (safety systems): Overcharge protection, Over Discharge protection, Overload protection, Short Circuit protection, Over Current protection, High Temperature Protection, Low Temperature protection.
AC Outputs (x6): 120V~60Hz, Total 2400W (Surge 4800W)
USB-C Outputs (x2): 100W Max per port, Total 200W
USB-C Outputs (x2): 60W Max per port, Total 120W
USB-A Outputs (x2): 15W Max per port, Total 30W
DC5521 Output (x2): 12V⎓3A, 36W Max per port, Total 72W
Car port: 12V⎓10A, 120W Max
Wireless output: 15W Max
AC Input: 120V~60Hz, 1800W MAX
DC Input: 12-56V⎓20A Max, 800W Max
Weight: 55.11 lbs (25 Kg)
Dimensions: 17.99*10.9*13.23 in (45.7*27.7*33.6cm)
Charging temperature: 32-104°F (0-40°C)
Discharge Temperature: 14-104°F (-10-40°C)
Certification: FCC
Warranty: 24 months
App control: Yes
UPS functionality: Yes
Design and features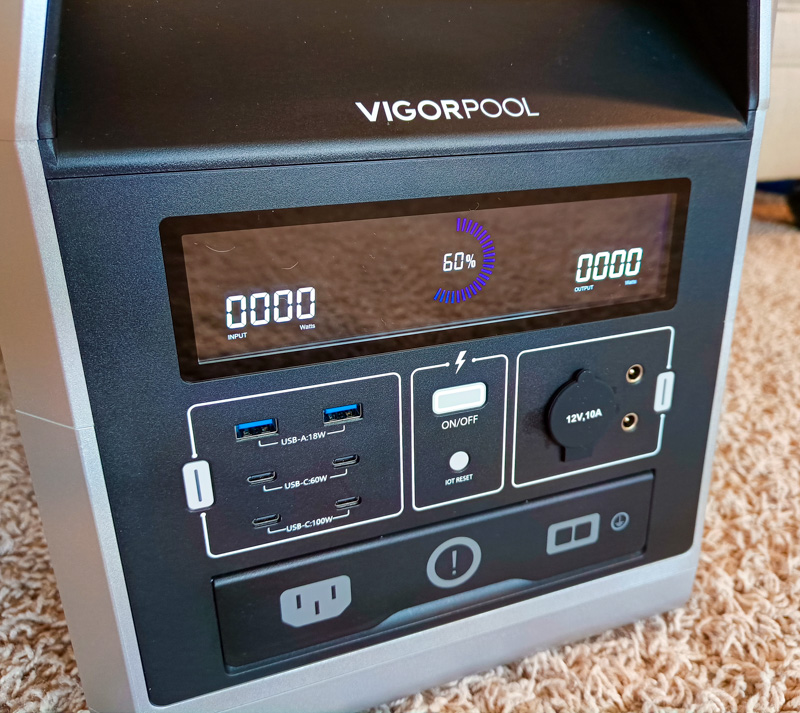 The VigorPool Captain 2400 Portable Power Station is very similar to the model I previously reviewed (the 1200) with a few interesting differences. The USB and DC ports are all on the front, along with the LCD display. An On/Off button and IOT Reset button also occupy the central spot. Each cluster of ports can be turned on or off with a button, and an LED light on the button indicates status (which is also shown on the main LCD display).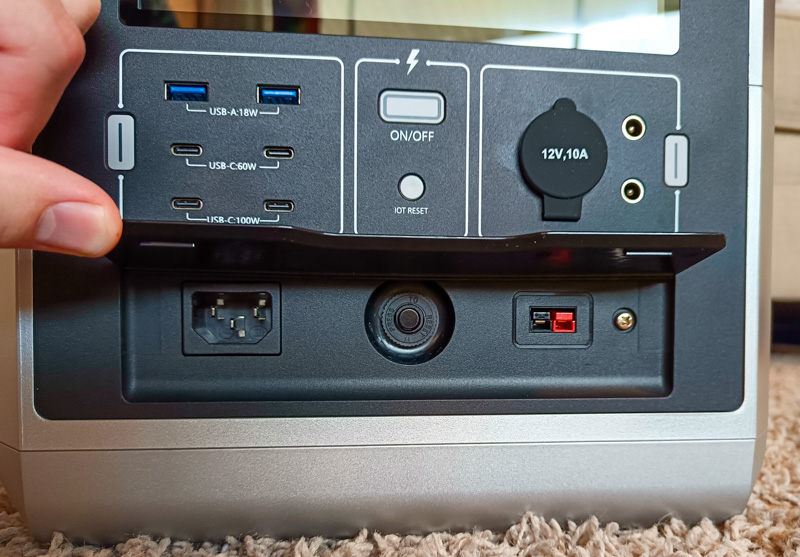 The two input options and a reset button are located under a folding panel on the front as well. The AC input accepts up to 1800 watts, while the DC input supports up to 800 watts (solar or from other DC power sources).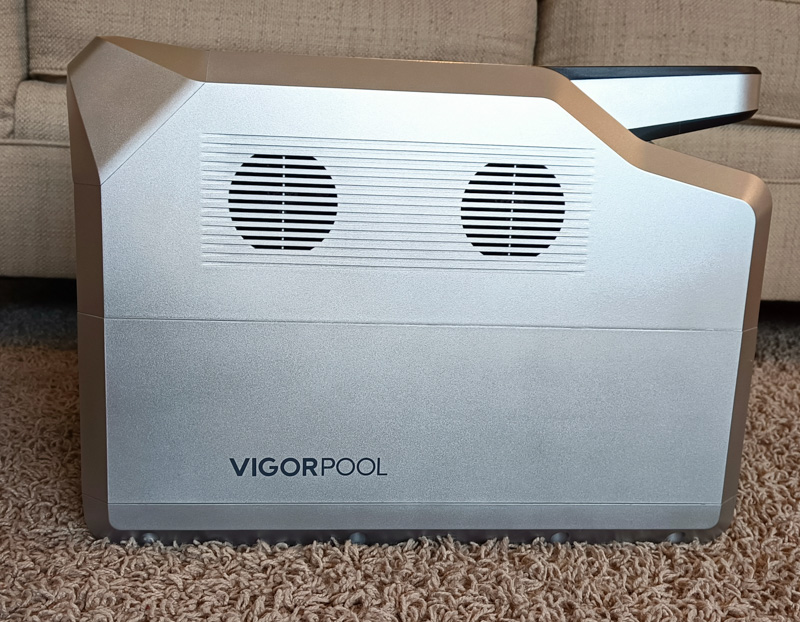 Around the side we have the VigorPool logo and fan vents, but in a departure from the previous Captain 1200, no LED illumination lights. This isn't a feature I use very often, but during power outages at night or for camping it can be great to have some LED lighting, and the Captain 1200 had a great implementation of dual LED lights on either side. It's too bad they removed these on the Captain 2400, and didn't include even a small front facing LED light. I guess you can always plug in your own light though with so many output port options!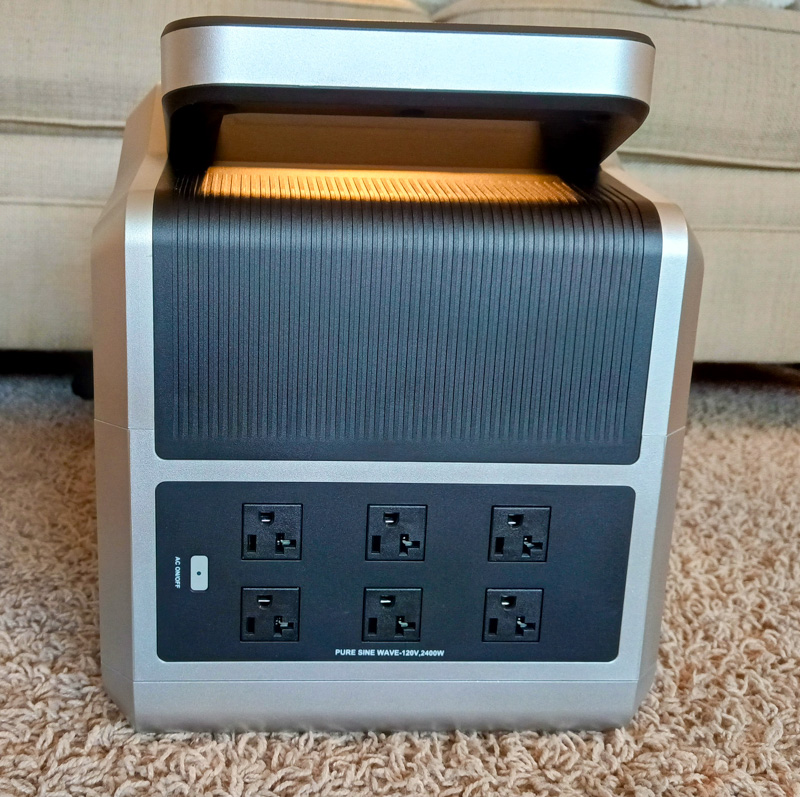 Around back are six AC outlets, capable of a combined 2400 watts of output spread between them. Peak output is 4800 watts (some devices like freezers "surge" to high wattage draws when powered on and then quickly fall to a lower level, this high peak output should help power just about anything you throw at it). Just like the front output clusters, the AC outlets can be turned on or off collectively with the AC on/off button. These outlets are pure sine wave outlets, so you can use sensitive devices like CPAP machines without worrying about issues.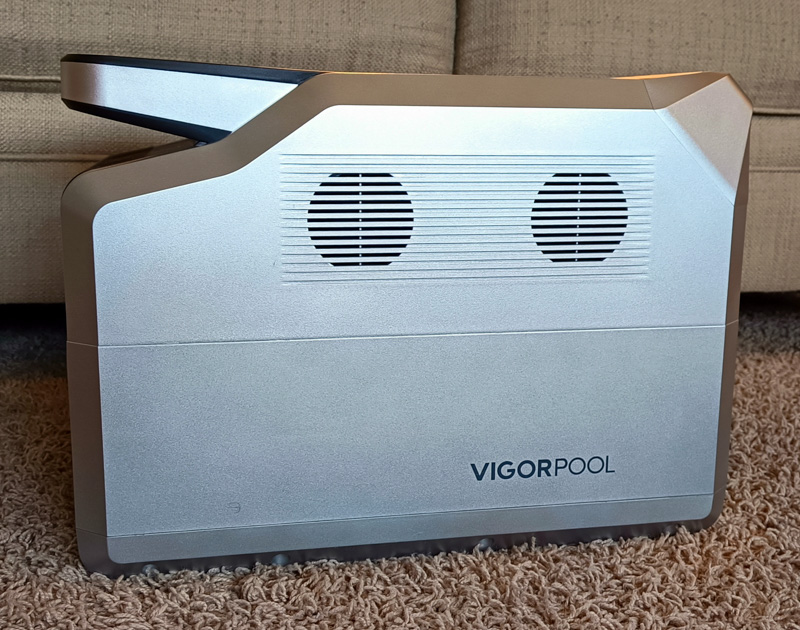 Around the other side are more fan vents and the logo. Speaking of the fans, these come on if the unit is getting a lot of wattage in or out, but they are pretty average on noise levels – many power stations I've reviewed are louder. I think the dual fan setup and large chassis helps with cooling.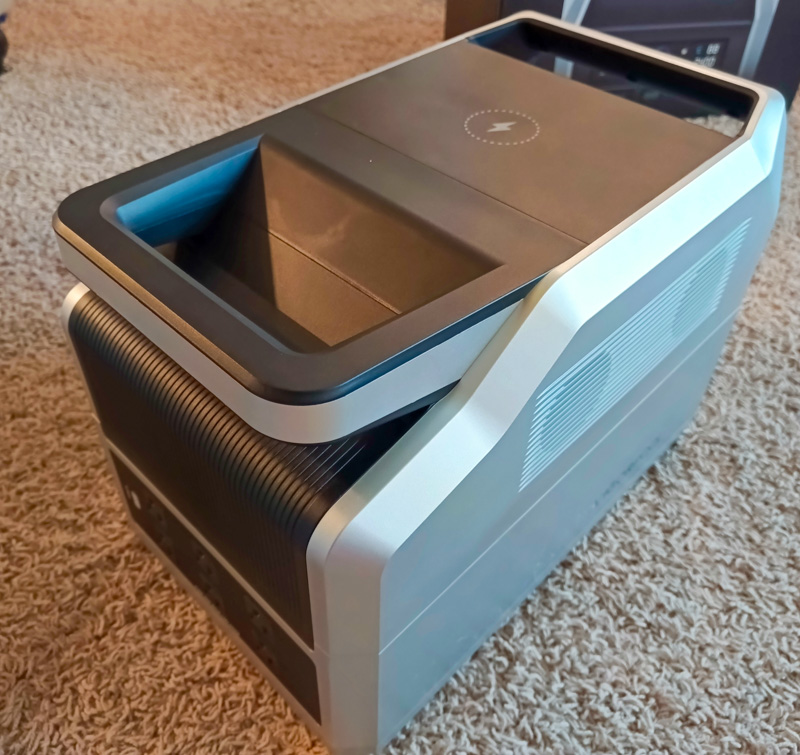 The above view from the back and side shows the carry handles layout (you can grab and lift from a single handle front or back, or grab both). Despite the 50+ pound weight, I was able to easily move the VigorPool Captain 2400 Portable Power Station around. The size and weight could be problematic for some people though, I think a collapsible handle and wheels wouldn't have been out of place on a power station this size.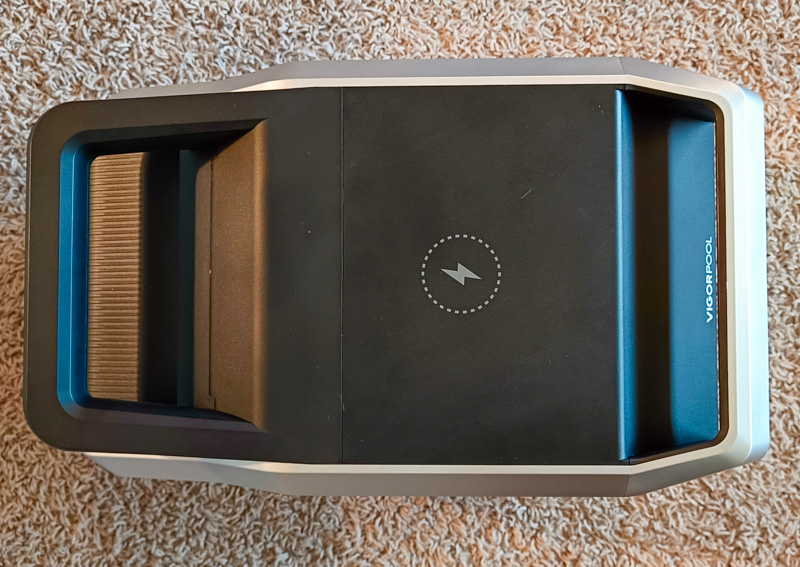 This top down view shows the wireless charging pad and footprint shape of the power station. The wireless charging pad up top works great at up to 15 watts, and turns on or off with the USB cluster.
Setup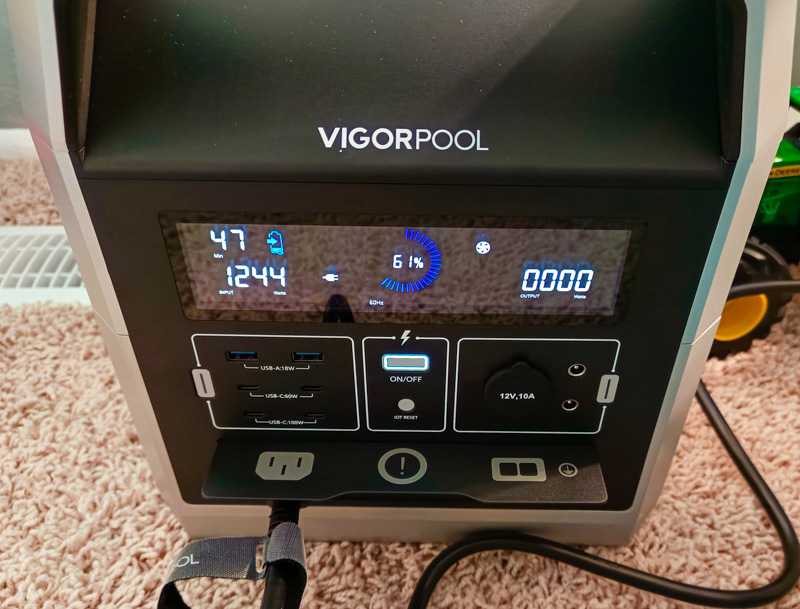 As I usually do with power station reviews, I started by charging the VigorPool Captain 2400 Portable Power Station from the wall outlet. Input hovered around 1400 watts and charged from ~50% to 100% in about an hour. While it was charging, I connected it to the app (already installed from my Captain 1200 review). Here are some of the app screens (tested on Android):
I love that the most useful features I could think of (like not fully charging the battery to extend life, turn on/off output clusters, and information like input/output and discharge time to empty are all easily accessible. While the app isn't necessary to use the VigorPool Captain 2400 Portable Power Station, it's handy, especially if you're using it as a power backup device like I will be.
Performance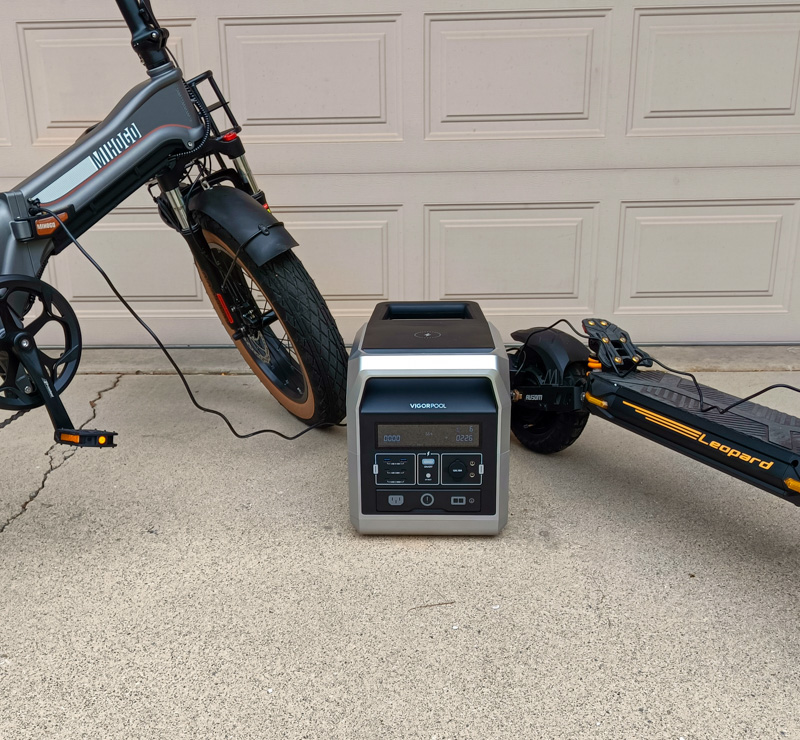 To really push the VigorPool Captain 2400 Portable Power Station a bit, I charged both an electric bike and an electric scooter at the same time via AC outlets, but this only resulted in about 500 watts maximum draw (which can be maintained for just under 5 hours before empty). I then plugged in a portable space heater, which shot past 2500 watts when first turned on and then settled to 1800 watts continuous draw. The VigorPool Captain 2400 Portable Power Station was estimated to take about an hour and 15 minutes to empty at this high output rate. I also tested the USB-C 100 watt power delivery (we have several laptops and other devices that use this standard), and it works perfectly.
If you're using this for something like a small fridge/freezer/fan drawing 100 watts or less, you can easily run it for 24 hours until the power station is fully empty. Even a bright outdoor movie projector (or TV) might pull ~300 watts, which you could run for 7+ hours. If you add solar input (up to 800 watts), you can easily set this up as a solar power station that can run things indefinitely off the grid (as long as your power draw each 24 hours is less than the daily solar panel input).
What I like
Lots of output ports and power (and storage)
Useful app to configure settings and get live info
I like the two-tone colorway and design
Front/back IO ports means you can fit this into storage spaces nicely with no cables plugged into the sides and items can be stacked on top
What I'd change
I liked the lights on the Captain 1200, sad to see them dropped on the 2400
Final thoughts
The VigorPool Captain 2400 Portable Power Station performed perfectly in my tests and has thus earned its place as our garage freezer backup power station. I've got my eyes out now for a decent high-wattage solar panel setup, I'd love to run those garage freezers (at least partially) off solar power and the VigorPool Captain 2400 Portable Power Station's ability to take high solar wattage should help with that project. This system seems like a good one for overland vehicle builds, RV power station setups, and backup/UPS needs like mine. The big question mark will be pricing, which wasn't available to me at the time of review, but as long as VigorPool is competitive (and they were with the Captain 1200), it should be an option worth considering if you're shopping for a power station of this capacity.
Price: (pricing not available yet – will update when details are available)
Where to buy: Vigorpool
Source: The sample of this product was provided by Vigorpool