We use affiliate links. If you buy something through the links on this page, we may earn a commission at no cost to you. Learn more.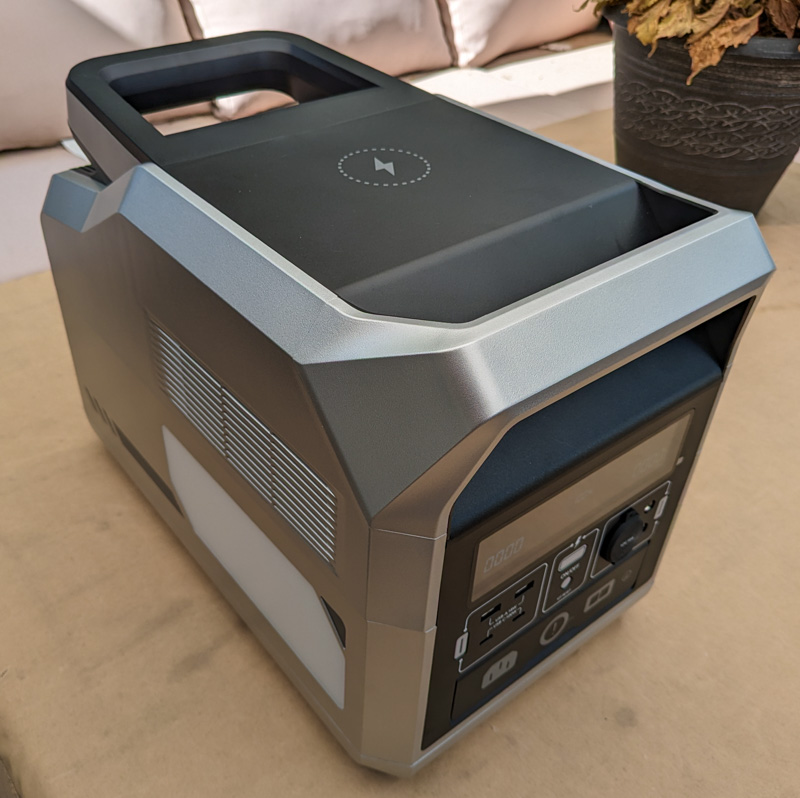 REVIEW – When you're looking for a power station, there are quite a few features and specifications to pay attention to. Do you want the power station to last you years and years (probably, with such a large investment), or do you value fast wall recharging of the station over longevity? How many devices do you want to power from the station, and what are their combined wattage? Do you need wireless charging or emergency lights? Are you going to add solar panels to create a solar generator setup? The VigorPool Captain 1200 Portable Power Station seems to be one of those power stations that tries to check every box on a prospective buyer's list, but only a thorough review can confirm or refute such claims, so let's get right into it!
What is it?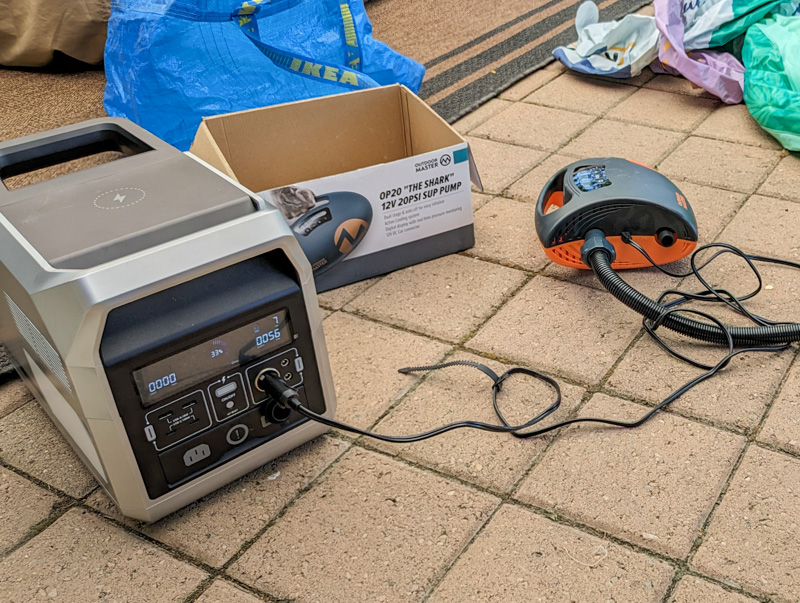 The VigorPool Captain 1200 Portable Power Station is a power station capable of powering up to 1200 watts of connected devices (12 different ways). It has almost 1300 Wh of battery storage, so if you're maxing out the output, it can run all those things for around an hour. Most likely you'll have far less demanding devices attached, like CPAP machines or fridge/freezer options, or computers/tablets/phones/etc. If you're only pulling 100 watts, the battery will last roughly 12 hours before it needs a recharge. If you connect up to 400 watts of solar panels, then you could indefinitely run the ~100 watt small fridge/freezer scenario – the solar panels will fill up the power station during the day, and then the stored energy is slowly discharged over night. This makes a power station like this excellent for camping, RV, and cabin use. In our case where two of us work from home remotely, I use power stations like these in case of power outages (which seem to happen a couple of times a year). In these scenarios, all of our internet and home server stuff is connected to a power station and keeps running during the outage so we can keep working. A second power station does the same for our garage freezer.
What's in the box?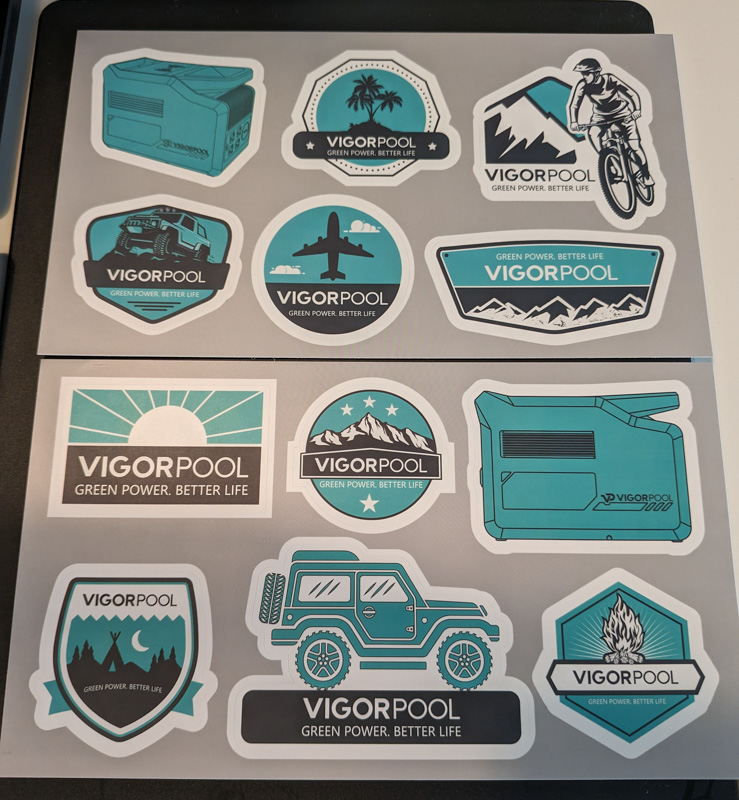 VigorPool Captain 1200 Portable Power Station
AC cable
Car Charger to Anderson (DC) cable
Manual
Sticker sheets
Hardware specs
Capacity: 25.6V 50 Ah 1280 Wh
Chemistry: LiFePO4
Lifecycles: 3500 cycles to 80%
Weight: 33 lbs
Dimensions: 15.98″ L x 9.4″ W x 11.57″ H
Charge temperature: 32-104F (0-40℃)
Discharge Temperature: 14-104F (-10-40℃)
Certifications: FCC,UL,CE,UKCA,PSE,MIC,RoHS
Battery Management Systems Protections: Overcharge Protection,Over Discharge Protection,
Overload Protection,Short Circuit Protection,Over Current Protection,
High Temperature Protection,Low Temperature Protection
AC Output(x4): 120V~60Hz 10A,Total 1200W(Surge 2400W)
USB-C Output(x2): 5V/9V/12V/15V-3A,20V-5A 100W Max per port,Total 200W
USB-A Output(x2): 5V-3A,9V-2A,12V-1.5A,18W Max per port,Total 36W
DC5521 Output(x2): 12V-3A 36W Max per port,Total 72W
Car Port: 12V-10A,120W Max (2xDC5521 Output+Car Power Output:Total 120W)
AC Parallel Interface: 120V~60Hz,1200W
AC Input: 120V-60Hz 10.5A
Anderson Input: 12-56V-12A Max,400W Max
Wireless Output: 10W Max
Design and features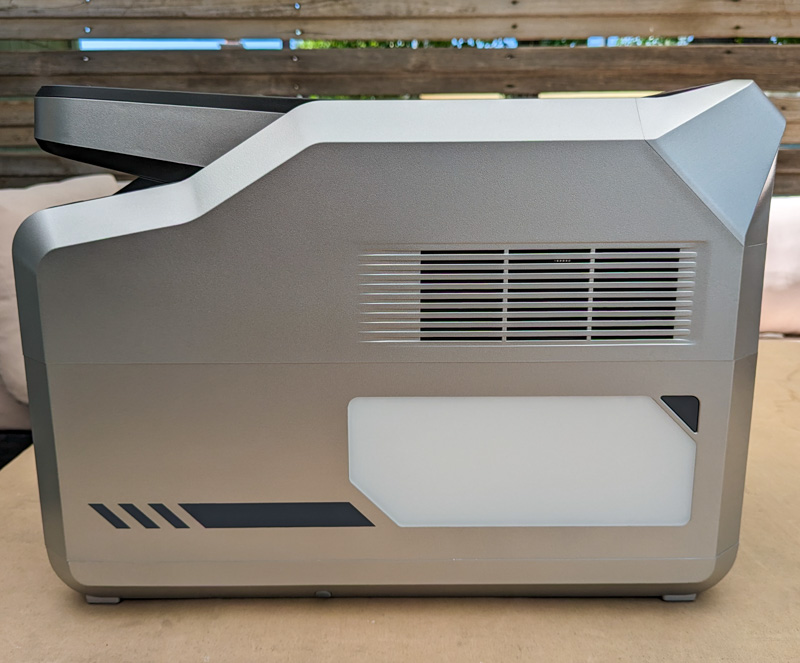 The VigorPool Captain 1200 Portable Power Station is a striking departure from the usual black or black/yellow/orange squares that are most common in the power station market. Not only does this bold design language make it stand out, but it also has some functional advantages such as the ability to carry a larger and heavier power station one handed for short distances (without it being super awkward like some other power stations). Either handle is quite easy to grip and lift up, and the narrow design means it's not wanting to bang against your leg as much as you carry it. Also, notice the fan vents and light panel in the image above.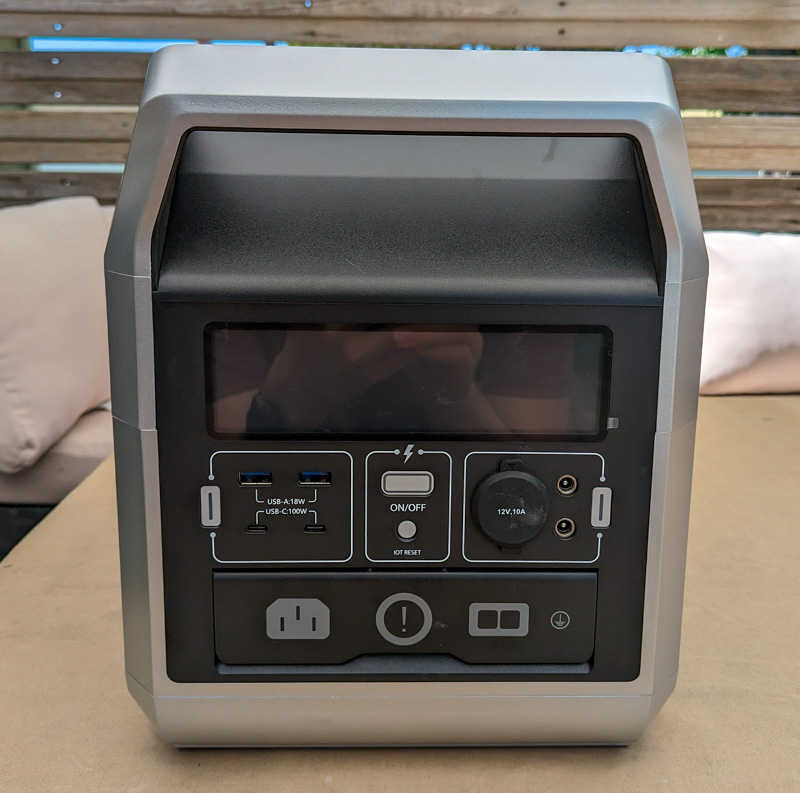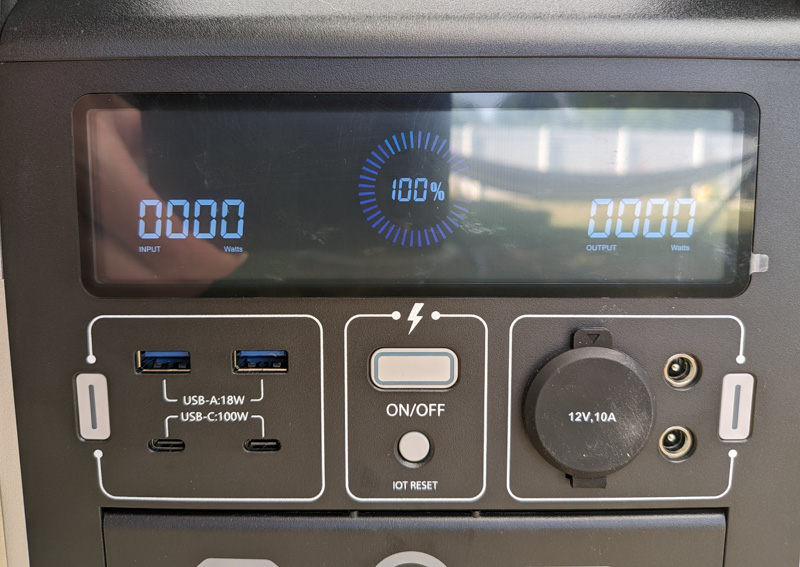 The front of the power station has an LCD display, readable in sunlight in the shade (but difficult in direct sunlight). This panel includes the most important information I want to see: ETA to full/empty, current energy level, and total wattage in/out. Below the panel are three sections: the USB cluster with two USB A ports (5V at 2.4A) and two USB C PD ports at up to 100 watts each, then a multifunction on/off switch and IOT Reset switch, then the DC cluster with a car charger port and two DC 5521 outputs.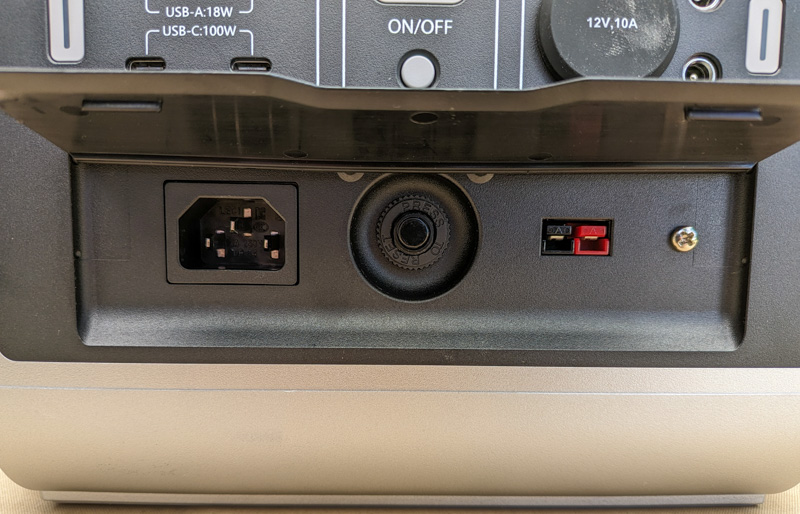 A flip up panel below hides the input ports: an 800 watt AC input, and a 400 watt Anderson DC input (solar). These can be used simultaneously for up to 1200 watts of input. Vigorpool claims the power station will go from 0% to 80% in an hour in this configuration, but I didn't have any solar panels on hand at the moment to test that with. Finally, a reset button is there in case the Battery Management System shuts the unit off for safety reasons: you can disconnect whatever caused the unit to safety-shutdown and then hit the reset switch to start over.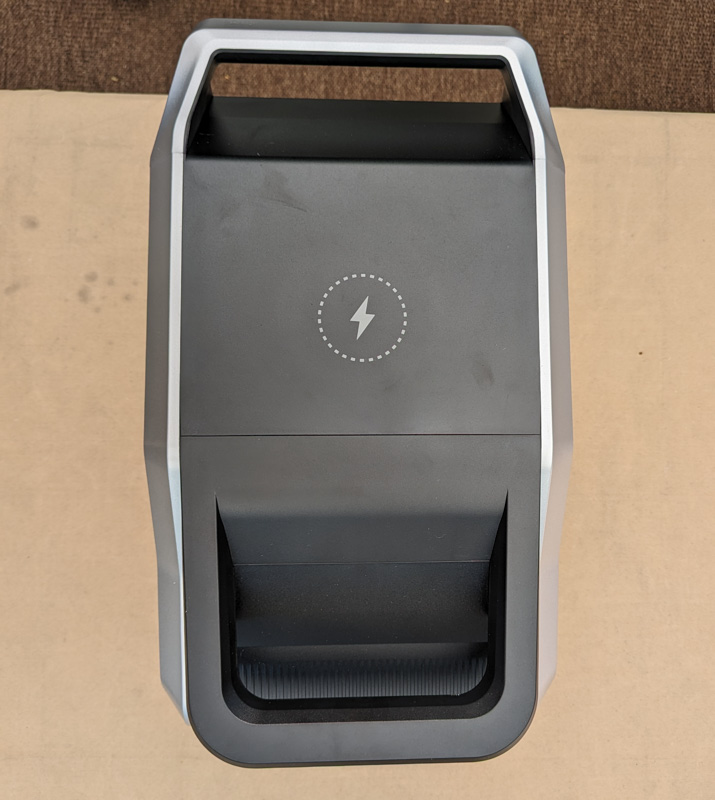 Up on top is another view of the front and back handles, and the wireless charging pad. The top of the unit is flat, which I always like to see. In addition to the handy wireless pad, you can store things on top here since there aren't vents to be blocked and the surface is flat.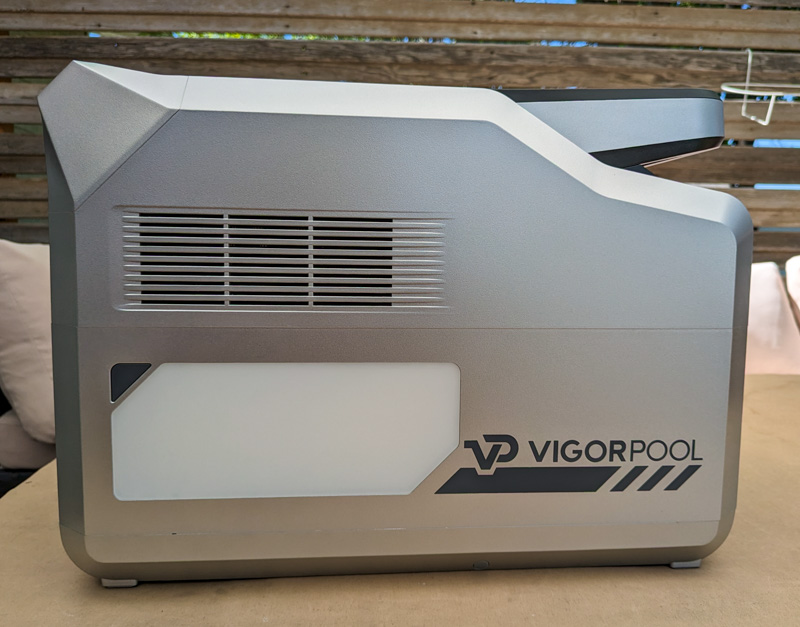 Around on the right side is another panel light and the Vigorpool logo. These panel lights can be turned on or off independently and provide decent room-filling light in a small room or tent.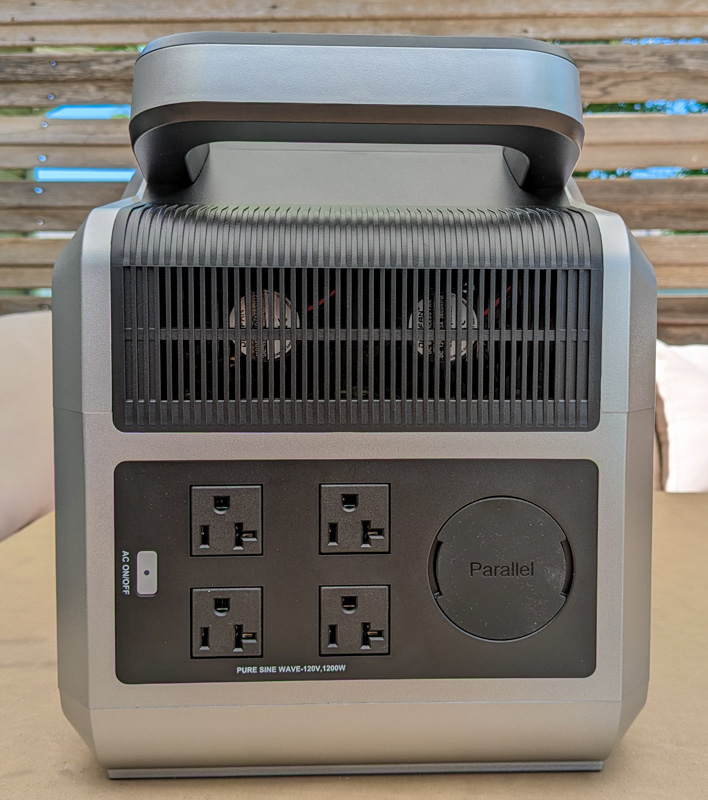 The AC ports live around back, and like the other sections on the power station, this cluster can be turned on or off as a block. All four ports are three-prong US AC type ports (up to 1200 watts can be pumped out combined or to a single port). There's also a "parallel port" with the cover on in the above picture, taken off below: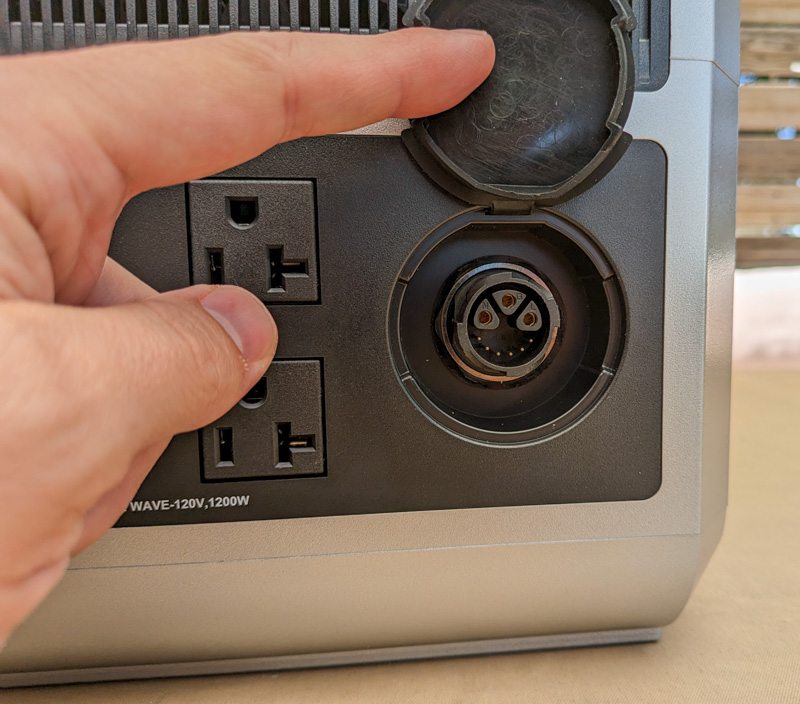 This port can be used to connect the VigorPool Captain 1200 Portable Power Station to a second identical station, which transforms the pair into a single larger unit capable of effectively doubling all of the vital statistics (charging speed, output wattage, and battery storage). I think this is a cool feature, though I didn't get to test it out.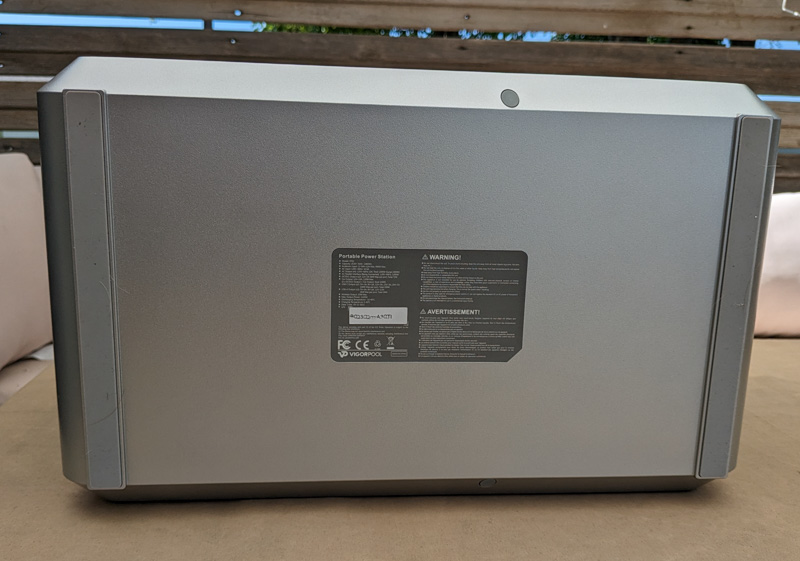 Finally, flipping the unit onto its side reveals the flat bottom, which has two long rubber feet for stability.
Setup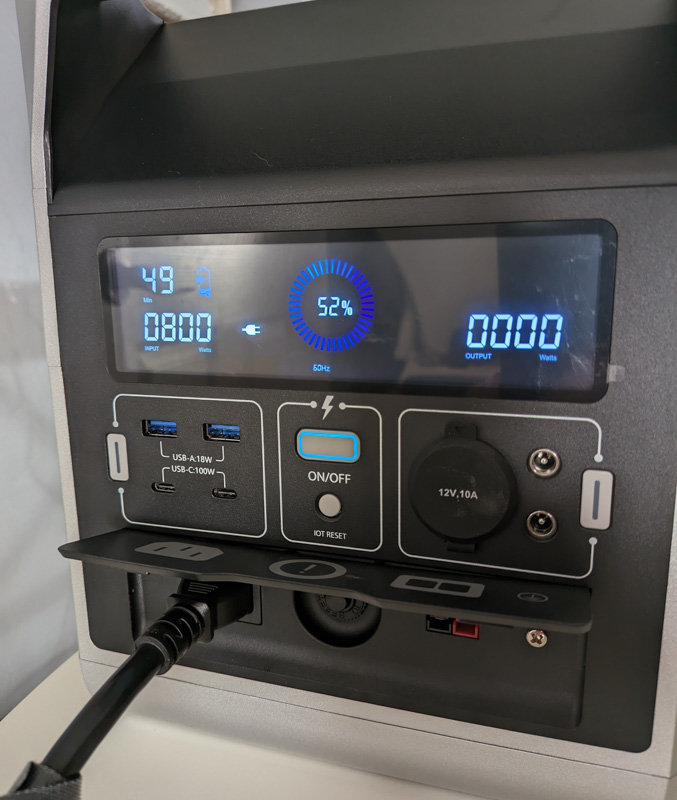 Setting up the VigorPool Captain 1200 Portable Power Station is as simple as charging it up first, either with the included AC adaptor (up to 800 watts input), the car-to-Anderson adaptor, and/or from a solar panel connected to the Anderson port (up to 400 watts input). The next step is optional, but installing the Vigorpool app will give you more control over the unit (and you can even turn things on/off and change settings from anywhere once set up). Here are screenshots of the install/setup/use of the app:
I didn't love that I had to create an account and give permissions for things like files/pictures access, but the end result is a pretty useful app. I set the unit to stay at 80% max (longer battery life) and to never time out since I'm using it connected to wall power as a UPS unit (universal power supply) that will kick on in ~10 ms if the power goes down.
Performance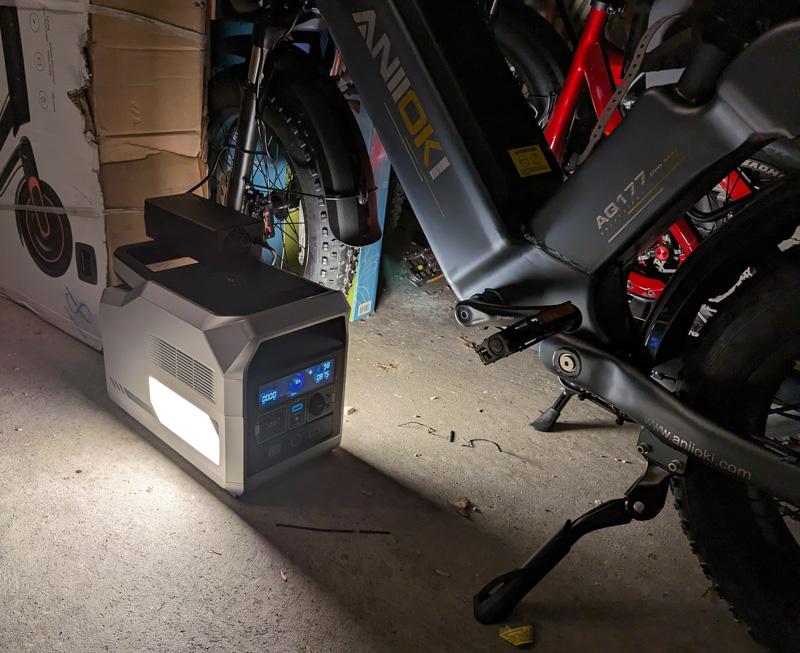 Since my intended use only draws 50-150 watts on average to run our internet devices, I decided to test the VigorPool Captain 1200 Portable Power Station with an ebike I'm also testing that charges at a hefty 800 watts from AC power. I plugged it in as shown above (also note the side panel lights providing illumination for the picture).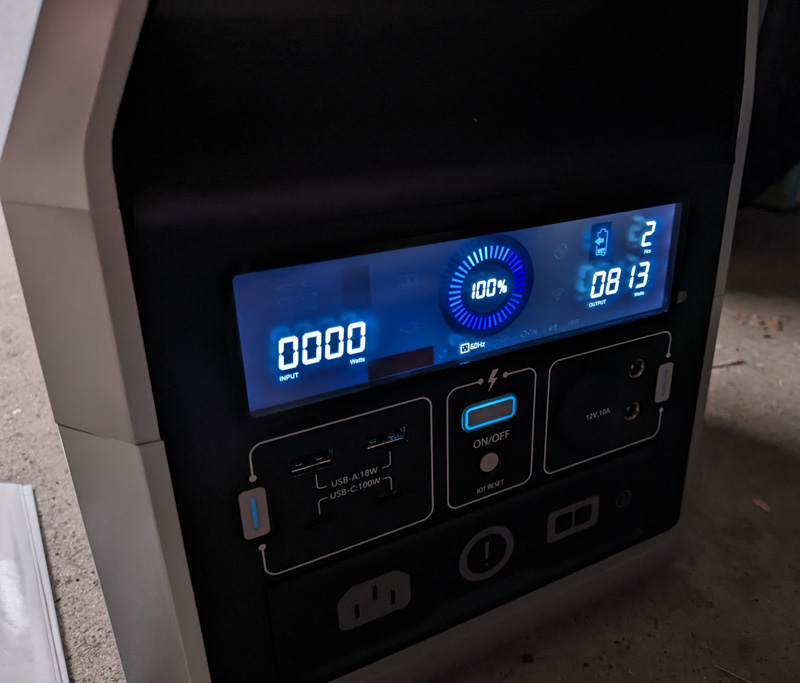 And the power station happily pumped out 800+ watts, though it understandably estimated it could only keep that rate of output going for about 2 hours as expected. Not shown above is the state when the screen times out – which you can change in the app. When the screen goes dark, the power button and any output clusters toggled on remain lit up to indicate power and output. This is a nice feature, especially if you're using this in a dark room and don't want a bright LCD on all the time but need the unit to keep working.
What I like
Nice output and storage
Useful app with lots of settings that can be tweaked
Fast charging (both ways)
Supports 400W solar input
10 ms UPS feature
What I'd change
On the more expensive side – but offers more functionality and longer expected battery longevity than many in this segment
Final thoughts
After testing out various high intensity charge/discharge options, the VigorPool Captain 1200 Portable Power Station has been installed as our long term home-internet backup power supply. At our average usage levels, it should give us at least 10-12 hours of emergency internet in case of an outage. The UPS functionality means it's not constantly charging and discharging the battery cells, but rather just routing wall power to the connected AC devices and keeping the cells at 80% to kick in when needed. I would only foresee us replacing this unit if VigorPool were to release a larger capacity one. Stay tuned. 🙂
Price: $1099
Where to buy: Vigorpool and Amazon
Source: The sample of this product was provided by Vigorpool