We use affiliate links. If you buy something through the links on this page, we may earn a commission at no cost to you. Learn more.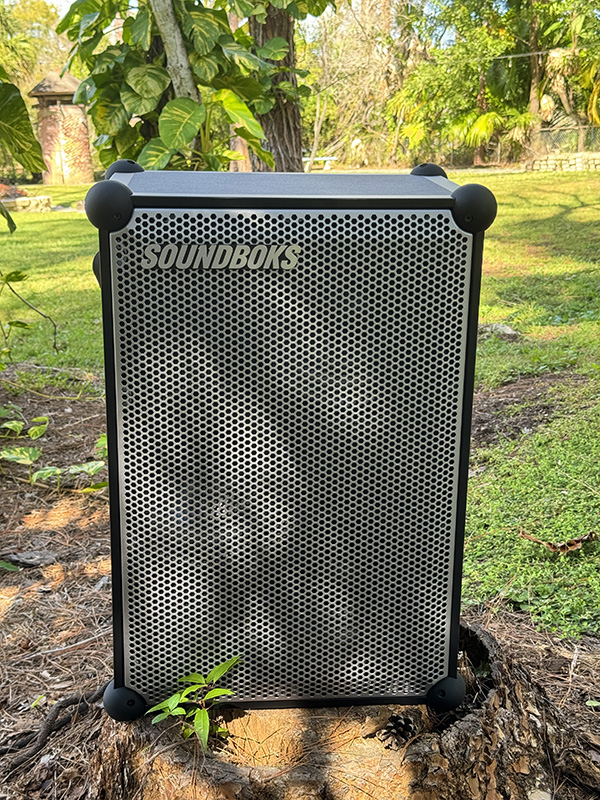 REVIEW – I reviewed the SOUNDBOKS (Gen 3) speaker a little over two years ago. Nothing—and I mean nothing—has approached this speaker in volume. It can put out more raw decibels than a rock concert. It's 30 times louder than a lawn mower! I could go on, but let's just say it's L.O.U.D. Well, SOUNDBOKS has decided the Gen 3 speaker was in need of an upgrade, so here we are—the SOUNDBOKS 4. They dropped the GEN part (except on the manual), so now it's just named "4". Is the 4 louder? Nope. It still tops out at 11 (one more than 10!). Is the 4 a new design? Only the grill is a new design. Has playtime been increased? The battery lasts 20% longer—but only at max volume. Has splash/wet resistance been improved? No. So what the heck has been improved? Well, mostly it's what you cannot see—and cannot hear (sort of). 

What is it?
The SOUNDBOKS 4 is a massive speaker that's made for outdoor listening—preferably over a large area. Not only can it play music loudly, but it can also double as a guitar/mic amp for gigging or public speaking. It has a speaker tripod port on the bottom—just like an outdoor monitor.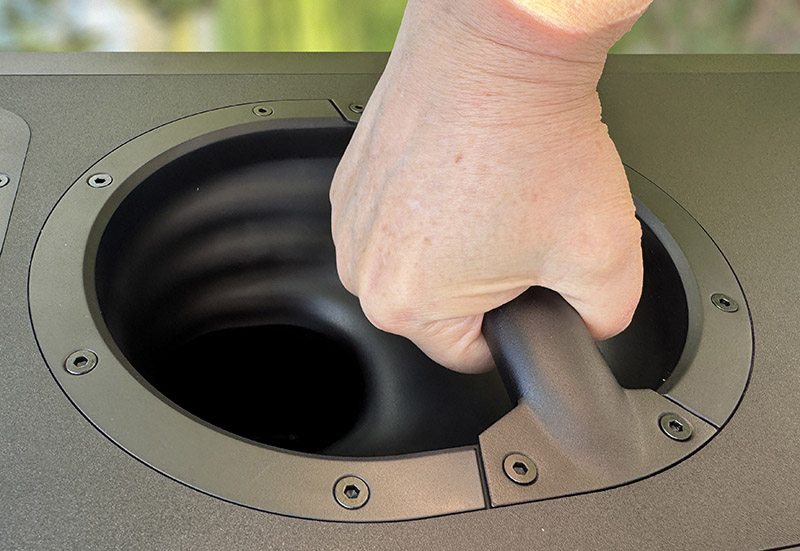 The SOUNDBOKS 4 weighs 34 lbs. It may be portable, but if you have to carry it, bring a friend. It does come with two built-in handles for transporting. The SOUNDBOKS 4 has two 10-inch woofers and a single 1-inch compression driver tweeter (nestled in a large cone).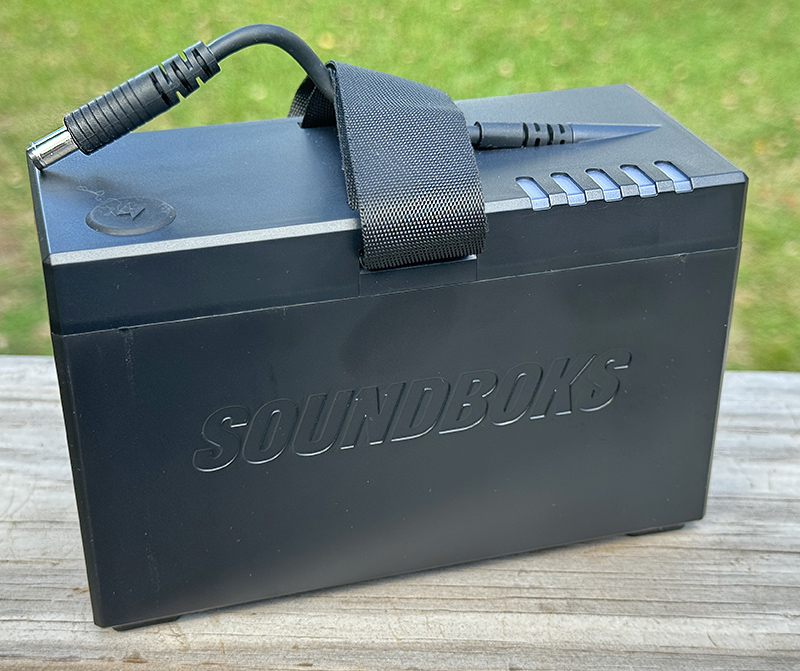 Battery life is an impressive 6 hours at full volume. Play music at a more reasonable half-volume and battery life jumps to 40 hours!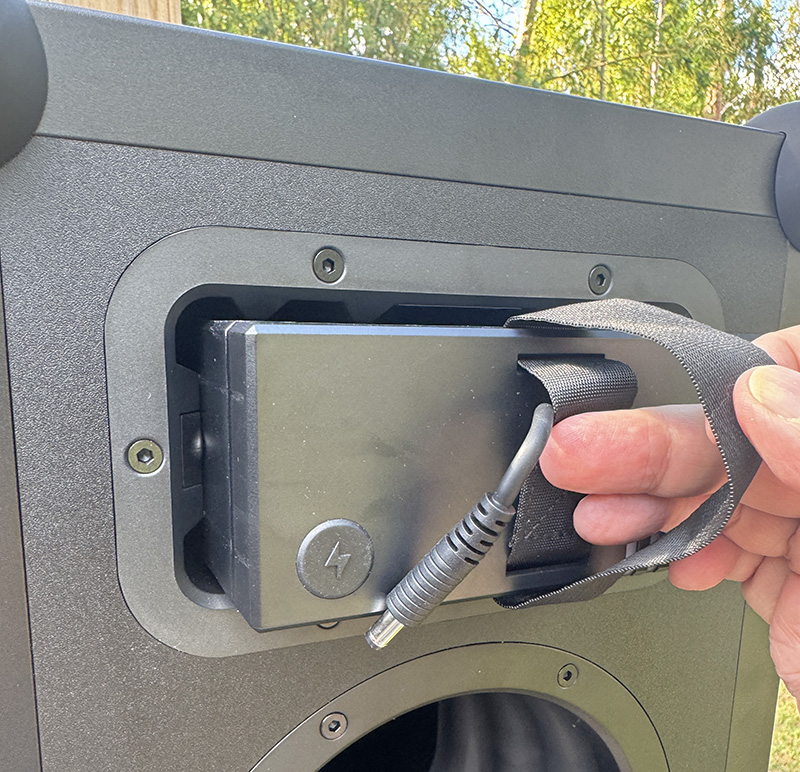 The SOUNDBOKS 4 uses the same battery as the previous versions. The battery is replaceable, so it can be swapped out in a few seconds during a party if necessary. SOUNDBOKS warns that the battery should not be used and charged simultaneously to prevent damage.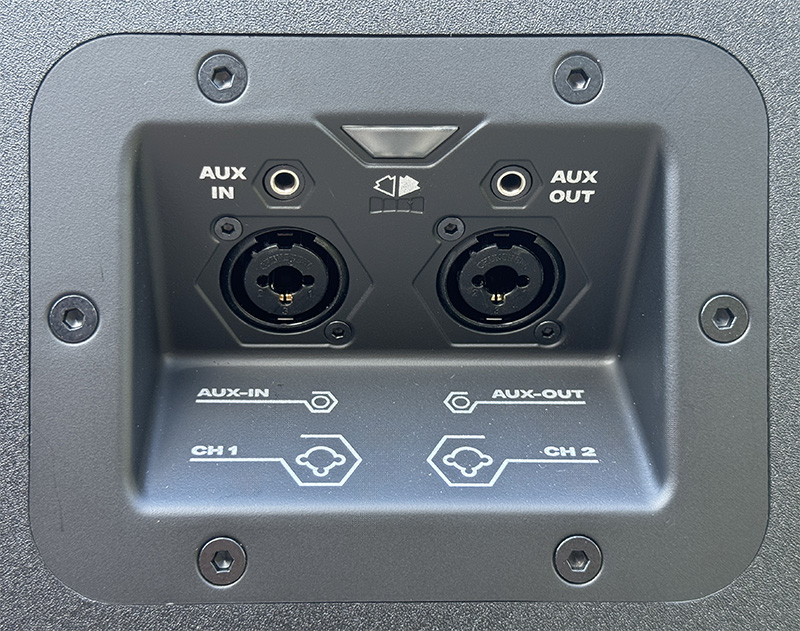 There are various connections for the SOUNDBOKS 4. Besides wireless Bluetooth 5.0, there is an AUX input port and AUX output port along with two combo microphones/instruments (1/4" XLR) inputs. My son gigs around town and he could use the XLR ports on this speaker for his performances. I'm sure he will be borrowing it.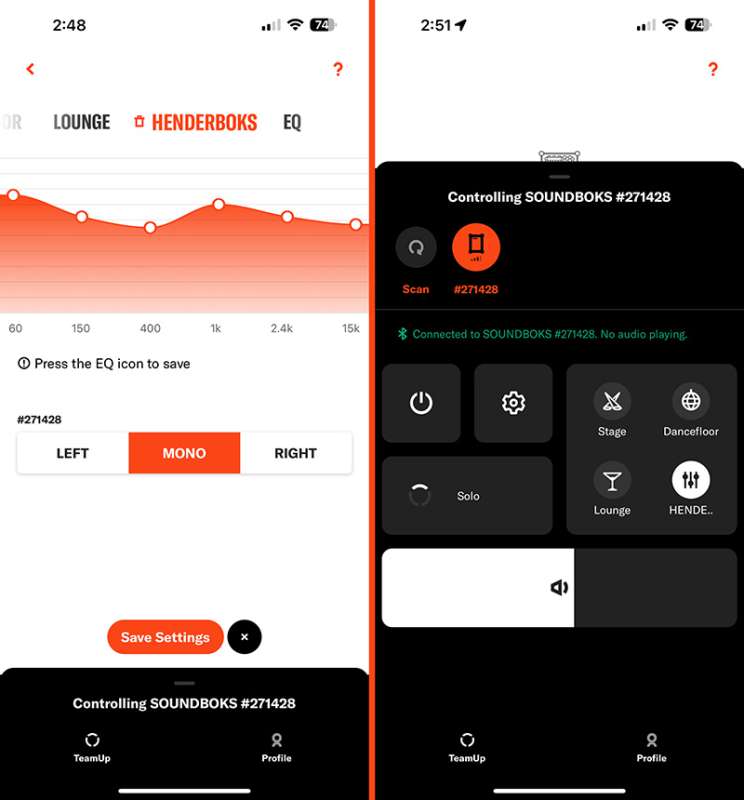 SOUNDBOKS  has a smartphone app (iOS and Android) that can perform a few functions. It can update firmware, apply preset or custom EQ (equalizer) settings, set up multiple speakers using the TeamUp feature, set parameters for the mic/amp functions, and even add security layers. 
As with the SOUNDBOKS (Gen 3) speaker, SOUNDBOKS has what they call SKAA wireless technology. This allows (up to) 5 SOUNDBOKS speakers to be wirelessly connected—via TeamUp in the app—for a "wall of sound". I would love to hear that at full volume!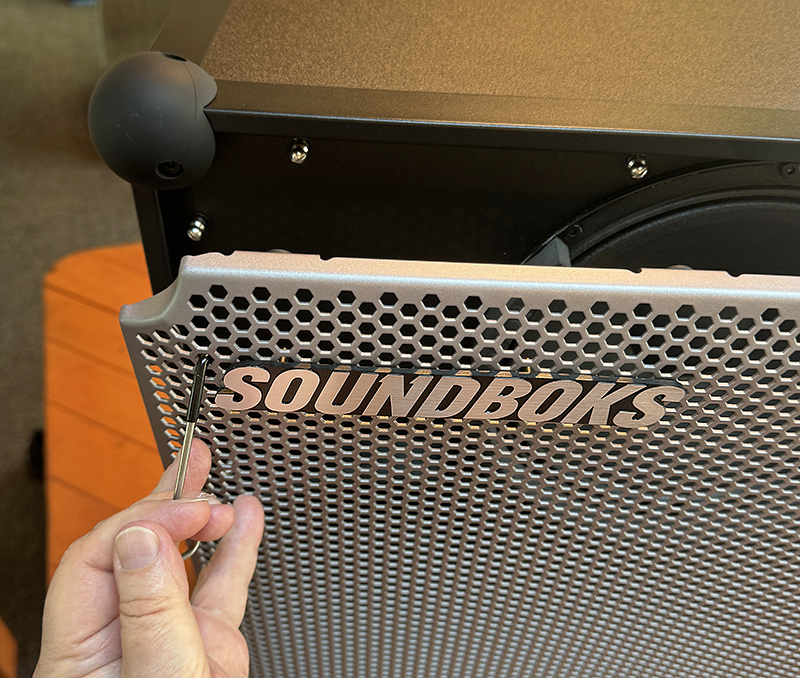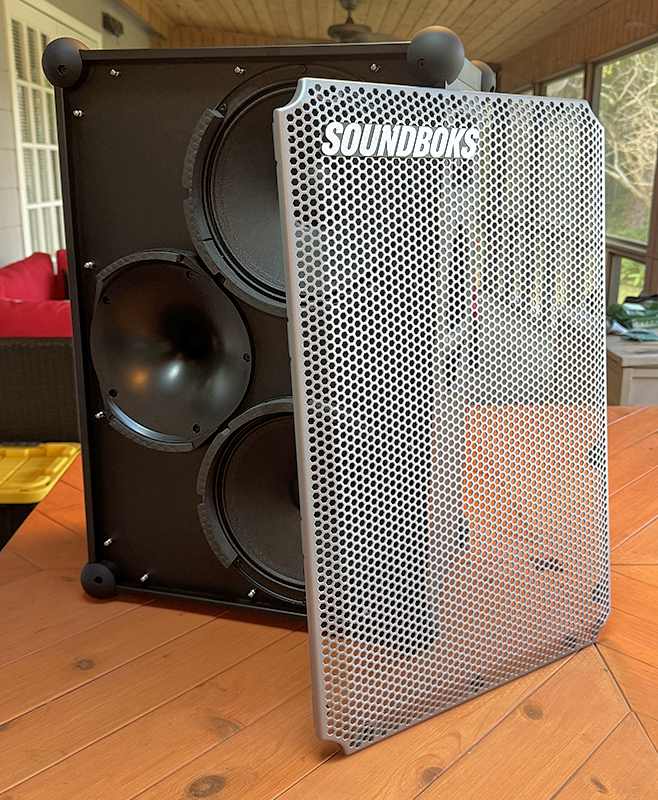 The new grill for the SOUNDBOKS 4 speaker is designed to be easily removable for painting, decorating or replacing.

Specs
126 dB max volume
IP65 water and dust-proof rating
40 hours of playing (at mid-volume) or 6 hours of playing (at max-volume)
ProPanel for cabled connections (XLR, TRS, Aux In/Out)
SOUNDBOKS app
Bluetooth 5.0
Wireless SKAA technology
Easily swappable battery

Design and features
SOUNDBOKS States that the SOUNDBOKS 4 speaker was drastically improved in audio performance and quality. That may be true, but I was quite impressed with the quality of audio from the previous (Gen 3) speaker, so any improvement in the SOUNDBOKS 4, is mostly lost on me—except for one surprising detail: volume—or lack of it. Let me explain.
As loud as the (Gen 3) could get, I was never impressed with the sound at lower or indoor volumes. It was okay, but most smaller Bluetooth speakers outshined it. Overall, those other speakers just sounded better, relegating the SOUNDBOKS (Gen 3) to outdoor use only. This was okay, but it was like the speaker was only living up to most of its potential—not all.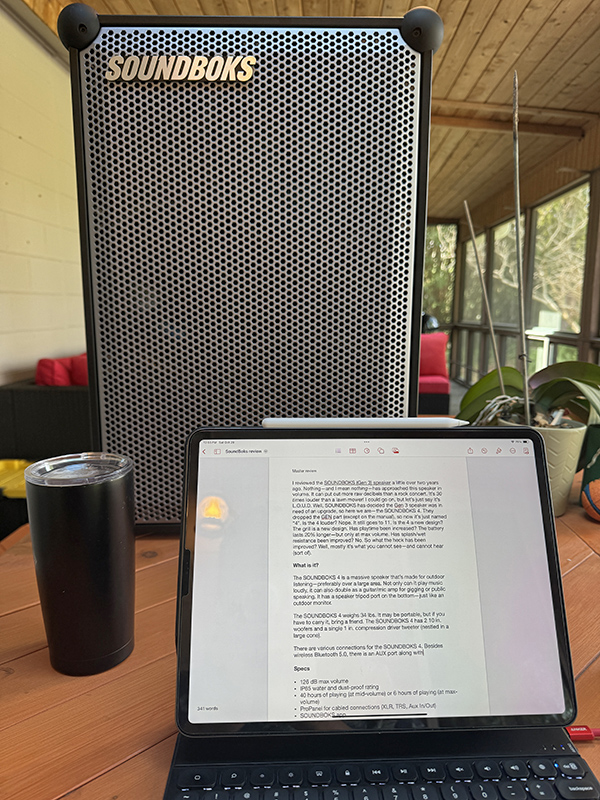 The SOUNDBOKS 4 speaker changes all that. I don't know if SOUNDBOKS is making their digital signal processor "much more powerful" as they say, but this speaker could easily be placed in any sized room and sound great at any volume —within (indoor) reason! It was shocking how good it sounds. As I write this review, the speaker sits about 2 ft. away facing me. Volume is set about halfway on both the speaker and my iPhone. It's not too soft or loud—just perfect for writing while listening.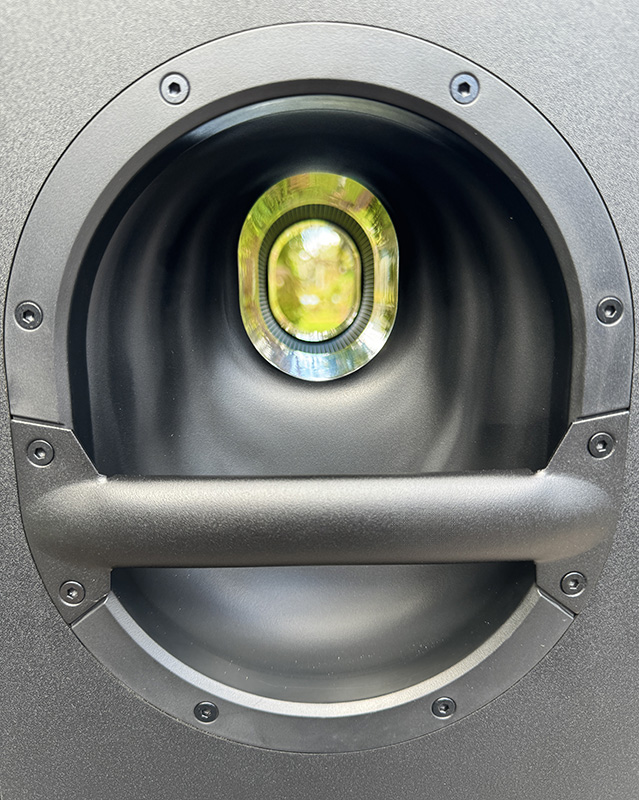 After setting and saving my preferred EQ in the app, I am floored listening to "Into Dust" by Mazzy Star. This shoe gaze song increases in volume as it progresses, revealing more complexity. The SOUNDBOKS 4 reveals just about everything the song has to offer. After hearing this monster of a speaker at full volume, I am stunned at how delicate-sounding it sounds at (much) lower volume. So, it's not what I can hear that is so impressive—although 126 dB is fun to show off—it's what I don't need to hear. I don't think SOUNDBOKS touts this feature enough.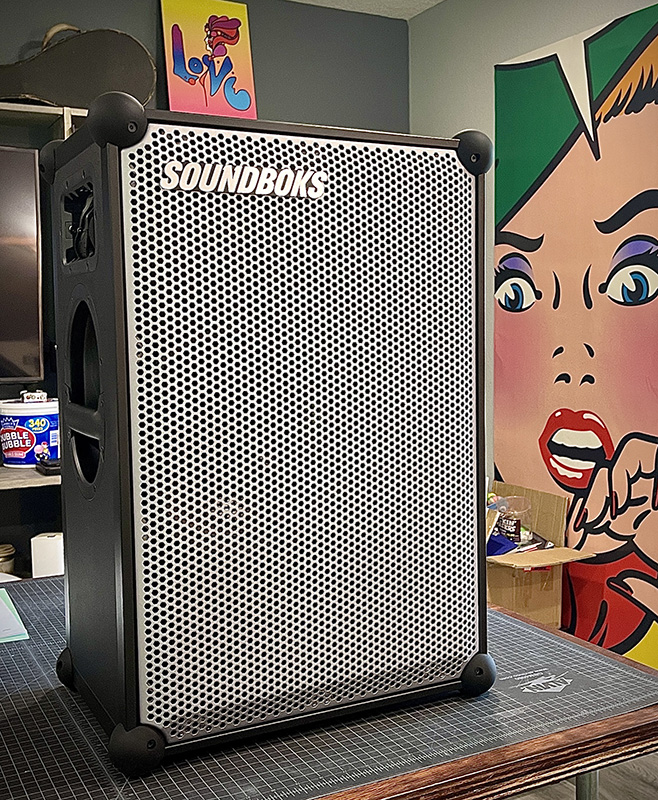 SOUNDBOKS also states how they improved the drivers for better bass, mids, and high frequencies. Maybe so, but at max volume, most subtlety is lost in the skull-cracking volume. Don't get me wrong, that's great, but it's not critical listening. I'm saying that while sitting in front of this speaker at "normal" volume. It can be used for serious listening—the speaker is that good. The only thing I can think of that would improve the speaker is having two paired for true stereo listening. Unfortunately, that can't be tested with the single speaker I'm reviewing.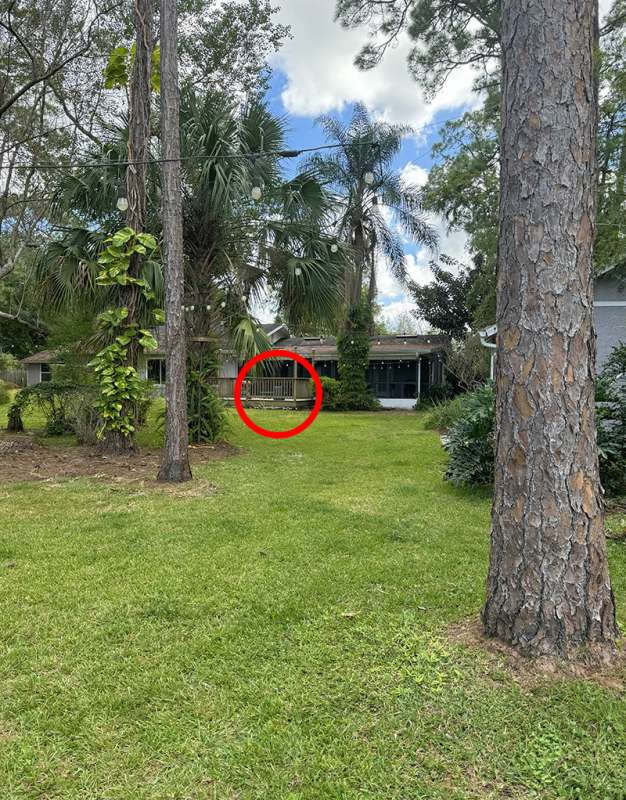 At (full) volume, the SOUNDBOKS 4 can still pack an "I'm calling the cops" punch. I have an acre backyard and I could hear my music just fine from the back side near our small lake far away from our deck. Not only could I hear it, it was still loud enough to prevent normal conversation. At full volume and far away, I noticed a clarity I hadn't noticed with the (Gen 3) version. AC/DC's "You Shook Me" from "Black in Black" was not only loud (it was recorded loud), but the massive volume was not harsh—always a plus.

What I like
Sounds great at any volume
Music sounds great—even when far away
Useful app
SKAA wireless connection
Loooong battery life

What I'd change

Final Thoughts
In audio, volume is easy to create. Listenable volume—not so easy. SOUNDBOKS has managed to achieve great sound with the SOUNDBOKS 4 speaker, whether loud or soft. Their ability to sound great at any volume makes the expense easier to justify. If I could sum the speaker up in one word, it would be "FUN". And you can still tick off the neighbors!
Price: $999.99
Where to buy: SOUNDBOKS and Amazon
Source: The sample of this product was provided by SOUNDBOKS.