We use affiliate links. If you buy something through the links on this page, we may earn a commission at no cost to you. Learn more.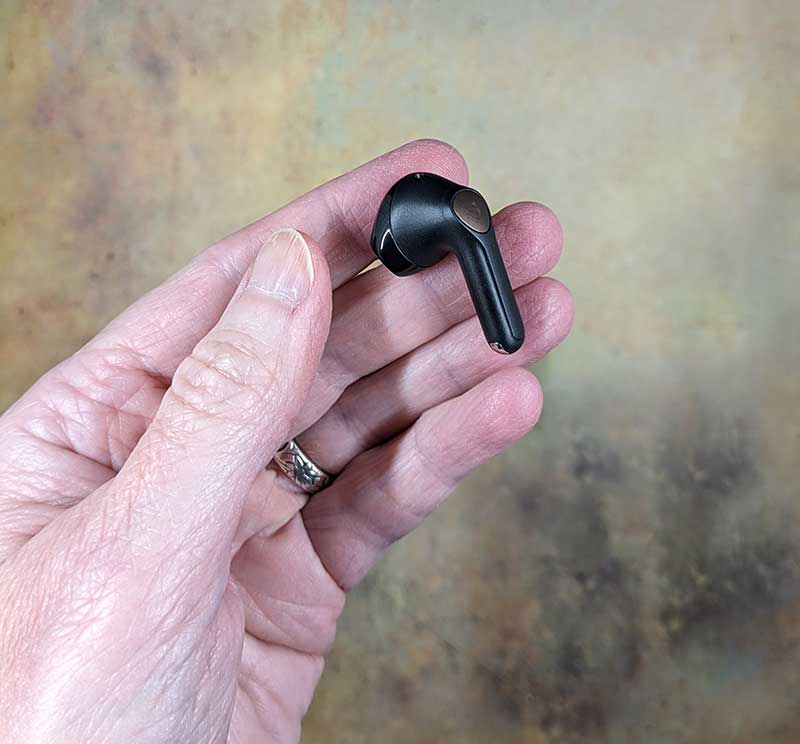 REVIEW – Ever since I bought a pair of Apple Air Pods Pro earbuds a few years ago, I haven't felt the need or desire to buy or test any other earbuds. But now that I've been switching back and forth between an iPhone and the latest cool Android phone, I've been wanting a second set of earbuds just to use with my Android devices. Today I want to talk to you about the SoundPEATS Air4 aptX Lossless Audio Wireless Earbuds. Queue up your favorite tunes and let's check them out.
What is it?
The SoundPEATS Air4 aptX Lossless Audio Wireless Earbuds are Bluetooth earbuds that you can use with your laptop, tablet, or phone.
What's in the box?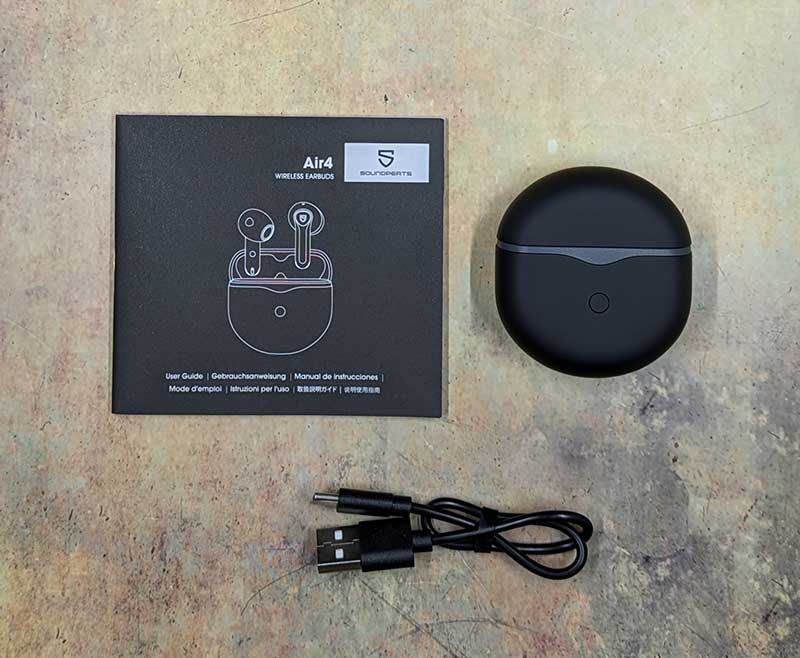 SoundPEATS earbuds
Charging case
USB-C cable
User guide
Specs
Chipset: Qualcomm Snapdragon QCC3071
13mm dynamic driver
Adaptive ANC and triple noise-cancellation
Profiles: A2DP/AVRCP/HFP/HSP
Bluetooth: V5.3
Supported Bluetooth Codec: aptX Lossless/AAC/SBC
Battery Capacity: 35*2 mAH(Earbuds) 330mAH (Case)
Charging Time: <1.5H (Earbuds)<2H(Case)
Charging Port: Type-C
Total Playtime: 26 hours
88ms Low Latency Game Mode
Design and features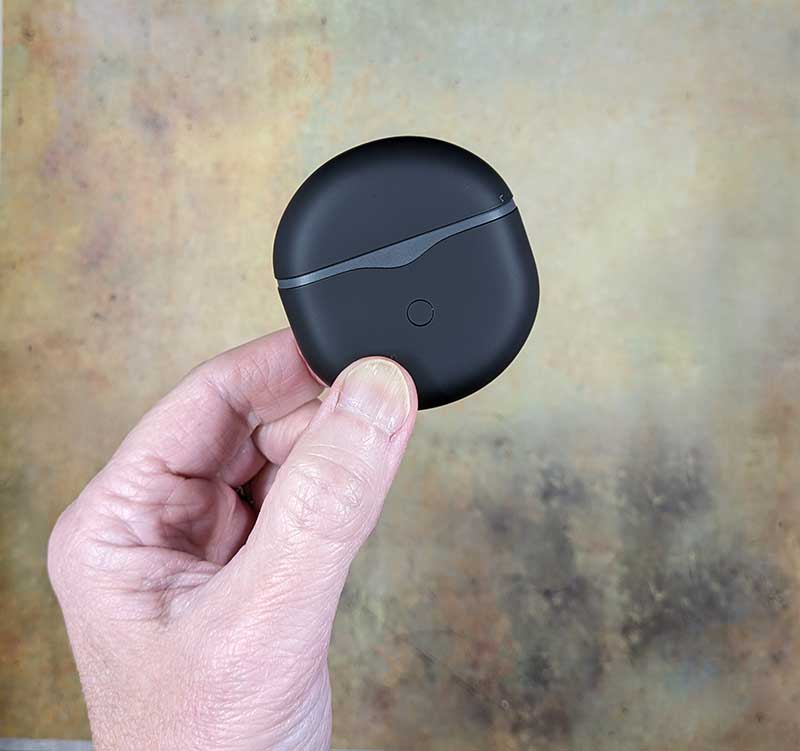 The SoundPEATS Air4 aptX Lossless Audio Wireless Earbuds come in their own storage case that doubles as the charging case.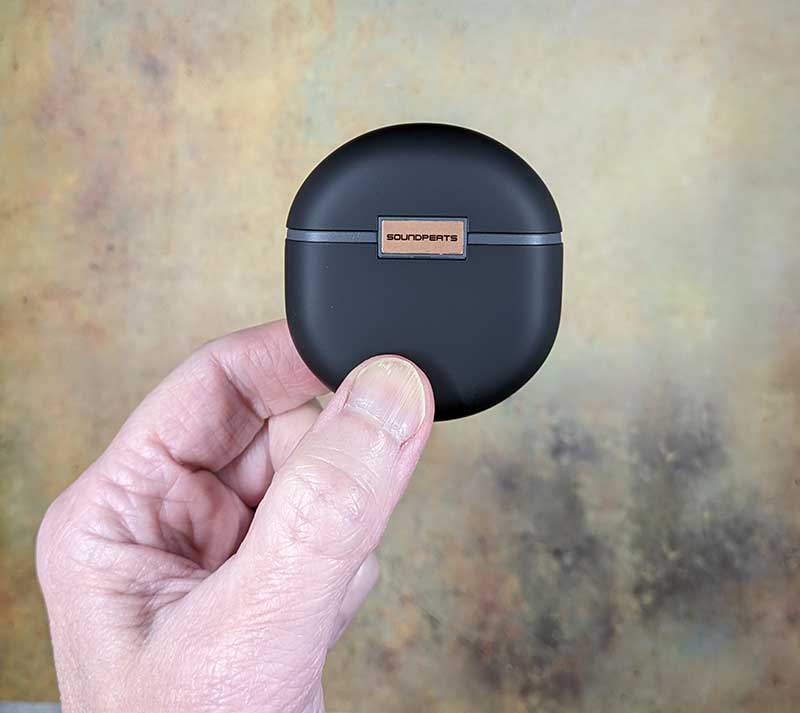 The case is made of smooth matte black plastic with some copper accents like the brand name badge on the back hinge.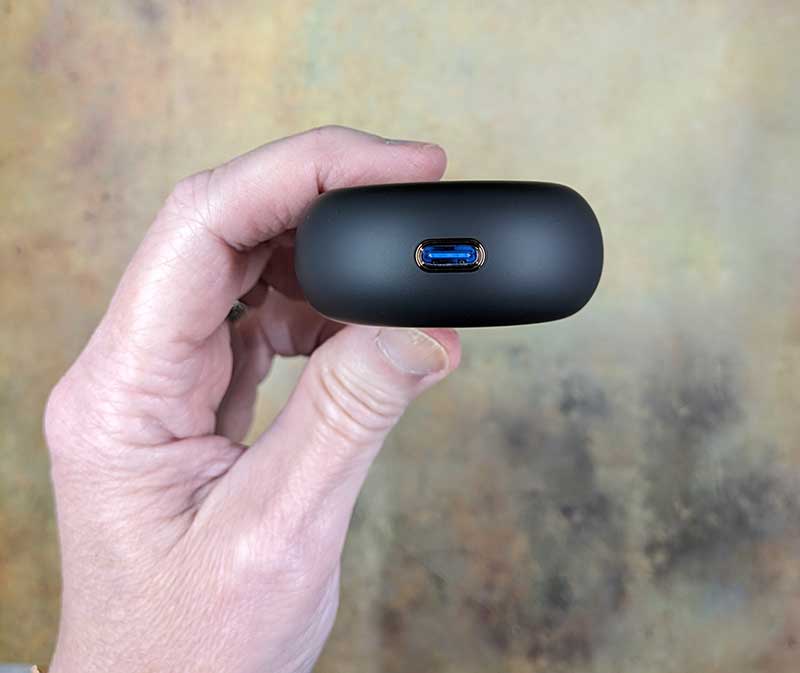 There is also a copper ring around the USB-C charging port.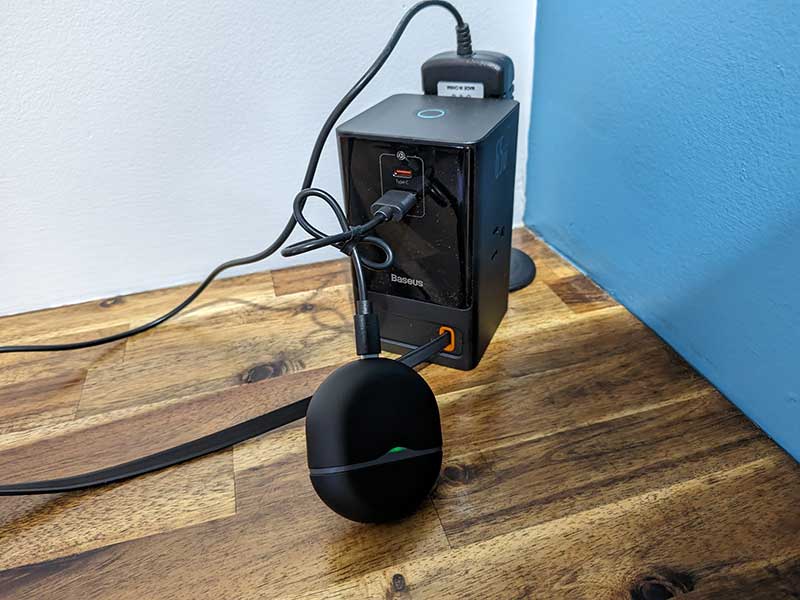 Unfortunately, the SoundPEATS does not have built-in wireless charging, so you'll need to use the included (or any other) USB-C cable to charge them. But you shouldn't need to recharge them THAT often because fully charging them will allow for up to 26 hours of playback time. Nice!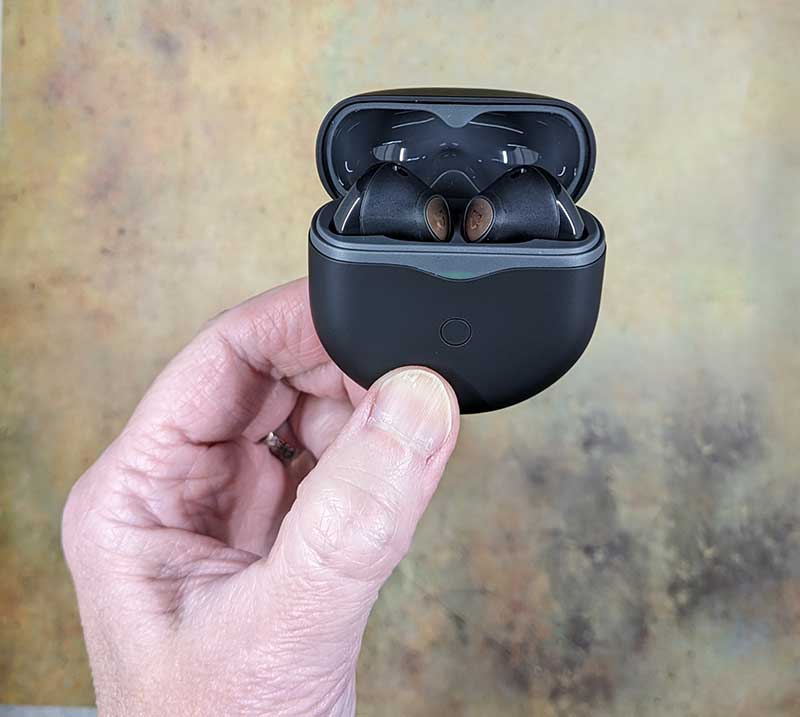 When you flip open the lid on the case, the charging status LED will glow green, yellow, or red to indicate how much charge is left. If the light is green, the battery is 100%-50%, yellow means it is 49%-10%, and a red LED means that the charge is less than 10%.
The front of the case also has a small button. Pressing and holding this button will activate Bluetooth pairing so that you can connect it to your phone, tablet, etc. Note that the SoundPEATS Air4 aptX Lossless Audio Wireless Earbuds can be paired with up to 2 devices.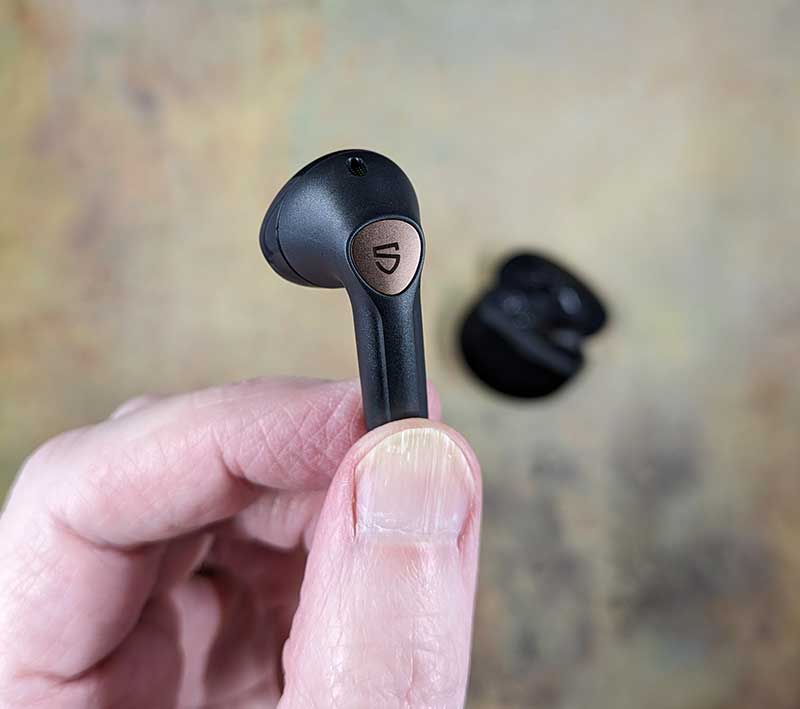 The earbuds themselves share the same matte black plastic with a touch of copper on the exterior.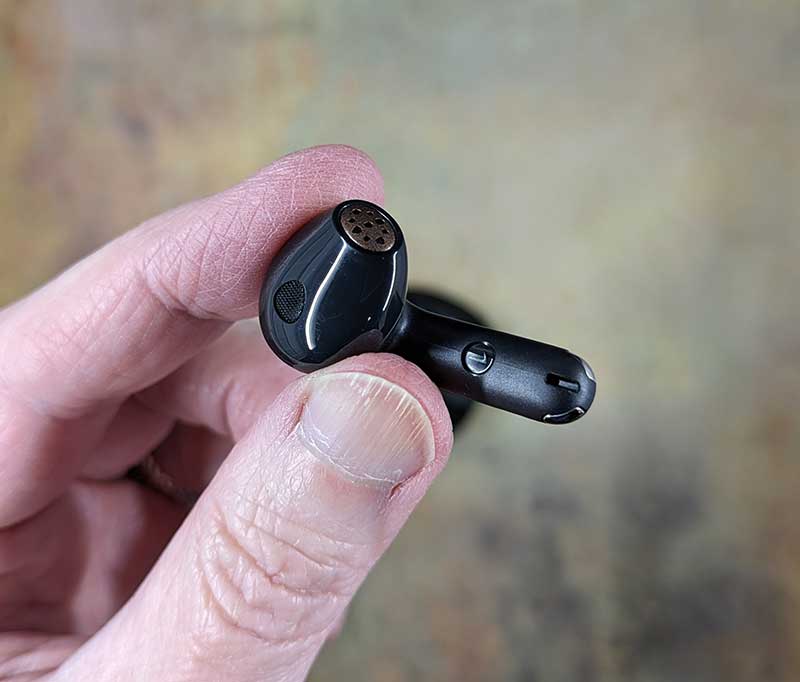 The earbud has a glossy finish with a copper-colored sound grill on the ear tip. The SoundPEATS Air4 aptX Lossless Audio Wireless Earbuds do not have replaceable silicone ear tips so they might not be comfortable for everyone.
Comfort
I used to prefer this style of earbud but having used the Apple Air Pods Pro's soft ear tips for the last couple of years, I found the fit of the SoundPEATS Air4 aptX Lossless Audio Wireless Earbuds to feel a little less secure in my ears. I wouldn't want to run in these earbuds, but then I don't run, so… 😉
The SoundPEATS Air4 aptX Lossless Audio Wireless Earbuds are really lightweight and after a while, I completely forgot that they were in my ears. That means in my ears, they are comfortable.
User controls
Whenever you get a new pair of earbuds, you have to learn the controls and that was the case with the Air4 earbuds from SoundPEATS. To give you an idea of what I'm talking about, here are the controls for these earbuds (taken from the user guide).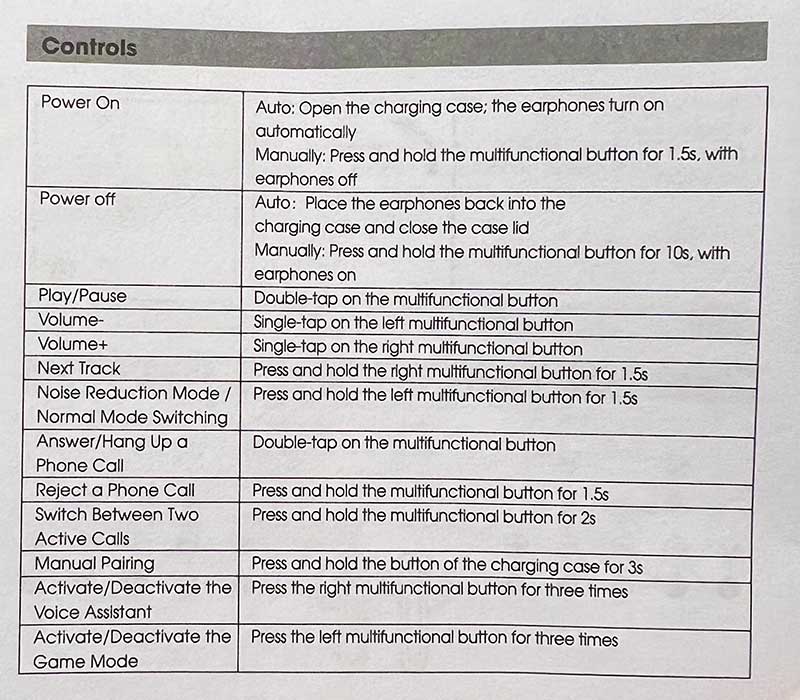 I have never enjoyed using touch controls on any brand of earbuds. I'd rather just use the controls on the device that the earbuds are connected to. However, there are times when using the touch controls on earbuds is more convenient like while working out. That said, I found the controls on the SoundPEATS Air4 earbuds to be relatively easy to use except that I can't seem to deactivate voice assistant. Every time I try to deactivate it, it pops up the voice assistant on my device. Grrrrrrrr.
Some things that I've noticed… When pausing and then resuming while watching a YouTube video, the video will sometimes play for a second before the audio kicks back in and it will usually start in the left earbud and then the right bud will then kick in. Luckily this doesn't happen all the time.
Sound quality
The first thing that I immediately noticed when starting to test the SoundPEATS Air4 earbuds was how much louder they were compared to my Apple Air Pods Pro earbuds. Sometimes I don't feel like I can't get audio loud enough when watching some video with the Air Pods Pro. This is definitely not the case with the SoundPEATS.
Listening to talking using these earbuds is fine. The audio is clear and crisp.
Listening to music with the Air4 buds is enjoyable and I think I like the sound I get from them better than the Apple Air Pods Pro. It is clearer sounding compared to the Air Pods Pro earbuds. With ANC turned off, bass is a little weak but turning on ANC makes a big difference. These earbuds are solid when it comes to listening to music – at least to my non-audiophile ears.
When it comes to noise canceling though, it's only fair to good. I work in a basement office and sometimes it gets too cool for me so I turn on a space heater which has a fan noise. With ANC turned on, I noticed that some of the noise was canceled but not all of it. I also don't think the feature works all that well when the earbuds aren't sealed in your ears.
SoundPEATS App
A folded piece of paper included in the box instructed me to download/install the SoundPEATS app from the app store for my phone (iOS or Android). I did so, but it wanted me to create an account and kept telling me to type in the correct password. It wouldn't take any combination of letters and numbers that I tried so I gave up. The app is supposed to allow you to adjust EQ settings… Oh well… Who else absolutely hates having to create an account to use an app for a product that you purchased? Grrrrrr…
What I like
Affordable
Lightweight
Louder than my Apple Air Pods Pro (1st gen)
What I'd change
No eartips mean that they might not fit well in all ears
Don't make people create an account for the app
Final thoughts
All in all, I think the SoundPEATS Air4 earbuds are a decent pair of budget earbuds that are great for listening to music and watching videos. If you don't need super great ANC or earbuds that seal in your ears with silicon eartips, then I can say that it's worthing checking out the SoundPEATS Air4 earbuds.
Price: $89.99
Where to buy: Amazon
Source: The sample for this review was provided by SoundPEATS.