We use affiliate links. If you buy something through the links on this page, we may earn a commission at no cost to you. Learn more.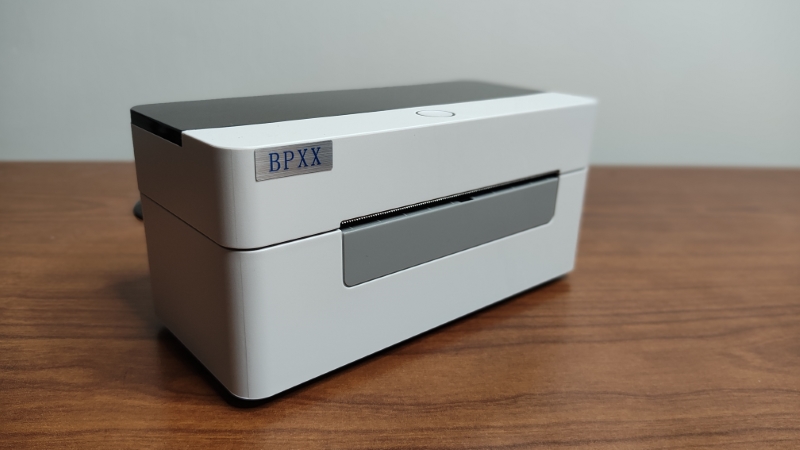 REVIEW – When selling things online, shipping is always a hassle.  Does printing a shipping label with your inkjet printer, and using packaging tape to adhere it to the shipping box sound familiar?  What about taking your package to the post office to fill out a shipping label by hand?  There is a better way – thermal label printers which are designed just for this very need.  We're having a look at the BPXX D643B  thermal label printer to see if this budget option can deliver.
What is it?
The BPXX thermal label printer is a 4×6 format printer that uses heat instead of ink to print.  These printers work by using a special, reactive thermal paper, which turns black where heat is applied.  The printer head applies heat where needed in order to generate the desired result.  This is a very specific type of printer which will only produce a black and white print.  Despite sounding complicated, they actually work quite fast – a typical 4×6 shipping label can be printed in about one second with the BPXX.
What's in the box?
BPXX Thermal Label Printer D463B
USB-A Thumbstick with drivers
USB-A to USB-C adapter
USB-A cable (printer to PC)
Power brick
Quick start guide

Hardware specs
Printing Speed
6 IPS
Print Resolution
203 DPI
Printer Type
Thermal
Dimensions
W: 7.25″ x D: 3.25″ x H: 3.5″
Max label size: 4×6
Max Printing Width
4.1 inches
App for Mobile Device
4Barcode
App for PC
BarTender UltraLite
Bluetooth Connection
Supports Windows, iOS and Android.
Wired Connection
Windows, Mac OS, Chrome OS, Linux
Design and features
The BPXX thermal label printer has a compact footprint, and looks sharp with the contrasting white and black aesthetic.  A single button sits in the middle on the top of the unit, surrounded by an LED status ring.  This device blends in both at home and the office.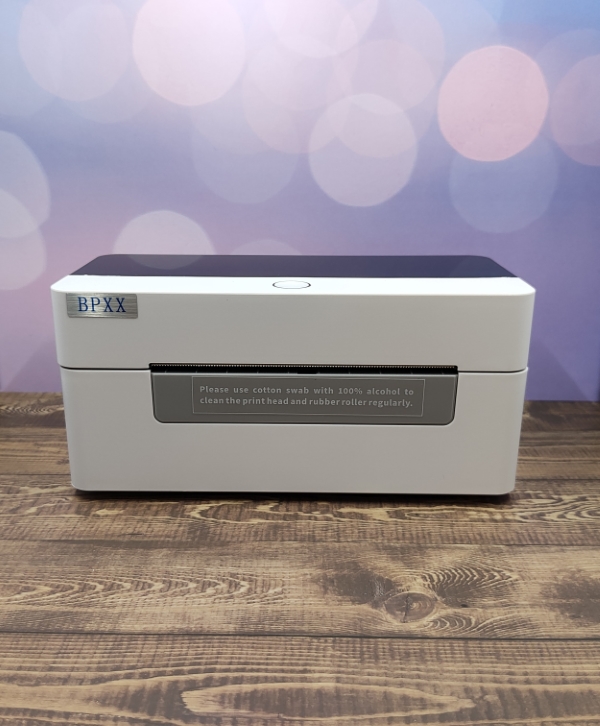 On one side of the printer is the release latch to open the printer, and on the back there is a power switch as well as power and interface ports.  The power brick is about a third of the size of the printer itself.  On the top half of the printer is a serrated cutter for releasing prints (think of the cutter on the box of tin foil).  This is manual, the printer will not cut the paper for you.
There is no tray to hold the thermal paper stock.  A peripheral is available if you want to have a dedicated holder for your thermal paper.  I like the 'modular' aspect of this, as it's easier to store away the separate components when not in use.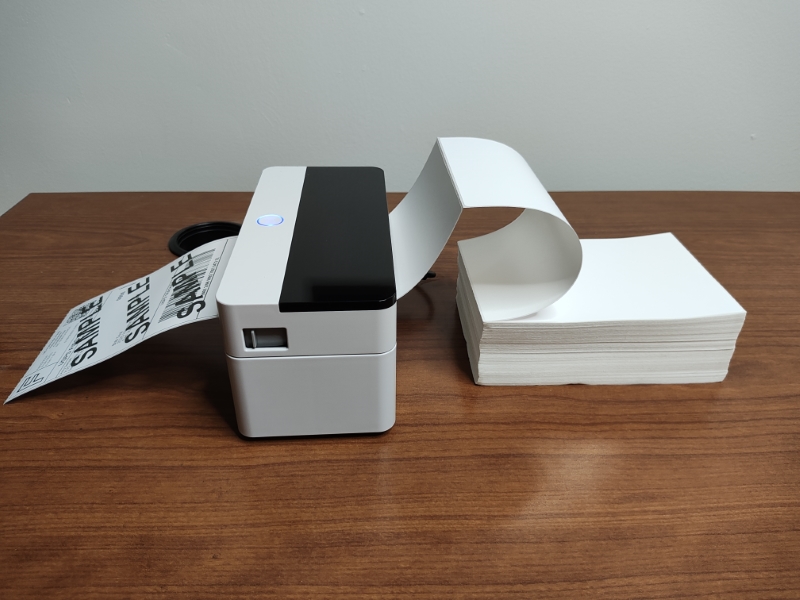 Perhaps the most notable aspects of the printer is that it supports Bluetooth for wireless printing, as well as companion apps for customization.
Setup
I always get a bit nervous when I get something out of the box that is meant to connect to my computer, and the only way to install drivers for it is to use the USB thumb drive that's included in the package.  BPXX does not have a website.
Two problems with this: one, I have no idea what's on this thumb drive or what it's going to do when I put it in my computer.  Second, there is a strong chance this driver has never/will never be updated if their delivery method is exclusively a USB.  I can appreciate there may be times when dealing with commercial equipment that are not expected to have access to the public internet where this makes sense, but this doesn't feel like the case here.  It's 2023, and I am stereotypically reviewing a printer with driver issues.
In any event, the USB drive was corrupt so I couldn't actually do anything with it anyway.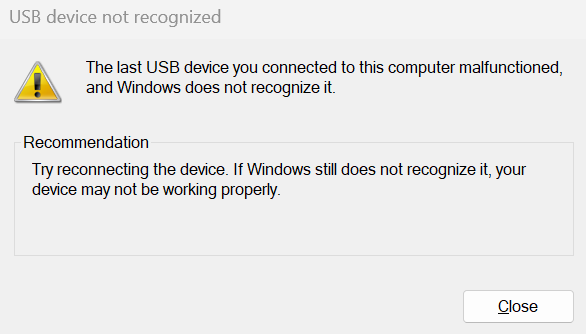 Unfortunately, there was no response from a help request raised at the website referenced in the BPXX quick start guide.  With some Google-fu I managed to find a driver that worked on Windows.  It seems the BPXX is one of several brands with a printer that is based on the 4B-2054N driver.  I suspect the BPXX version of the driver had some magic in it to make the Bluetooth work on PC, as it was the only feature that seemed missing from the generic driver.  Oddly my Windows PC didn't see the printer at all on Bluetooth, despite it being visible from my phone.
On a mobile device the 4Barcode app is required, while my phone could see the printer on Bluetooth it couldn't actually connect to it outside of the app.  The app experience is… not great, not terrible.  It's intuitive enough to navigate without much fuss, but is lacking some UX polish.
Performance
With the setup out of the way and the printer connected, actually using the printer is straight forward.  The printer displays in your list of printers like any other.
Out of the box, I immediately tasked the printer with printing a batch of 30 labels.  I wanted to validate the speed claims, and additionally I wanted to see if the printer would have any issues maintaining quality between the first and final print.  The BPXX thermal label printer ripped through the thirty prints in 31 seconds – which is pretty accurate to the one page per second claim.  I could not see any quality issues between the first and final, though in general I could tell I'd need to dial in the margins a bit.
I ran two other 30 batch tests and all came out without issue.  No jams, and no strange print artifacts on any of the labels.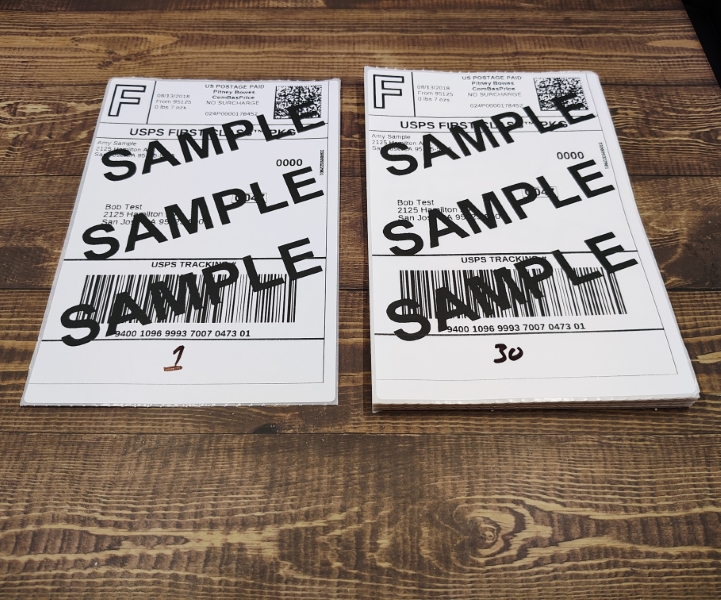 And here is a sample that is as well dialed in as I could manage: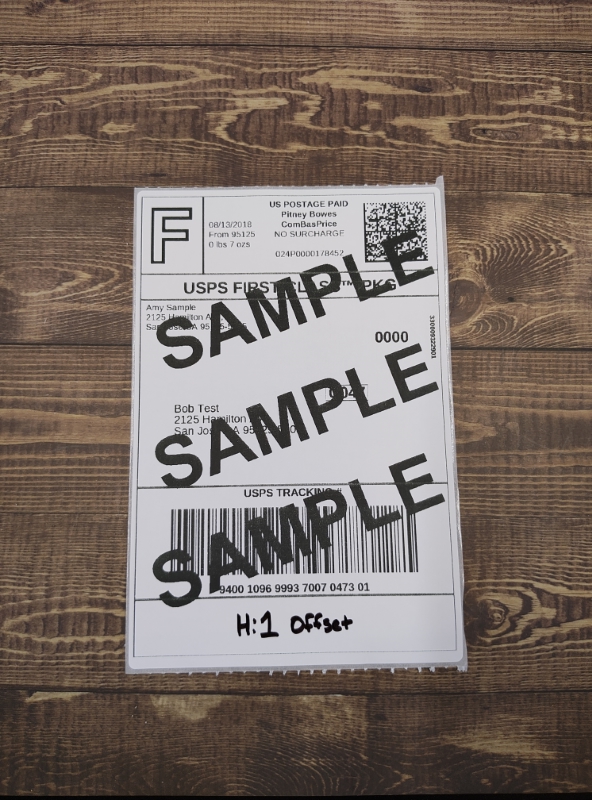 On the mobile app side, the 4Barcode app has a couple of main features.  The first is the basic ability to print from a .pdf, and this works pretty well.  There are various options to make adjustments on the fly to a given print.
You can also configure a preset label template, which is equally helpful in dialing in the settings for common prints that you will be making.

From a performance perspective, the BPXX produces good quality thermal label prints, and does it fast without much hassle.
What I like
Small footprint
1 page/second label printing
What I'd change
Driver delivery
After sale support
Power brick is comically large relative to the printer size
Final thoughts
The BPXX thermal printer produces good quality thermal prints, and it does it fast.  The companion mobile app works well enough, but that's about where the praise for this device ends.  I can't look past the physical delivery of drivers as the only option for computer setup, and the unresponsiveness from the manufacturer for support.  For those reasons, I would look elsewhere for a thermal printer.
Price: $99.99
Where to buy: Amazon
Source: The sample of this product was provided by BPXX.