We use affiliate links. If you buy something through the links on this page, we may earn a commission at no cost to you. Learn more.
REVIEW – Watching a billion-dollar movie on a six-inch screen is almost a crime. Yeah, I've done it too, but I'm not proud. Still, I'm unwilling to lug a chunky projector when traveling. The solution: The Elephas A1 Portable Video Projector fits into a pocket for big-screen video thrills on the go!
What is it?
The Elaphas A1 projector is a small, rechargeable device that projects wireless or USB video, music, text, and still image content onto a wall or screen.
What's in the box?
Elaphas A1 projector
USB-C charging cable
Power adapter
HDMI cable
Remote control
Tripod
Storage case
User manual
Quick start guide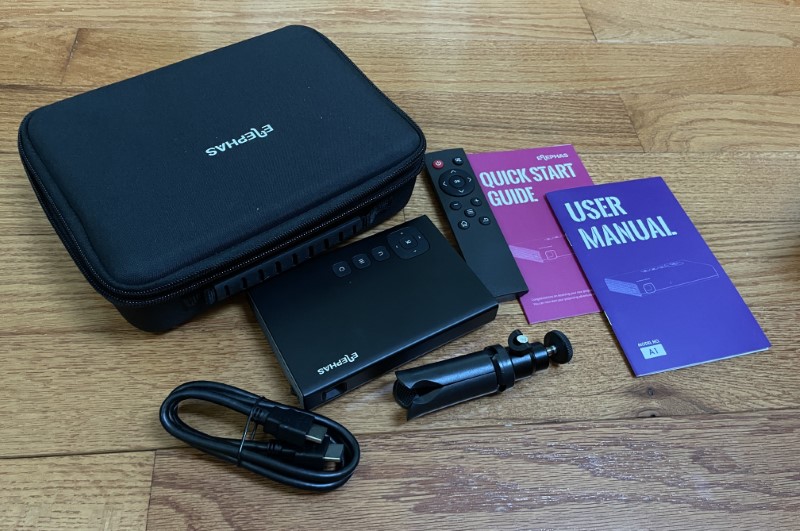 Hardware specs
Model: Elephas A1
200 ANSI Lumens
1080P, 1920 x 1080 resolution, 16:9 aspect ratio
RGB LED
Up to 114-inch image
Projection distance: 1.09 to 10.93 feet (1.64 to 8.33 ft recommended)
Projection modes: Front, rear, and ceiling
Speaker: 1 x 3 watts
Weight: 316 grams
Size: 5.82 x 3.85 x 0.82 inches
Built-in rechargeable 3500mAh battery, up to 2.5-hour operation, can be used as a s power bank
Battery charge time: 2 hours
4 and 5gHz Wifi support
iOs and Android-compatible
Bluetooth connection to external speakers supported
Automatic image correction up to 40°
USC-C power interface
USB-A interface for photos and videos
HDMI port
Power: 12volts, 2 amps
1/8-inch (3.5mm) audio output jack
Design and features
The Elaphas A1 projector arrives in an elegant box.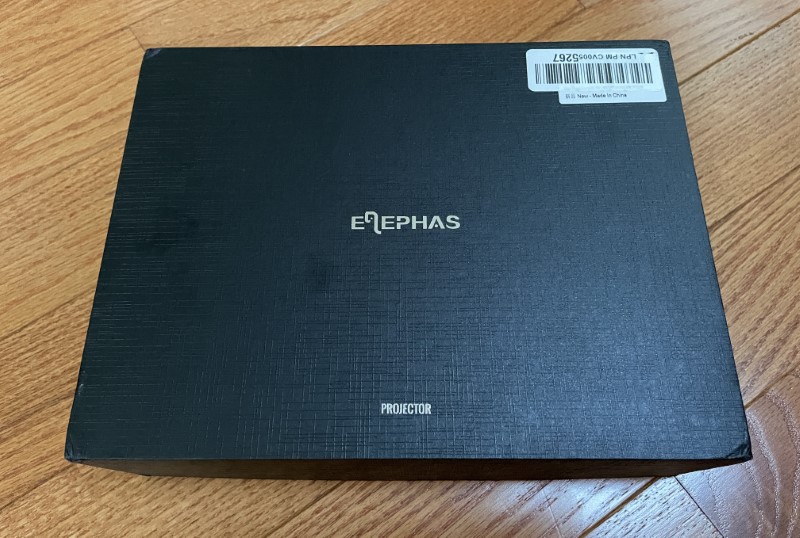 I love it when the storage case is included! This one is semi-rigid and made of heavy ballistic nylon.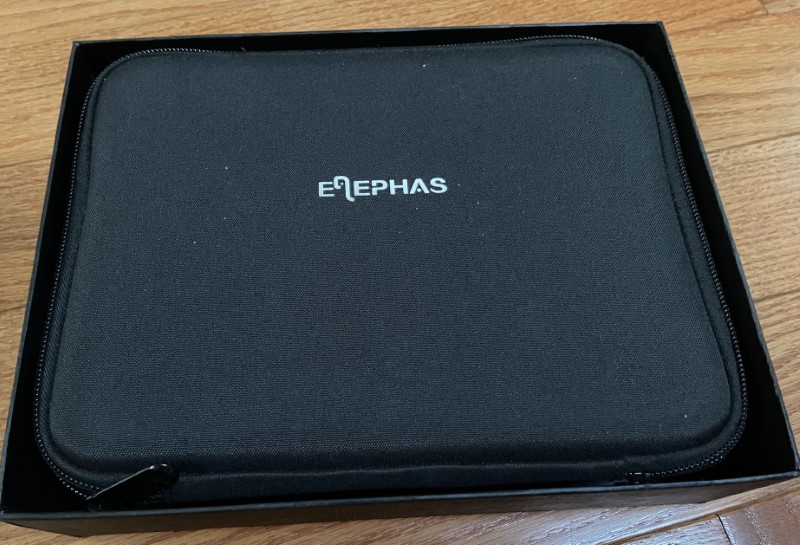 Inside are fitted compartments for the projector, cables, tripod, and remote. My sample was missing the USB-C cord and power supply, but I have others I can use.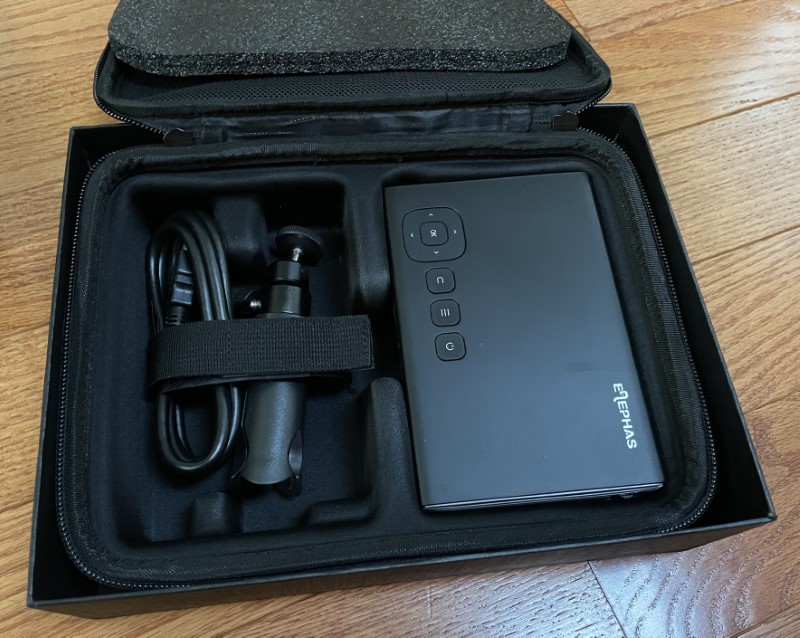 I was immediately struck by how small the Elaphas A1 projector is. It's pocketable! Here it is next to a dollar bill for scale. Slick!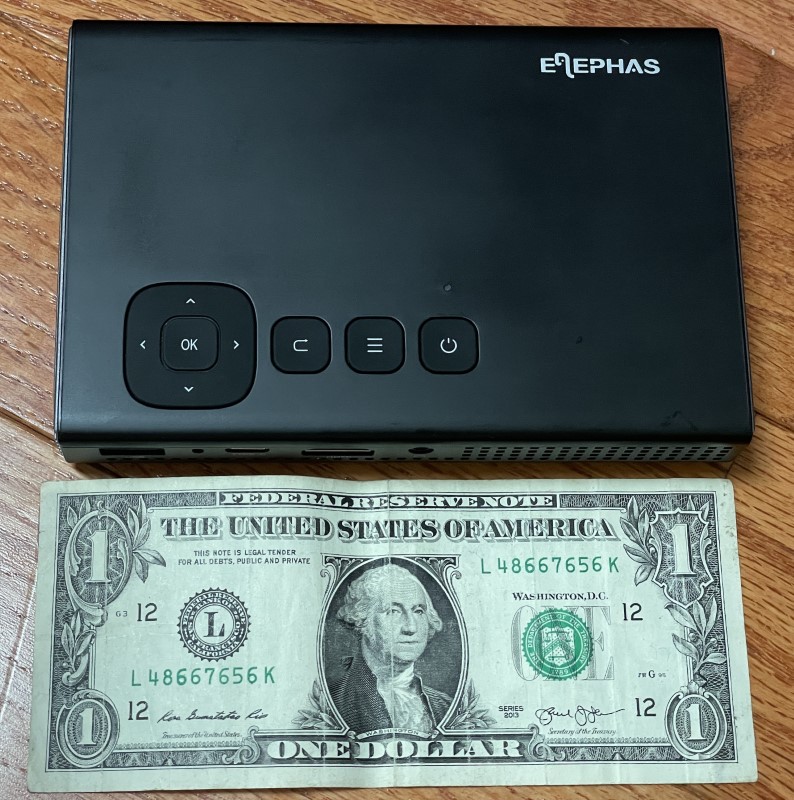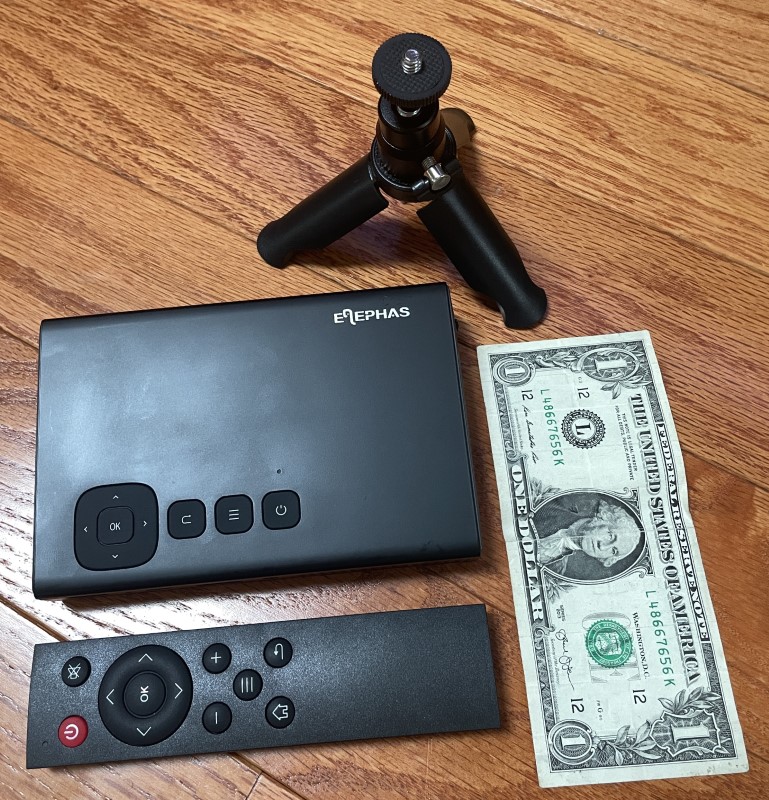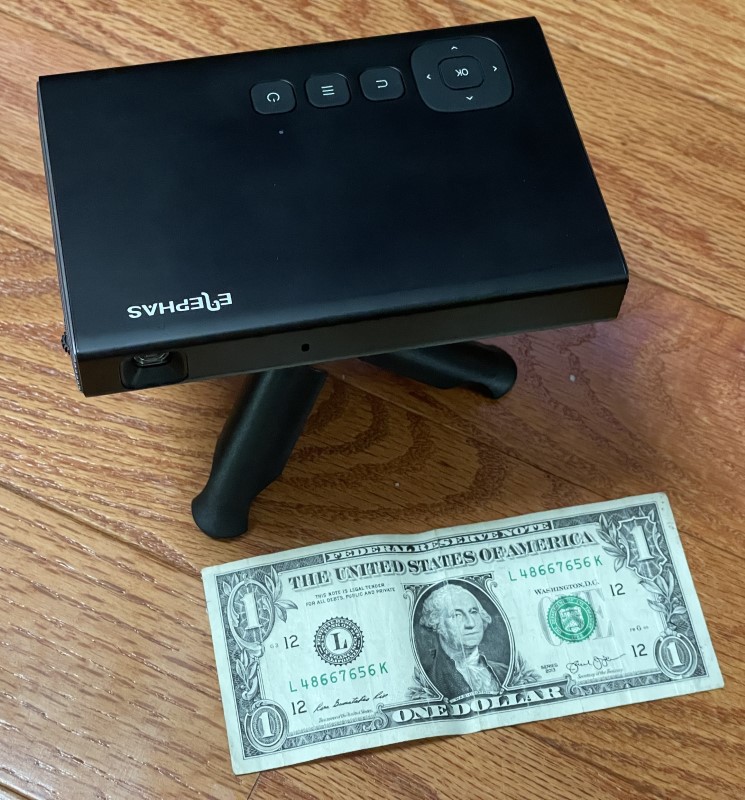 The top of the projector sports power, menu, back, and cursor keys.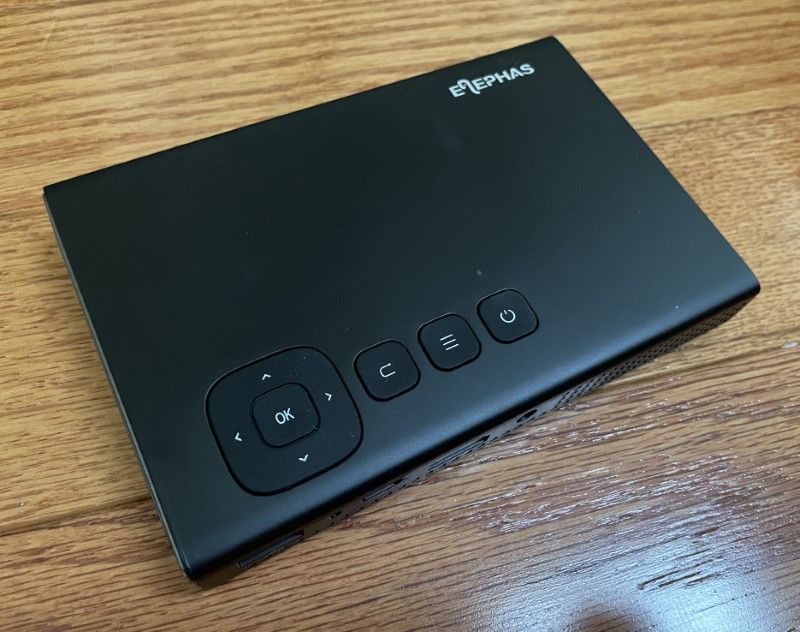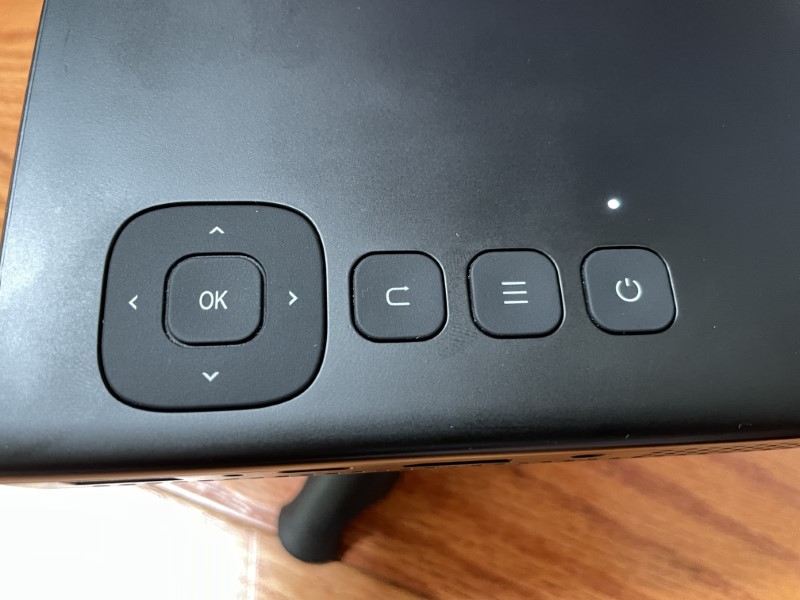 On the back are USB-A and C ports, an HDMI connector, and a 1/8-inch stereo audio jack.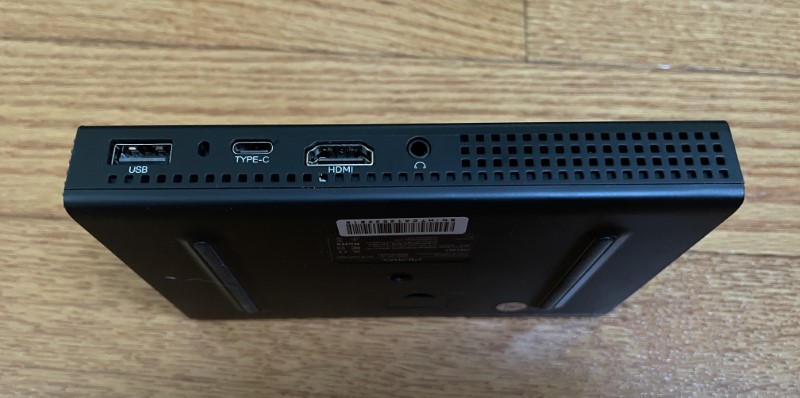 The sides have openings for the speaker and cooling fan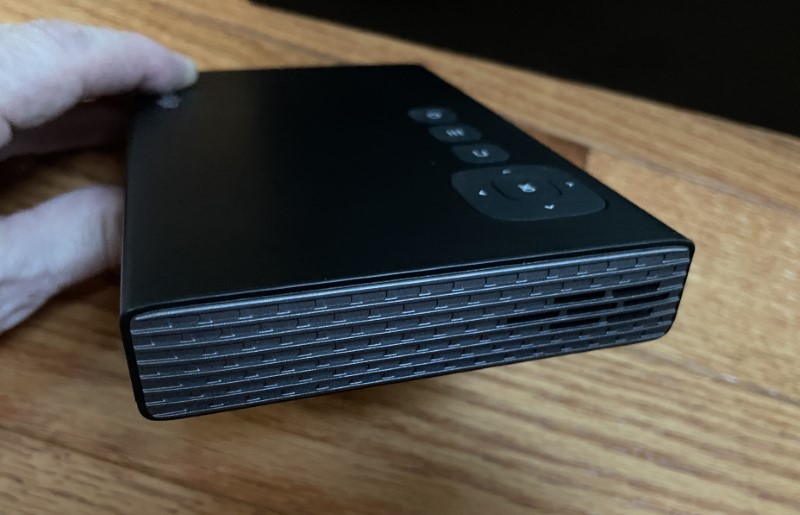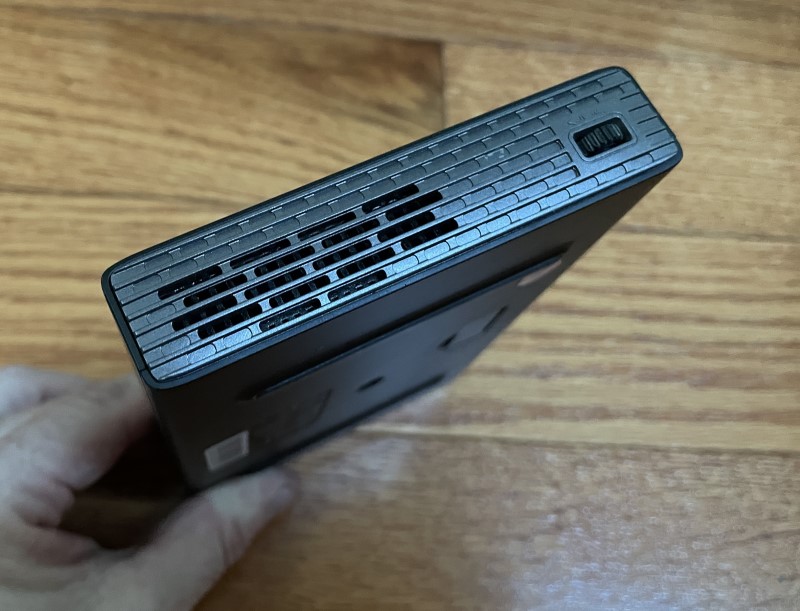 The Elaphas A1 projector's focus knob is towards the front on the right side.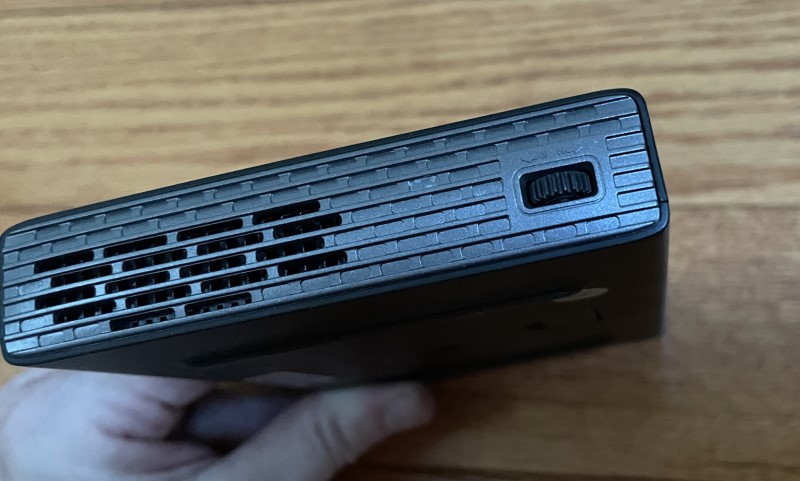 The bottom is equipped with a small pop-up stand and tripod mount.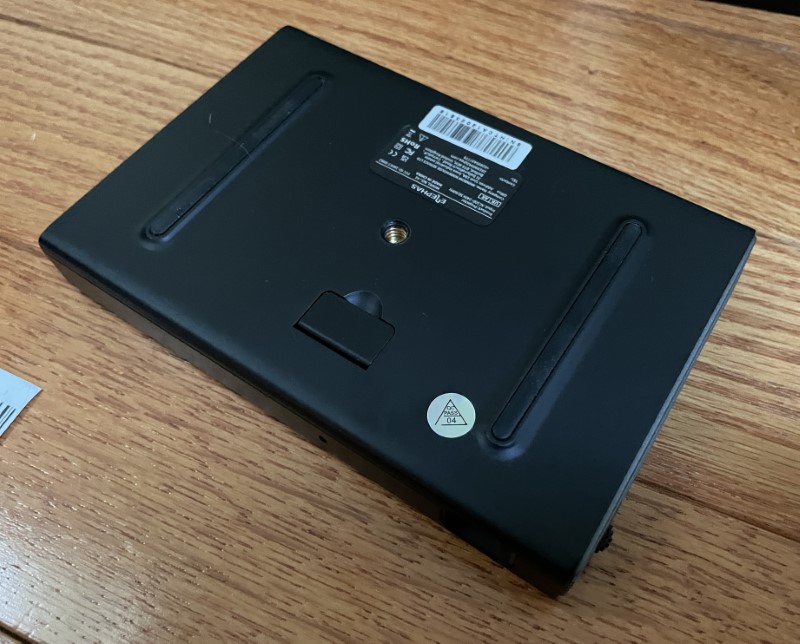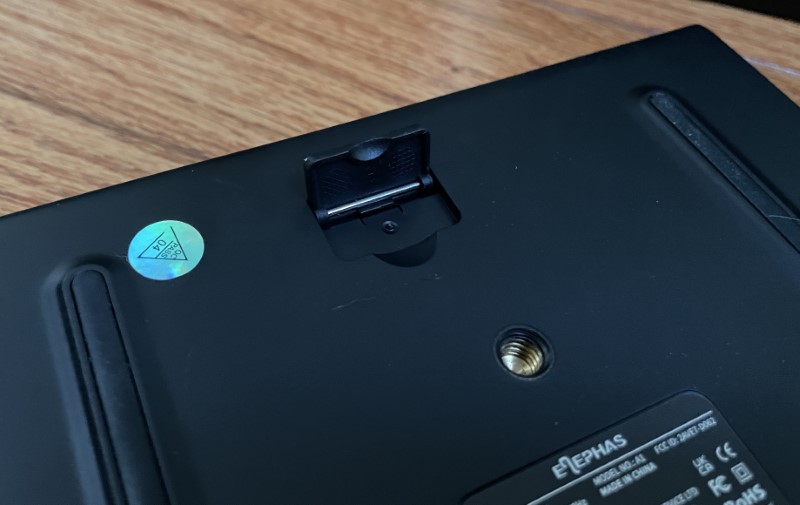 Elephas provides a small tripod to make positioning easier. I like it very much!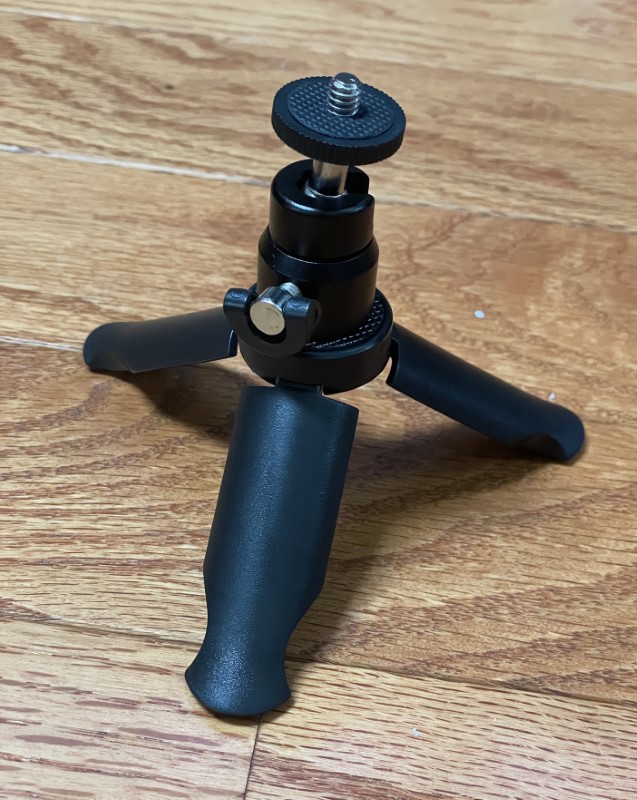 The tripod had no problems supporting the Elaphas A1 projector's diminutive size.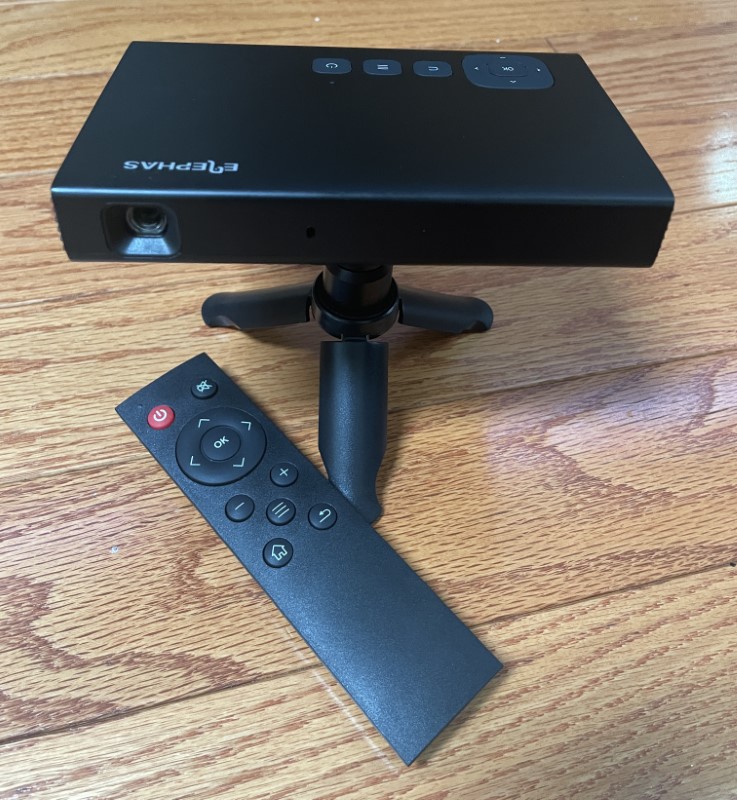 The A1's lens is located on the face.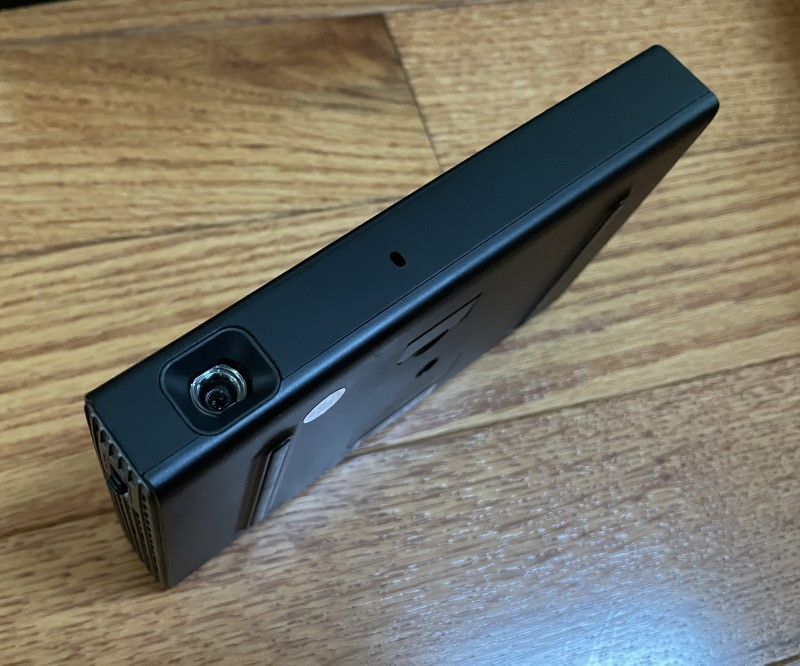 It takes about two hours for the A1 to charge fully. An LED adjacent to the power button provides status.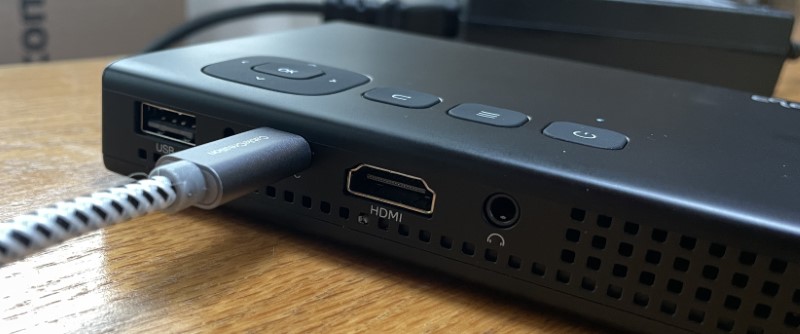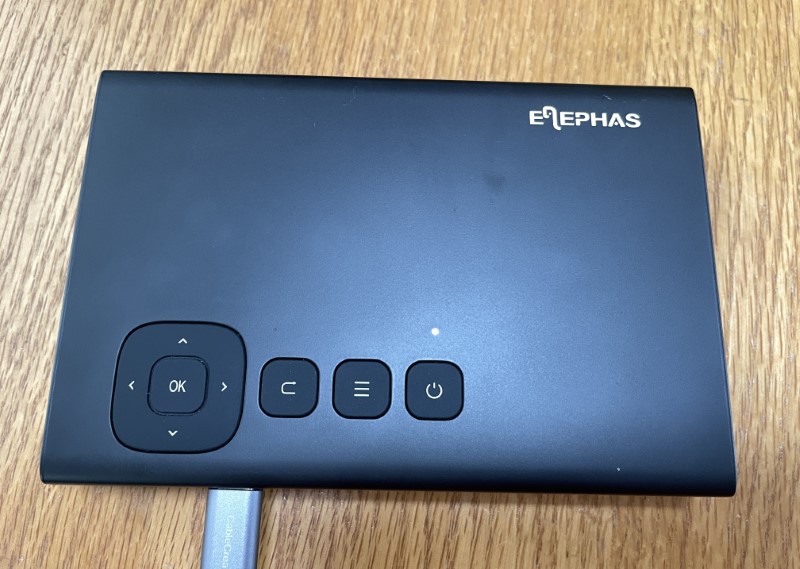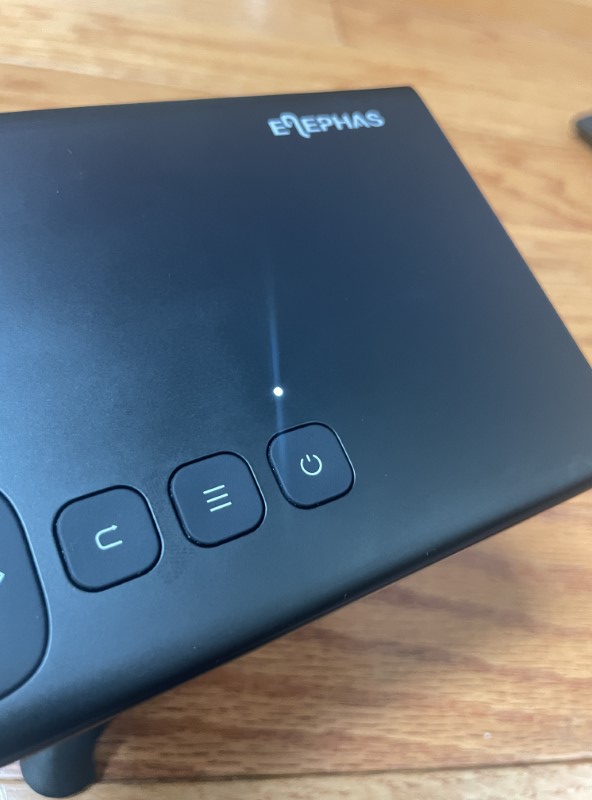 The included infrared remote has power, mute, volume up and down, menu, home, back, and a set of cursor control buttons. A pair of AAA batteries is required.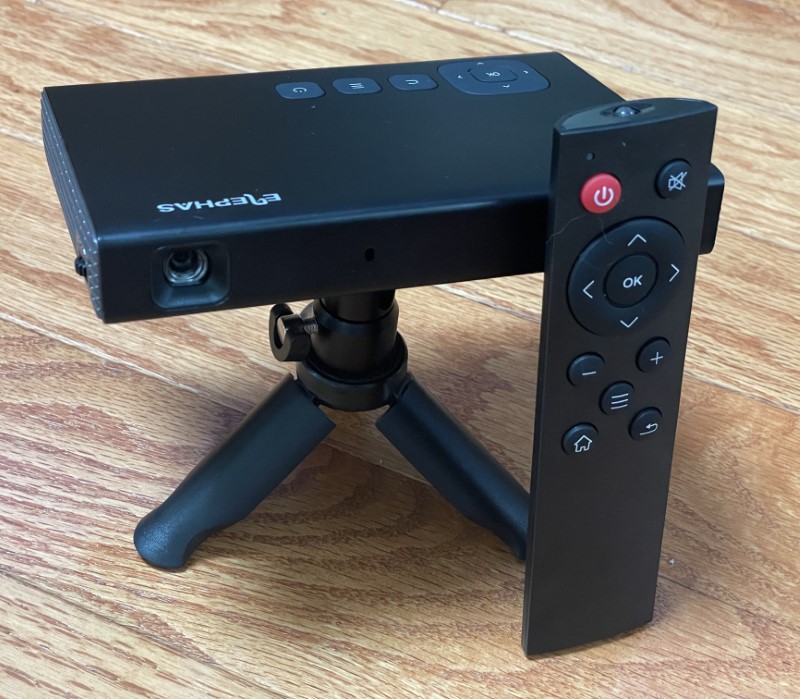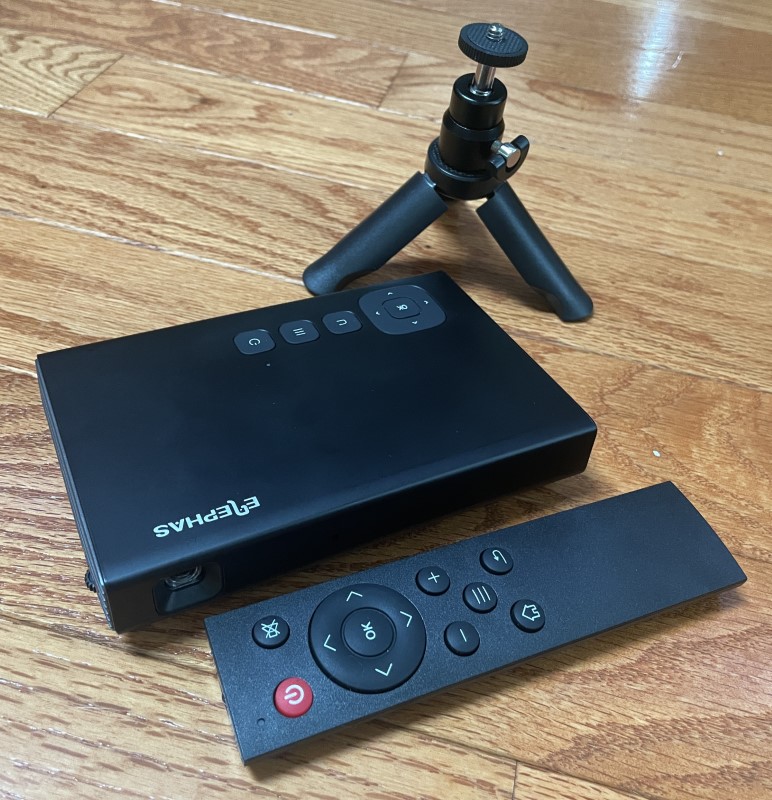 Pressing the power button for two seconds brings the A1 to life starting, with the Elaphas logo screen.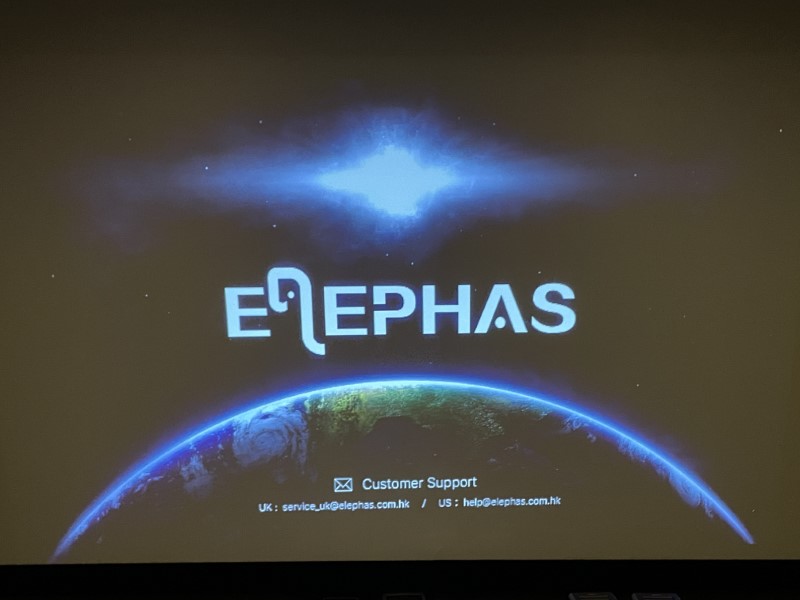 Tada! The main menu starts with options for setup, input, and screencasting for movies, music, photos, or text c content from a USB stick.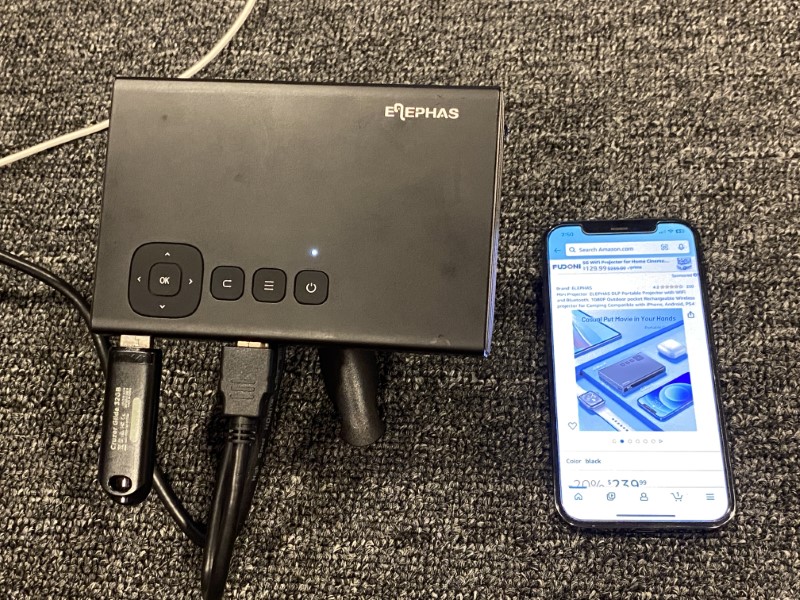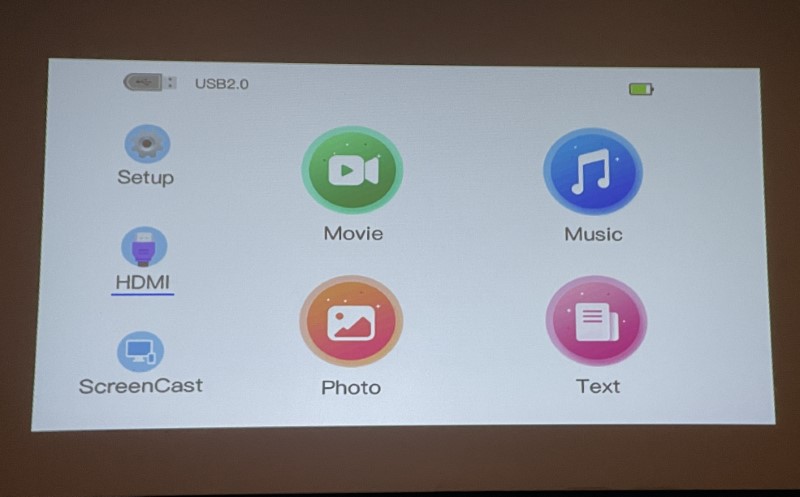 Navigating contents is easy using the cursor keys, OK, and the "Back" button. Files can be organized into directories to make perusal effortless. Be sure to open the correct file type – if "Movie" has been selected, only videos will be selectable.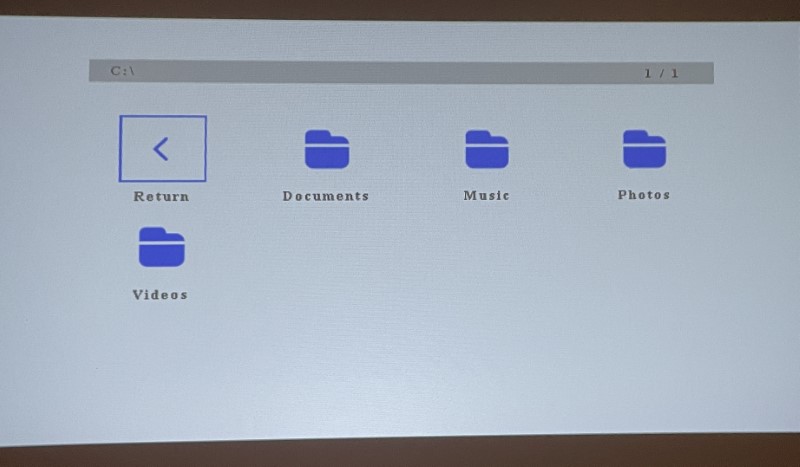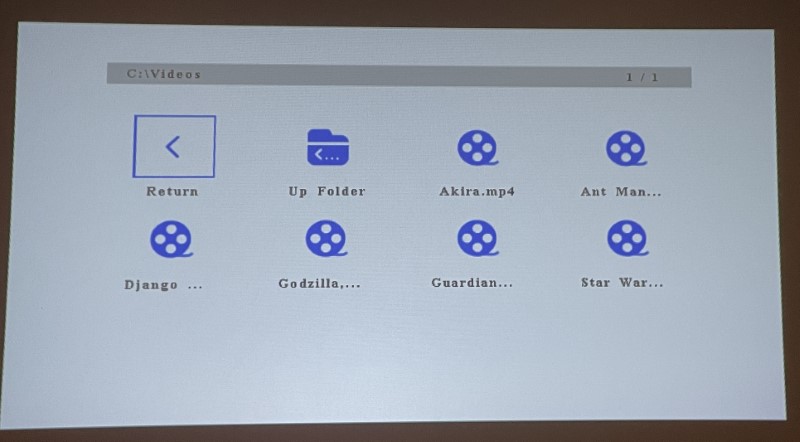 Long file names are truncated. I would have liked to have a mechanism to see the entire file name (scrolling text, larger icons, etc.) to make identification less cumbersome. For example, my music library filenames contain include artist, album, track number, and track name. With only the artist's name showing, finding an individual tune is challenging.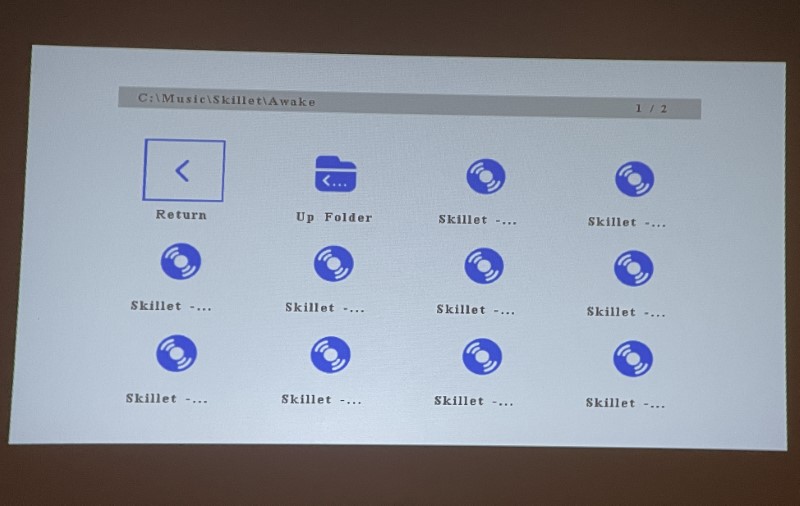 The Elaphas A1 projector supports the following file formats and codecs: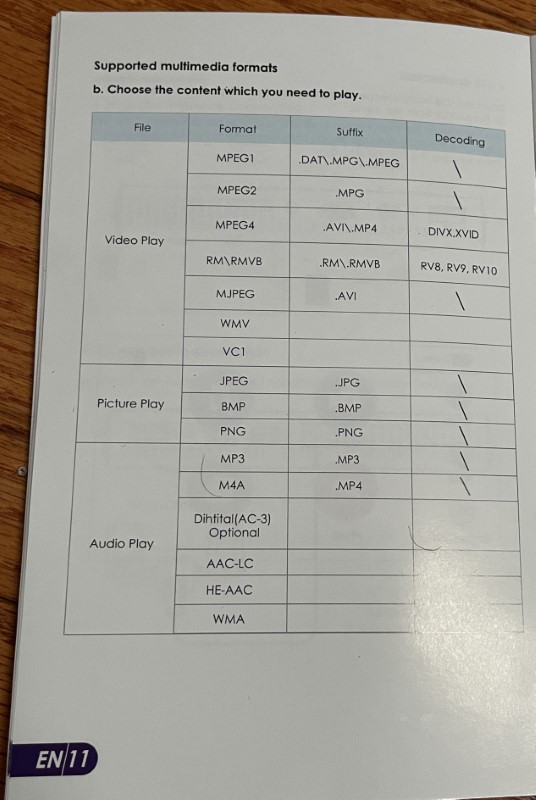 The setup contains options for the picture mode, brightness, aspect ratio, keystone correction, projection mode, and image scale.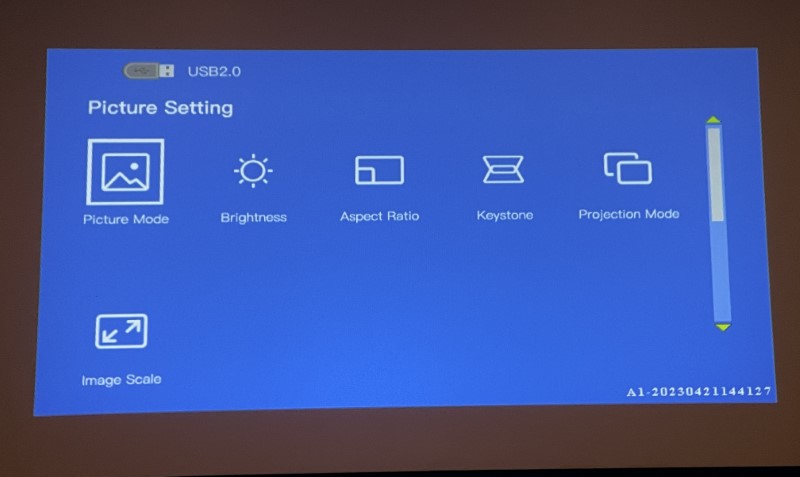 Language, factory restore, firmware upgrades, Wi-Fi, and Bluetooth configurations are on the following page.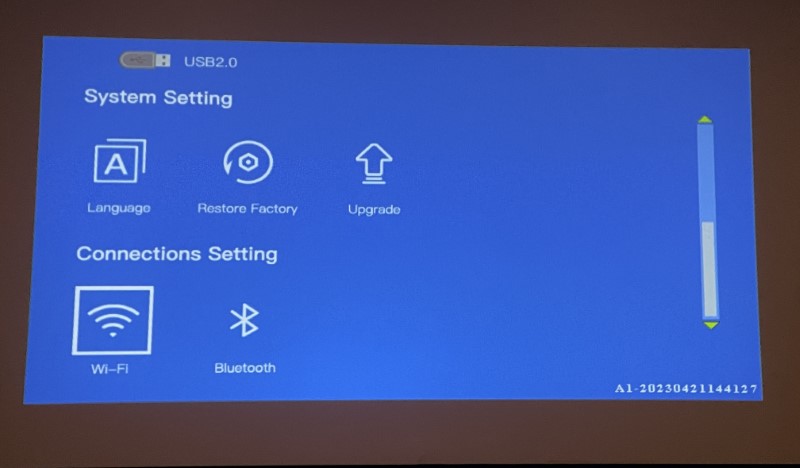 Picture mode configures the Elaphas A1 projector's image parameters. Pre defines modes for Vivid, Standard, and Soft as well as User-defined preferences for contrast, brightness, color, and sharpness.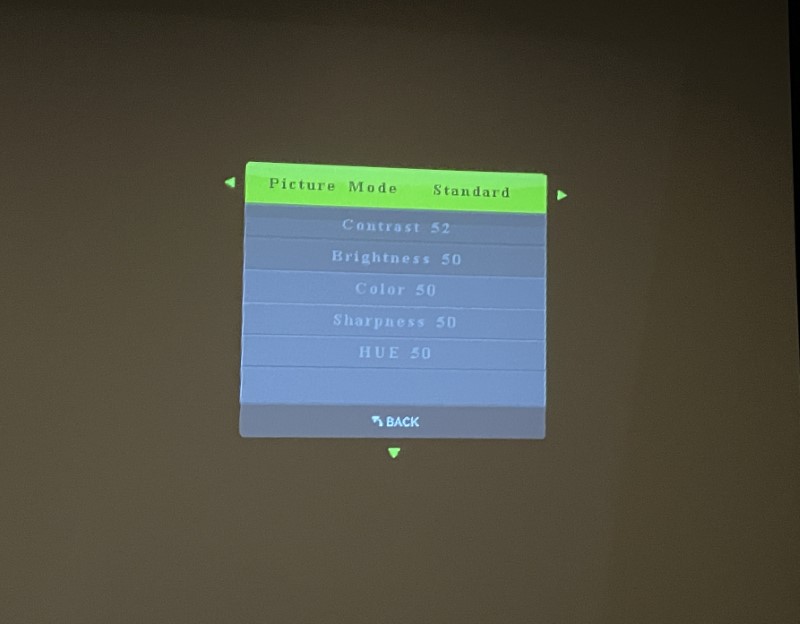 Brightness can be set to Normal or a little brighter Highlight mode.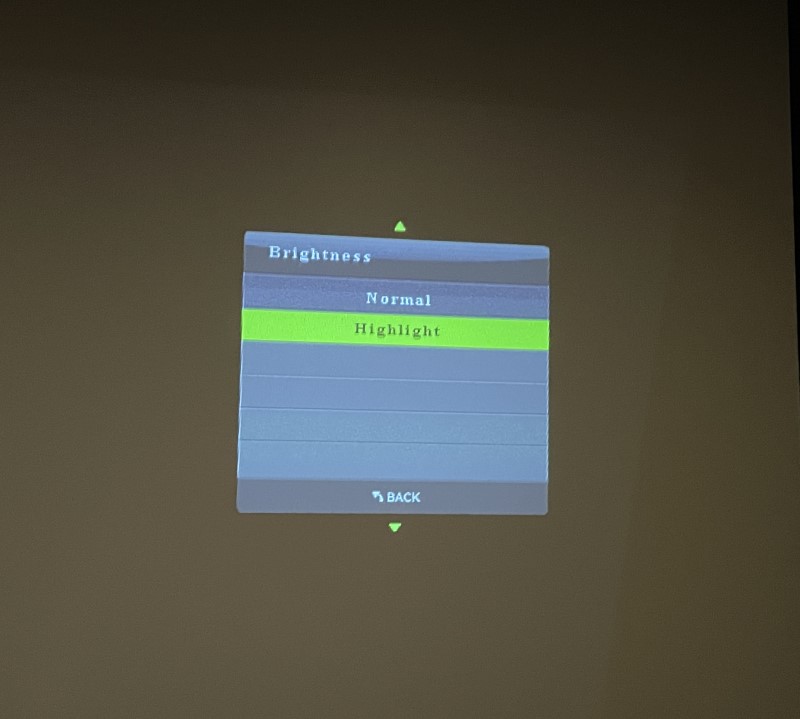 Aspect Ratio configures the projector to automatically adjust, or set to 4:3 or 16:9.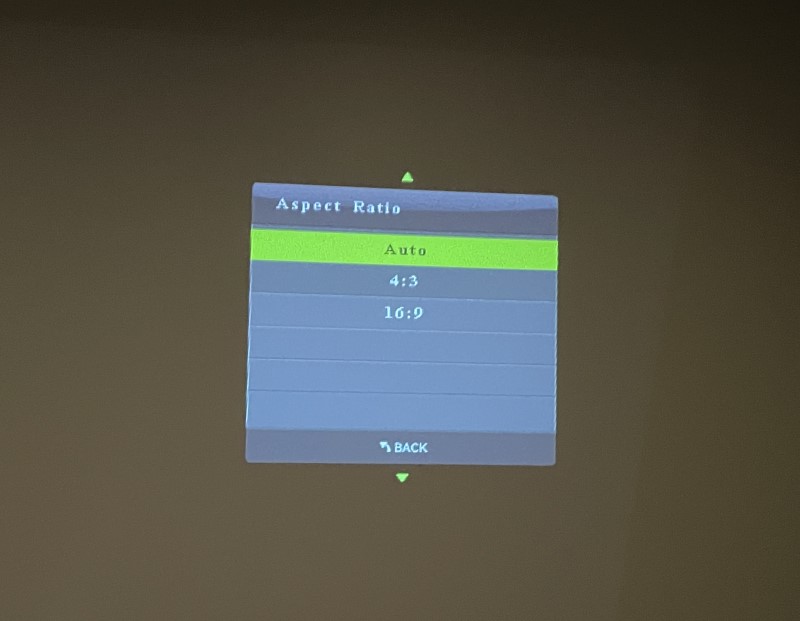 By default, automatic keystone corrections are enabled but can be manually adjusted if desired. The automatic mode worked efficiently and quickly, making changes within a few seconds of moving the projector.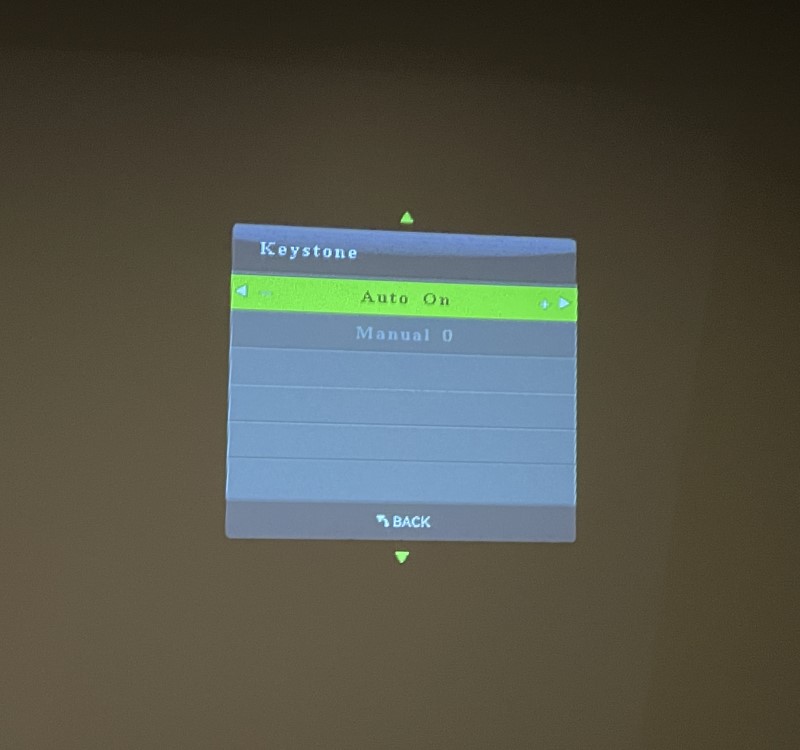 Projection modes include options for front, rear, ceiling, and rear ceiling orientation.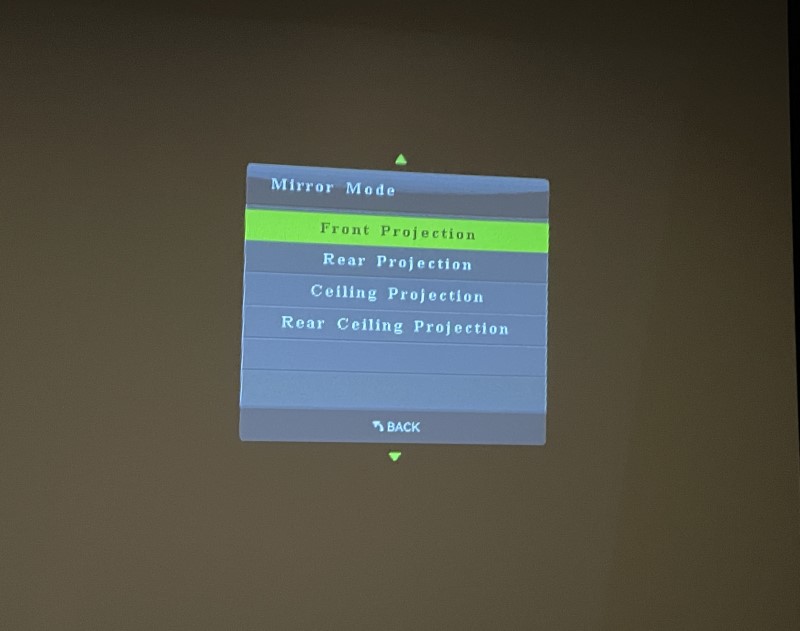 Image Scale digitally decreases the image size in situations when the image is a smidge larger than the screen.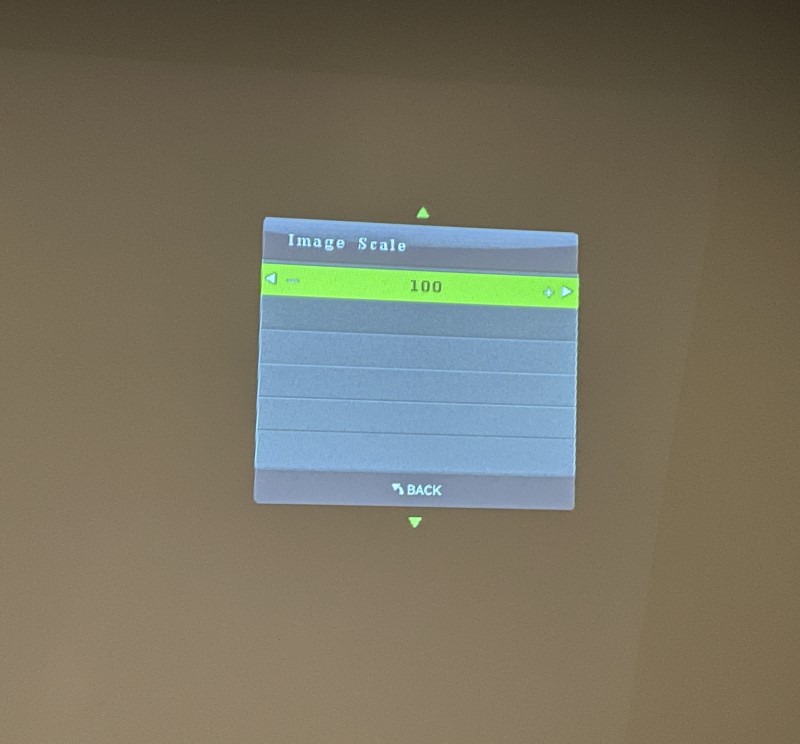 German, French, English, Japanese, and Spanish menus are available. Franais? Espaol? Did they run out of characters or are these typos?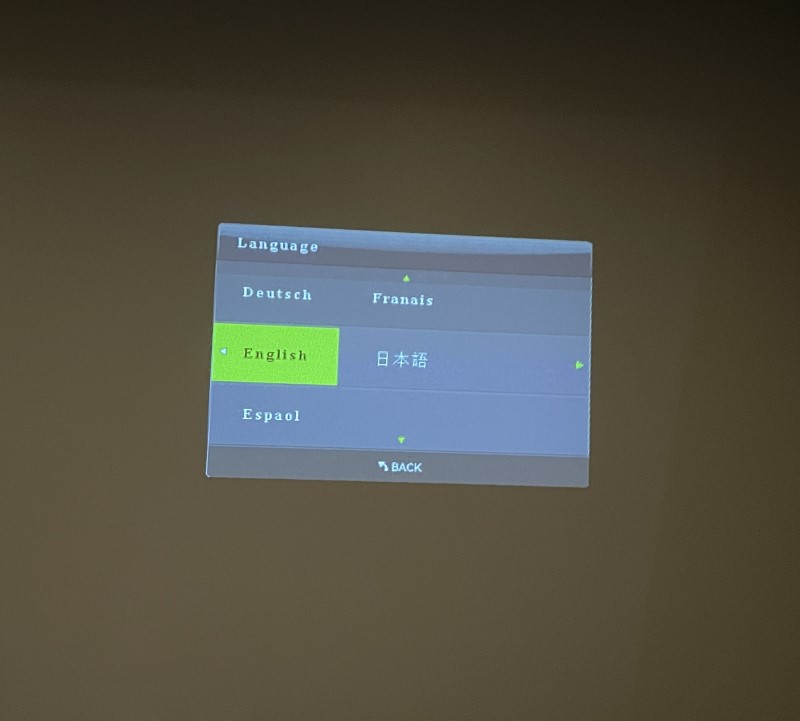 Opening the Wi-Fi configuration performs an automatic search of routers in range, required for wireless screen sharing. Entering the password is done via an on-screen keyboard.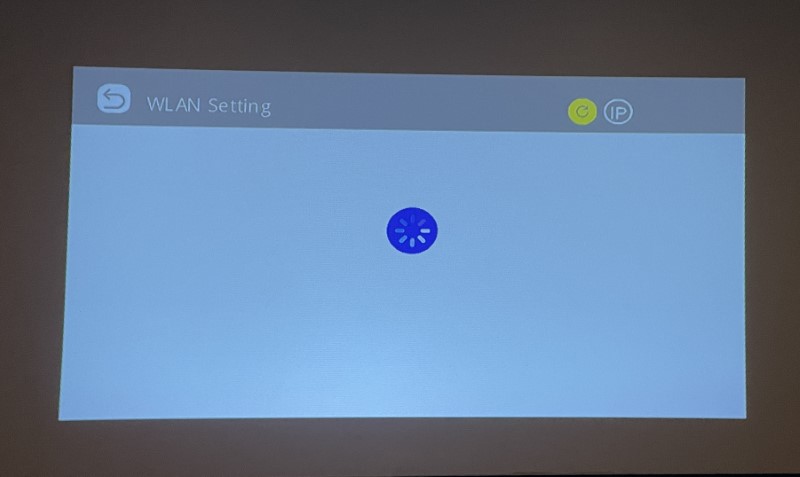 I was able to connect my iPhone 12 Pro to the Elaphas A1 projector and play videos without difficulty. It's worth noting that many streaming services prevent screen sharing due to content copyrights. Should streaming be your goal, a device using HDMI would be the best bet.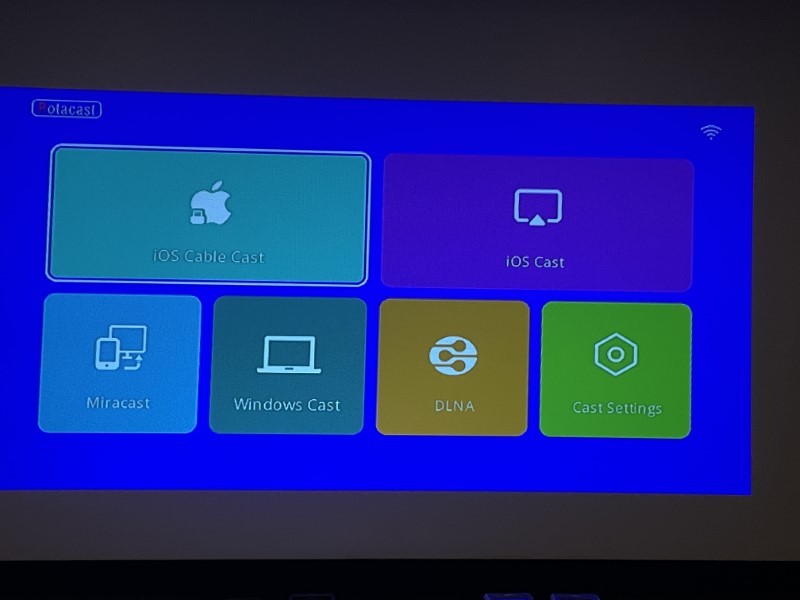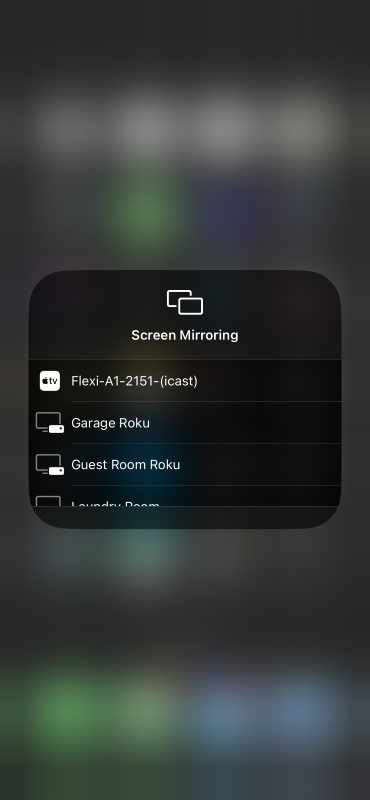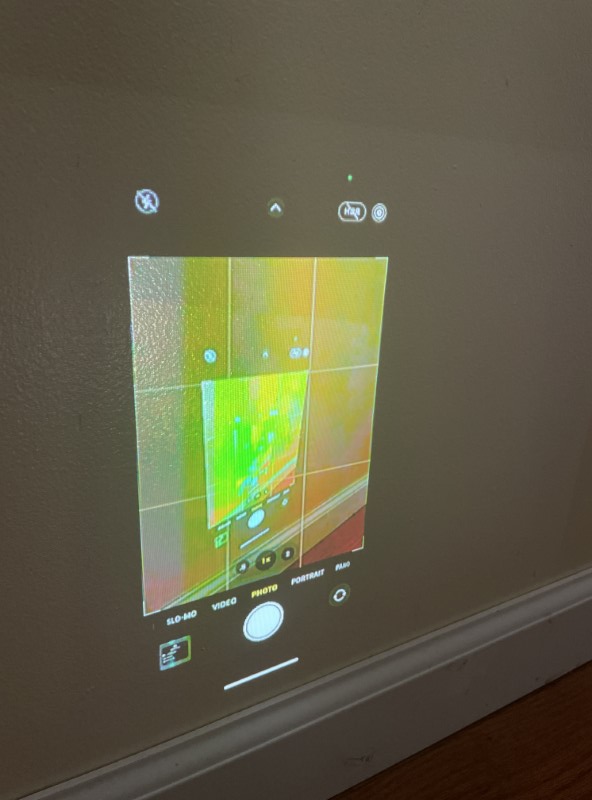 No Wi-Fi connection? That's no problem for the Elaphas A1 projector using "iOS Cable Cast" and a charging cable. A "Trust this computer" message pops up and a quick clicking on "Trust" starts screen mirroring. Cable mirroring is a huge plus in my book! I've been stranded in hotel rooms with my phone packed with movies and time to kill, but unable to connect to a finicky TV. Not needing a Wi-Fi connection and simultaneous charging makes the Elephans A1 a dandy travel companion! I've wanted to watch the "Alien" movies again for quite some time! Wooo!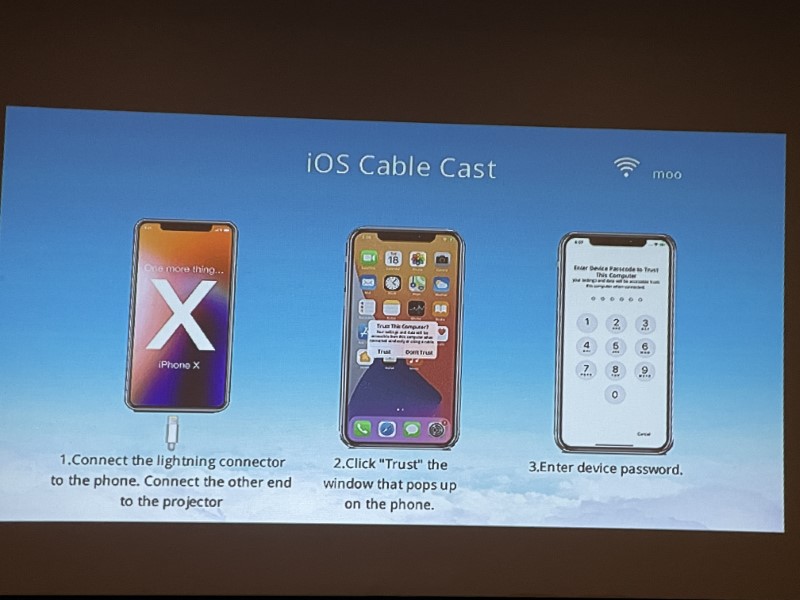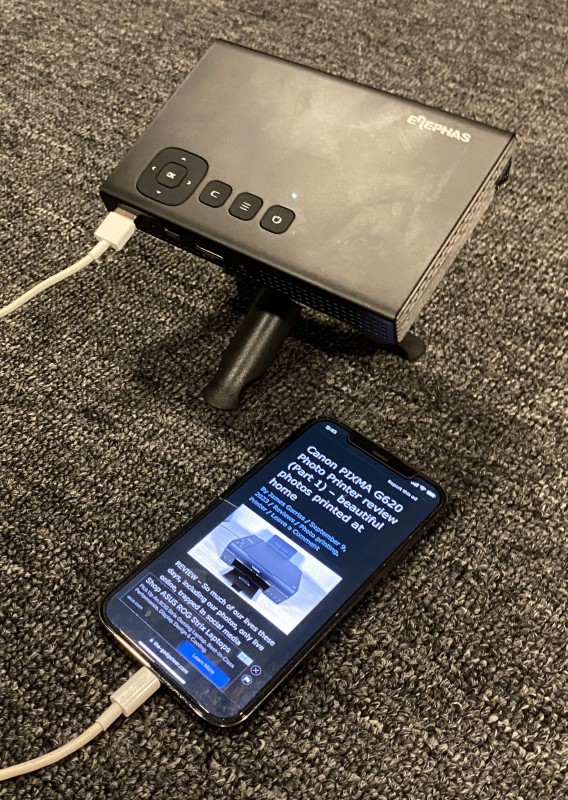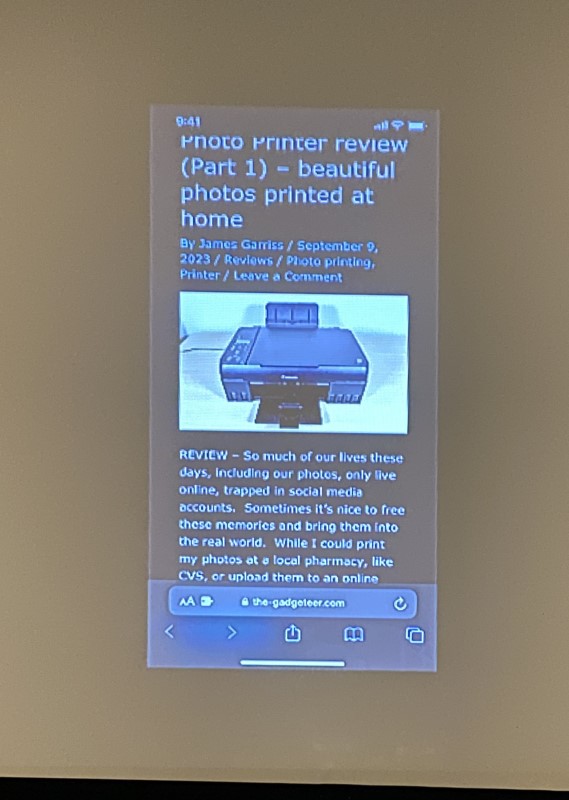 Of course, the A1 works very well with the HDMI port. I have a house full of Rokus so that was my test choice. HDMI video resolution is up to 1080P and very crisp. Image brightness is quite good at 120 inches and even brighter at smaller sizes.  For the best experience, ambient lights should be fully dimmed.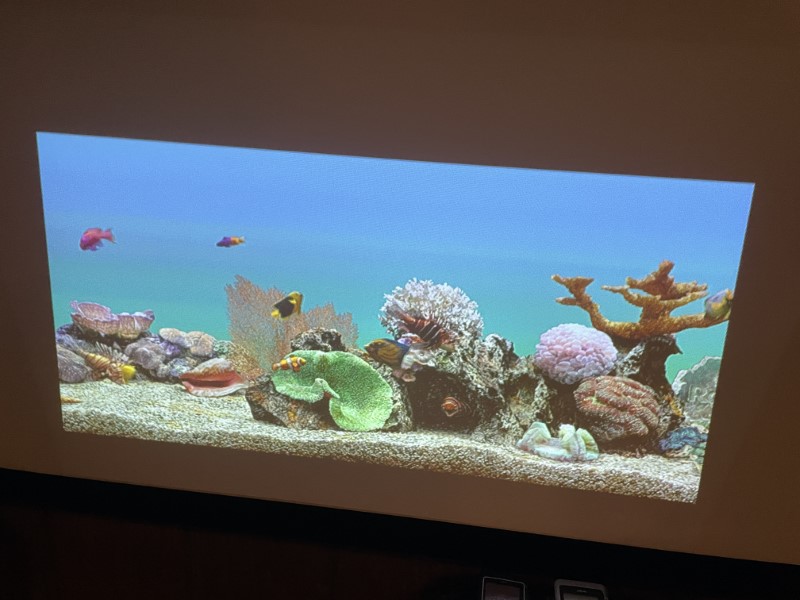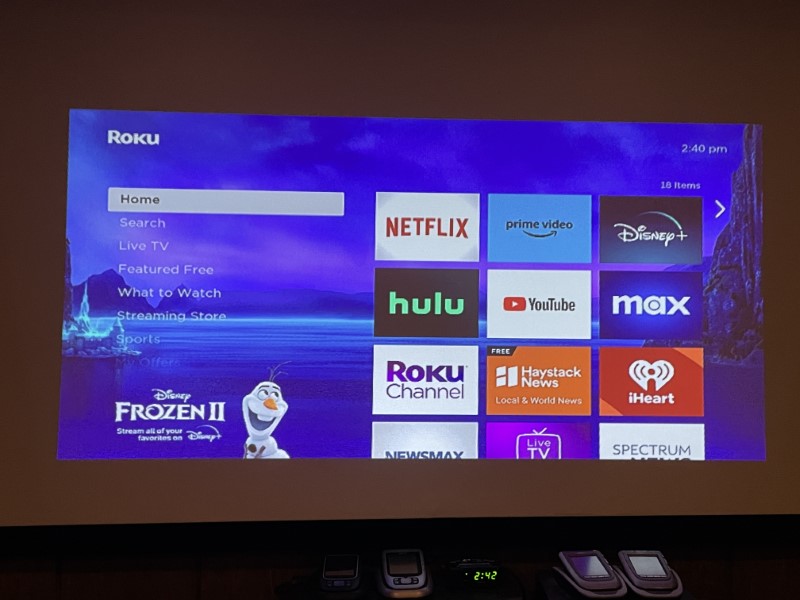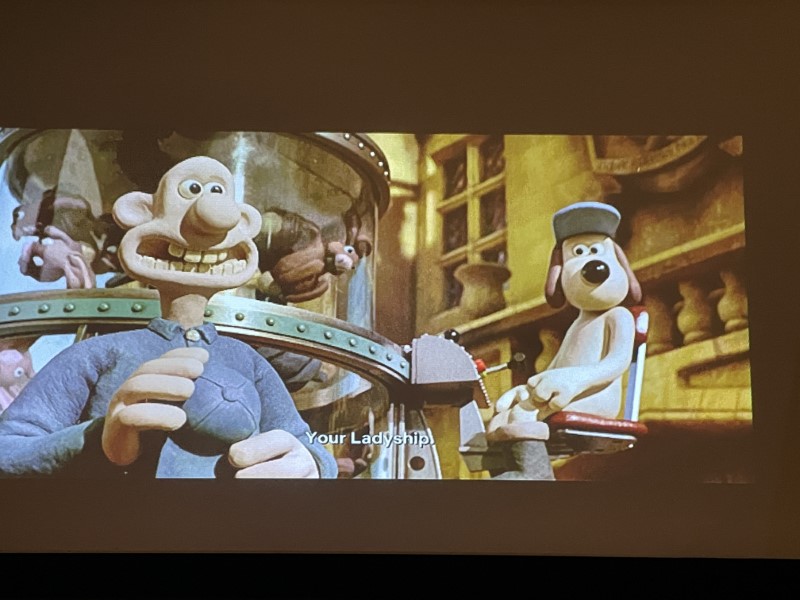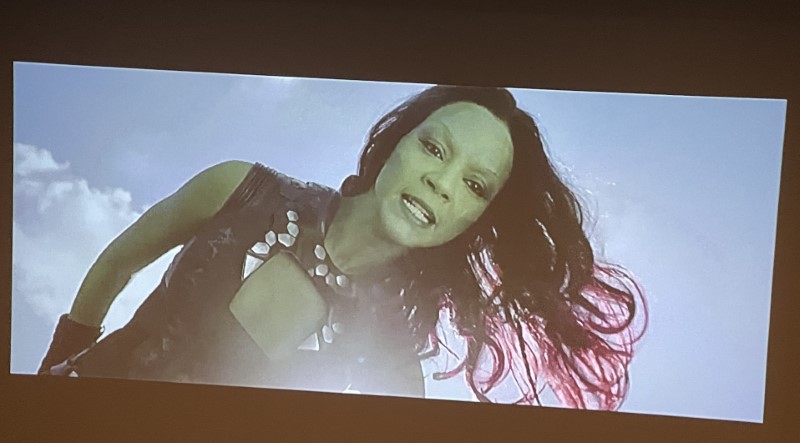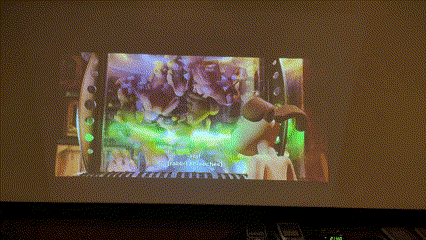 Clicking OK during USB playback opens a navigation menu.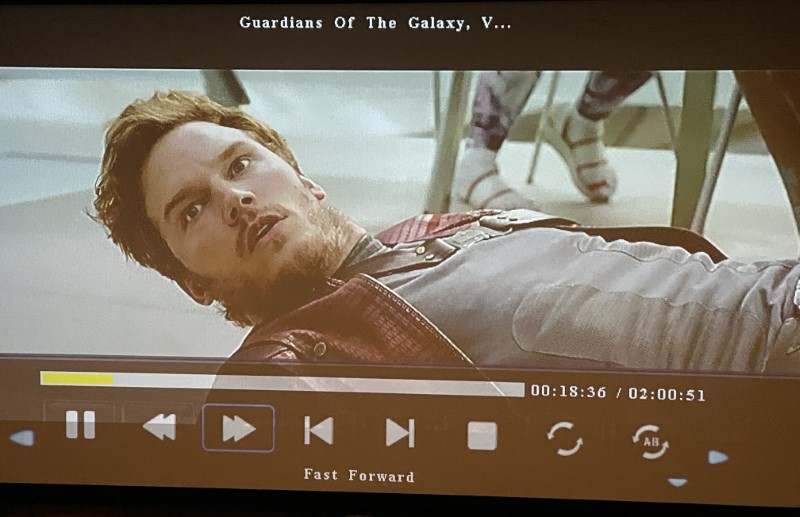 Music cover art is shown during playback.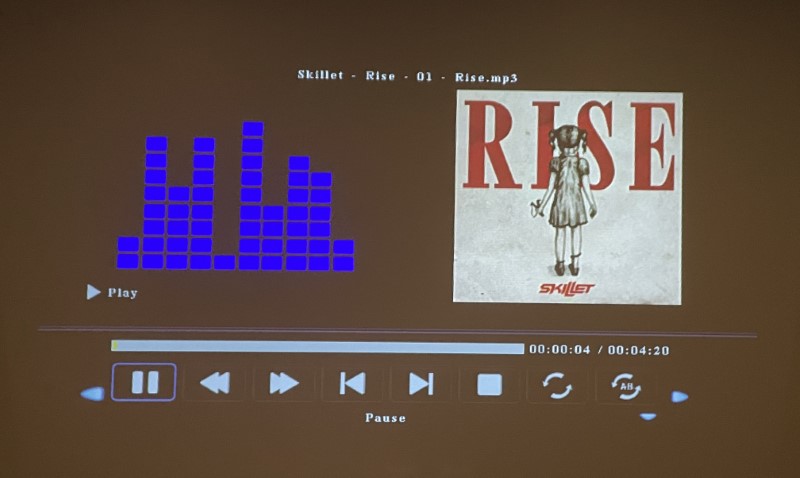 Audio through the tiny 3-watt speaker won't provide a thundering theater experience, but it's enough for camping or backyard drive-in movie time, office presentations, or desktop tutoring. If you need more, the A1 can connect through Bluetooth speakers or the 1/8-inch audio jack.
What I like
Very small, pocketable design
Uncomplicated, intuitive interface
Cable and wireless mirroring work well
What I'd change
Implement a mechanism to view complete filenames.
It would be great if streaming content worked, but I understand the copyright and licensing situation.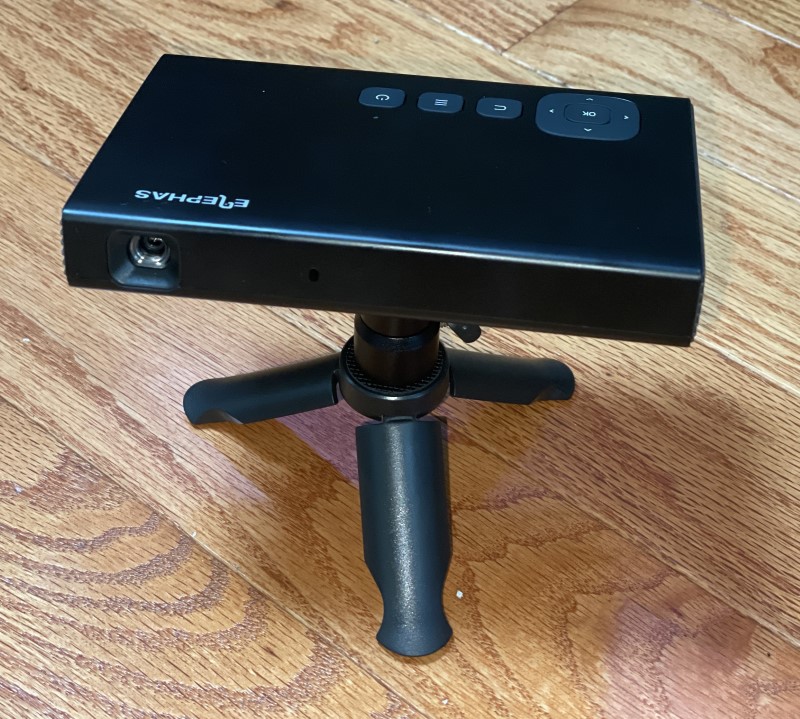 Final thoughts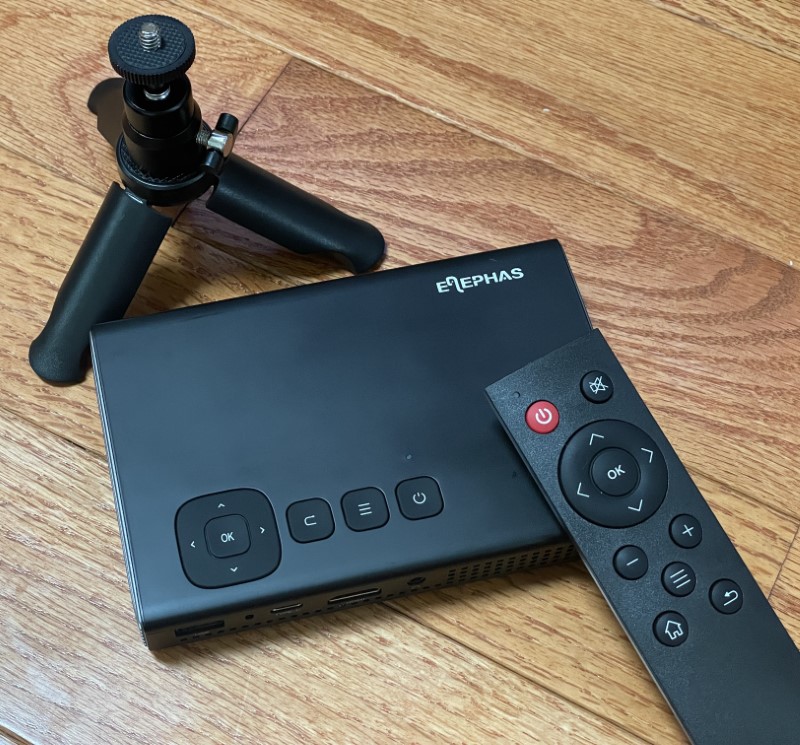 I started my obsession with video projectors in the '90s when they were expensive, clunky behemoths. I could not have imagined ever being able to fit one in my pocket! The Elephas A1 Portable Projector just does that, plus doubles as a power bank! It's easy to use, produces a capable image, and is ideal for satiating your movie appetite on the go! Thank you, Elephas!
Price:  $239.99
Where to buy: Amazon
Source: The sample for this review was provided by Elephas.