We use affiliate links. If you buy something through the links on this page, we may earn a commission at no cost to you. Learn more.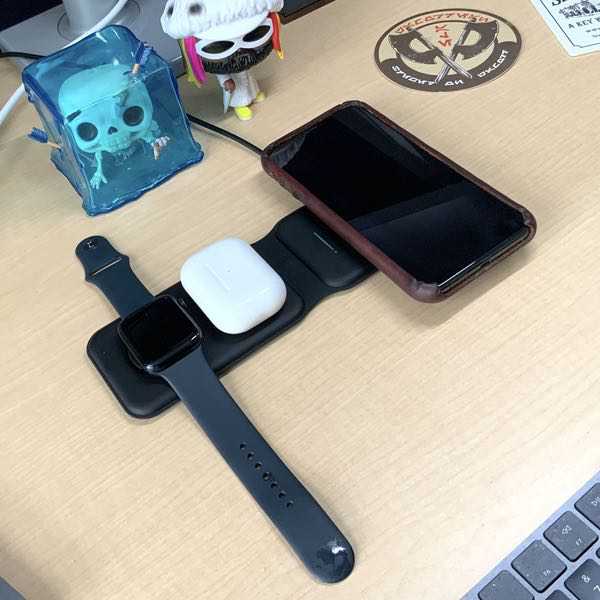 REVIEW – More charging with fewer cables! I loves me a charging station for optimizing spaces, and the INIU Magsafe 3 in 1 Wireless Charging Pan & Stand promises to do just that. If you're an Apple user you might find it ideal to get your watches, earbuds, and phones all powered up. To the review!
What is it?
The the INIU Magsafe 3 in 1 Wireless Charging Pan & Stand is a Magsafe wireless charging pad that allows you to power up your Apple Watch, AirPods, and iPhone simultaneously. It also works as a stand for your phone or your watch.
NOTE: this device is designed for newer Apple products. Please see the hardware specs below for a full list of compatible devices.
What's in the box?
You get the charging pad, a 40″ USB-C to USB-C power cable, and a USB-C power brick.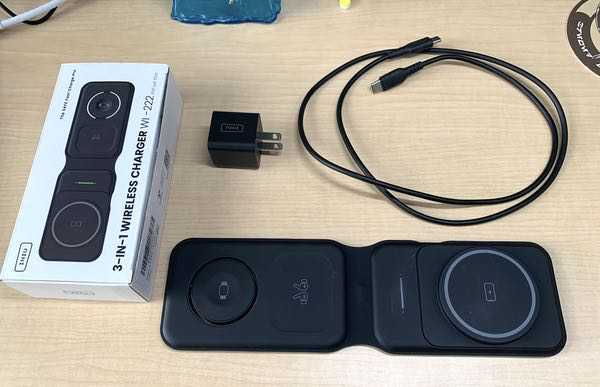 Hardware specs
Pad size is 9.5″ by 2.75″ by 0.5″ flat, or 4.75″ by 2.75″ by 1″ folded
Supports wireless charging for your phone, earbuds, and watch simultaneously
USB-C compatible
Input: 5V/9V/12V
Output: Phone:10W/7.5W/5W Earbuds: 5V=1A(Max) SmartWatch:5V- 500mA(Max)
Fast-Charge Protocols: QC/PD/AF
Charging Distance: 4mm(Max)
Compatible Phone Models: iPhone 14, iPhone 14 Plus, iPhone 14 Pro, iPhone 14 Pro Max, iPhone 13 mini, iPhone 13, iPhone 13 Pro, iPhone13 Pro Max,iPhone 12 mini, iPhone 12, iPhone 12 Pro, iPhone12 Pro Max
Compatible Smart Watch Models: Apple Watch 2/3/4/5/6/SE/7/8/SE 2/Ultra
Compatile Earbuds : AirPods 2/3/Pro/Pro 2 (AirPods 2nd Gen not compatible)
Design and features
Your INIU Magsafe 3 in 1 Wireless Charging Pad & Stand comes in a compact little package that's about the size of a wallet. I have it here next to my iPhone XS Max for a size reference. The build itself is a combination of durable plastic and rubberized surfaces.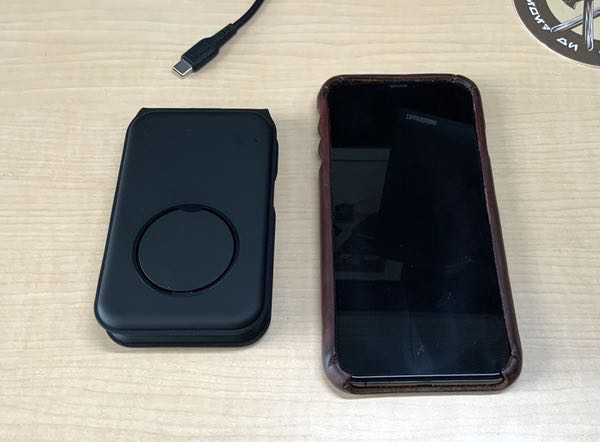 This folded side view shows you the USB-C port you'll use to power the device. You can fold it either way and some light magnets will keep it closed for easy packing in a bag or briefcase. The solid build feels tough enough for travel.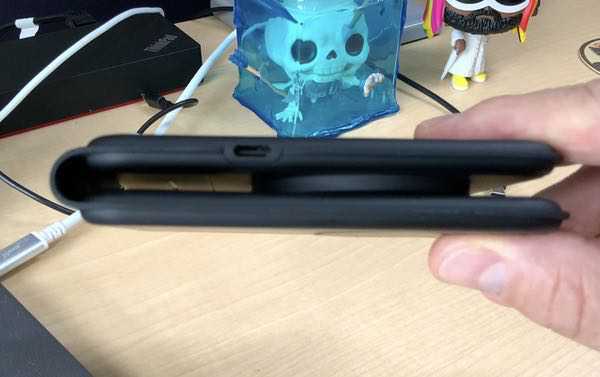 Unfold the pad, and you'll see the clearly marked charging pad areas for your different devices.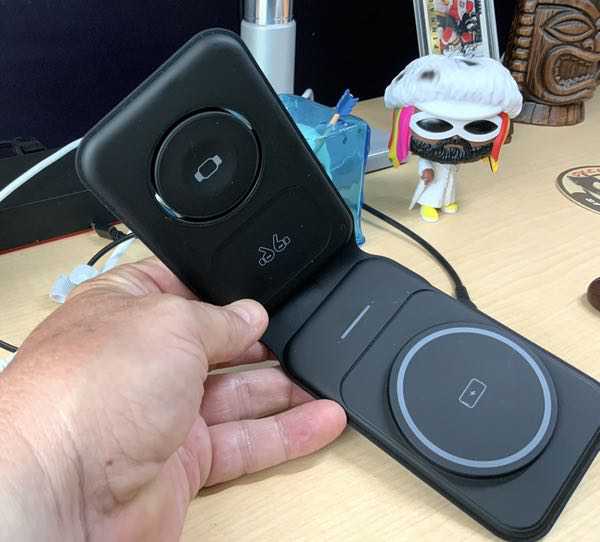 INIU provides both a USB-C power brick and a 40″ USB-C to USB-C power chord. I love the long cord for reaching obscure outlets when needed.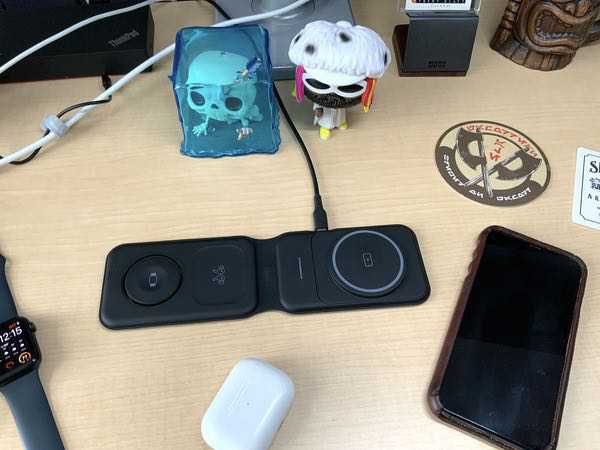 There's no secret to the charging process. All the pads are designed for wireless use and shaped appropriately for your assorted Apple devices (again, see the Hardware Specs above for a full compatibility list). The MagSafe feature keeps your devices gently locked in place during the charging process.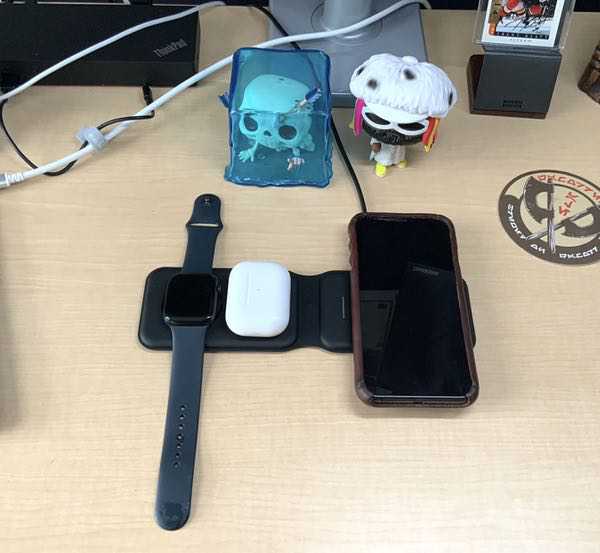 The device can also be used as a stand while charging Magsafe compatible devices. You'll pull on a tab on the back of the pad near the fold point to reveal a slip of material that serves as the stand.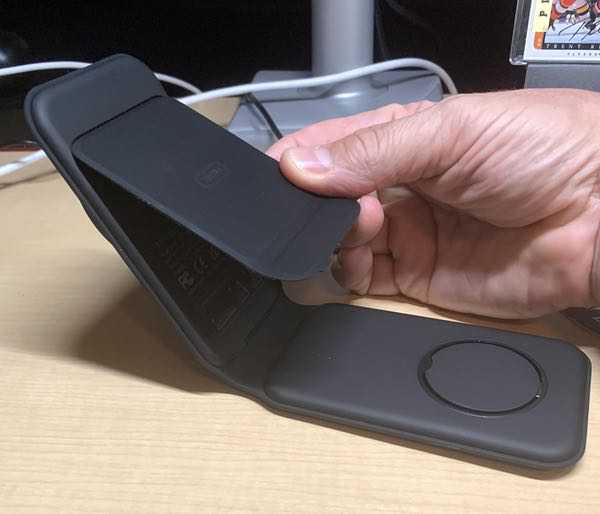 This pops into place on the opposite side of the pad as shown below, with a bit of a magnetized strip to anchor it.
…and now you're in stand mode. This is an iPhone 12 in the pics for reference that is fully Magsafe compatible in both vertical and horizontal modes. Note that you can't charge the other devices in phone stand mode.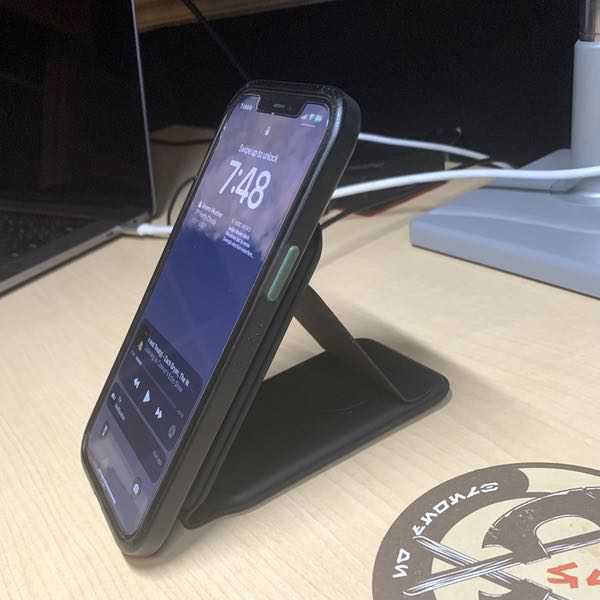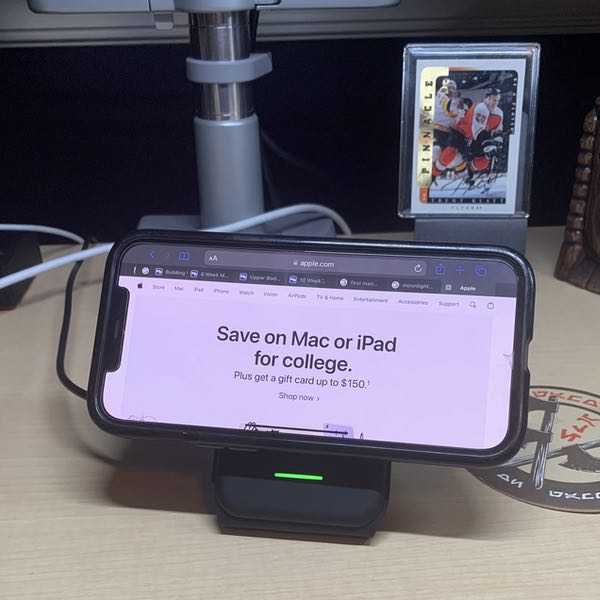 While you have the pad laid flat, the Apple Watch charging pod can be raised to display the watch face using the Magsafe technology to keep it in place.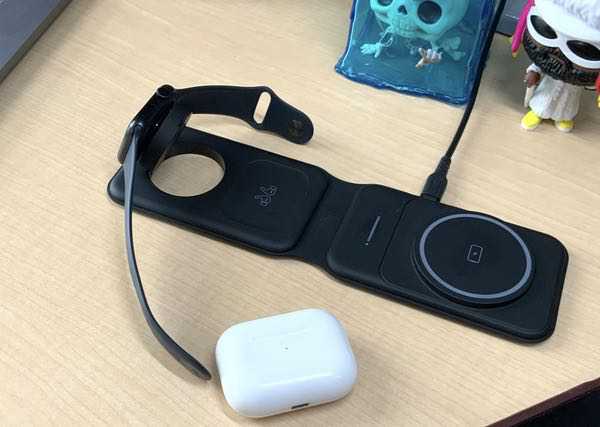 This may not look logical at first glance unless you consider its use on a nightstand. You can have the watch pointed towards you so that you can see the time from your bed. Clever!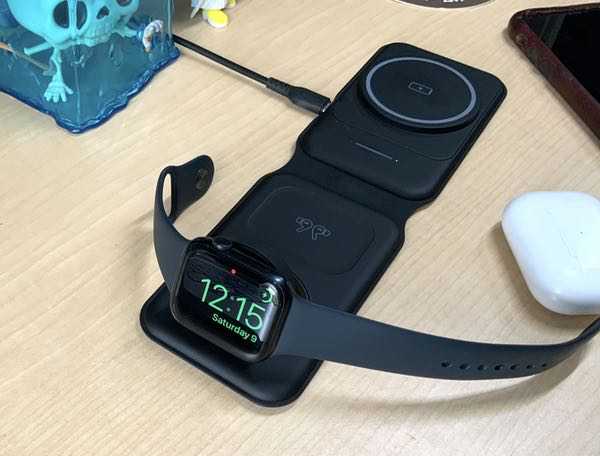 Performance
One of my favorite things about the INIU Magsafe 3 in 1 Wireless Charging Pad & Stand is it's elegant simplicity. It just does it's intended job(s) really well, to the point where I find myself with very little to criticize.
I love the way the charger consolidates clutter on my desktop. Goodbye to multiple cords and adaptors! One cable and we're good to go.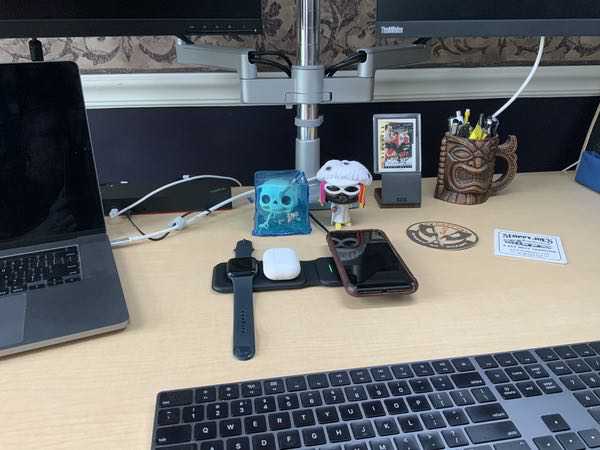 I haven't done any extended travel with the pad, but it's been great for my office visits. It fits easily into one of the pockets in my bag.  The USB-C compatibility also reduces the need for extra cables and power bricks in my arsenal, which is an added bonus. I just plug it into my MacBook docking station and I am off and running.
The charging pad is excellent as an all-in-one nightstand solution as well. I usually charge my Apple Watch overnight, along with my phone. It's great to have fewer cables to wrangle. We have two testers in our kit, and my son has been using his on his nightstand as well. He's got the full suite of Apple products (Apple Watch, iPhone 12, and AirPods) and has been very happy with the performance as well. He's also been using the phone stand and reports no issues with stability or phone safety.
I am looking forward to using it for travel as a one-device solution for charging on the road at hotel rooms, but I can't report back on performance there yet. I'll update this review as I use it more!
What I like
Simple, effective design
40″ USB-C cable adds convenience
Durable build holds up well for commuting
What I'd change
See notes about device compatibility. This device won"t work for all gadgets.
Final thoughts
I do love a gadget that is well-built, simply designed, and intuitive to use. The INIU Magsafe 3 in 1 Wireless Charging Pad & Stand checks all those boxes in a configuration that is great for home,  office and travel use. If you are an Apple aficionado with reasonably up-to-date devices, you'll find it hard to go wrong with this charging pad.
Price: $59.99
Where to buy: INIU shop!
Source: The sample of this product was provided by INIU.
RATING: 5 stars