We use affiliate links. If you buy something through the links on this page, we may earn a commission at no cost to you. Learn more.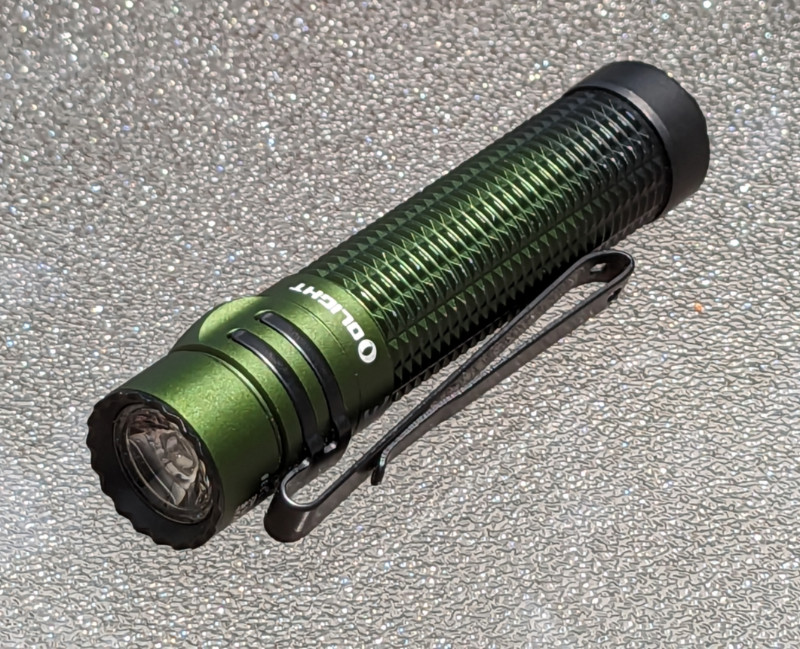 REVIEW – The Olight Warrior Mini 3 flashlight is a new flashlight from Olight. Can a 4.25" LED flashlight with non-sharp, shallow crenulations be a worthy weapon, or might it be best suited as an excellent flashlight with a surprise feature? I'll focus on the build quality, light production, and features of the new Olight Warrior Mini 3 flashlight in this review.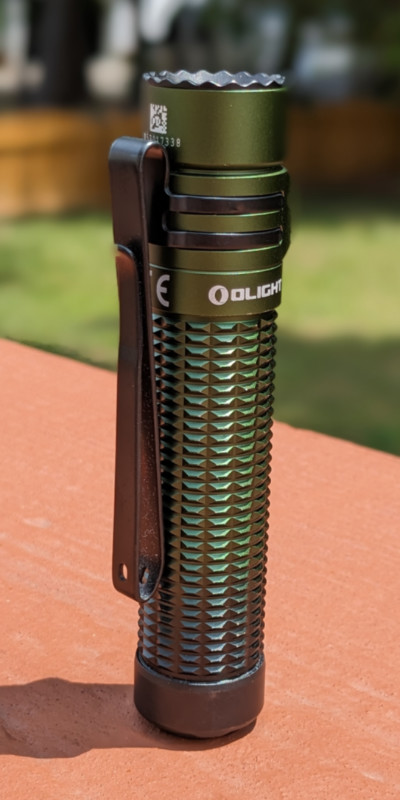 What is it?
The Olight Warrior Mini 3 Flashlight is a new model handheld, LED, rechargeable flashlight.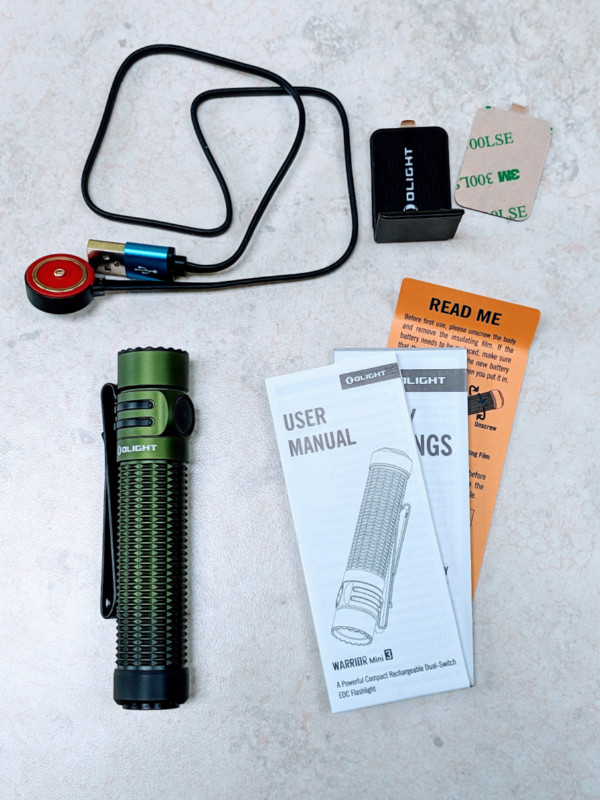 What's in the box?
Olight Warrior Mini 3 flashlight
Proprietary charging cable
Steel L-shaped adhesive mounting bracket
Spare adhesive
Instruction sheet/manual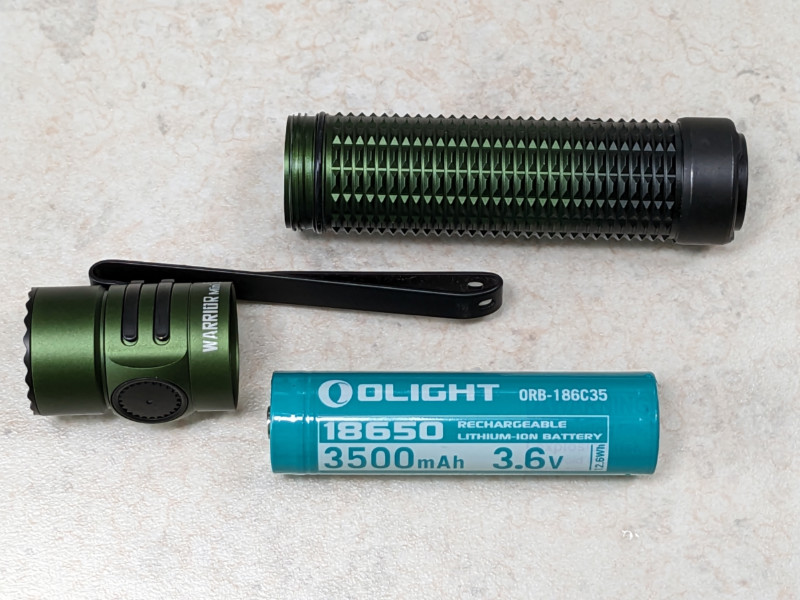 Hardware specs
Aviation aluminum alloy
Stainless steel 'attack head'
LED: Color temperature: 5700-6700, 'Cool white'
Color Rendering Index: 70
Battery: Size 18650, 3500 mAh, 3.6 V lithium-ion
Charge time: 3.5 hours (fully depleted)
IPX8 water resistant
1.5 meter drop resistant
Light modes: Moonlight .5 lm, Low 15 lm, Medium 120 lm, High 500 lm, Turbo 1750 lm, Strobe
Removable pocket / hat clip
Weight: 4.3 oz
Dimensions: Length 4.375", Width .94" at head, .875" at tail
3 color LED power level indicator in side switch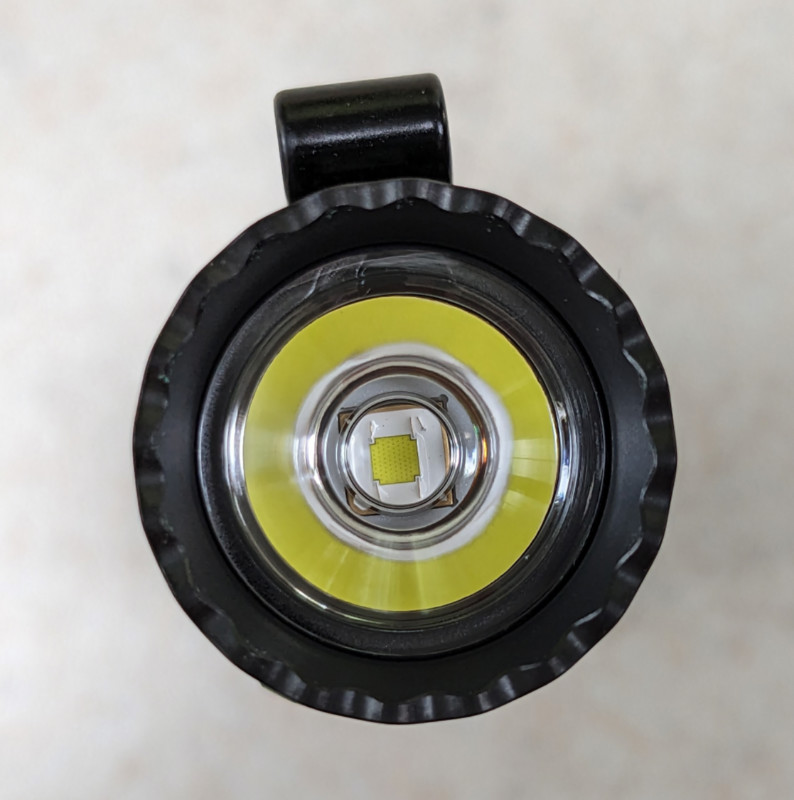 Design and features
The Olight Warrior Mini 3 flashlight shows the same professional build quality I experienced with two other Olight lights I've reviewed.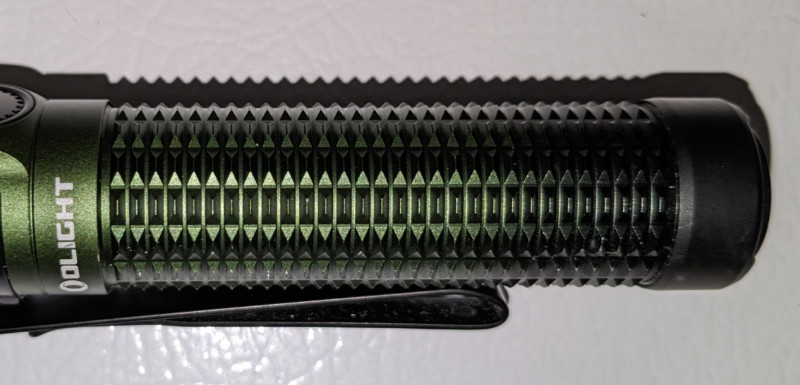 The Olight Warrior Mini 3 flashlight I was sent has a green-fade-to-black paint scheme.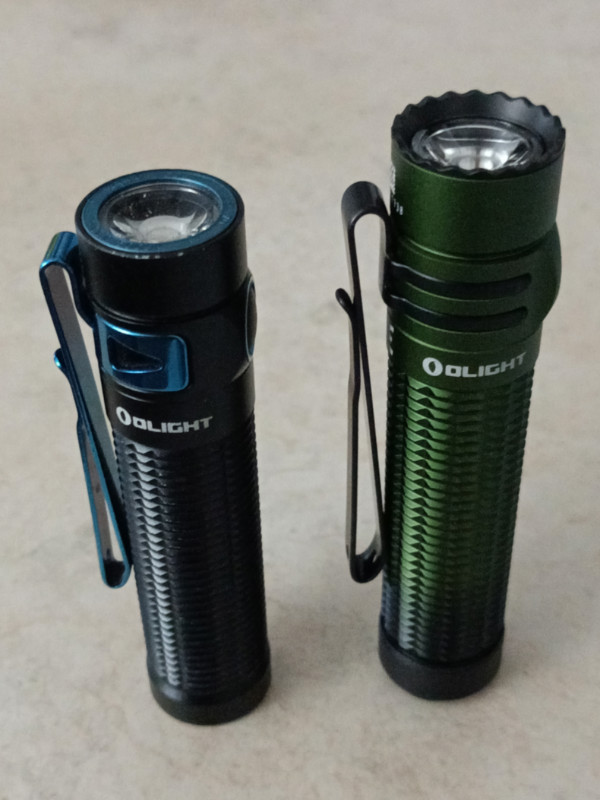 I really like the concave lens of some of the Olight flashlights and the Warrior Mini 3 has that lens style. I think that design offers protection of the lens mainly from other stuff in our pockets that might scratch a light's lens. I've used the Olight Baton 3 for a long time (on the left above), and the lens is as clear as the day it was unboxed.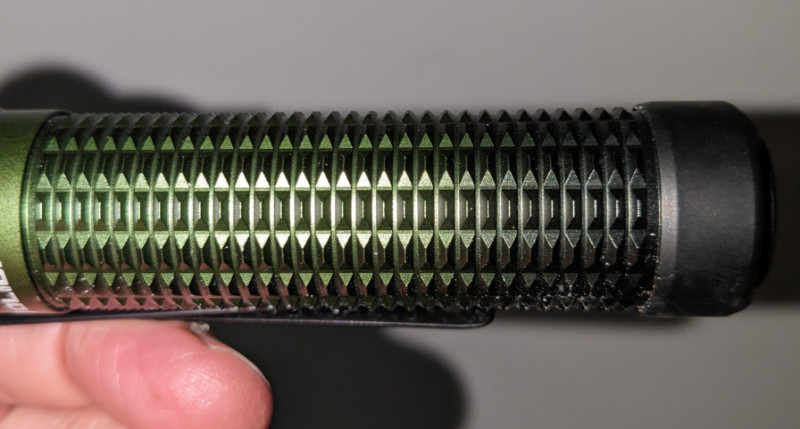 The Olight Warrior Mini 3 flashlight grip section of the barrel is of the design Olight puts on other Olights. This is excellent ergonomic engineering. If you remember the simple, shallow, cross-hatching used on some flashlights, it may be better than nothing to some, but my hands always felt it was more slippery than if the light's barrel had been left smooth. The Warrior 3 Mini has an aggressive grip that will be secure in the hand, wet or dry, but it isn't uncomfortable or irritating to grip firmly.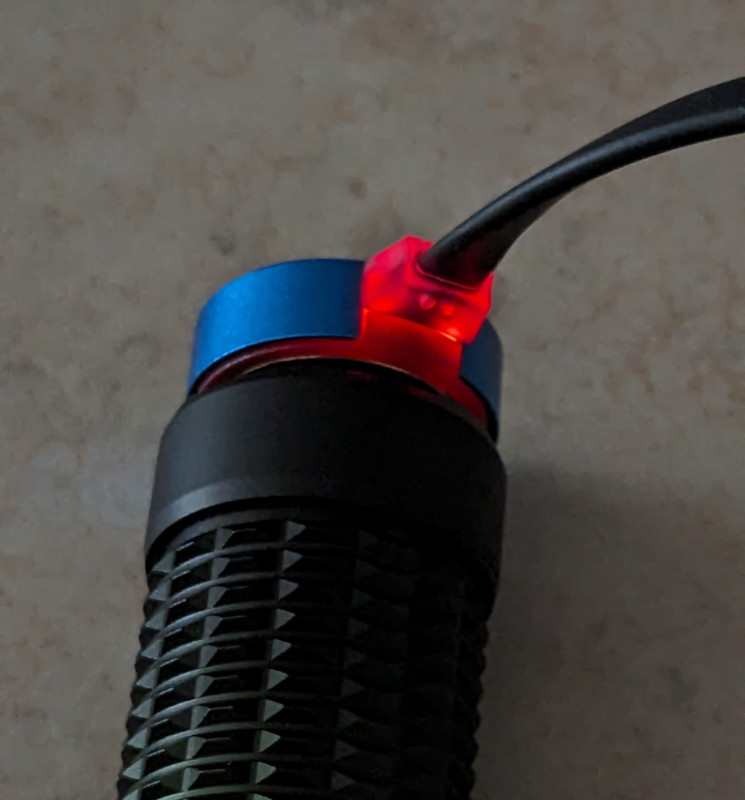 Some get upset that Olight uses a proprietary charging cable. The provided cable has a USB-A plug on one end, and the other has a round magnetic contact that attaches to the bottom of the light. I love this charging method. This flashlight is sealed and has no rubber port covers that can come loose and degrade over time.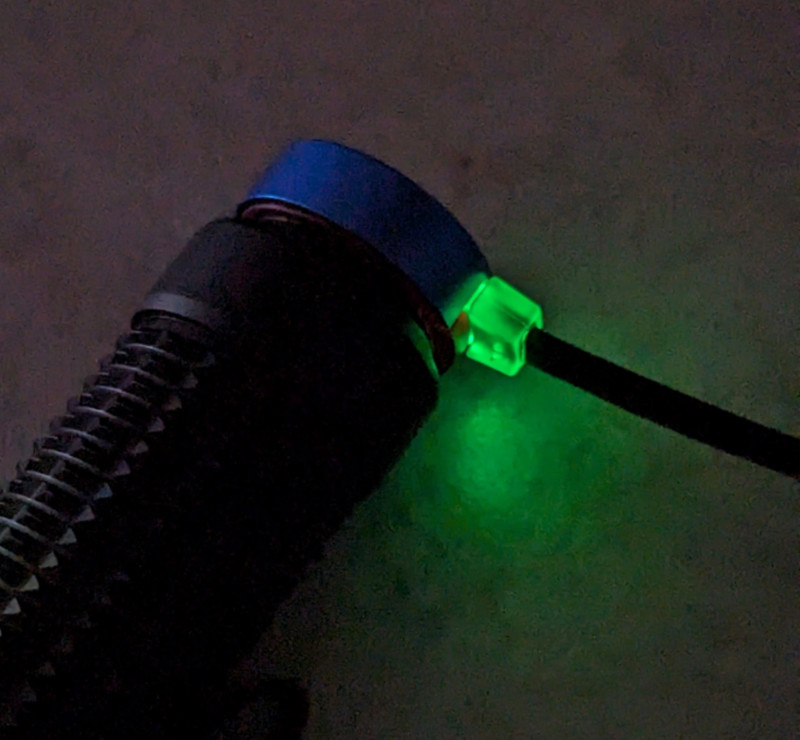 To charge the Olight flashlights that have this charging setup you don't have to unscrew the light or plug a cord into a port on the light or battery, you just click the charger contact into place magnetically, at the bottom of the light and wait for the charger plug LED to go from red to green. I'll gladly accept this style of charging cord over the risk of water intrusion.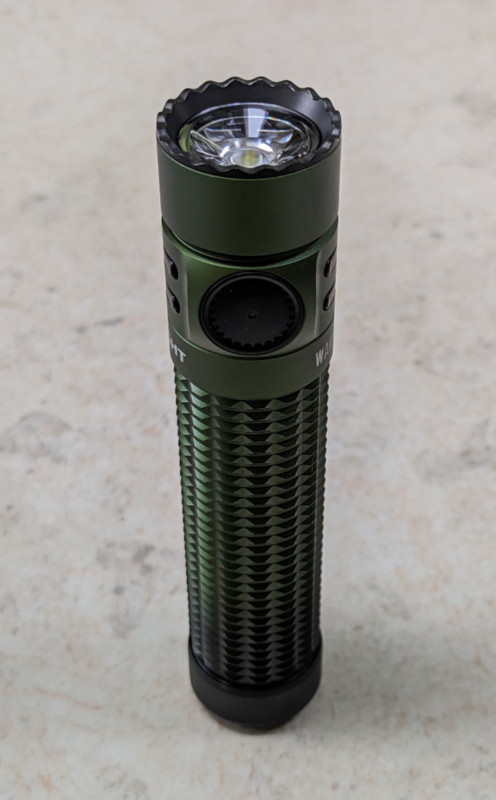 The Olight Warrior Mini 3 flashlight has a side barrel switch near the lens end which enables all lighting modes, and the tail end has a unique switch that is also the contact for the magnetic charging connection.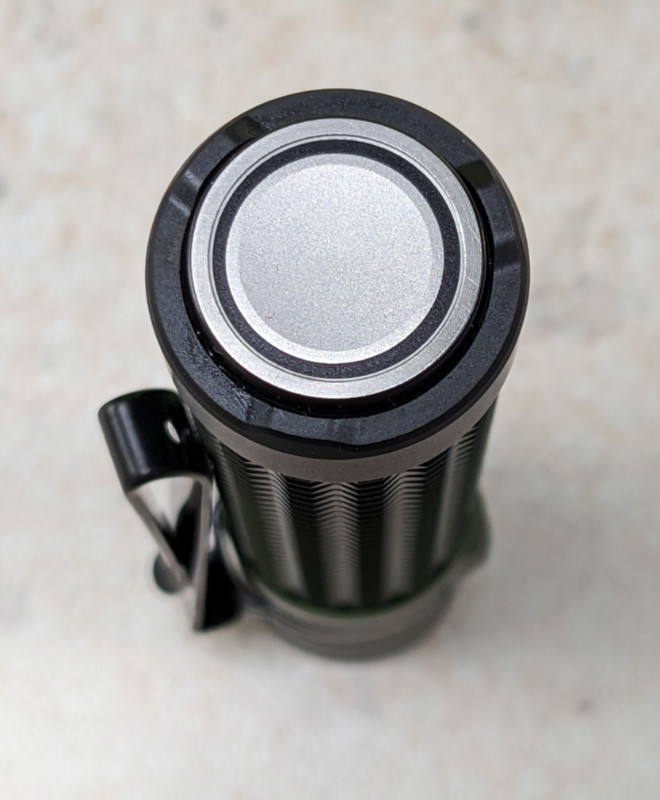 This is my first experience with both switch styles on a flashlight. The side switch does not feel rubbery and that could mean it is less likely to wear and break-down over time.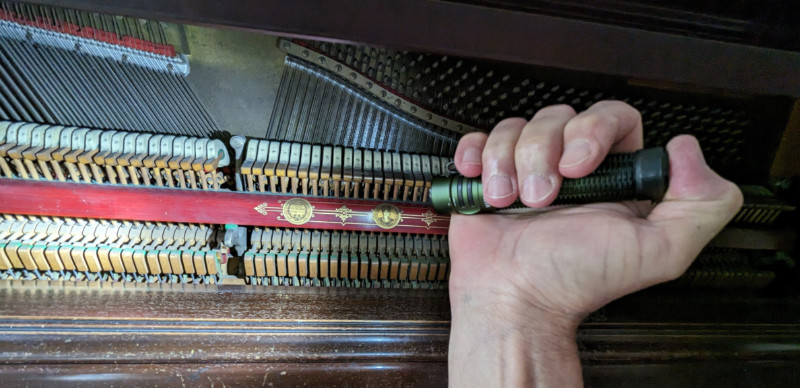 I found it easiest to press the tail end button with my thumb while holding the light upwards in my hand, arm up at 90 degrees, like an 'axe chop' position. With a half-press and hold of the tail end switch, the medium mode (120 lumens) turns on and stays on while the switch is held pressed. With a half-press and release, Medium mode stays on. With a full press and hold, the turbo lighting level is activated and the light stays on during the press. With a full press and release, turbo stays on. With either of these modes, a brief press of the switch turns the light off.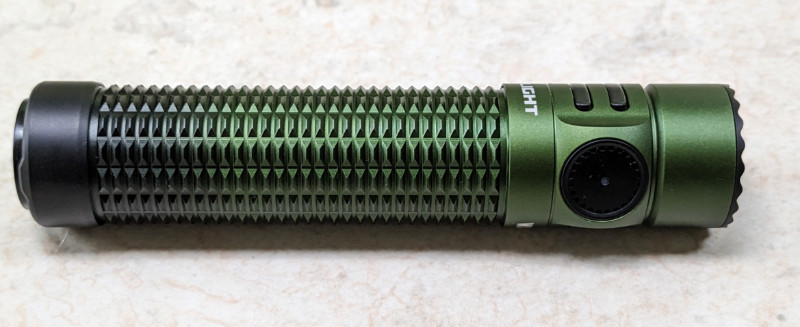 The Olight Warrior Mini 3 flashlight's side switch operation is as follows: A long press from off yields Moonlight mode. A long press from Moonlight turns on Low mode. From Low, a long press turns on Medium mode. A long hold from Medium invokes (you see this coming…) High mode. And from High mode, a long hold goes to – not Turbo, but back to Low. Turbo is only activated by a double press of the side switch or as above by the tail switch. A triple press of the side switch activates the Strobe.
Turbo mode creates high heat. After Turbo is on for 30 seconds, the end of the flashlight is too hot to handle. If the Turbo mode should ever be activated by accident, a proximity sensor immediately puts the light into Medium mode which should cause no pain or damage in a pocket, briefcase, suitcase or toolbox.
Setup
The Olight Warrior Mini 3 flashlight is shipped with a plastic battery protection piece set atop the battery in the flashlight. The light needs to be unscrewed to remove that piece. Charging can begin after that piece is removed and the light reassembled.
Performance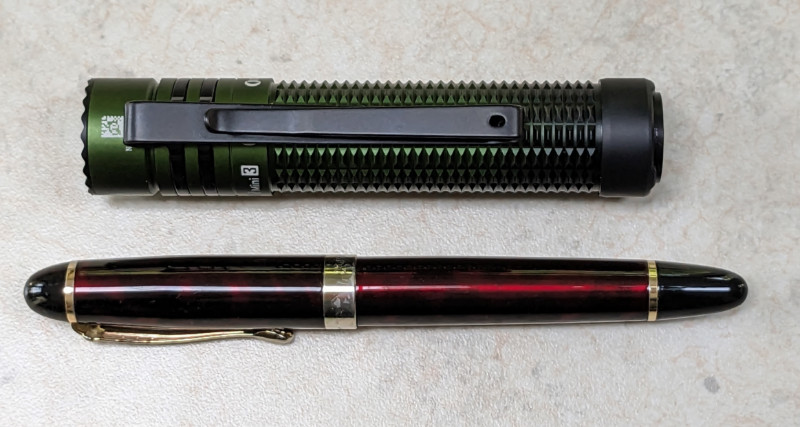 A quick observation about flashlight fighting. (Is that really a thing?) I guess if you had absolutely nothing else to use, a small flashlight in the hand might be of some use. Like the old concept of carrying a roll of nickels in the palm to reinforce a punch. I'd frankly rather have a knife or a screwdriver. Fight with your car keys? Lose your car keys. Fight with a flashlight? You risk being in the dark.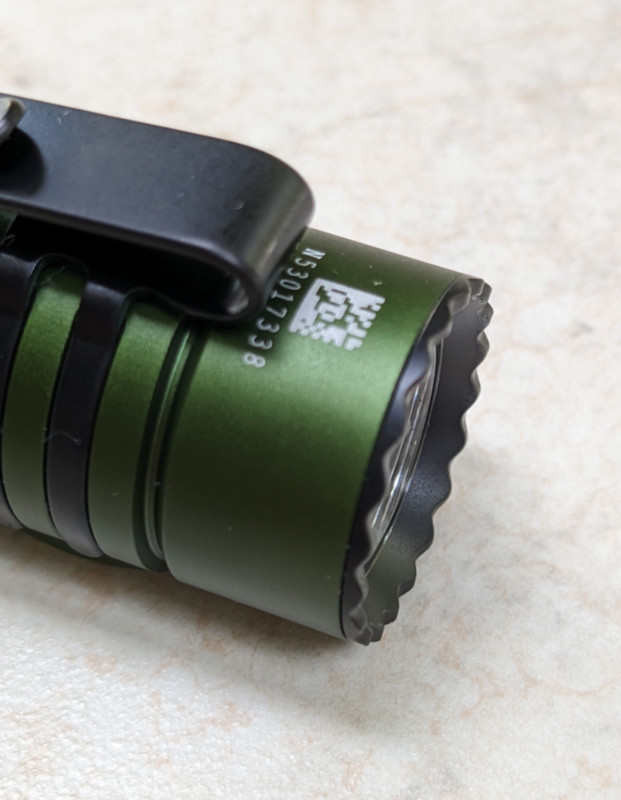 The crenulations on the Olight Warrior Mini 3 flashlight aren't sharp or deep. I'm glad. I should be able to fly with this light in a carry-on bag since it doesn't look weaponized, plus it won't irritate me through my pocket or tear the material. So, it's a tactical defense flashlight? Hmm. What the Olight Warrior Mini 3 Flashlight is, is a very darn good flashlight. I recommend counting on it for its primary purpose.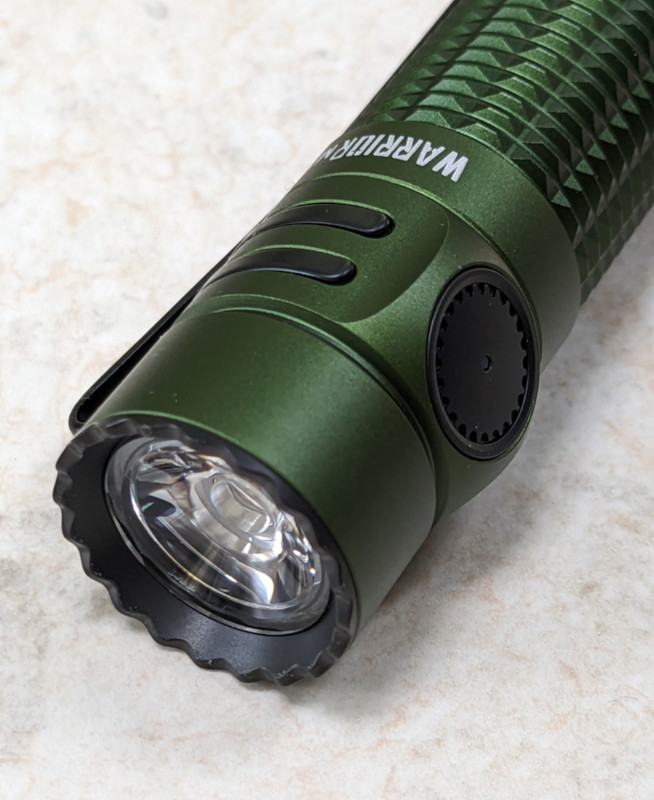 The Warrior Mini 3 operated flawlessly during the time I used it. Nothing about the light faltered or failed.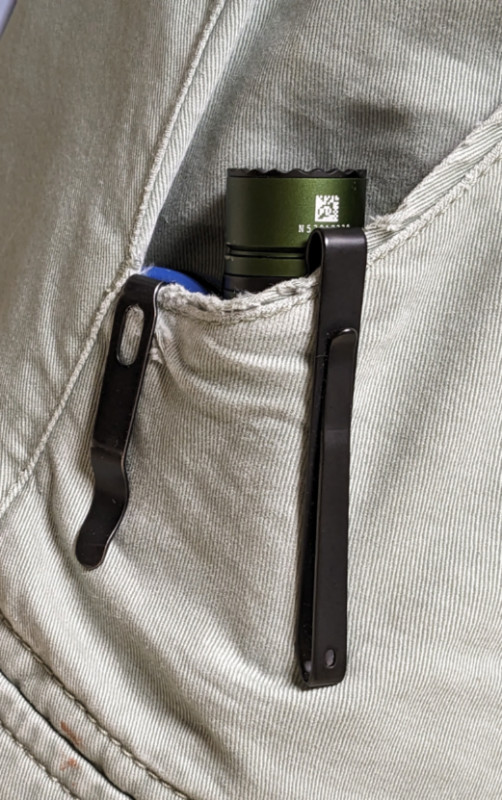 When I'm in casual clothes, I carry my flashlight clipped in my pants pocket right next to an Olight knife (what a coincidence!) also clipped to the pocket. There is already a bit of finish scraped off of the Warrior Mini 3 but that doesn't bother me a bit. I'm the one scraping these two tools together, but it's the way I like to have both within quick reach. When I carry a knife down in my pocket, the magnet of the Olight finds it and pulls it out when I draw the flashlight, so having both tools pocket clipped is my preferred carry method for each.
Moonlight mode doesn't photograph so here you see the light modes cycling from low to medium, high, low, then turbo, and strobe.
The Olight Warrior Mini 3 flashlight has a good variety of brightness modes. The Turbo mode is very bright, but again, makes the light end very hot. It should probably be used only briefly. The low and medium modes give a good amount of light appropriate for close task visibility.
I used the Warrior Mini 3 while changing a dishwasher gasket. Our dishwasher has a shiny metal inner surface and too much light would be irritating. The Low mode of the Warrior Mini 3 was perfect for the job. For night dog walks I needed to use the Medium mode to make sure cars saw me, but we had no close calls and cars gave indications they saw me from far ahead. The bright mode is bright enough that Turbo may only be necessary for the most distant 'dark of night' illumination – – or for branding cattle.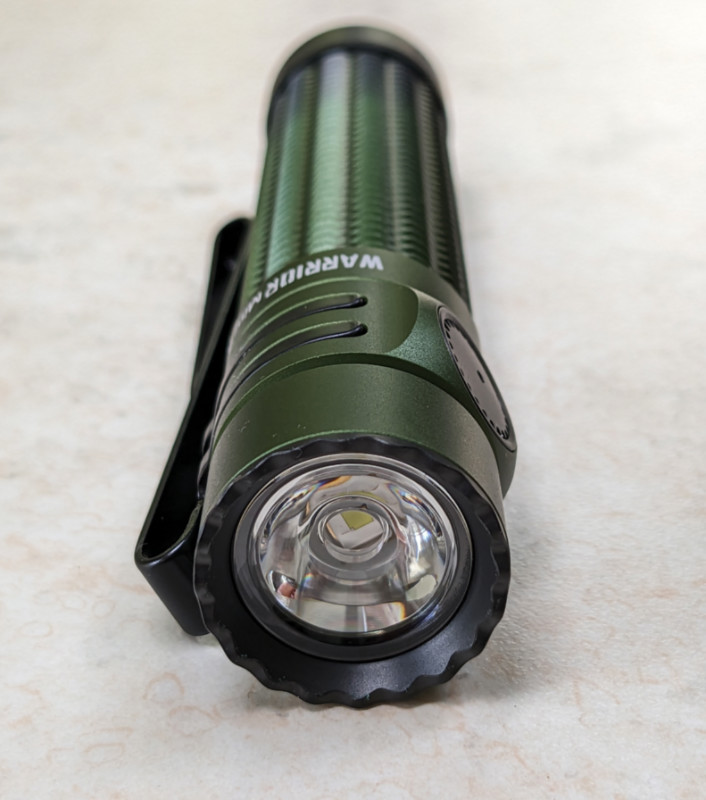 What I like
Excellent lighting options and button operation choices
Concave lens
Excellent grip surface
What I'd change
Skip the weapon / defense angle and promote this as a great flashlight.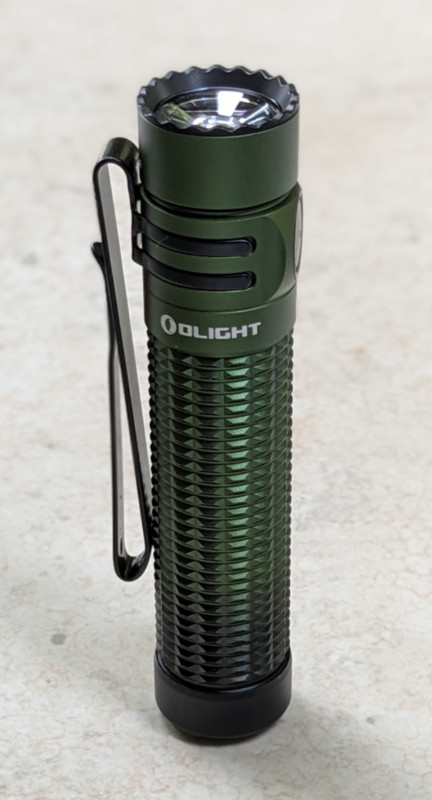 Final thoughts
The Olight Warrior Mini 3 flashlight is simply an excellent flashlight that operated perfectly during this review. It's pocketable or packable and projects a lot of light from a handy form factor.
Price: $62.99
Where to buy: Olight
Source: The sample of this product was provided by Olight.