We use affiliate links. If you buy something through the links on this page, we may earn a commission at no cost to you. Learn more.

REVIEW –  The Olight Ratel Blue Folding Knife is available in one color for now but if you like this blue, there isn't much to gripe about otherwise. This low-tech tool which is probably made with high-tech processes is ready to go with you unobtrusively and deploy quickly for use.
What is it
The Olight Ratel Folding Knife is a lightweight folding knife with a durable plastic composite handle and high strength steel blade.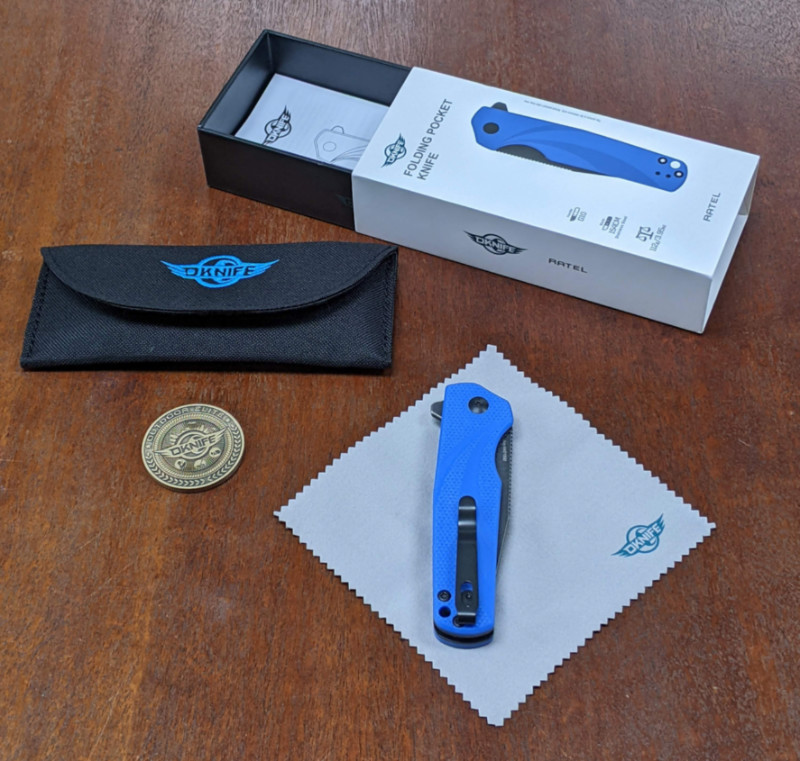 What's in the box
Olight Ratel Blue folding knife

Nylon fabric knife case
Olight coin
Cleaning cloth
Instruction sheet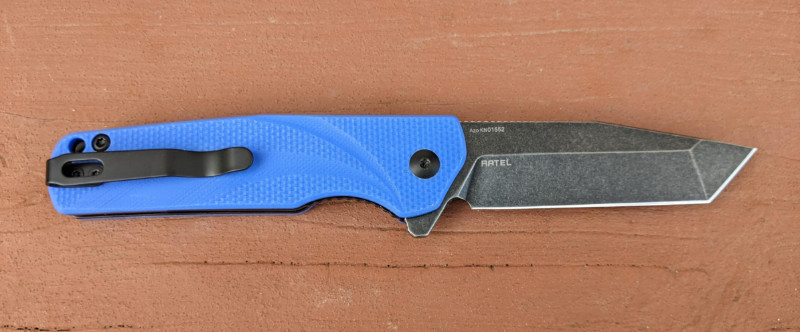 Hardware specs
Weight: 4 ounces

Blade length: 3.2 inches

Blade width: .94 inches at widest point

Blade thickness: .12 inches at back and jimping (thumb notches)

Handle width: 1.06 inches at widest point

Length closed: 4.28 inches

Length open: 7.48 inches

Blade material: 154CM steel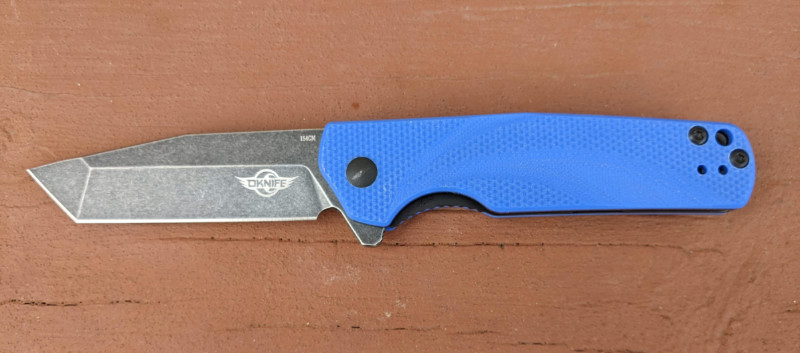 Design and features
Tanto style blade

G10 compressed composite plastic handle

Pocket clip oriented for blade deployment without rotating knife after drawing

Secure liner lock ensures the blade stays open, yet unlocks easily for closure.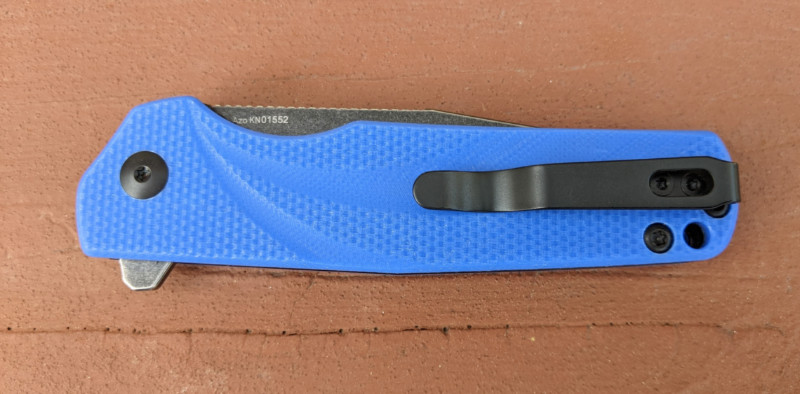 Setup
There was no cleaning required on the Olight Ratel knife so it is ready to use as soon as it is opened. Some purists hone their brand new knife blades immediately at hands-on. I saw no need for that. This blade came paper-slicing sharp so there was no need to service it.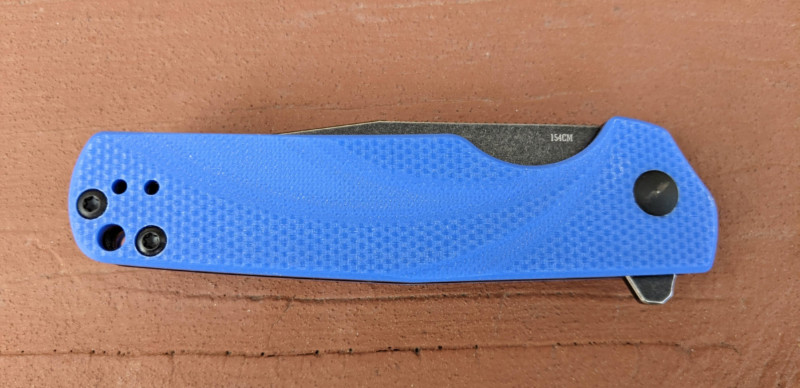 Observations
I really did slice the edge of a sheet of paper as the first cutting task and the Ratel sliced the paper smoothly with no resistance.

The Olight Ratel Blue Folding Knife product name pretty well describes the only handle color available. The shade of blue used for the handle could be called 'hard to lose blue'. I tend to like all my EDC stuff in black, but I admit it makes some things harder to find in some settings. The Ratel blue could be called 'Google Docs logo blue', 'Microsoft Word logo blue' or royal blue. How's that for fair balance?

There's a bit of dust on the blade. There is no edge malformation.
Due to the 4 ounce weight, the Ratel will not obnoxiously weigh down a pocket and won't pull excessively on it if clipped on.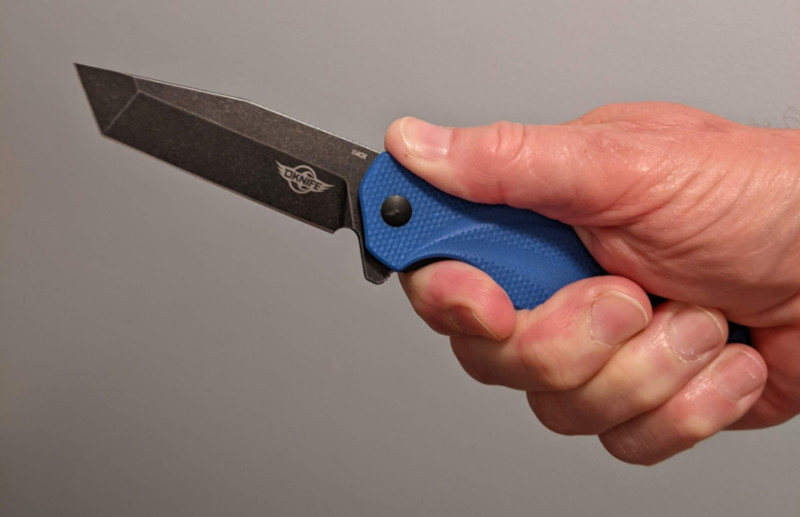 A friend who's an Army officer Veteran, and currently in Federal law enforcement, assessed the Olight Ratel Blue Folding Knife for me. Of all things, he first complimented how the knife closes. Sure, he liked the weight, feel in the hand, the quick and easy opening and edge sharpness. But he complimented how the knife closed smoothly and did not 'slam shut' as some knives do, which adds a good measure of safety in the closing process.
There is something either magnetic or mechanical that holds the blade closed in the handle until it is intentionally opened. This good engineering prevents the blade from partially opening in a pocket, which can cut a pocket and poke a, let's say, leg.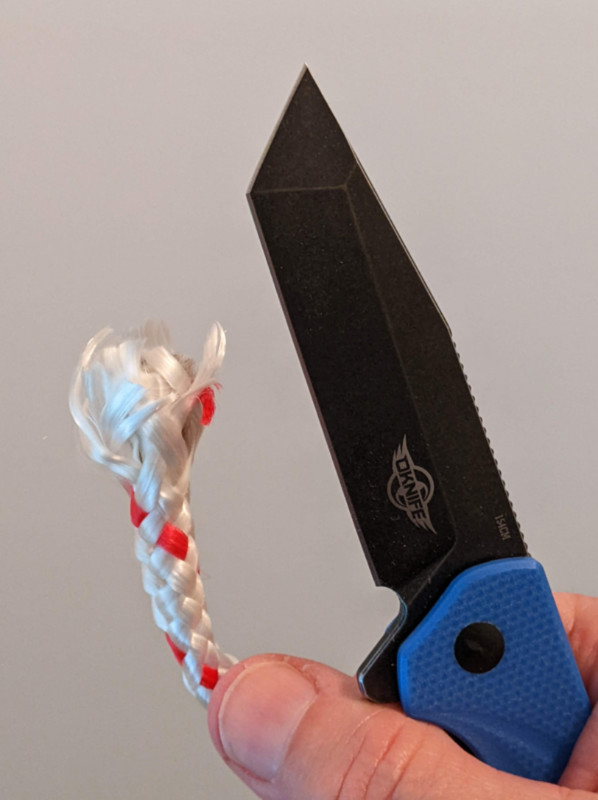 I sliced 3/8" nylon rope with one swipe of the blade. Sawing was not necessary. The Ratel is sharp.
See it in action
What I like
Properly factory sharpened blade

Excellent 'grippy-ness' of the handle

Comfortable feel in the hand with knife open or closed

Unobtrusive weight

Smooth opening and closing

'Blade down' clip position is my preference 

Limited lifetime warranty
What I'd change
I wish the handle was available in other colors.  I'd buy red, but green, gray and black are cool too. 

I'd skip the heavy coin.

Final thoughts
The Olight Ratel Blue Folding Knife is a nicely engineered, well-made pocket folder. The quality seems to me to exceed the price, so you may agree the Ratel is a good value. 
Price: $74.95 (currently on sale for $63.71 through 4/25/2022)
Where to buy: Olight Store
Source: The sample for this review was provided by Olight.