We use affiliate links. If you buy something through the links on this page, we may earn a commission at no cost to you. Learn more.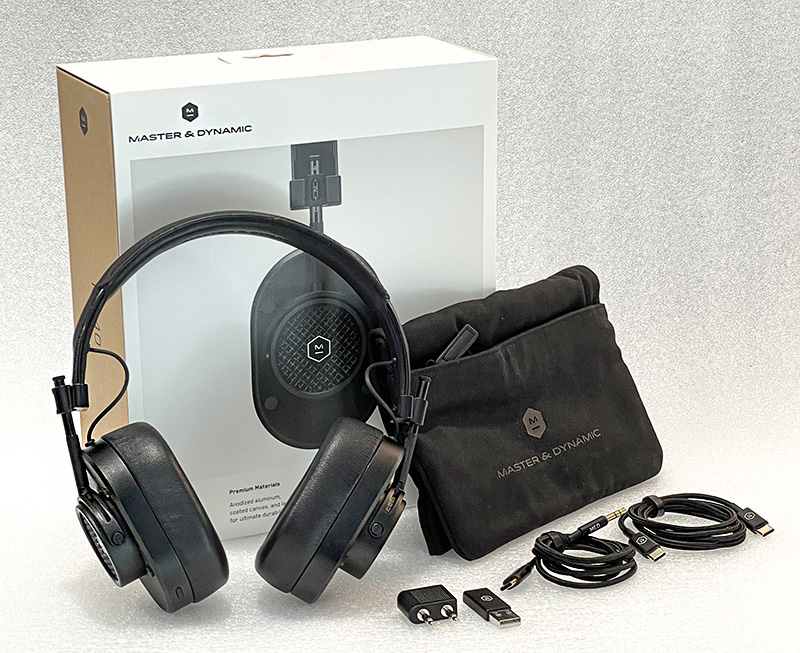 REVIEW – In late 2019, I reviewed the 1st generation of Master & Dynamic's MH40 Wireless Over-Ear Headphones. Except for the wireless part, they were visually identical to the original wired MH40 headphone—an iconic design if there ever was one. It's mid-2023, and M&D has decided to not mess with a good thing and is keeping that same iconic design on their updated MH40 Wireless Over-Ear Headphones. They are also $100 less than the previous wireless MH40s cost when new. Gotta love progress. Does this new version warrant a look? Well, yes—and no. Let's get into it.

What is it?
The Master & Dynamics MH40 Wireless Over-Ear Headphones are the latest in a line of retro-looking headphones M&D started in back 2015. The WWII-styled design gives the MH40 series a look that never ages. The MH40 is one of the best-looking headphones available today—especially in the Silver Metal/Brown Leather colorway. Other colors available are Gunmetal/Black, Black/Black, Silver/Navy, and Silver/Silver.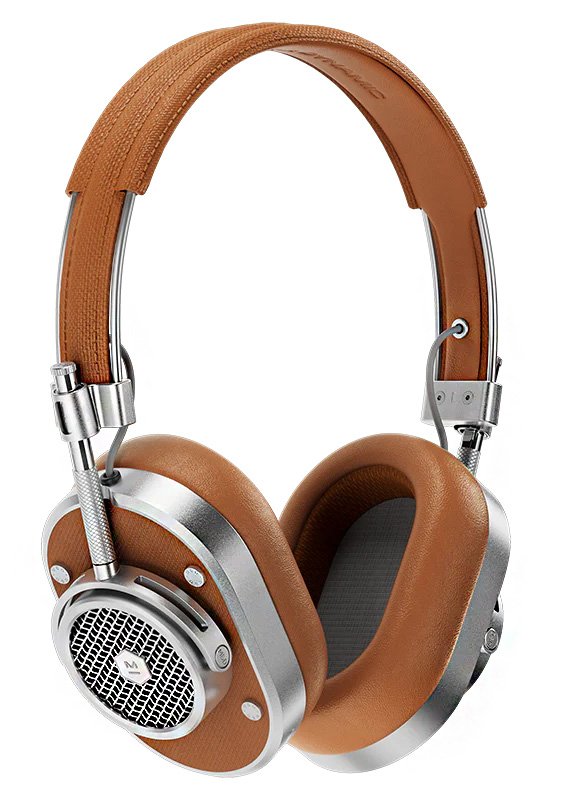 Even though it looks the same, the new MH40 has many internal improvements. Externally, the MH40 sports the same, aluminum and lambskin leather construction. The build is first-rate—by now, an M&D standard.
The MH40 comes with a canvas pouch, USB-C to USB-A adapter, the necessary cables, and an airline adapter (do people still use these?).

Hardware specs
Dimensions: 8.07 in. x 7.9 in. x 2.8 in.
Drivers: 40mm Titanium
Weight: 9.87 oz.
Bluetooth: 5.2

 

Cables: USB-C to 3.5mm; USB-C to USB-C for charging
USB-C to USB-A adapter
3.5mm to 1/4" Airline adapter
Canvas pouch
Two mics with wind reduction
Ear pads: Lambskin-wrapped memory foam
Battery: 30 hours, 6 hours in 15 minutes

 

Design and features
First things first: If you are interested in the M&D MH40 Wireless headphones, I recommend you read my review of the previous generation here. That version is 85% of what the newer one is, so I won't be repeating much of its info but will deal with the improvements.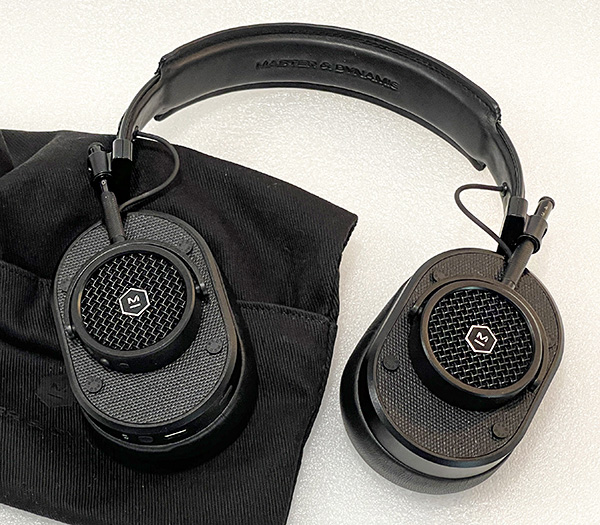 Anytime Master & Dynamic releases a new headphone—even if it's only an upgrade, I pay attention. Just opening the MH40 box is a fun experience. Packaging shows the care M&D put into each headphone. Each component is set in its own compartment made from eco-friendly materials. There's no plastic to be found anywhere—either in the packaging or the headphones themselves.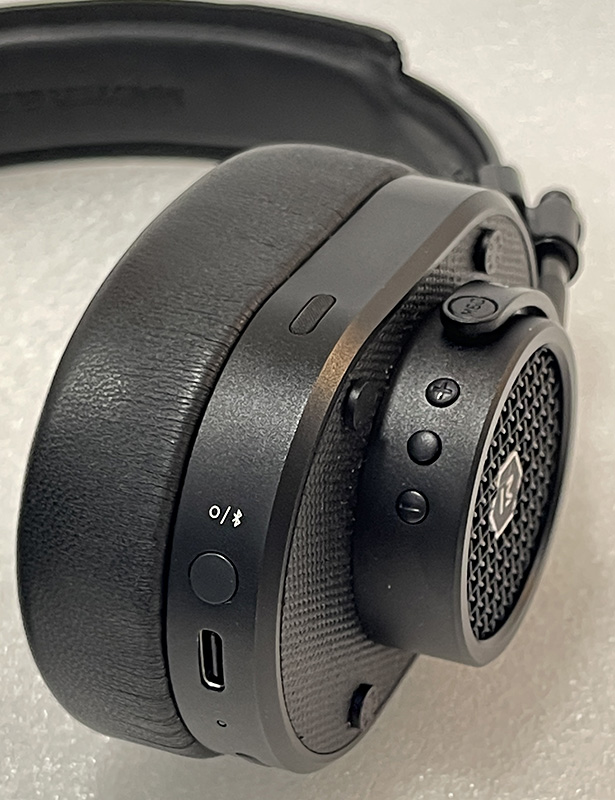 You would be hard-pressed to notice any visual difference between the two MH40 wireless versions—because there aren't any. The buttons and ports have not changed.
The differences are internal. The good sounding 40mm Neodymium driver has been upgraded to Titanium. Can you hear a difference? I no longer have the previous MH40 headphones (I gave them away as a gift), so I cannot do a direct comparison. I would have to say that the titanium upgrade erases any hit to audio quality the previous MH40 Wireless took when M&D reduced the driver size to 40mm—from the 45mm of the original wired-only MH40. The bottom line is that this MH40 headphone sounds really good!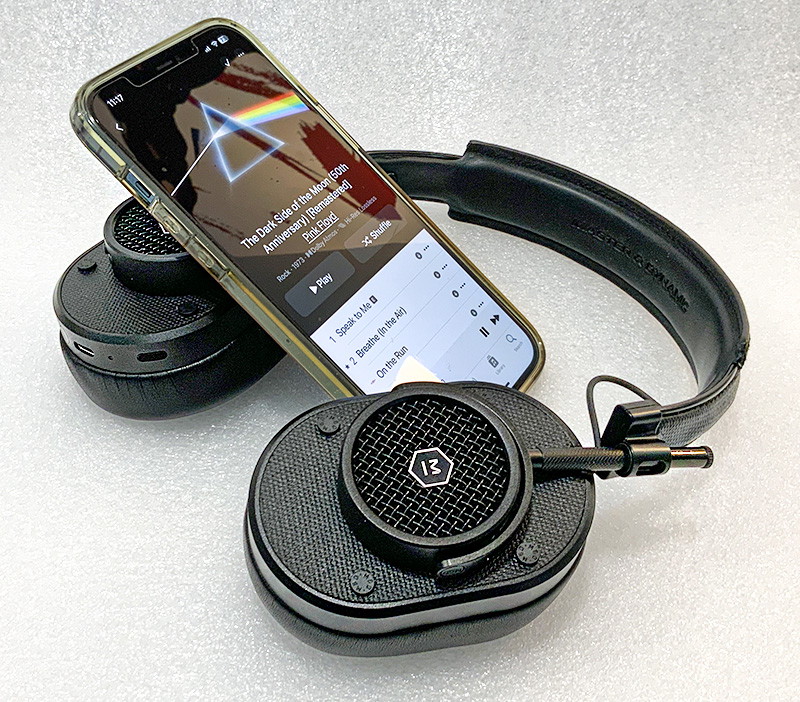 I recently had what we call a "Listening Party" at my house for some friends. We shared dinner, then gathered to listen to Pink Floyd's "Dark Side of the Moon" in 5.1 true Dolby Atmos surround. It was streamed (hardwired) from our Apple TV in better than CD quality. The Atmos mix was a revelation even to me, who bought the original back in 1973. With the Atmos version fresh on my mind, I re-listened to DSOTM on the MH40 headphones. There was no comparison. The true Atmos system was better, which was expected. However, the MH40 headphones did hold their own in stereo mode streamed from my iPhone.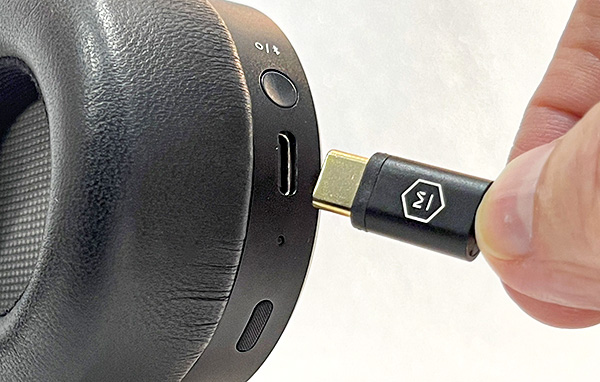 Also, while it sounded fun over Bluetooth, the MH40's audio quality improved when hard wired using the included USB-C to 3.5 mm cable connected to my Apple iPhone via their simple $9 Lightning to 3.5 mm Headphone Jack Adapter. Yes, it was noticeable. But the superior audio quality is not why we buy headphones anymore, is it? It's convenience we want and wireless provides that, so we accept the audio tradeoffs.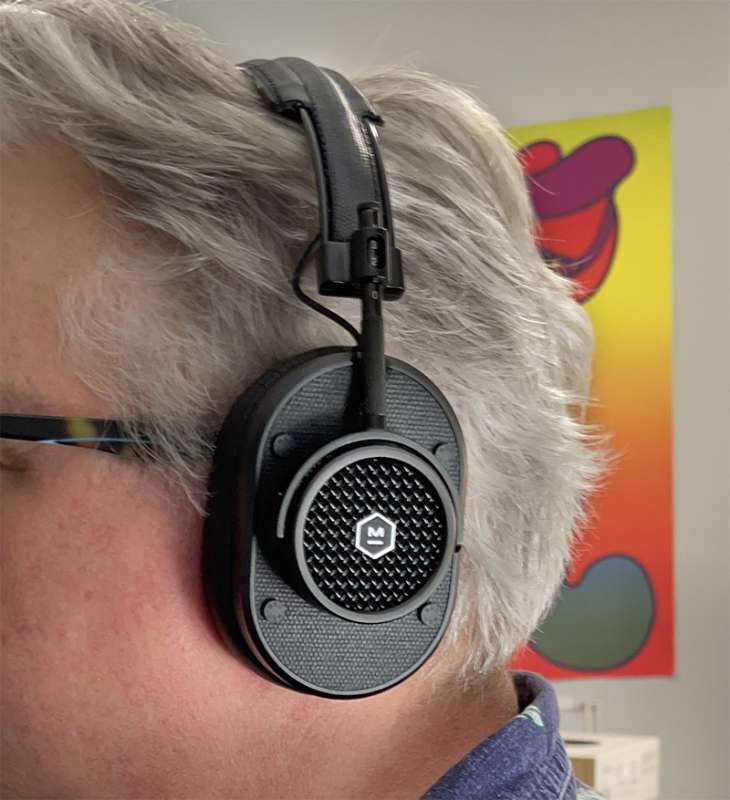 Fact: As good as Bluetooth headphones have become over the years, ALL Bluetooth audio is compressed, or lossy. The only way to experience true hi-res audio is by being hard-wired to a music source.
Bluetooth has been upgraded from 5.0 to 5.2. While this helps with transmission distance, power savings, and a more stable connection, I doubt you'll be able to actually hear any improvement over 5.0.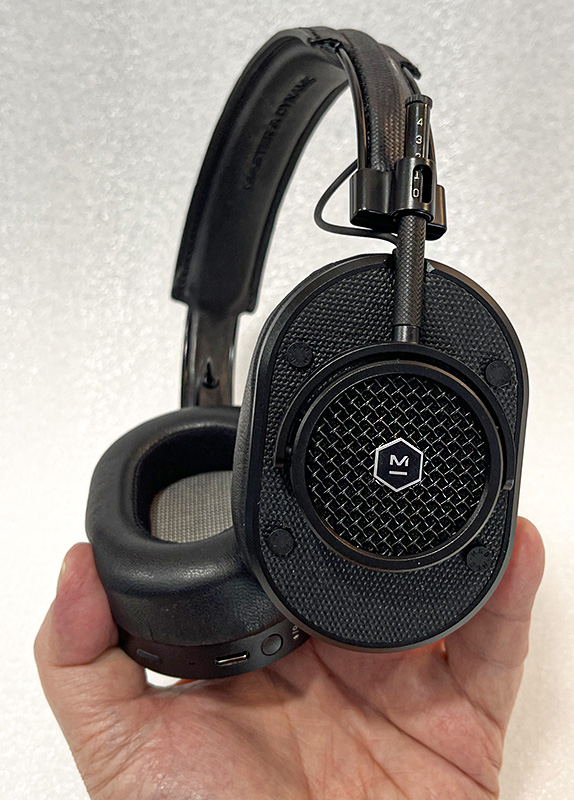 Call quality is an improvement you can hear. The MH40s can be tuned so that while on a phone call, you are mic'd, meaning you can hear your own voice while speaking. What a concept! Persons I talked to said I sounded better than with the previous MH40 Wireless(I have a few friends I do headphone call testing with).
Battery life has improved to 30 hours of continuous use. 15 minutes of charging buy you an instant 6 hours of use. Note that volume and other factors affect battery life.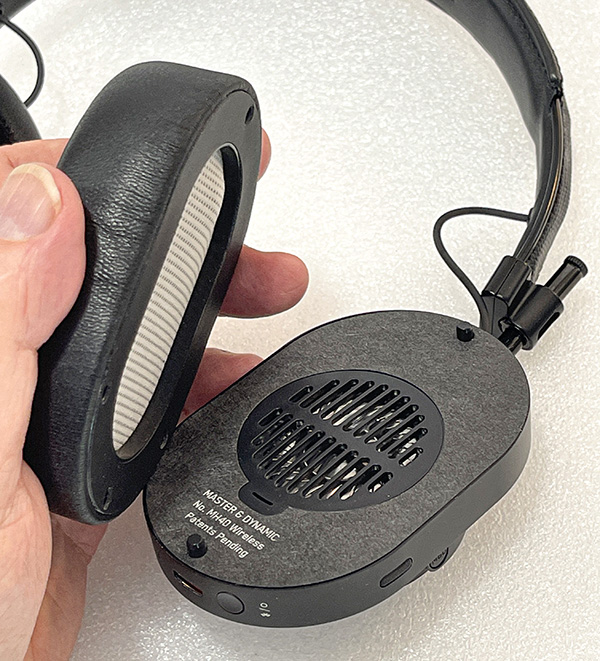 The MH40's lamb-skin ear pads offer the same comfort as they previously did. They are still magnetically held in place for easy replacement if necessary. Overall weight has increased a couple of grams, though I doubt anyone will notice the incremental change.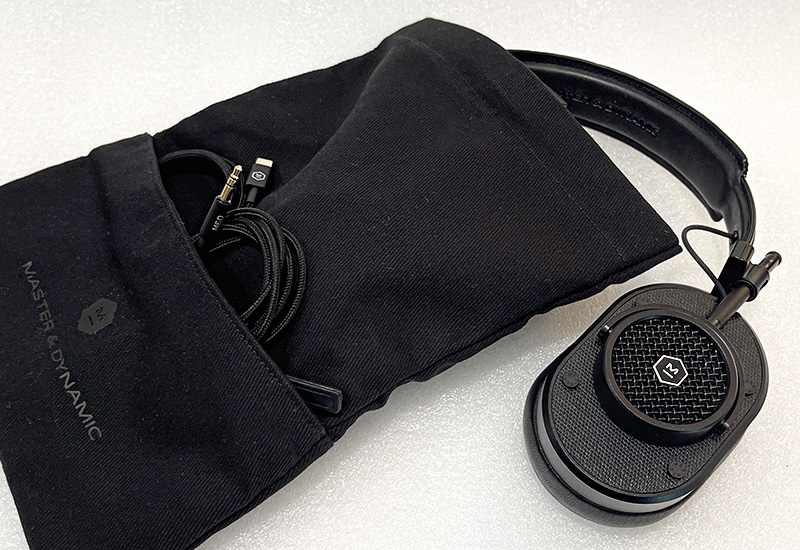 As usual for M&D, a high-quality canvas pouch is included with the MH40 headphones. It's not waterproof or crushproof, but it will help keep the MH40s cleaner longer. The MH40s do not fold, so commuting with them could be an issue.
In the future, I would love to see M&D offer an open-back version of the MH40 headphone. To hear the M&D sound signature in a vastly increased soundstage that only open-backed can provide could be amazing. 

What I like
Impeccable build quality with all-natural ingredients
Great audio—both wired and wireless
Better color choices

 

Upgraded driver
Noticeably better call quality

What I'd change
No active noise canceling

Final Thoughts
As good as the new MH40 headphones are, have the improvements made it a viable upgrade to those who already own the previous version? I would say no. The previous MH40 headphones were—and still are—worthy headphones today. However, if you've never experienced Master & Dynamic's take on wireless retro headphones, give these a try. You may be as hooked as I am. 
Price: $399.00
Where to buy: Masterdynamic.com and Amazon
Source: The sample of this product was provided by Master & Dynamic.