We use affiliate links. If you buy something through the links on this page, we may earn a commission at no cost to you. Learn more.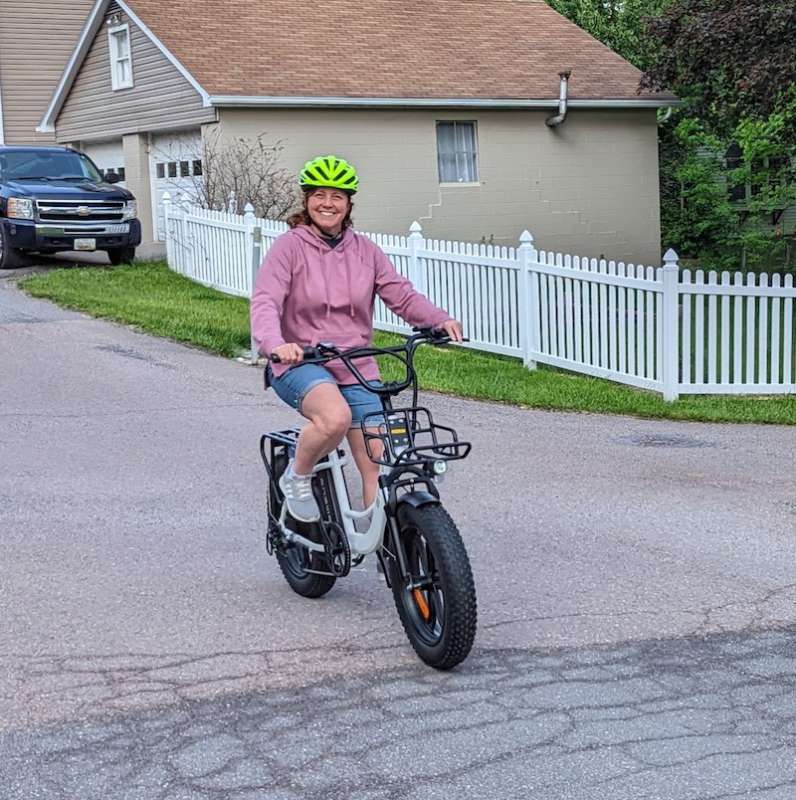 REVIEW – A few months ago, I reviewed my first e-bike, the Himiway Zebra. I surprised myself by really enjoying it and actually riding it quite a bit, mostly as a car replacement for short trips.  When the opportunity came around to review another e-bike, I thought it would be a great opportunity for my wife to get in on the fun. The Engwe L20 is a new model from an established company with a quite extensive lineup, and I was excited to give it a try. Unfortunately, it has a few issues; not deal breakers, but some surprises nonetheless. 
What is it?
The Engwe L20 is an electric bike with 20 inch fat tires, a 750 watt hub-drive motor, front suspension, front and rear racks and fenders.   
What's in the box?
The unassembled Engwe L20 e-bike

Charger

Manual with assembly instructions

Tools

Hardware specs
Max Payload:

264 lb

Motor Power:

750 W

Motor Torque:

50 Nm

Battery:

48V 13Ah Lithium-Ion battery

Miles per charge:

90 miles (claimed – lots of variabilities here – keep reading)

Max speed:

25 MPH

Frame materials:

6062 Aluminum

Weight:

77 lb

Recommended Height:

5'8" to 6'5"

Charge Time:

6-7 hours

Display:

LCD display 
Assembly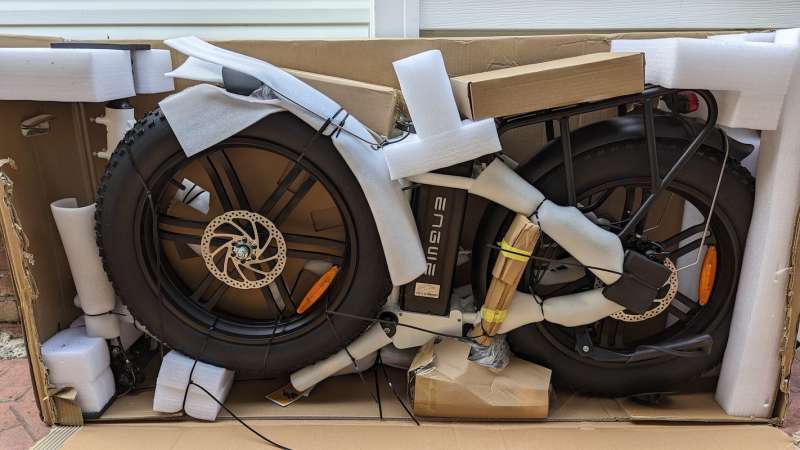 The Engwe L20 electric bike arrived well packed and secure!  The packed bike weighs 90 pounds, but the box has handy hand-holds built in.  Once unpacked, the assembly of the bike looks daunting, but it's not nearly as bad as you might think. The bike comes with most of the tools you'll need for assembly (I just had to grab some pliers).  The instructions are clear and tell you exactly which tool to use, but it's honestly pretty intuitive. The only possibly sticky part of the assembly is the pedal installation.  On all bikes, the left pedal threads backward (to keep you from loosening the pedal while pedaling!).  If you don't realize that, you could strip the threads.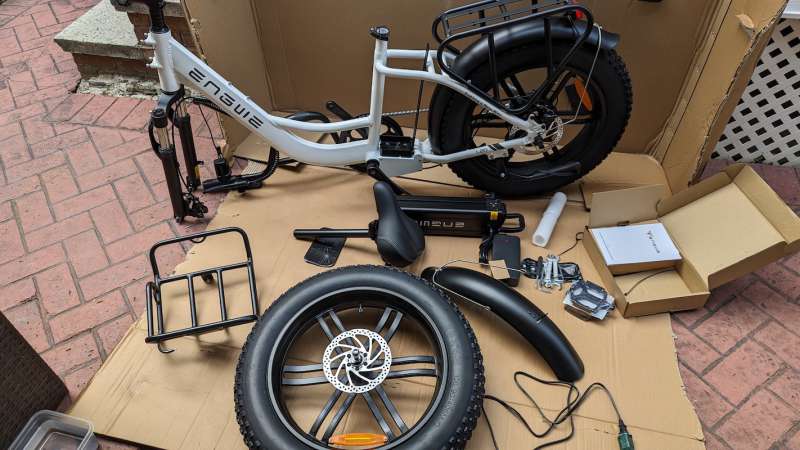 All told, it took me about 45 minutes to put the bike together. If you're familiar with basic hand tools and home repairs, you can handle it.  But it is a vehicle, and mounting the front wheel is part of the assembly, and you don't want to get it wrong.  You can always take it to a local bike shop and they will happily assemble it for a nominal charge, but the peace of mind you may get will make it worth it.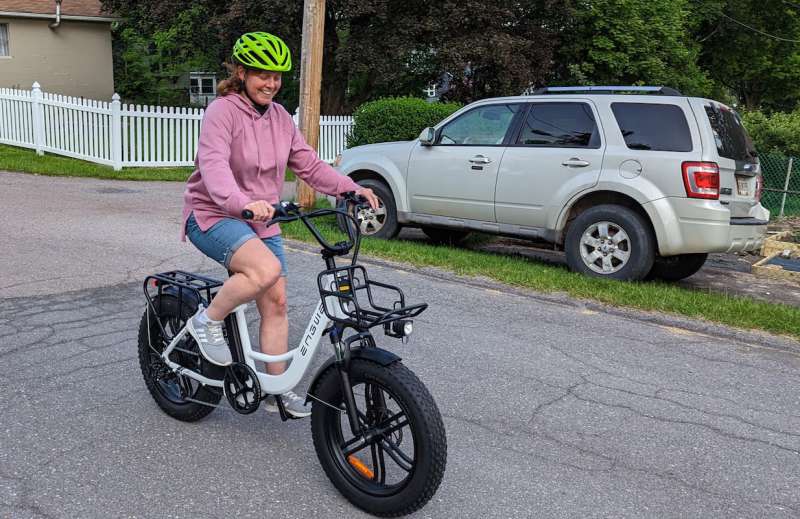 One issue with the installation was that many of the fasteners were already installed, and had to be removed before whatever they were to hold could be attached.  All the fasteners on the bike were extremely over-torqued at the factory. From working on bikes for over 20 years, I know the levels of torque on fasteners that are appropriate.  I'm honestly surprised that many of the fasteners were not stripped out.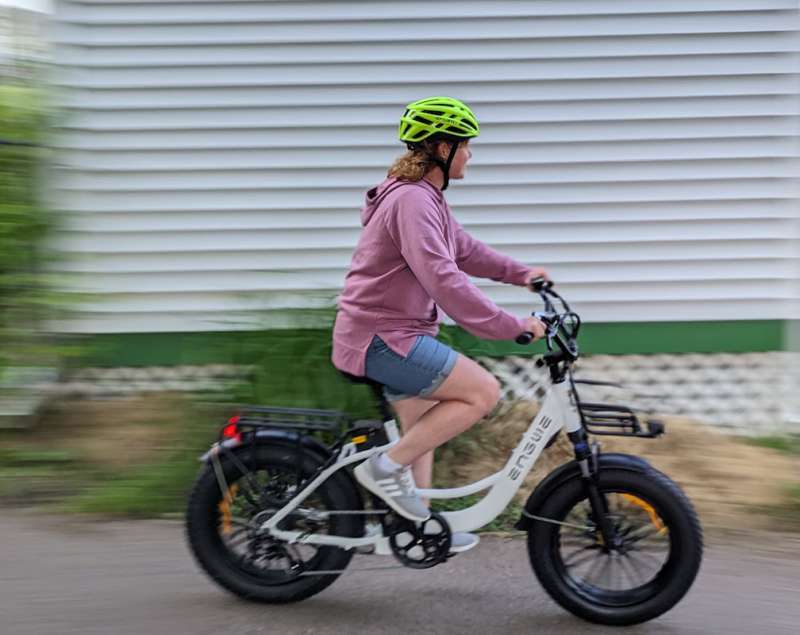 A major issue with installation had more to do with the welding in the factory.  The front rack attaches directly to four braze-ons on the head tube (the part of the frame between the fork and the handlebar). The head tube was welded to the frame slightly crookedly, which meant the front rack was crooked.  It's not much, but you definitely notice it.  It's compounded because the headlight attaches to the rack, so the headlight always shines slightly to the left.  This was very disappointing.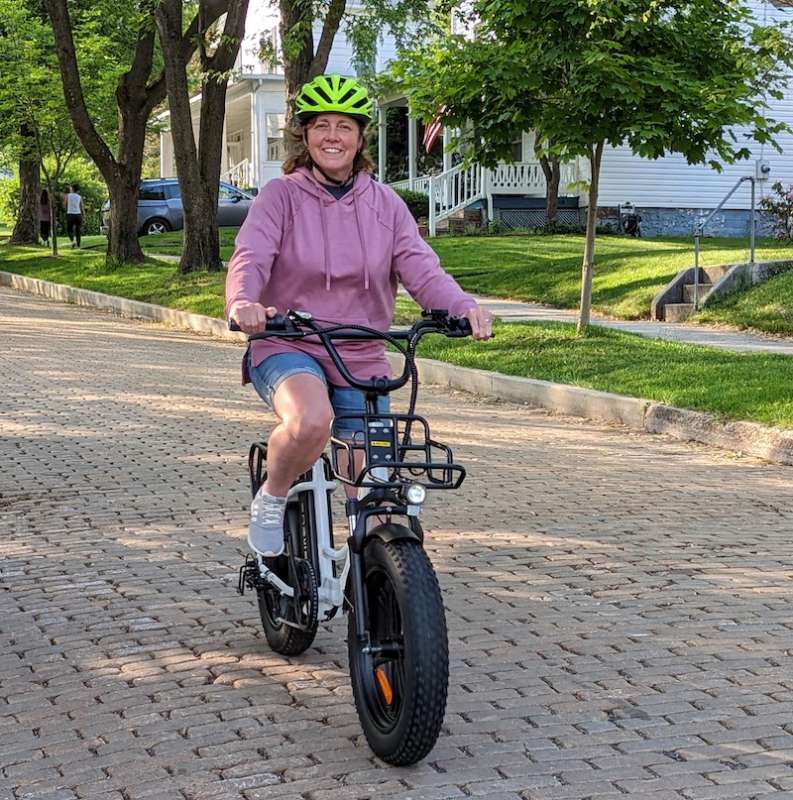 Design and features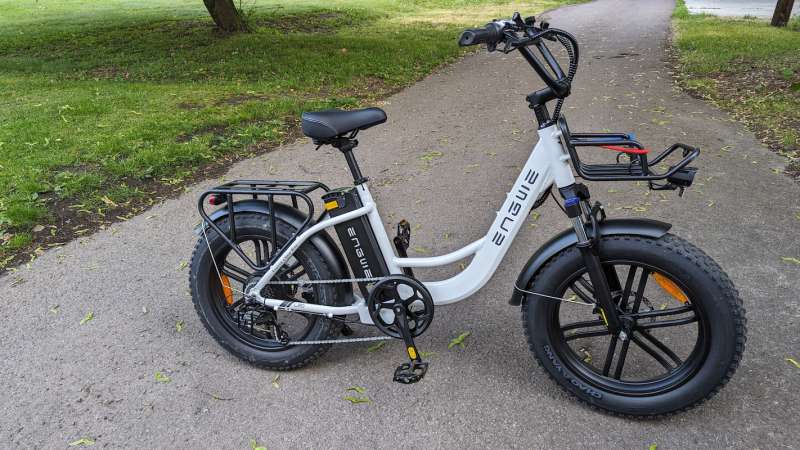 The Engwe L20 electric bike is low to the ground thanks to the 20 inch tires.  It's also a step-through frame (think a "girls bike" without the top tube).  This combination would be great for someone who is very short, or who can't lift their leg over a normal bike.  If you can stand, you can probably ride this bike.  It's very approachable, and I'm looking forward to getting my older dad on it this summer. 
The Engwe L20 can be ridden three ways – as a regular bike with no power assist (but, it's 77 pounds, so you don't want to do that for long), as a pedal assist (power kicks on when you pedal) and with a throttle, which powers the wheel without pedaling. There are five different levels of pedal assist, which really correspond more to maximum speed than to power. I used both pedal assist and throttle modes, but in different circumstances. The bike has plenty of power so you don't really have to "assist" it except when going up steep hills. Although riding in throttle only will kill the battery pretty quickly.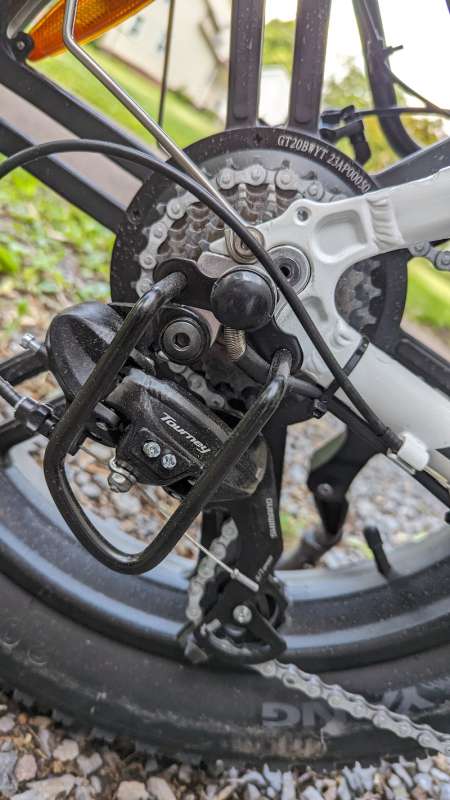 The cockpit area features cheap plastic grips, a half-twist throttle on the right, the shifter for the 7-speed drivetrain, the LCD display with tiny built-in buttons, and the brake levers.  The LCD display is easy to see in bright sunlight and tells you information about assist level, battery status, speed, distance, elapsed time, and other useful parameters. There are a lot of cables and wires coming to and from the handlebar, but they are managed nicely with cable wraps.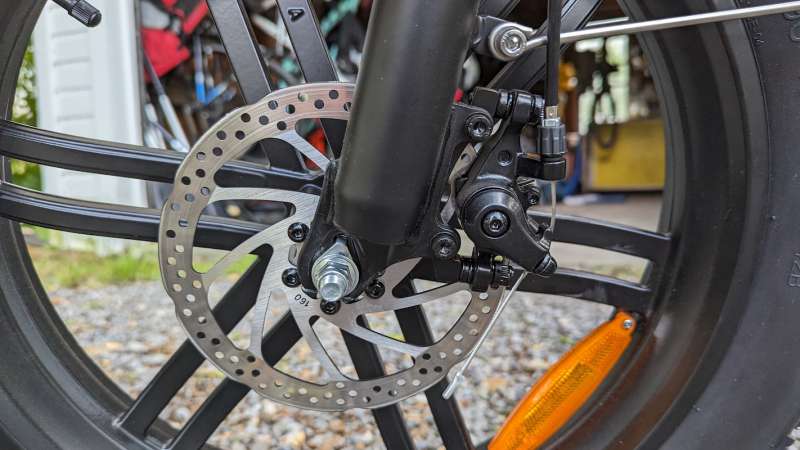 The Engwe L20 e-bike features fat tires mated to aluminum mag wheels, which will never need any maintenance.  The wheels and tires are stopped by mechanical disk brakes.  I was a little disappointed to not see hydraulic brakes on a bike weighing almost 80 pounds, but the mechanical disks are large 160mm units, and did the job adequately.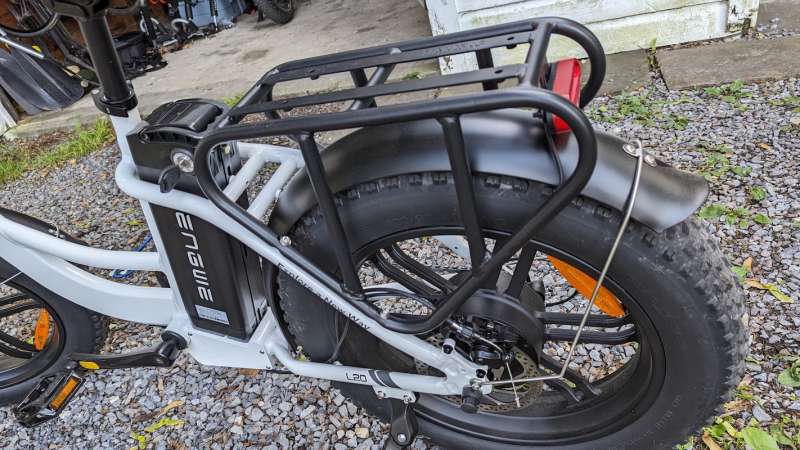 The included accessories really make this bike great.  Full-coverage fenders are included, as are bright powered lights, front and rear.  In fact, the rear light is also a brake light that blinks when the brakes are applied. Front and rear racks provide a lot of carrying capacity once you put some bags or something on the rear rack.  And the rack gives you some sturdy grab handles for moving the 80 pound beast around.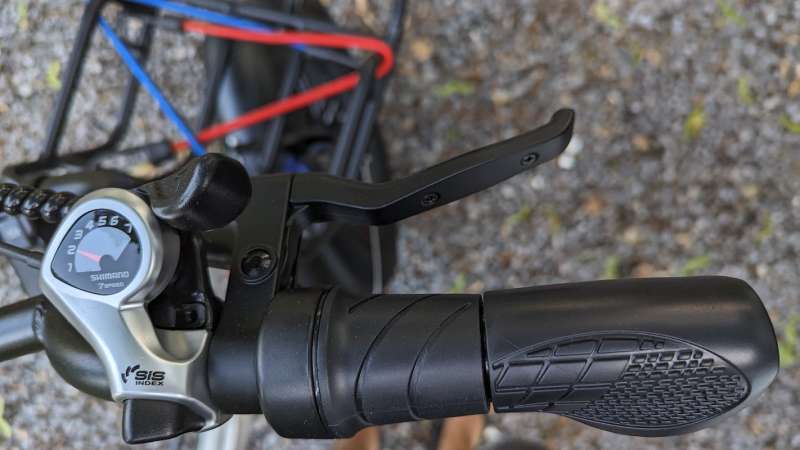 Performance
The bike has plenty of power. It could easily carry me up most hills in my mountain town without any pedal input.  It slowed noticeably, but it kept going.  If you pedaled even a little bit, it really sped up.  So power was not really an issue. It tools along at the maximum speed of about 25 mph on the flats, and the ride is quite comfortable thanks to the fat tires and the front suspension fork. The brakes provided adequate stopping power for such a heavy bike. The seating position is upright and comfortable for both my wife and I, despite there being almost 14 inches of height difference between us. The lights are very bright and quite useful, despite the front light shining slightly to the left due to the poorly welded construction. There is one other issue with the lights. Because the front light is mounted to the rack and not to the handlebar like on most bikes, the light takes some time to "catch up" when turning.  Not a huge deal, but it takes some time to get used to.  
The display on the Engwe L20 electric bike is unlike any display I've seen on an e-bike. Most displays are large and centrally mounted, with separate controls near the left hand grip. This display is very small, has the controls integrated into it, and is mounted near the left grip. It's so small that it's difficult to see while moving, and the buttons are tiny, making it difficult to change parameters or pedal assist level while riding.  
Another issue I noticed is that, while in the lowest gear (chain closest to the tire), the chain actually rubs the tire.  I checked the derailleur alignment and adjustment, and it's all fine.  It doesn't rub much, but there is definitely contact.  I'm surprised this was not caught in the design or testing phase, as it's generally not something you want to happen.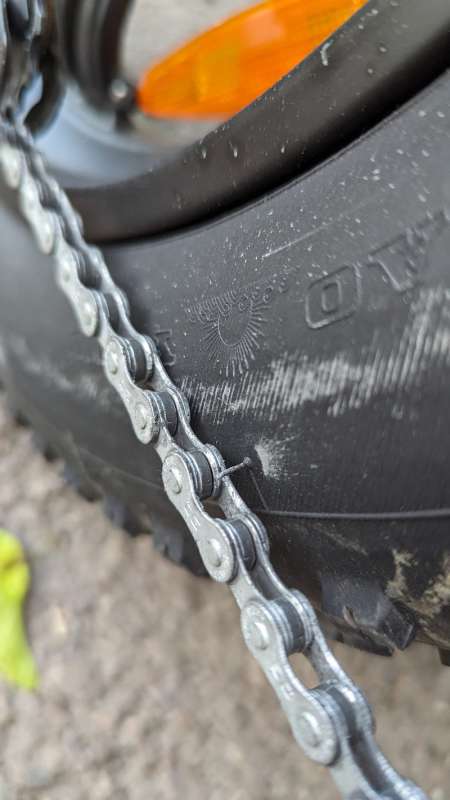 Perhaps my biggest concern has to do with the range.  The claimed range is 90 miles, and while I know that's always dependent on conditions (downhill, 30 pound rider, with a strong tail wind, probably), it seems that I'm not getting anything close to that.  On other e-bikes I've tested, I'm usually able to get at least 40 miles to a charge.  But on the Engwe L20, I'm down to one bar with only 17 miles on the clock (yes, it was fully charged prior to riding). I hope that improves as the battery "warms up" but we'll see.  It's not something I've experienced with other e-bikes.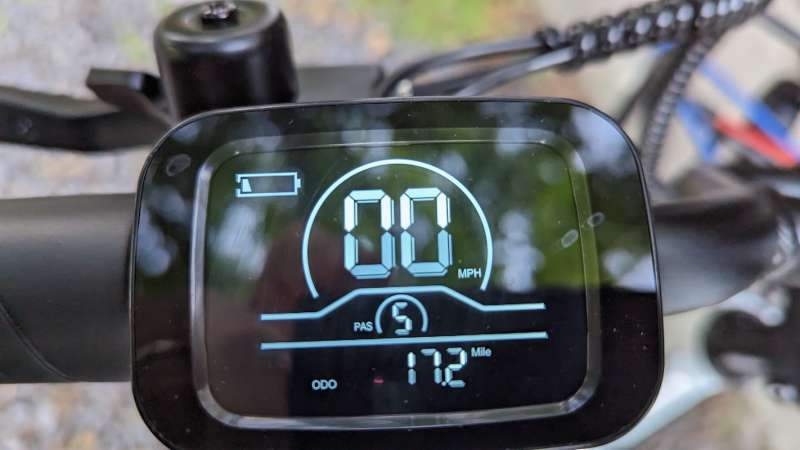 What I like
Plenty of power

Comfortable ride; lots of squish in the tires, nice seat, upright riding position, suspension fork

Low stand-over height and easy step-through frame

The fenders and rack add lots of utility
What I'd change
Be more careful in the welding so the front rack is straight

Figure out why the chain rubs the tire in the lowest gear

Don't over-torque the fasteners during the build

Consider a larger display with separate controls

Let's hope the range improves
Final thoughts
The Engwe L20 is a very useful and rideable e-bike, despite a few issues noted here. It just seems that there are more issues with the Engwe L20 than with other e-bikes I've tested.  But it's still a good choice for someone who is short, older, or who just wants a lower step-through frame e-bike capable of carrying a lot of cargo!
Price: $1,199.00 (less with a coupon available from the Engwe web site)
Where to buy: Engwe and Amazon
Source: The sample for this review was provided by Engwe.