We use affiliate links. If you buy something through the links on this page, we may earn a commission at no cost to you. Learn more.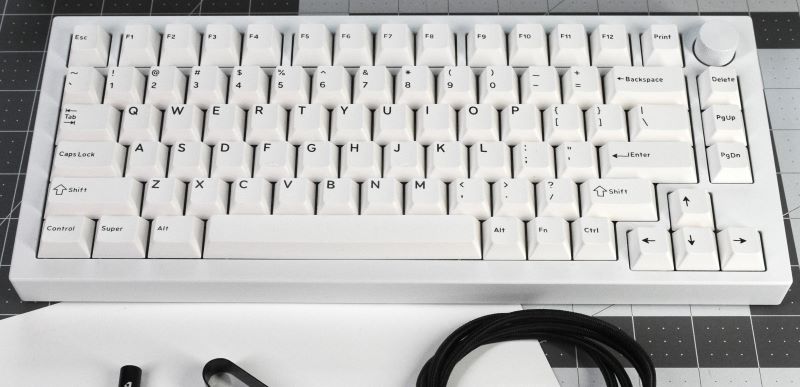 REVIEW – Being the keyboard nerd I am, when the chance came to review a Drop mechanical keyboard, I couldn't raise my hand quickly enough. Their CTL, ALT, and ENTER keyboards have been praised for quite some time. Now they have a new one, the Sense75.  This is their "best keyboard yet – in every sense" according to Drop.
What is it?
The Drop Sense75 is a high-end mechanical keyboard using parts and materials that the keyboard community wants in their end-game keyboard.

What's in the box?
You can remove this heading and section if it doesn't apply to your review.
Drop Sense75 mechanical keyboard
USB C to USB A cable
Keycap puller
Key switch  puller
Tape mod sticker
Quick start/warranty card
Hardware specs
84 keys
Layout: 75%
Case material: 6000 series aircraft-grade aluminum, chamfered edges
Case coating: Anodization (Nightfall), electrophoresis (Polar)
Case angle: 5°
Keycaps: Drop DCX White-on-Black (Nightfall), Drop DCX Black-on-White (Polar)
Switches: Drop Holy Panda X Switches
Stabilizers: PCBA-mounted Drop Phantom Stabilizers
South-facing, hot-swappable switch sockets
Gasket-mounted
Gasket material: BISCO (elastopolymer)
Custom case dampening (EVA foam)
Plate material: Aluminum
Rotary knob material: Mountain-knurled aluminum
Rotary encoder: Premium Alps encoder
Per-key RGB LED lighting
RGB underglow with underside acrylic diffuser
QMK firmware, VIA/VIAL support, programmable with Drop Keyboard Configurator
Weight material: Aluminum
Connectivity: USB-C
330 x 139 x 34 mm / 13 x 5.5 x 1.3 inches
Design and features
Alright, let's set some expectations here. If you have been following the Drop Sense75 mechanical keyboard for any amount of time, you'll know this is far from the first review.  This keyboard has been out in the wild for quite some time now.  I initially got the offer to review this keyboard back in August of '22. I just received it last month.  So, yes, I've seen video reviews and read other articles regarding the Sense75. Let's just say the majority of the reviews out there haven't been favorable. But I reserved judgment until I actually got my hands on it.  I mean, how many times have you read reviews about a movie that panned it but when you watched it, you thought it was the best thing since microwave popcorn? Now, let's dive in.
The first thing I want to discuss is the switches.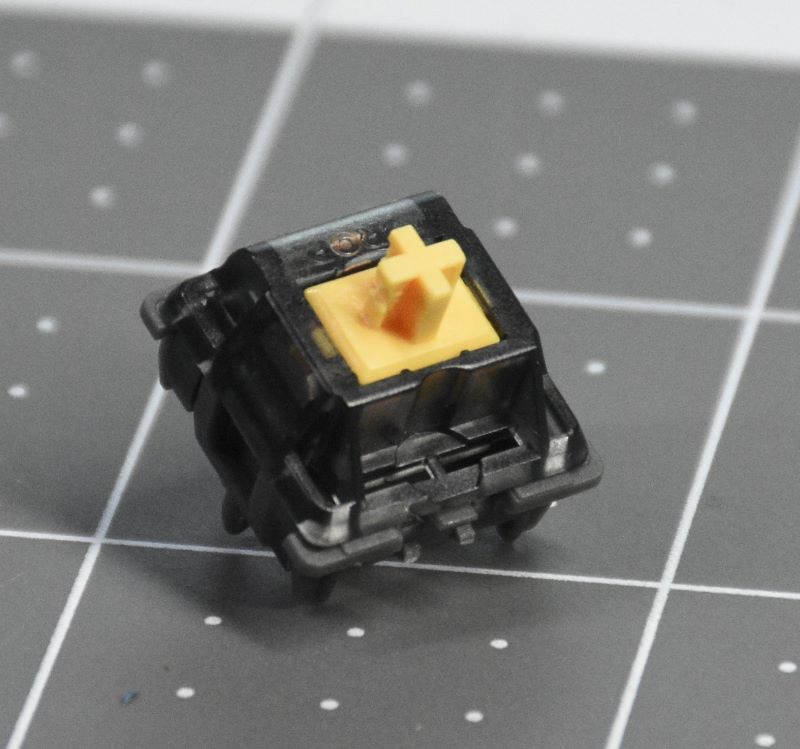 The Drop Sense75 comes with Holy Panda X switches. YES!  I've been wanting to try these forever.  I've seen articles online saying these are among some of the best tactile switches available and now I have some! I have to say these switches are fantastic even though they're priced at $1 each if you were to buy them separately. I love the feel of these switches. There's a nice, crisp bump when typing that I appreciate. However, I did notice some ping and that was with the switch pulled from the Sense75.  The Holy Panda X switches are supposed to be pre-lubricated, but if they are, I couldn't tell it. I didn't notice any lube when I popped one apart.
Next, let's talk about the case.  I received the Polar white version and it looks really nice. The case itself is completely made of 6000 series aircraft-grade aluminum. Sounds good, right? Relatively lightweight and durable. It's a solid build, no doubt.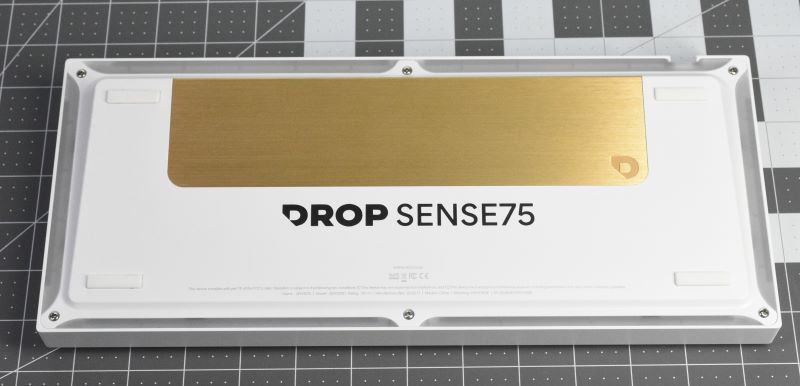 And the Drop Sense75 uses a gasket-mounted design to make for a more flexible typing experience without being too soft.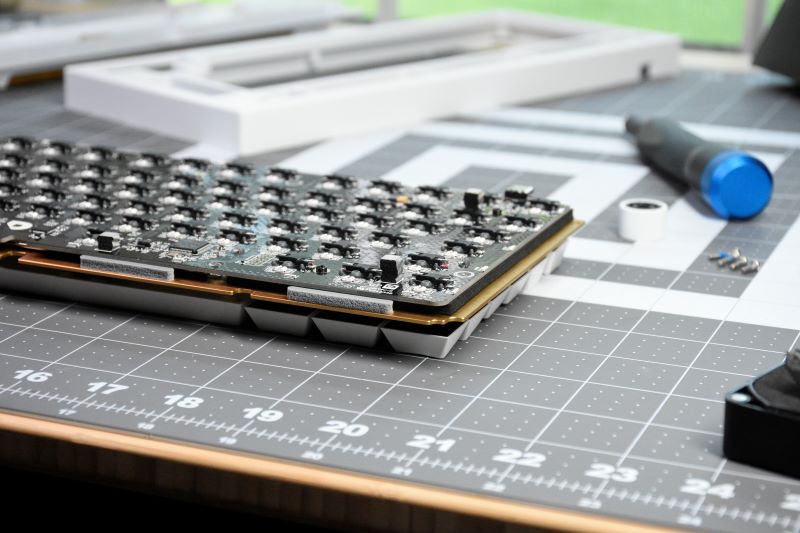 They've used some sort of rubber alternative called BISCO to help achieve that.  Then they added some "custom" case dampening to help improve the sound.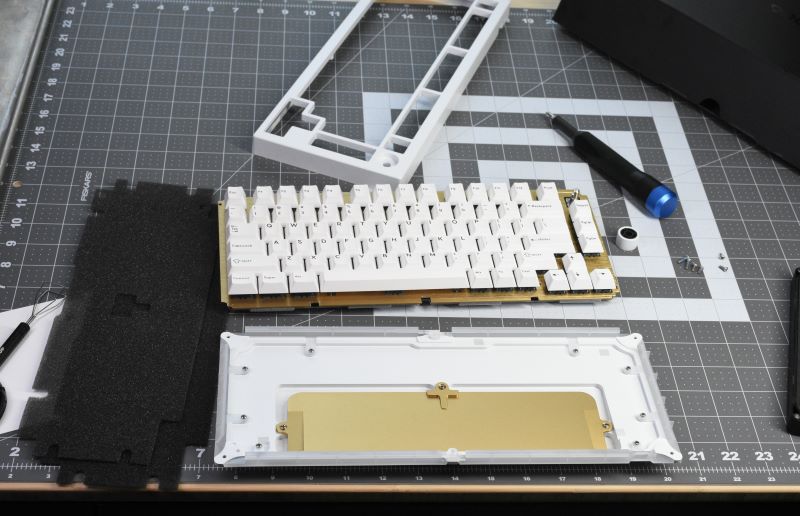 The Drop Sense75 mechanical keyboard also has a brass plate above the PCB and a brass weight plate in the bottom half of the case, both of which look great in the overall design.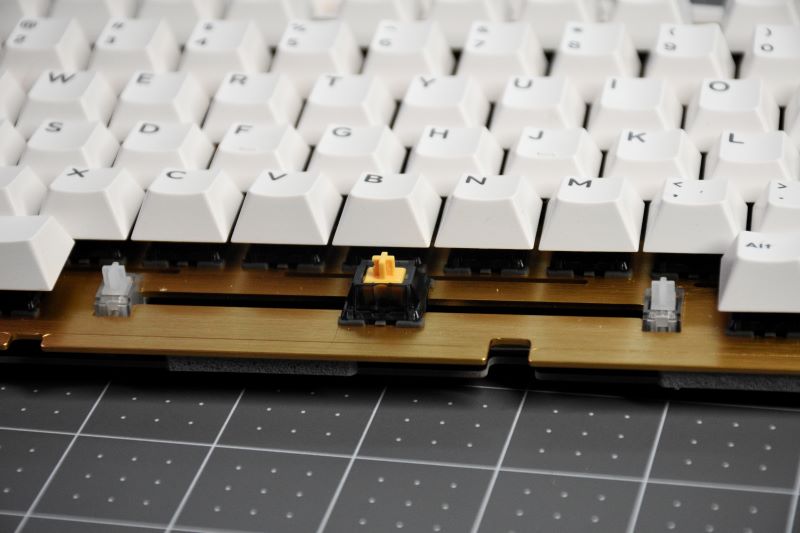 The brass metal next to the white aluminum is perfect.  The weight plate is supposed to be replaceable but I haven't seen any other options available at the time of writing this review.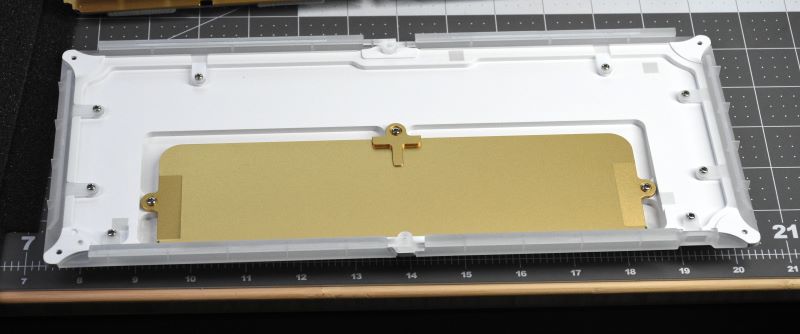 The Sense75 also has an encoder with a knurled aluminum knob.  I love knobs. Knobs are great and this one has a nice, positive feel while turning it. I will say I was a bit disappointed when I removed the knob and found it wasn't solid aluminum but more of an aluminum cap over plastic.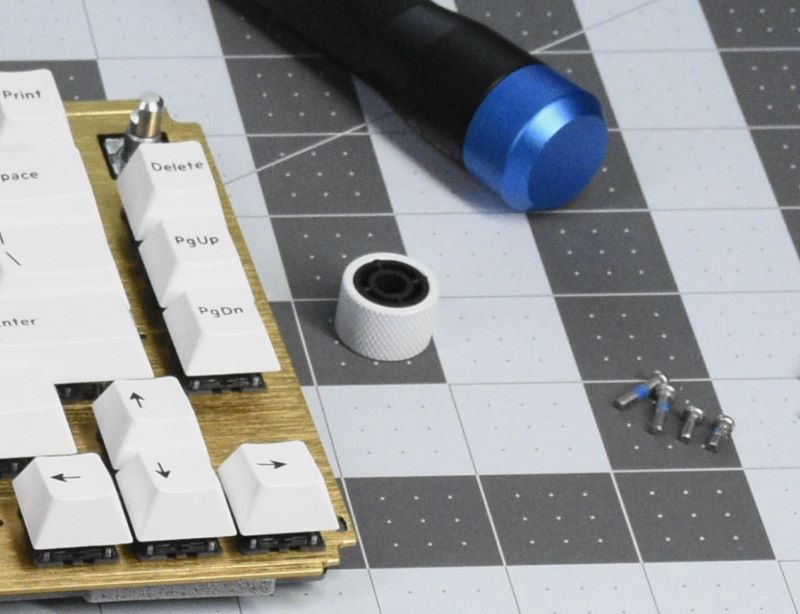 Next are the keycaps. These are Drop's own black-on-white keycap set, made of proprietary ABS plastic. They look and feel great. They have a good profile and the double shot legends are nice and crisp, but they are ABS, so I expect them to show signs of shine after extensive use. This is a shame but that happens with ABS.  Who knows? Maybe their ABS will be different.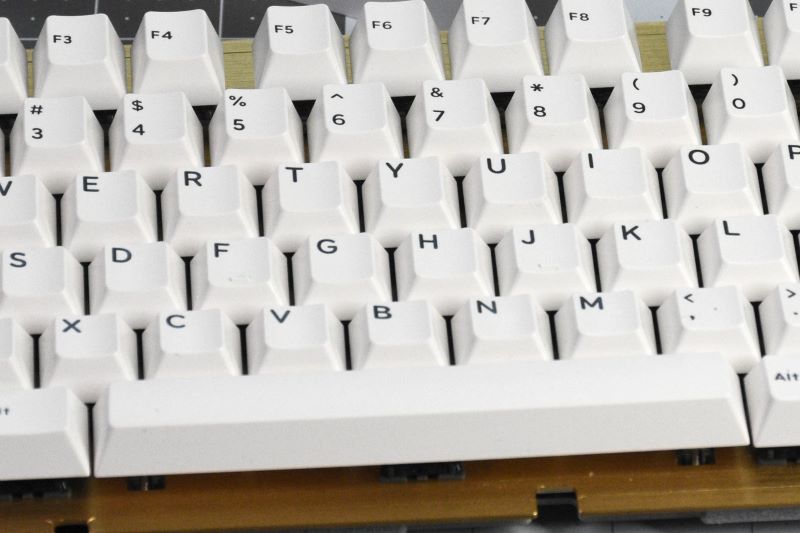 Yes, there are RGB LEDs.  Everything now has them.  Not a huge fan so there's that. Yes, you can change colors and modes if that's your thing. No judgment here, I just prefer a simple backlight and that's pretty much it. The Sense75 is QMK and VIA compatible but you first have to flash the firmware using the Drop keyboard configurator in order to actually use VIA. Usually, I have no problems with doing this, but I'd rather not chance bricking the keyboard before reviewing it, so that had to wait.
Performance
The Drop Sense75 mechanical keyboard has a laundry list of all the things most keyboard fanatics are looking for in their end-game keyboard. Milled aluminum case, gasket mounted, boutique switches and keycaps, case weights, and an encoder with an aluminum knob all sound great!  What more could you want? Well, you might not want the ping you get when typing. Yes, ping. Now I don't have the best hearing after too much loud music, shooting, and use of power tools without earplugs but I can hear ping when typing. Drop says they spent over 2 years developing the Sense75 with help from the community, so how can the Sense75 ping like it does?  I don't get it. There have been numerous other reviews pointing out this exact problem and nothing has been done about it. I tried a couple of things.  I applied the included sticker that replaces the tape mod I've seen a lot of folks use.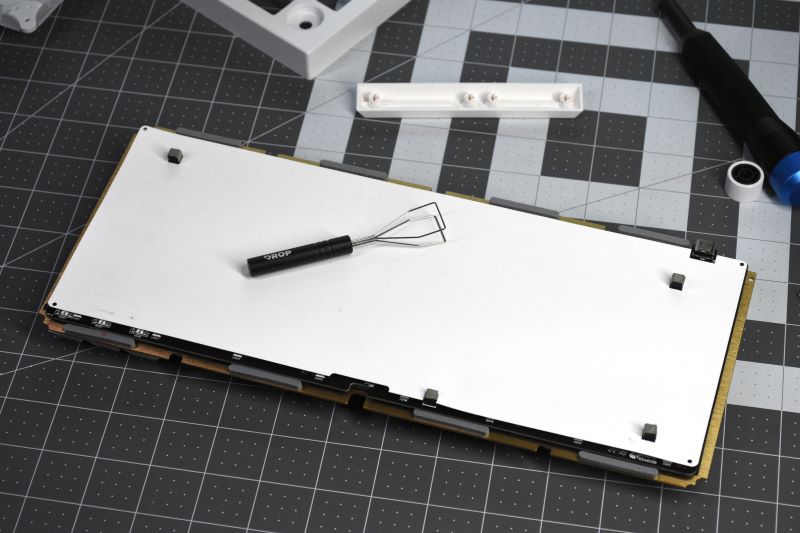 I didn't notice a difference. I lubed the switch under the Enter key which was one of the key offenders.  Maybe it's a little better? It still rings like a bell.  I even removed the foam under the PCB with some thicker foam I had and that didn't help either.  I think there needs to be something added to the top case to deaden the ringing, but as of yet, I haven't found what I need to use. For a keyboard that originally started out at around $300, there's no excuse for it.  There are too many other options out there for less money with quality builds that are better.
Here's another problem I had.  This may just be a one-off but I had one screw mount strip out when reassembling the Sense75 after applying the sticker/tape mod.  I wasn't cranking down hard at all, just snugging up the screw. It's not the end of the world.  There are 5 other screws holding the case together and the stripped one doesn't fall out or anything like that. It's just disappointing that it happened even though I was being careful not to over-tighten anything.
What I like
Holy Panda X switches
DCX keycaps
Drop's attempt to make the end-all, be-all keyboard
What I'd change
Listen to the community and find a fix for the ping
VIA compatibility out of the box
Final thoughts
For those who don't know, the Drop Sense75 mechanical keyboard has dropped in price 2 times since its release.  I'm sure it's due to the previous reviews I've seen and community feedback. Currently, the polar white version is $179 while the nightfall black one is $149. If you can live with the ping or know of a fix for it, then this is a great price for what you get. With that said, if you want a quality built keyboard that supports  VIA out of the box and doesn't ping like crazy, there are other options.  The Sense75 didn't make sense at the original asking price but at its current price, you could do worse.
Price: $179.00
Where to buy: Drop
Source: The sample of this product was provided by Drop.